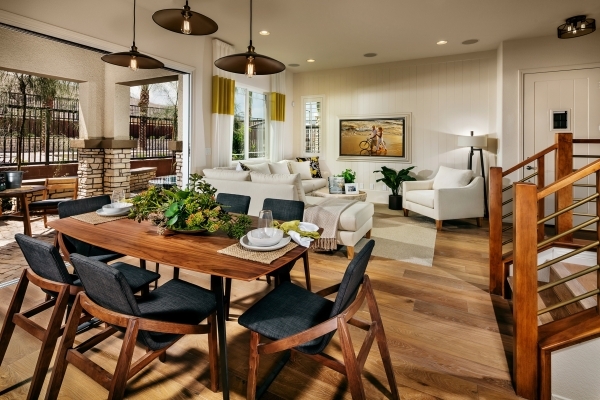 From three-bedroom luxury townhomes to five-bedroom single-family homes, the 22 floor plans offered in Summerlin's Mesa village represent the most diverse collection of homes in the master-planned community. Located in the foothills of the Spring Mountains and adjacent to Bishop Gorman High School, The Mesa village encompasses these actively selling neighborhoods with models open for viewing: Cielo by Woodside Homes, Monte Bello by Richmond American Homes and Vista Dulce by Toll Brothers.
"You will never see the same two home designs side by side in Summerlin," said Danielle Bisterfeldt, director of marketing, Summerlin. "That's just one of many design standards created to ensure our streetscapes are interesting while building individual pride in home ownership. The numerous floor plans in these neighborhoods guarantee aesthetically pleasing streetscapes that showcase the broad variety of home designs in The Mesa. For even more individuality, these homebuilders offer an incredible array of design options and upgrades, allowing for even more home personalization."
The Mesa is the only Summerlin village offering the convenience of townhome living. Vista Dulce by Toll Brothers is a gated, luxury townhome neighborhood offering three, two-story floor plans that start in the high $200,000s. The homes range from 1,580 to 1,889 square feet and come standard with three bedrooms, two-car garage, full driveway, covered loggia and private backyard. Exclusive Vista Dulce neighborhood amenities include a resort-style community pool, cabanas and fitness center.
The Monte Bello neighborhood by Richmond American Homes offers nine, single-story and two-story floor plans ranging from 2,989 to 4,214 square feet. Monte Bello features three to six bedrooms, up to 4½ baths and three-car garages with front yard landscaping and paver driveways.
The neighborhood's six single-story floor plans feature 12-foot ceiling heights and include covered porch and patio, foyer, formal dining room, great room, gourmet kitchen and separate guest suite with private entry. One section of Monte Bello is reserved solely for single-story homes. The two-story homes offer a wide covered porch and an impressive two-story entry. This neighborhood includes a children's play area with shade sails and picnic tables. Monte Bello homes start in the $500,000s.
Next door at Cielo by Woodside Homes, three distinctly different styles are offered within this one neighborhood. Featuring views of the Spring Mountains and a park with a play area, Cielo offers ten floor plans ranging from 2,296 to 4,214 square feet with three to six bedrooms and up to 4½ baths. Homes are designed with energy-saving features including jump ducts to provide an even temperature in every room.
Cielo de Estrellas includes a first-floor master-suite, great rooms and lofts accenting high-volume ceilings. Cielo de Oro's three floor plans include one single-level home; the two-story floor plans include three-car garages, a first-floor master suite, formal dining room and optional casita. Cielo Diamonte offers the largest floor plans and includes three-car garages, large covered balconies, courtyards and covered loggias. Options include a multigen suite, game room or office. Starting prices at Cielo range from the mid-$300,000s to mid-$500,000s.
Just minutes from the 215 Beltway, homeowners in The Mesa village have quick access to McCarran International Airport, the Las Vegas Strip and Downtown Summerlin. Village amenities include the nearby 17.5-acre Mesa Park, miles of walking trails and Bishop Gorman Catholic High School. For more information about Summerlin's newest neighborhoods visit summerlin.com or download the new home finding app by searching "Summerlin" in your app store. intend," "transform" and other words of similar expression, are forward-looking statements within the meaning of the Private Securities Litigation Reform Act of 1995. These statements are based on management's expectations, estimates, assumptions, and projections as of the date of this release and are not guarantees of future performance. Actual results may differ materially from those expressed or implied in these statements. Factors that could cause actual results to differ materially are set forth as risk factors in The Howard Hughes Corporation's filings with the Securities and Exchange Commission, including its Quarterly and Annual Reports. The Howard Hughes Corporation cautions you not to place undue reliance on the forward-looking statements contained in this release. The Howard Hughes Corporation does not undertake any obligation to publicly update or revise any forward-looking statements to reflect future events, information or circumstances that arise after the date of this release.