Take Steps for Crohn's & Colitis Walk set for May 14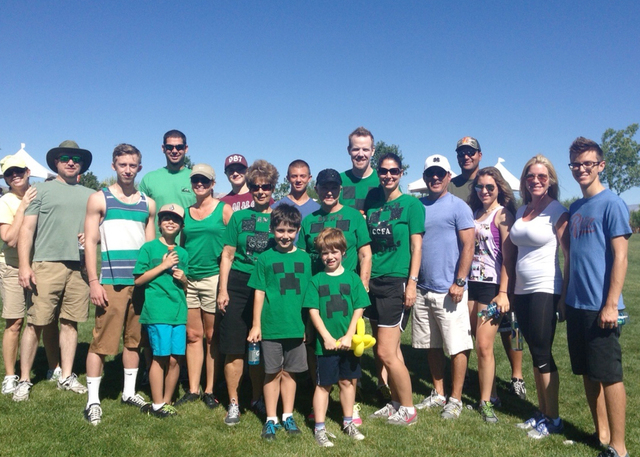 Join 10-year-old Ben Etter in his fight to find a cure for inflammatory bowel diseases, which he suffers from, along with 1 in 200 Americans.
He is this year's Honored Hero for the annual Take Steps for Crohn's &Colitis Walk on May 14 at Exploration Park in Mountain's Edge.
The event benefits the nonprofit Crohn's &Colitis Foundation of America — Las Vegas Chapter.
Ben has participated in the Take Steps walk and event's other family-friendly activities for the past two years to fundraise and bring awareness about the uncomfortable and painful — and often embarrassing — group of digestive diseases. They cause persistent diarrhea, crampy abdominal pain, fever, rectal bleeding, loss of appetite, weight loss, fatigue and urgency to have a bowel movement.
Ben was diagnosed with Crohn's disease at age 7 and continues to inspire others with IBD.
"When people see me, I think they see a normal boy. I don't look sick, and I try to stay positive. I have bad days, but sometimes being brave and getting through the crummy days is the best thing you can do," said Ben. "When my family heard about Take Steps for Crohn's &Colitis, we knew we had to be a part of it. We named our team "Ben's Creepers" because I like the game Minecraft."
To date, "Ben's Creepers," comprised of family and friends, is among the top fundraising teams. "The walk is really one of my favorite days of the year," Ben added. "I'm thankful there are medicines out there to help me, but I want a cure. I have faith that there will be a cure, and I want to be a part of helping to find it — CCFA Take Steps is my way of helping."
The CCFA has provided help and support for Ben and his family through programs to learn about Crohn's disease from doctors and experts, medication options and proper nutrition.
Additionally, Ben has had the opportunity to interact with others who have the disease, allowing him to feel like he's not alone in his fight.
Take Steps activities include live music, food tent, a raffle with prizes, vendor booths, wellness area, educational materials and Kids Zone with a bounce house, face painting, balloon artist and games.
The 80-acre park also offers a replica of an Old Western village and archeological dig area, Native American-theme play structures,splash pad, picnic areas and the 2,846-foot-tall Exploration Peak with walking, hiking and cycling trails and panoramic views of the Las Vegas Valley.
No registration fee is required, but a $25 per person donation in encouraged.
Registered team members and attendees who donate will receive a wristband for free food and other refreshments.
Onsite registration is from 9 to 9:30 a.m. with the walk at 10 a.m. Exploration Park is at 9700 South Buffalo Drive, south of Blue Diamond Road. To register prior to the event, organize a team or get involved, visit online.ccfa.org.
Take Steps is sponsored by Abbvie, Dignity Health — St. Rose Hospital, Ed Bernstein &Associates, Mountain's Edge, Shire and United Healthcare.