The Ogden at the center of Life is Beautiful
September 17, 2017 - 5:35 pm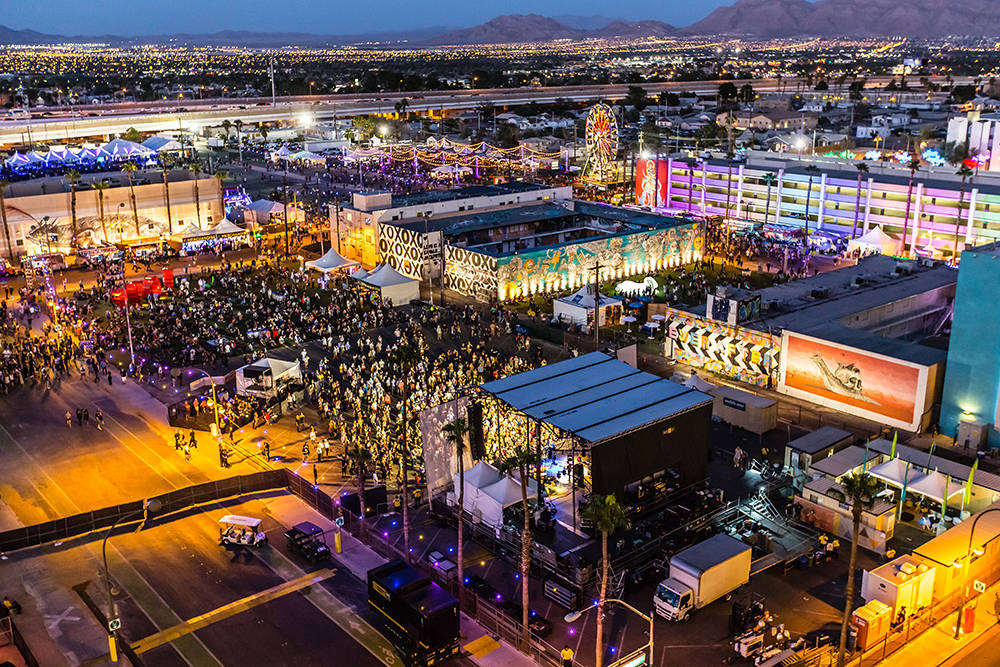 The Ogden in Downtown Las Vegas will once again be in the center of it all when the Life is Beautiful festival returns, Sept. 22-24. Residents of the 21-story condominium tower, located within the footprint of the festival, are looking forward to the whirlwind of activity featuring music, food, arts and learning.
Entering its fifth year, Life is Beautiful is one of the most anticipated weekends in Las Vegas for music-lovers and foodies who come to binge on this three-day, multisensory experience that not only includes music and food, but also provocative art installations, idea discussions led by such notables as scientist and fan favorite, Bill Nye, and of course, appearances by top comedians, including Jo Firestone and others. Life is Beautiful stretches 18 blocks, blanketing much of the bustling downtown Las Vegas area and it shines a spotlight on iconic downtown Las Vegas attractions in The Ogden's backyard.
While Ogden residents already enjoy countless perks of living steps from Las Vegas' urban playground, Life is Beautiful adds to that growing list of benefits. From their balconies, residents can bask in the panoramic bird's-eye views of all the action, take in many of the special Life is Beautiful murals and art installations and enjoy the music performed by the 70-plus established and up-and-coming artists. With headliners such as Chance the Rapper, Muse, Gorillaz, Blink-182, Lorde, Kaskade, Wiz Khalifa and many others, there's an artist for every musical taste.
For Ogden residents who prefer to directly immerse themselves amidst a sea of animated festival enthusiasts, the action is just outside their front door. Festival-goers will enjoy a plethora of delicious fare, including celebrity chefs, local food vendors and eateries, a craft beer and garden and food trucks.
"The Ogden's proximity to the festival's activities validates the truth behind the saying, 'location is everything,' " said Stephanie Reese, director of sales at The Ogden. "The opportunity to live within the heart of one of the region's most iconic music, art and food festivals is exhilarating and builds a sense of pride our residents feel about their home. And when our residents have had enough fun at the end of the night, they are just steps from home."
Since acquiring The Ogden in 2013, DK Las Vegas has made a $2 million investment to remodel the lobby with high-end design treatments to create an immediate sense of luxury and arrival; added new upgrades throughout all residences, including new lighting, hardwood floors, granite countertops and stainless-steel appliances; and enhanced amenities such as a Sky Deck, social lounge, fitness center and refreshed rooftop pool.
Right outside the front door of The Ogden are more than 150 restaurants, many of them among the city's most popular eateries, bars, attractions and an energy that continues to build with ongoing redevelopment of downtown Las Vegas.
The Ogden offers flexible financing options, including Veterans Affairs- and Fannie Mae-backed loans. Available homes at The Ogden range from a two-bedroom, 1,180-square-foot residence priced from the mid-$300,000s to a three-bedroom-plus-den 2,044-square-foot home starting in the low $500,000s. The Ogden's single-story, open floor plans offer flex spaces that can serve as a home office, den or yoga room, extra bedrooms for accommodating multigenerational family and guests and expansive windows that fill interiors with natural light.
For more information, visit The Ogden's onsite sales center at 150 Las Vegas Blvd. N., call 702-478-4700 or go online at Ogdenlv.com.