Toll Brothers opens models in Summerlin neighborhood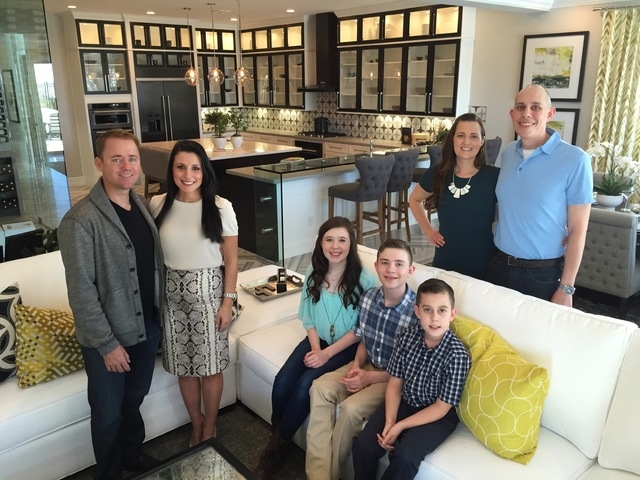 Three models offering spacious floor plans at Los Altos by Toll Brothers opened in Summerlin. Located in Paseos village, homes are built on the largest lots selling in the master-planned community. The neighborhood is positioned to offer views of the Las Vegas Valley and is set against a picturesque backdrop created by Red Rock Canyon National Conservation Area.
The neighborhood sold nearly 20 homes, even before the models were completed, according to Dan Wright, division vice president of Toll Brothers.
Priced from the high $700,000s, Los Altos offers four single-story floor plans that range from 3,094 to 3,822 square feet on lot sizes from 8,400 to 12,000 square feet. A few additional sites as large as 17,000 and 23,000 square feet will be released later this year. They include three or four bedrooms, 3½ or 4½ baths and three-car garages. With gated neighborhood entry these homes come standard with foyers, formal dining rooms, coffered ceilings, 12-foot sliding doors, covered patios, courtyards and an optional casita.
"We are building our dream home at Los Altos," said Melissa Payan, who, along with her husband, Jason, purchased their third Summerlin home at Los Altos earlier this year after seeing their friends' home. Scheduled for completion in October, the Payans' new 3,800-square-foot home is set on a 17,500-square-foot lot.
"This is the perfect home for our family," Jason Payan said. "We knew the wide-open floor plan would work really well for us. We wanted a big kitchen to get the kids involved, and all three of them play piano and the cello, so the front formal living room is the perfect music room."
The Payans' friends, Irena Hall and her boyfriend, James Sullivan, already have homes in Summerlin but purchased a new home together at Los Altos. "I have a 5-year-old daughter, so the expansive backyard is ideal," Sullivan said. "Plus, a new park and elementary school will be opening soon within walking distance, so we truly feel at home here."
The Paseos, located west of the I-215 Beltway offers access to the Las Vegas Strip and McCarran International Airport. Nearby is Downtown Summerlin and other amenities that include a shopping center with grocery store, multiple restaurants and shops.
For more information, visit Summerlin.com or download the new home-finding app by searching "Summerlin" in your app store.