April 14, 2023 - 12:38 pm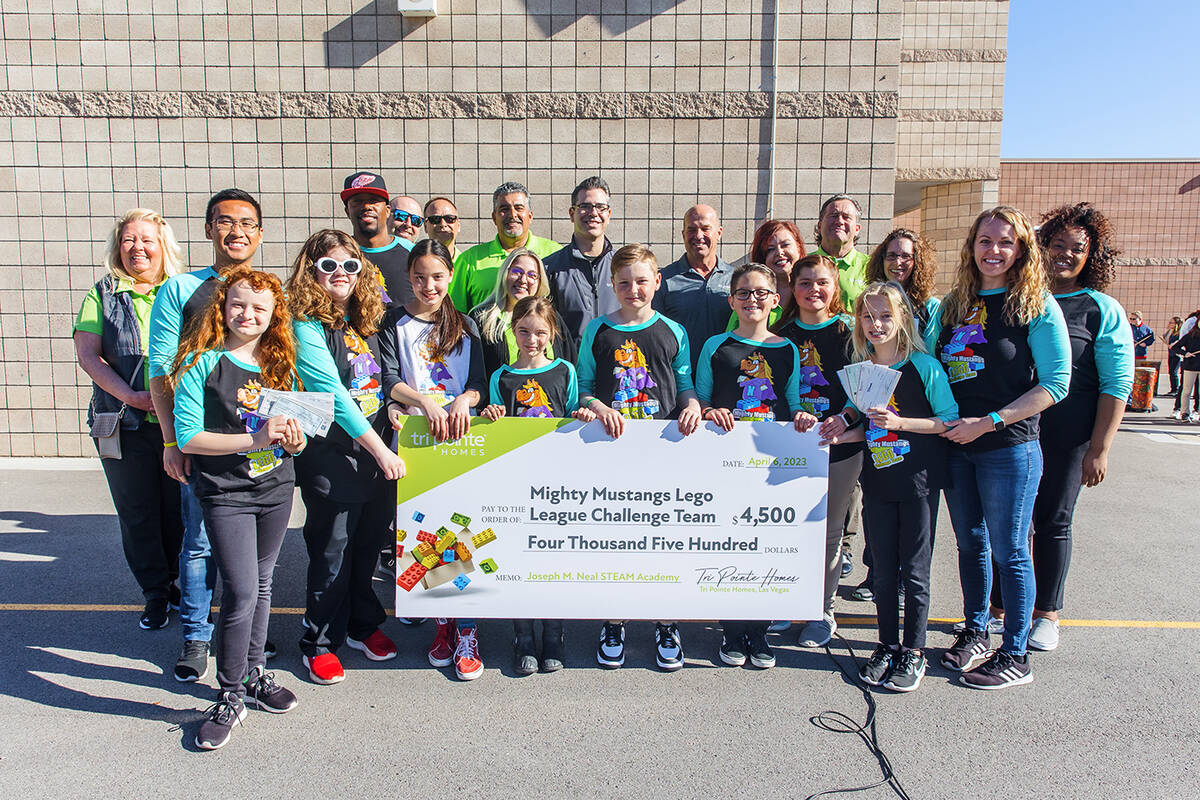 Ask any random group of architects, engineers, programmers or new homebuilders if they played with Legos as children and there's a good chance an overwhelming majority are going to answer with a resounding "yes!"
So, it comes as no surprise when members of Tri Pointe Homes Las Vegas were presented with the opportunity to lend a fundraising hand to help the Mighty Mustangs First Lego Challenge Team from Joseph M. Neal STEAM Academy pay for their trip to an international competition their response was the same. They were all in!
The impressive fourth- and fifth-graders from the Neal Mighty Mustangs First Lego Challenge Team recently won first place in the regional First Lego League, an international robotics competition where students use Lego electronic and mechanical components to build and program a large, self-propelled robot and solve various challenges. The Neal Mighty Mustangs team, composed of six girls and two boys, competed against 200 other Nevada teams, earning an invitation to the international finals in Worcester, Massachusetts, in June.
According to a fundraising letter from the school: "Working in the First Lego League has given these students valuable hands-on training in technology and teamwork skills that are directly applicable to the workplace: project development, mechanical design and engineering, as well as entrepreneurial skills such as fundraising, budgeting, writing and graphic design."
Tri Pointe Homes is donating $4,500 to help offset the expenses the Neal Mighty Mustangs First Lego Challenge Team will incur as they travel to the international competition. The company has reached out to its trade partners for additional donations bringing the grand total raised thus far to $14,000. Among the participating companies are Alexanders Masonry, Alpha Landscapes, Builders First Source, Capriati Construction, Central Valley, Chicago Paint &Drywall, Dominion Environmental, Focus Group, Hirschi Masonry, Interior Logic Group, BM Windows/Desert, NV Pools, Red Rock Insulation, T&F Marble and Quartz and T&R Paint &Drywall. The Mighty Mustangs originally estimated they will need over $20,000 to cover all expenses.
"Tri Pointe Homes is honored to support the comprehensive STEAM (science, technology, engineering, the arts, and mathematics) education opportunities available to Southern Nevada students, and we congratulate the awesome Neal Mighty Mustangs," said Klif Andrews, division president of Tri Pointe Homes
As one of Southern Nevada's leading homebuilders Tri Pointe Homes has deep roots in the community and a legacy of giving back. "As a people-first company, we take pride in our dedication to social responsibility," Andrews said. "Making a difference in people's lives extends far beyond a single event. It's part of our company culture and one of the aspects of working with Tri Pointe Homes that attracts the best and brightest team members."
Plus, each year, Tri Pointe teams gather together for the annual 5K runs including the Second Chance run. The Las Vegas-based nonprofit organization connects communities impacted by substance use disorders and celebrates second chances for those in recovery.
If you would like to donate to help the Neal Mighty Mustangs First Lego Challenge Team assist them in getting to the international competition, contact 702-799-2200 or email jividt@nv.ccsd.net.
One of the largest homebuilders in the U.S., Tri Pointe Homes, Inc. is a publicly traded company and a recognized leader in customer experience, innovative design and environmentally responsible business practices.
The company builds premium homes and communities in 10 states, with deep ties to the communities it serves — some for as long as a century. Tri Pointe Homes combines the financial resources, technology platforms and proven leadership of a national organization with the regional insights, longstanding community connections and agility of empowered local teams.
Tri Pointe has won multiple Builder of the Year awards, most recently in 2019. The company made Fortune magazine's 2017 100 Fastest-Growing Companies list, was named as a Great Place to Work-Certified company in both 2021 and 2022 and was named on several Great Place to Work Best Workplaces lists in 2022.
Building upon the legacy that was established 100 years ago under the name Pardee Homes, Tri Pointe Homes is an award-winning leader in the Las Vegas real estate sector. For more information, visit TriPointeHomes.com.