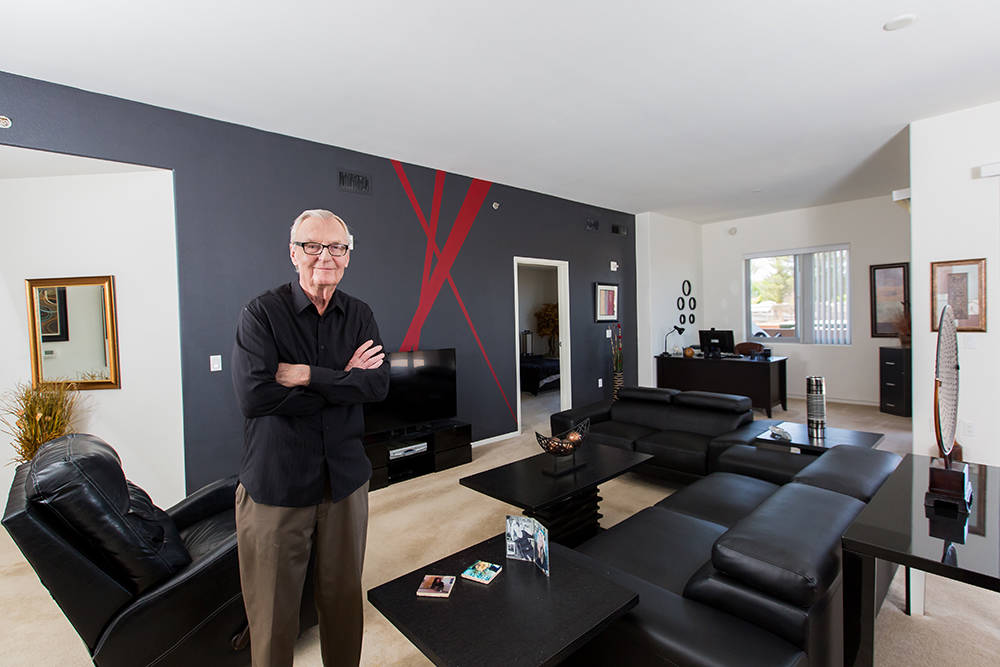 Vietnam veteran Tom Kuhn was born and raised in Los Angeles, but he moved to the Silver State twice during the past 40 years. In 2004, he returned to the valley for good and purchased a single-family home. Nearly a decade later, Kuhn recognized his home was too large for his lifestyle, so he re-entered the market.
"I was utilizing less than a fourth of my home and no longer wanted to pay a mortgage for so much wasted space," Kuhn said.
"When I retired, I longed for a carefree lifestyle and a home that would allow me more freedom, so I initially leased at One Las Vegas. Thanks to the help of a VA loan, I was able to further cement my stake in the community by purchasing my home last month. I couldn't be more ecstatic with my decision."
As someone who prefers living on the first floor, a high-rise community was not exactly on Kuhn's radar. But when his friend, who is a resident at One Las Vegas spoke so highly of it, he decided to check it out for himself.
"I have friends who live in other high-rise communities in Las Vegas, and as soon as I walked into One Las Vegas' lobby, I immediately noticed a difference in the community's peaceful ambiance and atmosphere. Surprisingly, there was an available home on the ground floor, and as soon as I walked into the two-bedroom residence, I knew it was home!" Kuhn said.
Kuhn enjoys maintaining a fit lifestyle and previously always had paid for a gym membership. Thanks to One Las Vegas' two-story state-of-the-art fitness center, not only was he able to stop paying for a membership, he no longer has to drive anywhere to get his daily exercise. Other amenities he appreciates include the community's 24-hour courtesy security patrol; private, covered parking garage; and Splash, the community's oasis-inspired pool featuring cabanas and barbecue stations. "The pool at One Las Vegas rivals any of those on the Strip, and as a frequent visitor to the center of town, I have seen many of them. I can proudly say I live on the world-famous Las Vegas Boulevard without having to deal with the chaos and inconvenience of actually living in the heart of the action," he said.
Kuhn plays poker as a pastime and is on the Strip almost daily. Because One Las Vegas is minutes from major freeways, he can be at any casino within minutes of leaving home.
"I truly believe we are in the infancy of the next real estate boom, thanks in part to the recovering economy and the arrival of the Raiders, who will play in a big, new stadium just a few miles from the community. That, coupled with well-priced homes at One Las Vegas, made me jump at the opportunity to purchase.
"The home application and Veterans Affairs financing process was seamless, thanks to the superb management team. In fact, I was estimated to close in 45 days, but closed 15 days sooner than scheduled, thanks to the team's expert assistance. I can't imagine living anywhere else," Kuhn said.
Homes at One Las Vegas range from 831 to 2,857 square feet, with many floor plans offering spectacular views of both the mountains and the Strip. One-bedroom homes are priced from the mid-$200,000s, two-bedroom homes from the high $200,000s and three-bedroom homes from the low $400,000s. The penthouse, which offers 3,000 square feet of sweeping views, is priced at $1.1 million. One Las Vegas is also VA home loan-approved, and it offers 15- and 30-year fixed mortgages, as well as 10-percent-down mortgages.
One Las Vegas conveniently is located close to Interstate 15, the 215 Beltway and is just minutes from McCarran International Airport. Town Square, which is just a few blocks north of the property, provides a plethora of shopping, plus scores of dining and entertainment options right in the neighborhood.
For more information, visit the One Las Vegas on-site sales center at 8255 Las Vegas Blvd. South or online at theonelv.com, or you can call 702.405.9020. The sales center is open 10 a.m. to 6 p.m. Monday through Friday, 10 a.m. to 5 p.m. Saturday and noon to 5 p.m. Sunday.