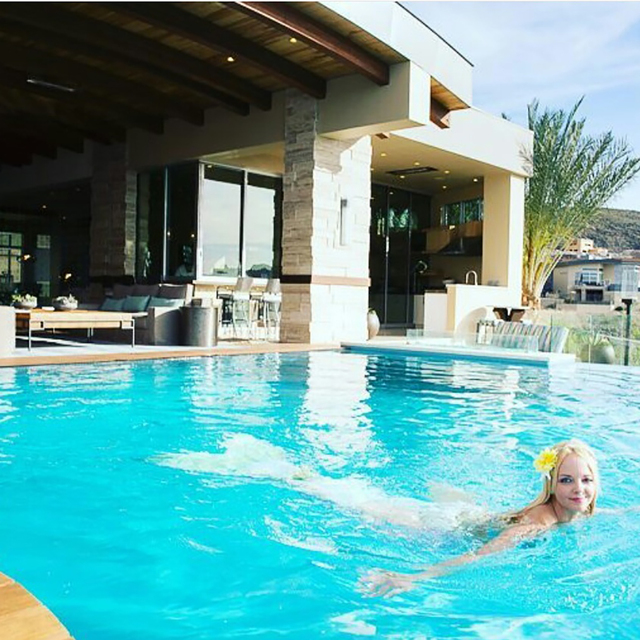 Dan Coletti's Sun West Custom Homes is Las Vegas' leading designer/builder creating inspired estate homes with cutting-edge ideas. When Coletti unveiled his newest creation, Waters Edge at MacDonald Highlands, to a sophisticated audience of homeowners, the visitors all found themselves mesmerized by a special resident in the luxury show home's pool — the in-house mermaid.
"As a kid, I will never forget the pool on the Strip that had the giant glass windows," Coletti said. "In one of the publicity shots, there was a picture of a mermaid in the pool. I was immediately hooked. I wanted to build a home that incorporated that feeling of being in the water, surrounded by water with a panoramic view from below the surface. I had to have a mermaid."
From the main floor, Waters Edge has an infinity pool that provides a frame for the home's unparalleled view of the Strip.
The lower floor is surrounded by water, with a dramatically lit waterfall that cascades into a large pond adjacent to a conversation pit and the home's main bar. On the other end of the home is a unique window into the pool from below the surface. At social functions that window has become the main viewing area for interacting with, and photographing, the mermaid.
"I knew it would be fun, but I can tell you from the moment she hit the water the mermaid was a huge hit with our visitors," Coletti said. "There is something that brings out our inner child when your party includes a mermaid. She sunbathes at the edge of the pool. Her mermaid tail is flipping in and out of the surface of the water, but when she dives to greet guests on the lower level through the panoramic glass, they just flip out and the cameras come out. Who can resist a selfie with a mermaid?"
Coletti said: "Waters Edge at MacDonald Highlands was built as a luxury show home. We have incorporated all of the very best design elements of our decades of experience in building. We built it for visitors to tour and to plan their future estate homes with our team, but eventually we know we will part with it when someone buys the home. I just know their parties and social affairs are going to include our mermaid. She is such a stunning addition to our events.
"As a builder, you design and build these homes knowing they are going to be here for 100 years. It is these homes and the families for which they were built that will be remembered. I know as far as our team goes, one of the more memorable disclosures we ever had to make on sales material will be the words, 'Mermaid not included.' "
The showhome is in MacDonald Highlands. Major cross streets are Valle Verde Road and Horizon Ridge Parkway in Henderson. The home is open daily 11 a.m. to 5 p.m., closed on Mondays. Call the sales office at 702-616-3030.
For more information, visit www.sunwestcustomhomes.com.
Sun West Custom Homes LLC specializes in spectacular estate homes valued at more than $1 million. Every buyer works with Sun West Custom Homes owner Dan Coletti, a second-generation builder who learned the business from his mother, Cynthia Coletti.
Each home is assigned an Executive Building Team construction project manager, an interior designer, a project coordination and an on-site superintendent. Sun West Custom Homes has been building the most extraordinary homes in the Las Vegas Valley since 1989.