Builders say moving people from backyard to front porch boosts social interaction
September 18, 2015 - 5:10 pm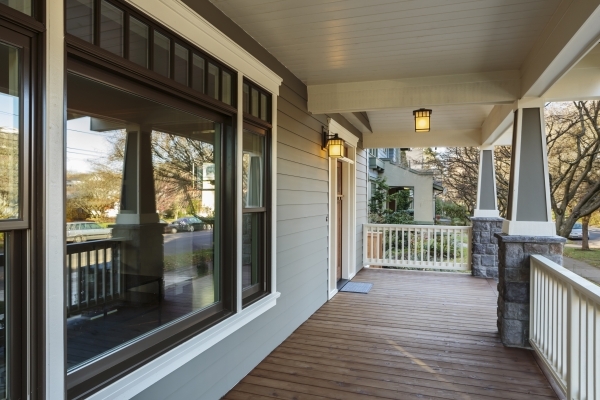 The best way to build a community is to engage it.
And builders are clear on one thing: Moving people out of their backyards and off their decks to the front of the house and on their porches breeds more social interaction.
"People would sit on the front porch instead of in the backyard because they could see people coming and going, say hello to their neighbors and have short conversations," architect Elizabeth Plater-Zyberk told National Public Radio's "All Things Considered." "The bonds of community were being formed through that brief interaction."
So sweep off that old appendage and breathe new life into the living space you're most likely neglecting.
Being perched on a slight elevation from the ground with a clear view of the street (sipping a lemonade or any other beverage of choice), residents have a great place to watch the their kids play with neighborhood kids as well as a having a better chance for casual conversation with neighbors and passersby.
"Front porches create opportunities for homeowners to enjoy an extended living space and increase the potential of interacting with their neighbors, creating community connections," said Staci White, director of architecture for Olympia Cos., the developer of Skye Canyon in the northwestern Las Vegas Valley. "Picture an early evening on the front porch on a fall day, neighbors walking their dog, striking up conversation, and the sense of belonging and community ownership begins."
Many master-planned communities are pushing homebuilders to offer front porches as part of the outdoor living space movement.
In 2014, 96,000 new single-family homes sold in the United States had a front porch, an increase from 59,000 in 2010, according to the Census Survey of Construction Report. And 31 percent of new homes sold had both a patio and a porch.
"Creating an outdoor living area with furniture like rockers, swings, gliders and lounge chairs with a small table can be the perfect comfortable retreat after a long day at work," White said. "Even just adding some patio chairs to enjoy a morning cup of coffee can create a relaxing outdoor space. Adding a finishing touch of a few potted plants can really accentuate the fluidity of the outdoor/indoor space."
Porches also provide a bit of shade from the sweltering Las Vegas heat, which makes them a great spot for container gardens for flowers, vegetables and herbs.
Plan your furniture with a flow to ensure easy access, opening up to the street and space for plants. Then add routine by drinking coffee on the porch each morning, spending time with the plants in the afternoon or enjoying a bowl of fruit each night. Whatever your preference, move it onto the porch and wave to your neighbor.
"The vision of Skye Canyon includes a true partnership between the homeowner and the outdoor experience," White said. "This includes not only the traditional backyard, as the prime location for interaction with family, friends, pets, but also the exterior of the home interacting with the community. The front porch can truly become an extension of the living space if integrated with front courtyards and inviting landscaping."
And while the statistics are slim, it appears universally agreed upon that porch-sitting reduces crime in communities. The theory is based on many aspects of neighborhood watch programs and the thought that the more community members who are engaged and outside watching over the neighborhood, the more likely they are to spot people who do not belong and are scouting out victims. In addition, criminals tend to commit a crime in areas where they are less likely to be noticed.
Based on these theories, engaged neighbors who look out for one another can help prevent crime. And what better way to do that than by taking advantage of a nice fall day, great conversation and the absence of technology.
Master planned communities are "taking an urban form, with the porch on the street and sidewalks," Heidi Majerik, director of development of Forest City Stapleton in Denver, told the Urban Land Institute. "In the traditional suburban model, where there is no habitable space on the front of the house, there's a lot more emphasis on the private backyard. For MPCs following an urban form, the front porch becomes a semiprivate space that engages with the public realm. That creates opportunities for spontaneous engagement."
Porches are a breeding ground for neighbors to unplug and tune in.