New law will allow HOA electronic voting for elections, recalls
September 10, 2023 - 9:04 am
Updated September 12, 2023 - 9:22 am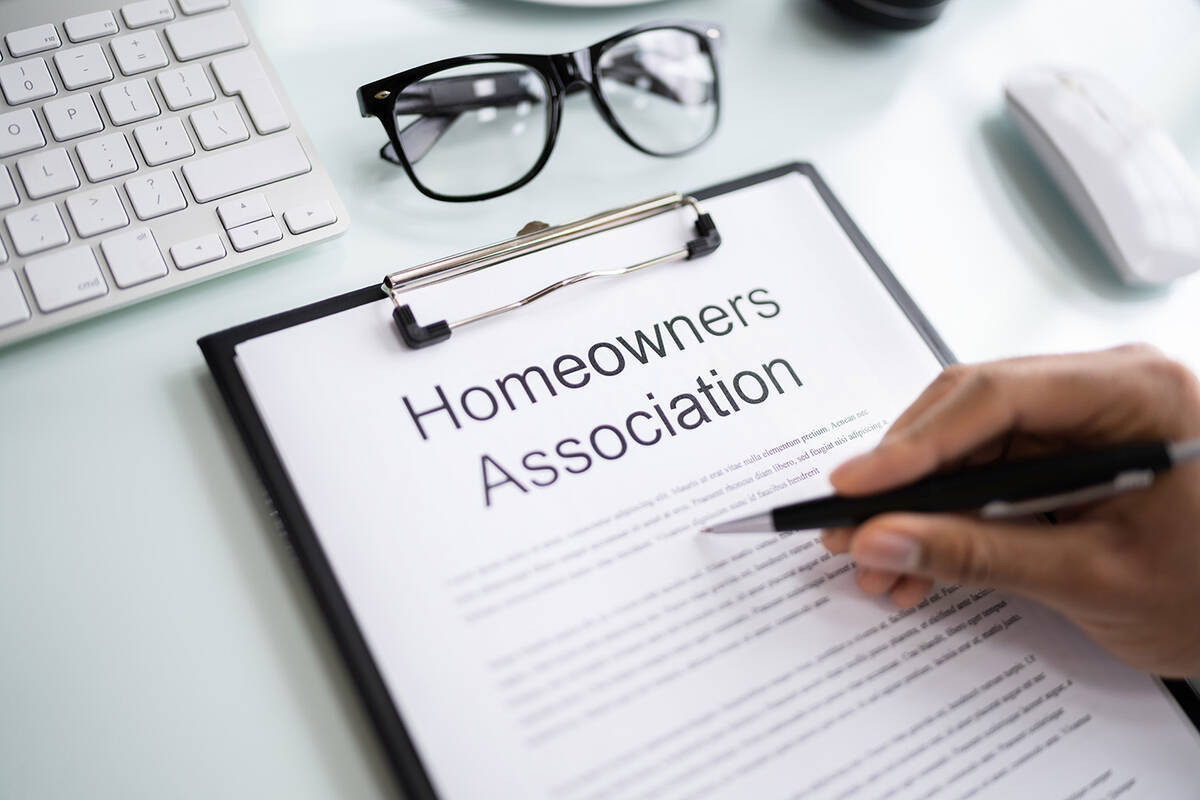 Note: I have turned over my column to Las Vegas attorney Adam H. Clarkson to explain how the passage of Assembly Bill 309 will affect our homeowners associations. He will continue to dig into recent state laws and addresses their effects on our Las Vegas Valley communities.
Assembly Bill 309 allows HOAs to utilize electronic voting for elections and recalls. It also allows HOAs to use autopay and opens the door to development of new management transition requirements.
Electronic voting
Effective Oct. 1, AB 309 enables community associations to conduct elections and recalls electronically through unaffiliated third-party services. Utilizing electronic voting will dramatically reduce the paper waste, mail costs, personnel expenses and volunteer hours that are associated with elections, which will result in cost savings for community associations and the homeowners living within them.
It is anticipated that improving the ease of engaging in an association election process by facilitating the ability to vote from smart phones, tablets and computers will foster greater membership participation. In light of the fact that many people already utilize their phones to order dinner, travel on planes, request a ride and pay for day-to-day expenses, it is expected that many will prefer the ease of voting in their HOA elections on their phone over seeking out postage stamps and mailing in a ballot. Of course, only time will tell.
The electronic voting process is intended to improve HOA election security in several ways. Electronic voters will have to meet digital access requirements (think dual authentication, identity verification and password protected access) to submit their vote, which is a level of election protection that is not possible with paper ballots. Further, an association will only be able to engage an electronic voting service that is unaffiliated with the association's management company, manager, board and homeowners, so the potential for a perceived influence over a ballot count will be essentially eliminated. Unfortunately, as a result of this restriction, associations that choose to use electronic voting will have to pay for a third-party service to process their election, but this cost is still expected to be less than the cost of mailing ballots for most associations and, in the opinion of many, is a worthwhile expense for safeguarding elections.
Wondering if your HOA will be permitted to hold electronic elections? Yes. AB 309 supersedes an HOA's governing documents and allows all HOAs to perform their elections electronically.
The decision as to whether or not to hold an election electronically is up to an HOA's board of directors who will need to weigh the cost-benefit of electronic voting for their community.
Will you be forced to vote electronically if you do not want to? No. AB 309 allows any owner to opt out of electronic voting and instead receive a paper ballot. Simply opt out of electronic notices from your HOA and you will be opted out of electronic voting.
If everyone at your home provides an email address to the HOA, will everyone get to vote? No. Owners may only designate one email address per unit for electronic notices and voting. An association may select the email address for notices and election mailings where an owner has used an email address to communicate with their association yet failed to formally designate a specific email address for notices.
What should I do if I want my HOA to use electronic elections? Community managers and homeowner leaders should consult with their association legal counsel to discuss utilizing the electronic voting process and develop new election policy to provide homeowners with a clearer understanding of the process. Homeowners may reach out to their HOA board and management to suggest that the HOA use electronic voting, but the decision is ultimately up to an association's board.
Finally, just because electronic voting becomes legal Oct. 1 does not mean that associations will immediately engage in electronic voting. Changing the voting process will take time and preparation for many associations. Moreover, some association boards may choose to wait and allow others to "work out the kinks" of the new Nevada electronic voting process.
Autopay
Believe it or not, until Oct. 1 it's unlawful for HOAs to utilize autopay for most of their expenses. This meant that many HOAs have dealt with the headache of late payments simply due to a timing issue, which for many was a problem that disappeared shortly after the proliferation of the internet and the advent of autopay.
Thanks to AB 309, recurring HOA expenses like insurance, telephone, internet, cable, monthly management fees, monthly landscaping fees, loan payments, payroll expenses and any other similar annual, quarterly or monthly recurring payments may be automated. Previously, Nevada Revised Statutes 116.31153(3) only permitted the automatic transfer of operating funds without individually approved electronic or physical signatures for: payment of transfer money to the reserve account at regular intervals; utilities; payments of $10,000 or more to a state agency; or payments to the federal government where required by law.
This small and subtle change in the law will result in reduced late fees and accounting expenses, which equates to a savings for associations and homeowners.
Transfer of books, records following management change
Have you ever experienced a change in HOA management that seemed to result in a litany of problems for your HOA, the HOA's board and homeowners and the new management company?
If your answer is yes, then you are not alone. Deplorably, many associations throughout Nevada have suffered from the negligent or malicious failure of out-going management to transfer an association's records in a timely and reasonable manner. As a result of such situations, an HOA's new management may find itself without the documents necessary to provide services to homeowners, properly account for owner payments, pay for continuing services to a community, account for funds or otherwise properly manage a community for months at a time, which naturally leads to anger and frustration for homeowners, boards and management. Hopefully, this does not sound familiar, but for far too many people it will.
Optimistically, many of those types of situations will come to an end soon because, pursuant to AB 309, the Commission for Common Interest Communities and Condominium Hotels has been authorized to adopt regulations governing the transition of an association's books and records following a change in management. Efforts are already underway to craft regulatory language that will put an end to the inappropriate withholding and destruction of HOA records upon transition. If you want to have your voice heard with respect to such efforts, then attend upcoming meetings of the commission when this matter is placed upon the agenda to express your concerns.
Adam H. Clarkson, Esq., CCAL, is the owner of The Clarkson Law Group, P.C. a community association law firm. Clarkson is a member of the Fellows of the Community Associations Institute's (CAI) College of Community Association Lawyers. He is the chair of CAI's Nevada Legislative Action Committee, former chair and current member of the CAI Nevada Political Action Committee, past president and current member of the CAI Nevada Chapter board of directors, the industry representative on the Nevada Department of Business &Industry's CIC Task Force, a member of the Nevada State Bar Real Property Committee. He also is co-author of the Common Interest Community Section of the "Nevada State Bar Real Property Practice Manual."