Builders offering elaborate entryways and courtyards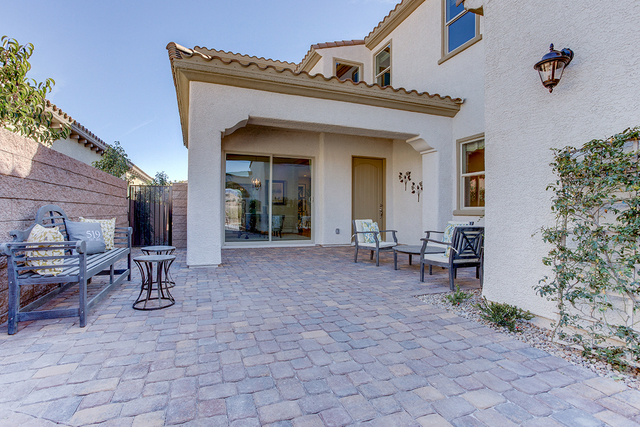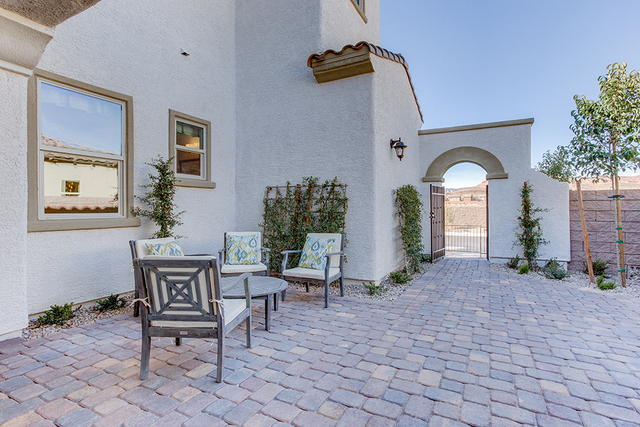 The trend of indoor/outdoor living is spilling onto the fronts and sides of homes across the Las Vegas Valley.
Elaborate entryways and courtyards are being incorporated into homes to meet the lifestyle requirement.
Lennar Las Vegas Division President Joy Broddle said the company is using courtyards to give its homebuyers the opportunity to sit out in front and interact with their neighbors.
"We're putting fireplaces and water fountains in our front courtyards and sliding doors with access to the courtyard from the dining room," she said. "We're trying to figure out how to use the entire footprint of the home, not just force people into the back of their home."
Broddle added that courtyards are, "another place we can add something unique to our floorplan."
She said they're an important aspect of the home due to the curb appeal.
"It's the first thing when you drive down the street," Broddle said. "People take pride in their home and want their guests to say, 'wow,' when they look at their home and walk in the front."
Century Communities is also noticing homebuyers gravitating toward indoor/outdoor living experiences, said Marketing Coordinator Melissa Famaflis.
"With the weather we experience here in Las Vegas you can really enjoy indoor/outdoor living features year-round," she said.
Famaflis added that Century Communities offers floor plans with both full and half courtyards to enhance the entryway and curb appeal.
"We offer 8 foot tall doors and garage doors, which command your attention as you come through the entryway," she said. "Buyers are really appreciating these small enhancements."
At the Henderson master-planned community of Inspirada, Pardee offers a contemporary farmhouse that can come equipped with three to four bedrooms and 3½ to 4½ baths.
Upon entering the more-than 2,000-square-foot home, which is outfitted with large wooden beams, Shaker-style cabinets and porcelain tile that is designed to mimic the look of wood, a courtyard sits off the entrance offering an additional entertaining, dining or relaxing space.
"It starts with the idea that buyers are valuing indoor/outdoor spaces and this is another way of doing an outdoor living space, only we chose to do it in the front," said Pardee Southern Nevada Division President Klif Andrews. "The design idea was to create a buffer between the main house and the street with an outdoor courtyard."
Andrews said entryways and courtyards are yet another way for homebuyers to personalize their home.
"It's about making a big statement when people walk up to your house," he said. "We're doing a lot of personalizing entryways and courtyards in our models and production homes including offering floor-to-ceiling windows, which buyers are really loving right now."
In the future, Andrews said glass will continue to be incorporated at the entryway.
"It's less about arches and wrought iron and more about flat surfaces and really interesting details," he said. "We're shifting away from the Mediterranean-style homes and it's becoming more about making a design statement with colors and details and that's exciting."
Contact reporter Ann Friedman at afriedman@reviewjournal.com or 702-380-4588. Follow @AnnFriedmanRJ on Twitter.