Cadence ranked No. 12 in nation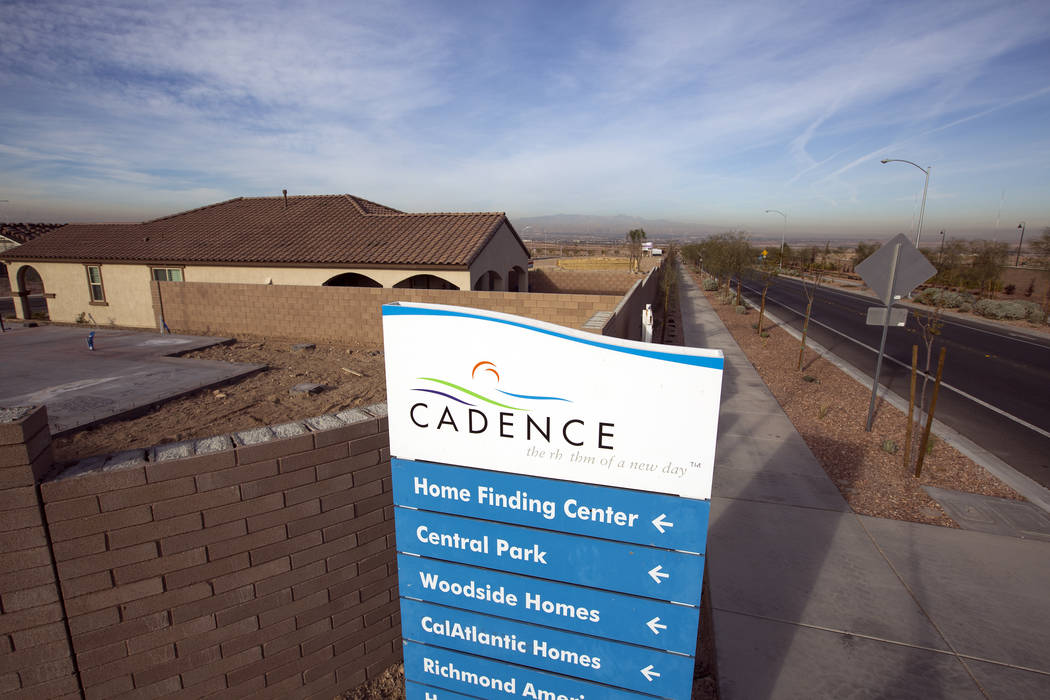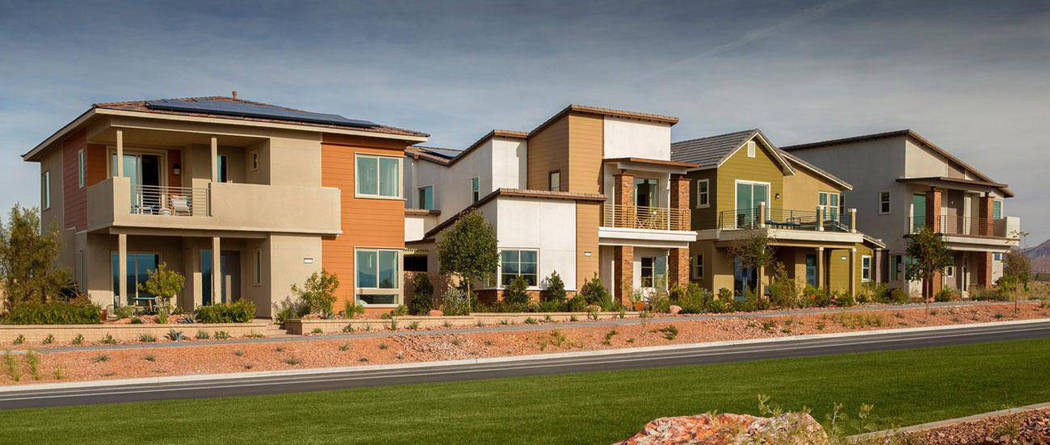 Lee Farris still remembers a decade ago when the television sets at Henderson City Hall were tuned to CNN and he watched the stock market tumble at the onset of the Great Recession.
Farris, vice president of land development with The LandWell Co., regularly met with the city attorney and planning officials to discuss Cadence, which would be the valley's newest master-planned community.
"We were watching the market tank, and it wasn't a good feeling," Ferris said. "There was nothing to do about it, and we had to wait until the time was right."
In 2007, Henderson had the 2,200-acre site approved for 15,000 housing units, but the economic downturn and housing collapse in late 2008 and early 2009 would put the project on hold until the economy rebounded. The project was reset in 2011 for 13,250 homes.
The master plan had its skeptics as a residential development on land that once held waste ponds for a nearby magnesium plant that operated during World War II. With $144 million in private money, however, the site was remediated and cleared for development in an area in more mature parts of East Henderson off Lake Mead Road, east of U.S. Highway 95.
The recession pushed back the project until 2012 when LandWell began site development. It sold the first parcels to builders in 2013, and the first home was sold in March 2015. The first resident moved into her home in July 2015.
National numbers from RCLCO show Cadence had 334 homes sales in the first six months of 2018, placing it No. 12 in the country for best-selling master plans. That is a 45 percent increase over the first six months of 2017, when it was ranked 24th with 231 sales.
"From our perspective, we started with the vision that we haven't varied off of trying to provide bread-and-butter housing and trying to find the sweet spot of the everyday buyer and deliver them a home in a master-planned community that is aesthetically pleasing and looks great and remains affordable," Farris said. "We have been fortunate that we have done smart things to position the master plan well so that it hits the market sweet spot and provides what homebuyers in Las Vegas are looking for."
Since it opened, Cadence has reported 961 closings, and developers are expecting to reach the 1,000 mark by late August or early September. It was a recovery Farris said he didn't expect so quickly after the recession, and the standards of what they expect has gone up.
"In 2013 and 2014 it was getting it off the ground and getting our builders off the ground," Farris said. "Within three years of the first homes being framed, it's hard to envision 900 people living there."
That number is expected to grow. Las Vegas-based Home Builders Research said 311 home permits were issued for Cadence for the first half of this year. That is compared with 400 for 12 months of 2017. Closings have steadily risen: 27 in 2015, 307 in 2016 and 371 in 2017, according to Home Builders Research.
"It was a not the greatest site in the world," Farris said. "It was an infill site and had the challenges of that area of Henderson that was older than the newer Green Valley area where everyone likes the new shiny thing. We had to battle to get people to drive out down Lake Mead on the other side of U.S. 95. You go past the old industrial site and past the older parts of Henderson to get there. Part of it was trying to provide good product that once you get people out on the site, they love it and want to be there."
The strategy was to deliver amenities early and create a place people wanted to use, Farris said. The first phase of the 50-acre Central Park was completed in late 2014 with a playground, splash amphitheater. A pool was included in phase two, which opened in 2016.
"Right out of the box we spent millions of dollars before we sold a house to make sure homebuyers knew we were actually going to deliver on what we said we would do. We set the amenity tone with Central Park," Farris said.
Home Builders Research said it's tracking 41 floor plans within Cadence with prices from the high $200,000s to the high $400,000s.
Cadence sells only single-family homes, which measure from 1,400 square feet to 3,500 square feet. It caters to segments from entry-level buyers to families to empty nesters and retirees.
"Builders bringing in bigger product on bigger lots is the next task," Farris said. "That's the market we don't have right now, and that number will move into the low-to-mid $500,000s next year."
Besides Lennar and Richmond American, Woodside Homes and CalAtlantic Homes are the other builders.
Cadence will announce this fall that two to three additional builders will be constructing homes in the master plan to increase diversification of its product line for buyers.
"We are bringing in new homebuilders who have seen that we can actually do this and that the project is a success," Farris said. "We have homebuilders who are coming to us and asking us to buy land as opposed to the early days going out to homebuilders and trying to convince them our vision would work."
Sales have been boosted this year with the introduction of a new product line. Richmond American homes introduced entry-level, two-story single-family homes at 1,470 square feet to 1,800 square feet that started at $229,000. They proved to be so popular that prices have risen to $270,000, Farris said.
Richmond American also will be introducing town homes this fall that start in the mid-$200,000s. They will face Central Park, Farris said.
"We put some of the smallest and most affordable homes in one of the most prominent spots in the master plan to diversify the general look and aesthetics," Farris said.
Builders are offering a wider range of products than when Cadence first started selling the 55-plus community, Heritage by Lennar, said Andrew Smith, president of Home Builders Research.
Road completions are giving better access to and from the rest of the valley via Galleria Drive and Warm Springs Road, and the continued development of parks and facilities and opening of retail and commercial — with the planned opening of Smith's in 2019 or 2020 — on a 30-acre retail site is making a difference, he said.
"It seems that consumers are warming to the area as time goes on; certainly infrastructure and amenity improvements help," Smith said. "The overall improvement of the Las Vegas housing market is also a positive for them. They are also the only choice in this part of the valley for those looking for master-planned-style living at a low-to-midrange price point."
Cadence is designed with 450 acres of open space including parks — and the heart of Cadence, its 50-acre Central Park — and walking trails and a 100-acre sports park with baseball and soccer fields in the planning stages, said Cheryl Gowan, vice president of marketing for Cadence. Its technology includes the latest digital connectivity, giving each of the 13,250 planned residences complete broadband access, with Wi-Fi in the parks and community areas, she said.
Historical overview
Farris said the development was able to hold out during the Great Recession because of land holdings it could sell. LandWell is the investment arm of Basic Management Inc., which has developed more than 1,200 acres of retail, light industrial, commercial and residential projects in the Henderson area. The company's projects include Black Mountain Industrial Center, Black Mountain Business Center and Valley Auto Mall.
"We had to wait until the time was right and were fortunate enough to have a diverse set of land holdings where we could make industrial land sales to keep things and bide your time until it was right," Farris said.
LandWell had experience on the commercial end but was unproven as a residential developer. But it had experience within the company.
CEO Mark Paris worked with Summerlin and Celebration Disney in Florida. Farris, who is an engineer by trade, worked on Green Valley and Seven Hills developments.
"We had experience even though the company had never done it," Farris said. "It was expressing to homebuilders two things: that we were going to treat everyone the same and deliver what we told them we would deliver and not change or soften our standards just to make a land sale. We had to stay tough early on and, unfortunately, could not come to terms with homebuilders who wanted in on the front-end because we could not give in on the architectural standards we had."
Once Lennar started its age-qualified community, that created confidence among other builders, and Woodside and then Ryland Homes and Richmond American came on board, he said. Ryland was bought out by CalAtlantic, which since has been bought out by Lennar.
"Now, it has snowballed that homebuilders are calling us and wanting in as opposed to the beginning," Farris said. "We were chasing homebuilders to convince them to come out to East Henderson and take a look at what we were going to do."