High home prices drive buyers to affordable town homes
September 10, 2023 - 9:05 am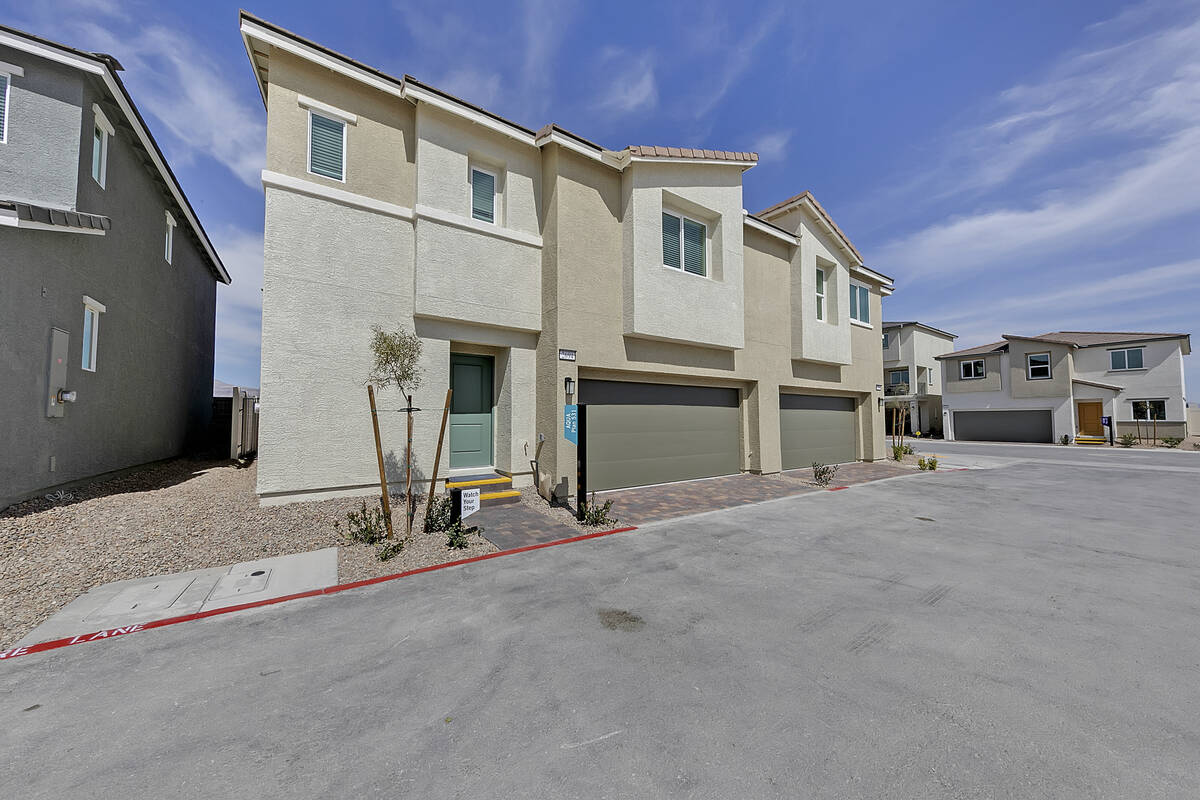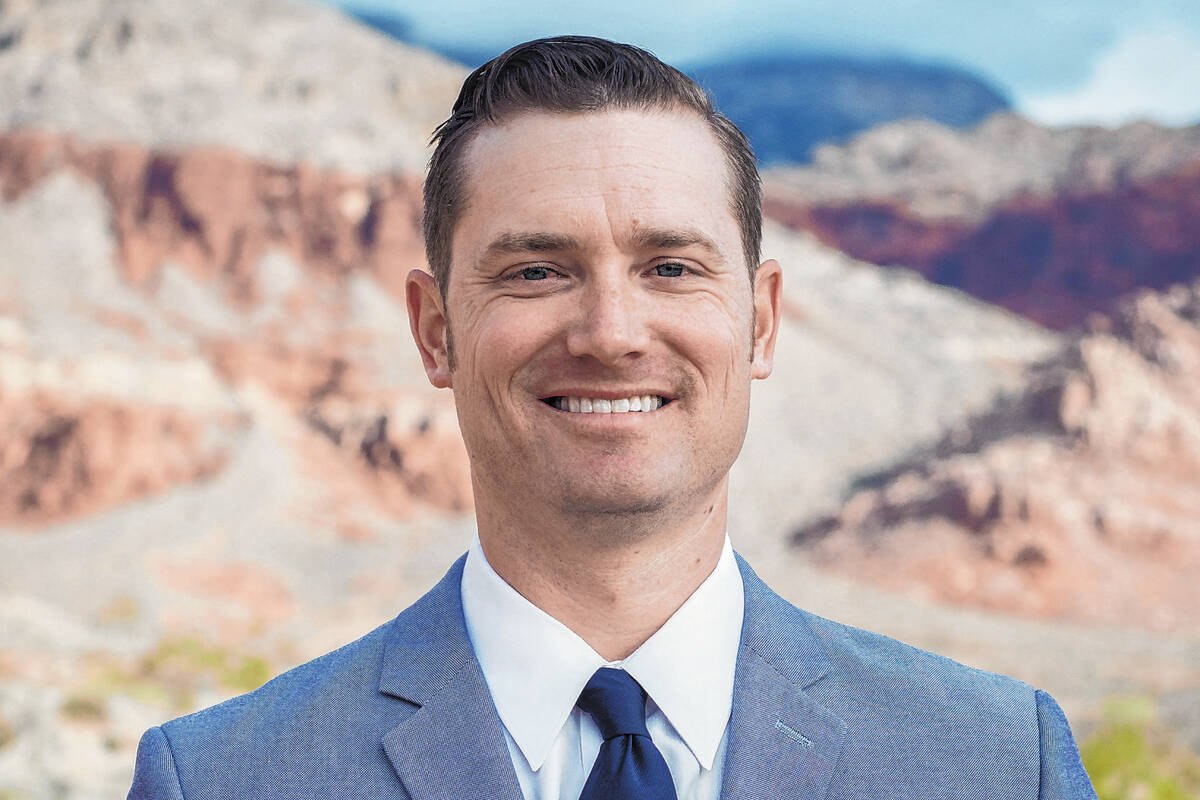 Las Vegas set a record in May when 29.1 percent of new-home sales were attached products — primarily town homes — and that trend shows no sign of slowing as builders continue to pursue denser developments.
Driven by affordability, builders are turning to town homes to capture buyers in a marketplace where higher interest rates over the past year have put more single-family homes out of their price range. A push to construct two-story condo projects to go even higher in density is expected.
In new home closings tracked through the first six months of 2023, the 4,106 single-family home closings were down 12 percent through the first six months of 2022. In comparison, there were 1,237 attached homes closed during the first six months, a 6 percent year-over-year increase, according to Las Vegas-based Home Builders Research President Andrew Smith.
Some 23 percent of new homes sold during the first six months of 2023 were attached, aided by 29.1 percent in May and 25 percent in June. The 23 percent share will mark the highest over the past decade tracked by Home Builders Research, and it's on track for an all-time record, according to builders.
"I've been here since the 1990s, and we've never seen it this high." said Tom McCormick, the founder of Touchstone Living, one of the valley's leaders in town home projects.
In 2021 and 2022, the market share was 19.8 percent and 19.7 percent, respectively. That's up from 5.3 percent in 2015 as cheaper land and lower prices coming out of the Great Recession allowed builders to focus on single-family homes because they could build those for not much more than building a town home, McCormick said. That changed as land prices increased.
"It's about affordability and lifestyle," McCormick said. "Land is so expensive and driving housing unaffordability, but with town homes, you can put more homes on the same amount of land. That makes the land cost per home lower and leads to a lower sales price."
Touchstone Living can build 12 to 18 town homes per acre while builders constructing single-family homes average about five homes per acre and eight to 10 per acre in higher-density areas, McCormick said.
"The land prices haven't softened," McCormick said. "There's so little of it available that the price is staying high. To see something at $1 million an acre is not uncommon."
Besides the lower price, McCormick said buyers, especially millennials buying their first home, are attracted to the lifestyle and reduced maintenance costs.
"Typically, town homes have parks, pools, playgrounds and other amenities that go with it," McCormick said. "For us, it's a much younger buyer, and they like the more community-oriented neighborhood in which you are sharing everything as opposed to single-family detached people pulling into the garage and staying inside of your house."
Nat Hodgson, CEO of the Southern Nevada Home Builders Association, said construction defect laws in place in the 1990s slowed the building of condos and town homes. Town homes are homes that are attached, and condos are multiple stories of units stacked on top of each other.
Construction defect laws were reformed in 2015, giving builders a green light to pursue those projects going forward because there were fewer concerns about lawsuits over attached products, Hodgson said. Add on higher home prices today driven by land costs and interest rates, and buyers are demanding more attached products, he said.
"I see it growing," Hodgson said. "Most of my builders are even dabbling with condos. Most of my builders for 2024 have a project on the board for condos in addition to town homes all over the valley. You have to keep going with density, density, density. That's what happened in every metropolitan area in the United States that grew."
Smith said local governments are working with builders to allow greater density to build more attached projects to deal with affordability. That should help keep the market share elevated for a while, he said.
"It seems like we have reached a new normal," Smith said. "I think it will go even higher given land scarcity, cost increases and the need for more housing."
The interest in town homes is only growing among builders and buyers as shown by the latest numbers. The 259 closings of attached homes in June was 20 percent higher than June 2022.
Attached home sales were prevalent again among the top 10 new-home subdivisions recorded during the second quarter. Of the top 10 list in all communities, town homes held seven of the top spots.
Diamond Ranch Trails, D.R. Horton's town home project in the southwest valley ranked No. 1 in overall subdivision sales during the second quarter with 50. Touchstone Living's Watercolor town home project in North Las Vegas was second with 47 sales.
Lennar was fourth with its Terra Bella condo project in the Anthem master plan in Henderson for those 55 and older. It had 44 sales.
Touchstone Living's Mosaic town home project in the south valley, which has one unit left of 793 lots, was tied for fifth with 43 sales.
Lennar's Highline, a town home project in Summerlin also had 43 sales and its Roxbury town home project in Valley Vista in North Las Vegas was next with 41 sales.
D.R. Horton's Symmetry Trails in Cadence in east Henderson was ninth with 34 sales.
The more than doubling of interest rates over the past year has pushed more buyers to consider town homes. The 30-year fixed mortgage rate was around 7.52 percent this week.
The higher borrower costs and an average sales price for single-family home closings in June at $501,000 have put the single-family home out of reach for many first-time buyers. While that sales price is 2.4 percent lower than June 2022, the more affordable town homes sold for an average price of $363,990, a 5.8 percent decline year-over-year, and some town homes can be had for less than $300,000.
The leading community where homes were sold in June was Touchstone Living's Watercolor with 23 net sales. Touchstone bought 85 acres in 2019 and plans 1,180 homes and has sold 692. Those prices range from $280,000 to low $400,000s for homes 1,000 square feet to 2,200 square feet. The project primarily includes duplexes, fourplexes and sixplexes.
Touchstone's latest project is in the east valley at the former Royal Links Golf Club and is known as Independence, which will have 1,600 homes. The builder bought the land in December 2021 and has started construction on models that are expected to open in October.
Those homes haven't been priced, but the expectation is they will range between mid-$200,000s to mid-$300,000s. There are already 9,000 people on an interest list for the project, which will feature town homes and duplexes. A preview center opened in May.
"We're seeing 50 to 80 groups a week at this preview center, which is a remarkable number of people," McCormick said. "We were used to seeing fewer than 10 per week in a preview center, so for us to see this level of interest is just incredible. Prices and interest rates are going up and affordability is so important to people. We're seeing more demand as time goes on."