High-rise market heats up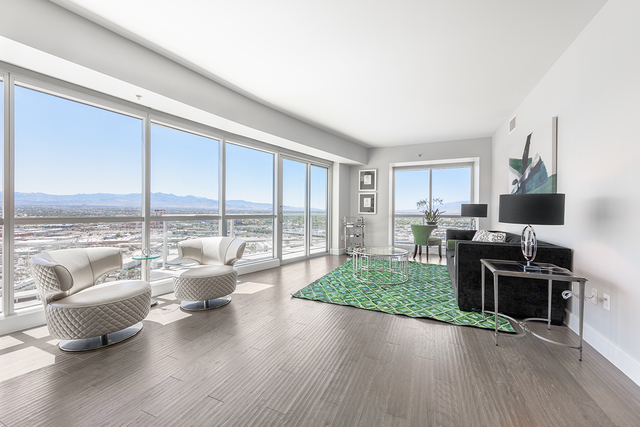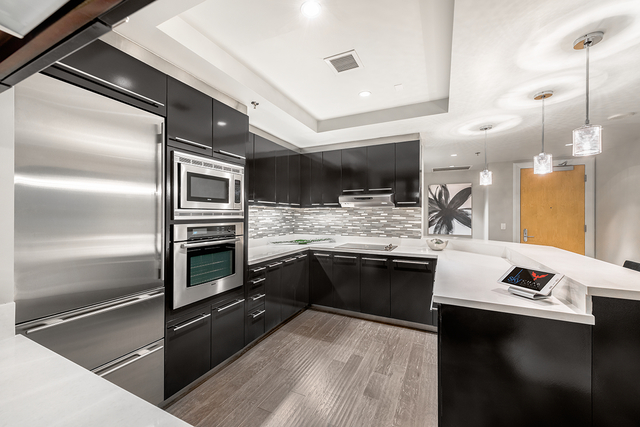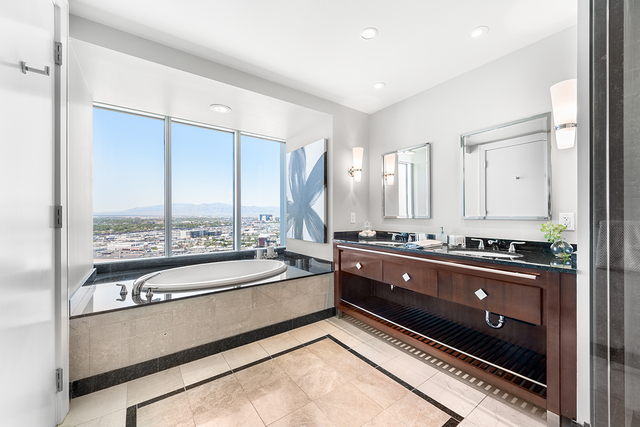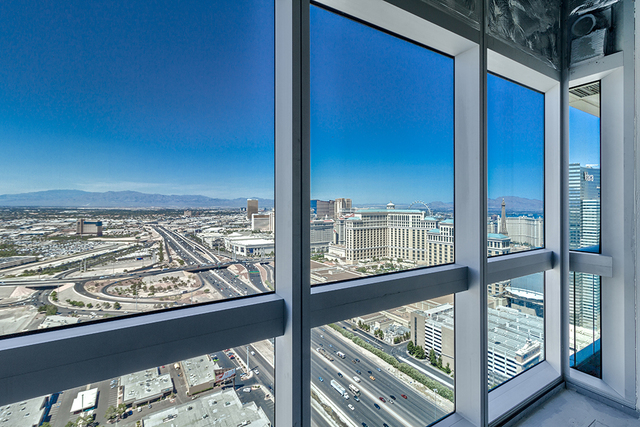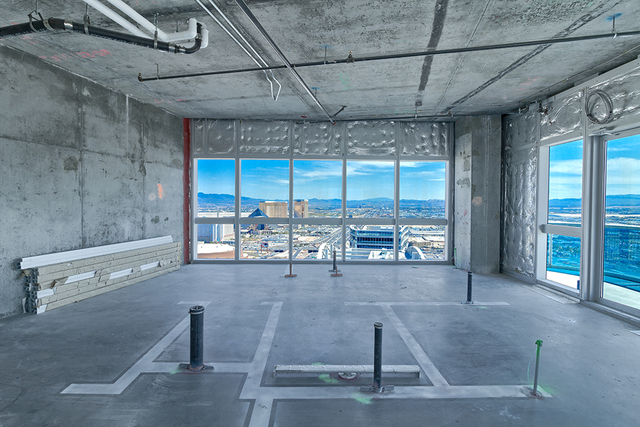 After the Great Recession, Las Vegas high-rises were hard hit. But eight years after the crash, notable things are happening in Las Vegas' niche high-rise market.
Prices have climbed with an eyebrow-raising $1,633-per-square-foot sale, move-up buyers and renovations. There are projections that demand for Strip high-rise homes may increase with the opening of T-Mobile Arena, the announcement of an NHL expansion franchise and talks could that lead to an NFL team in Las Vegas. Plus, unique opportunities exist to purchase top-level penthouses, gray shell penthouses, and even "a bulk" package of condos.
"Our high-rise market has gone through a roller-coaster ride where sales and prices go over a bump, level out and then go over another bump. The market is continuously on the move," said Shari Sanderson of Award Realty.
"What has been happening in the high-rise market is consistent with other segments of Las Vegas' real estate market in that it has been steadily rising. This leads to specific high-rise developments having smaller and smaller amounts of inventory for buyers."
Sanderson and her business partner, Michelle Manley, who have been involved in hundreds of high-rise sales, including 160 at Mandarin Oriental, view this niche market in segments based on physical location — the Strip; downtown; "midtown" between the Strip and downtown (where Juhl, Newport Lofts and Soho Lofts are located); and off-Strip – with each going through its own cycle of price highs and sales.
"High-rises in the downtown cost less than those along the Strip, and some off the Strip are mid-priced while others off the Strip like Park Towers and One Queensridge provide luxury multimillion-dollar homes," Sanderson said. "It seems like the window is closing on certain price points in specific developments, and I feel that this will be escalating."
Raising the sales bar
Raising eyebrows is a July 5 sale of a penthouse at The Residences at Mandarin Oriental for $6.5 million or $1,633 per square foot. This 3,980-square-foot, two-bedroom, two-bath unit was previously owned by renowned businessman and developer Kirk Kerkorian, whose many projects included CityCenter, in which Mandarin Oriental is located. After his 2015 death, his family sold it, and it subsequently was remodeled from its studs into glam-contemporary style and sold furnished.
"People should view my recent sale at the Mandarin Oriental as a sign that the high-rise market is continuing to positively grow," said Kamran Zand of Luxury Estates International. "The sale created a new Las Vegas record for highest price per square foot at $1,633 and the highest resale price in the Mandarin Oriental at $6.5 million."
Zand says this sale is reflective of Mandarin Oriental, not necessarily all high-rises.
"General statistics can be pulled to get an idea of what the overall high-rise market is doing, but if you really want more reliable numbers, then you'll have to pull segmented data for areas and type of high-rise condos. The reason is because each building offers a different product and appeals to a different buyer. Factors include location, amenities, fees, views and price point," Zand said.
"… We currently have over a 10-month supply of high-rise condos on the market. It starts to become a seller's market when that 10-month supply turns into a five-month supply. At the same time, prices are increasing and we're selling more units."
Move-up buyers and renovations
Randy Char of Char Luxury Real Estate Lounge agrees that market segments are moving at different speeds, but the high-rise market is stable overall.
"The lower-end market is where a lot of the investors are, and the interest and prices seem to be stable in this market," Char said.
"The above-$1 million luxury high-end market is doing very well, and I think the No. 1 reason is that wealthy Southern Californians come here for tax reasons and are choosing this market," he said.
"The other reason is that some people have given the luxury lifestyle a chance by buying a smaller unit to 'try it out.' They decide that like the lifestyle, the amenities, the security and they decide to move up to a larger unit or penthouse," Char said, referencing One Queensridge Place near Rampart Boulevard and Alta Drive, where he has worked as a broker.
"This migration from smaller units to larger units is creating a higher demand for those upper units and reflected in the sales prices.
"The other thing that I have seen is owners making a lot of renovations in their high-rise homes because they like living there. This then increases the value when they decide to sell."
Renovating is not reserved to individual owners. The owners of Sky Las Vegas, located along the Strip at Sahara Avenue, decided to renovate 64 unsold units with designer finishes and began offering some of these units for sale this summer.
"We are converting them to sales, but first we are renovating them to modern finishes. … Glass tile backsplashes, quartzite countertops and distressed hardwood flooring are just some of the enhancements that we are making to elevate the value of the building," said Char, whose company has been retained to assist with sales. Units available through Char measure from 988 to 1,778 square feet, offer one to three bedrooms, and are priced from $285,000.
Other developments whose owners have re-introduced units to the market — after removing them due to the economy — have experienced success. Take The Ogden, a 21-story downtown development, located near the intersection of North Las Vegas Boulevard and East Ogden Avenue, which offers condos ranging from 815 to 2,000-plus square feet at prices from the $200,000s to the mid-$600,000s.
Unique offerings
Other unique ownership opportunities can be found in multiple high-rises.
The penthouse with the highest price tag — $29 million — is found at the top of Palms Place. The 59th-floor penthouse features 6,230 square feet, three bedrooms, four full baths and two half-baths, gym, office, along with a pool and magnificent outdoor entertaining space.
Of the few homes remaining at The Martin, located near the Strip, is a 4,826-square-foot gray shell penthouse on the 43rd floor with an asking price of $1.8 million.
"This gray shell is truly unique with wraparound views of the city. … You can pick it up for just over $370 a square foot and then build it up exactly how you want it," said Sanderson, who has the listing.
Another unique offering is at the two-building Turnberry Towers, located across from Westgate Las Vegas Resort, where Award Realty is representing a bulk of units.
"My business partner, Michelle, and I work mostly with getting buyers into units, but we've also done a number of bulk deals. A bulk deal usually includes 20 or 30 units or more, and we've done these at many different high-rise developments. They are very rare, but we have one available at Turnberry Towers. Not many people know about this, but they will now, after they read your article," Sanderson said.
By The Numbers
To get a sense of high-rise market sales pace, look at the statistics. Despite the slight variance in numbers, it provides a snapshot of what's going on in this niche market.
• Kamran Zand of Luxury Estates International stated that approximately 649 active high-rise condominium units are for sale, with prices ranging from $60,000 to $29,000,000. He said that 742 sold in 2015, and 383 had been sold between Jan. 1 and June 30.
• According to Shari Sanderson's 42 pages of spreadsheet data provided to Real Estate Millions, 590 high-rise units were listed for sale and 76 units had contingent offers on July 11, and 354 units had sold with a median sales price of $255,000 in 2016.
• In contrast, the Greater Las Vegas Association of Realtors' June 2016 housing statistics reported that the median price of single-family homes sold through its Multiple Listing Service last month was $235,000. It reported the median price of local condominiums and townhomes, including high-rise condos, sold in June was $115,000, the same as one year ago. During the month of June, 3,248 single-family homes and 709 condo and townhome units were sold through the MLS.