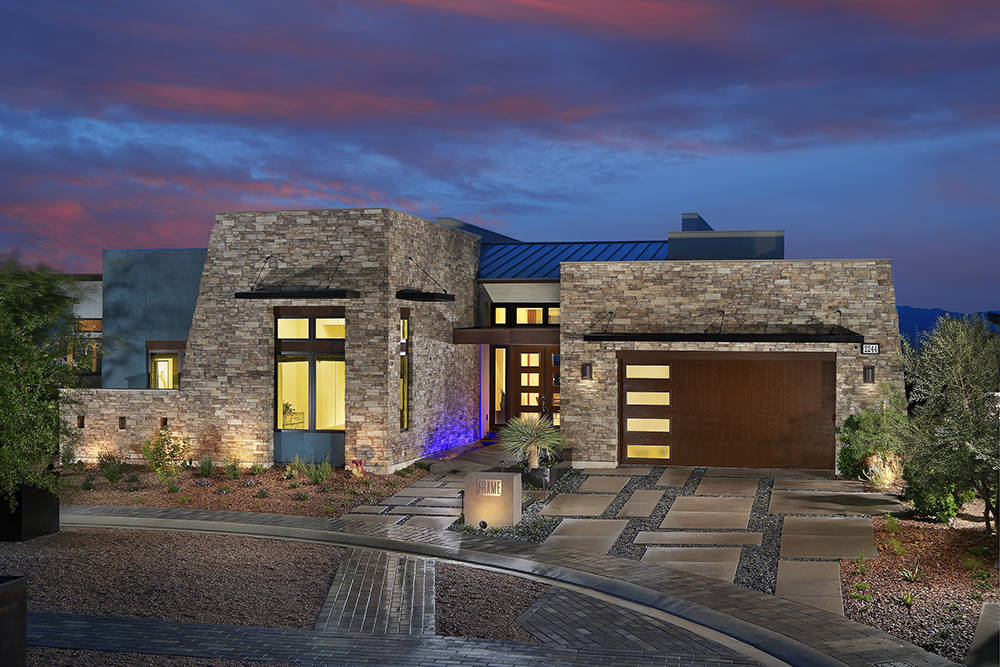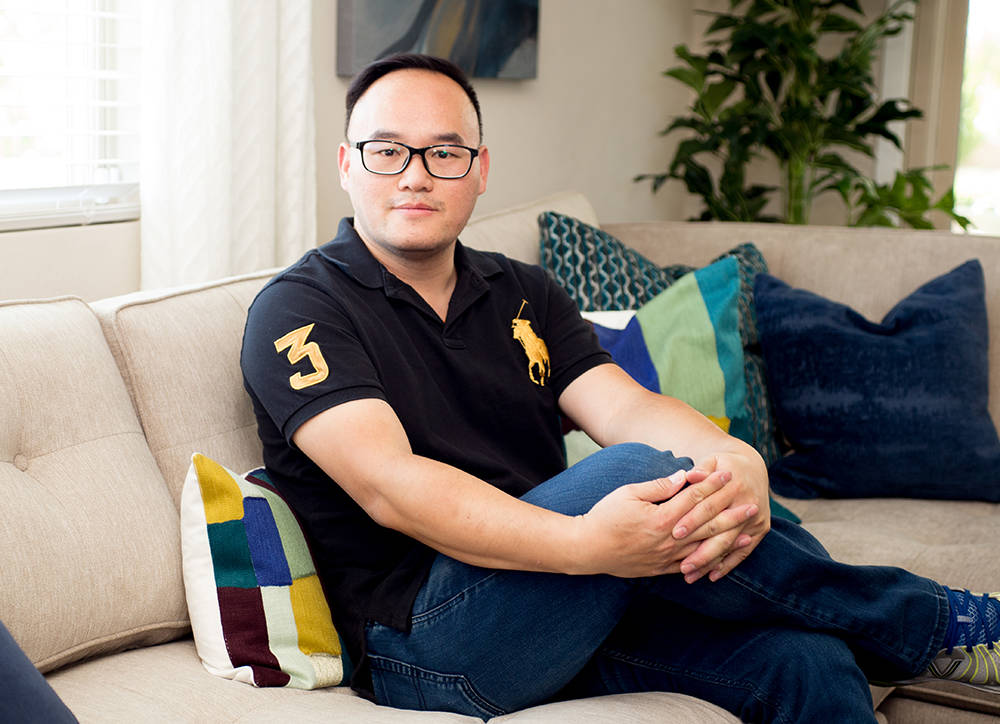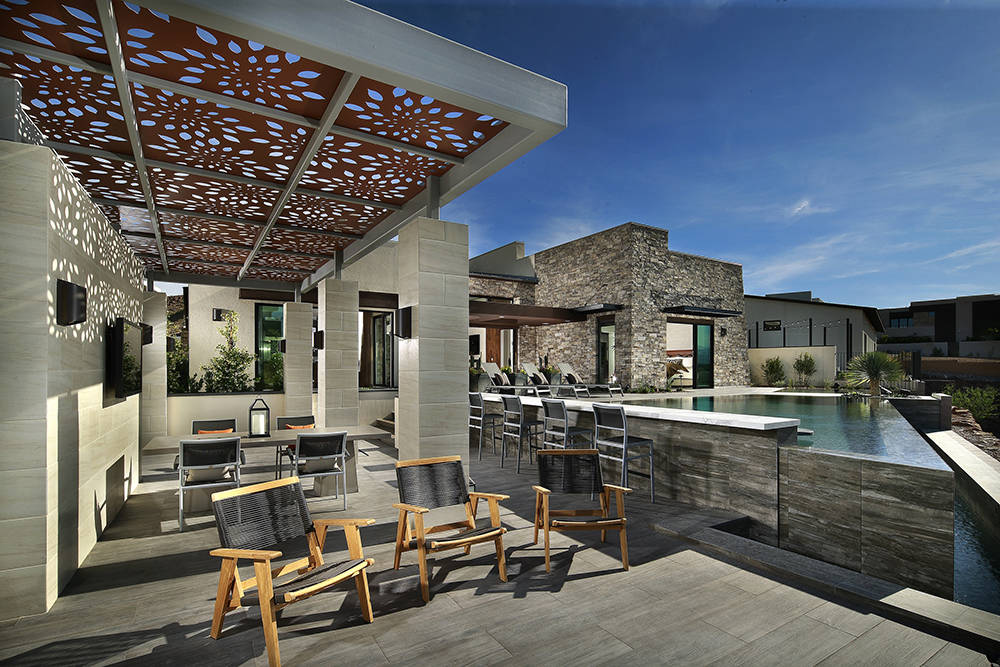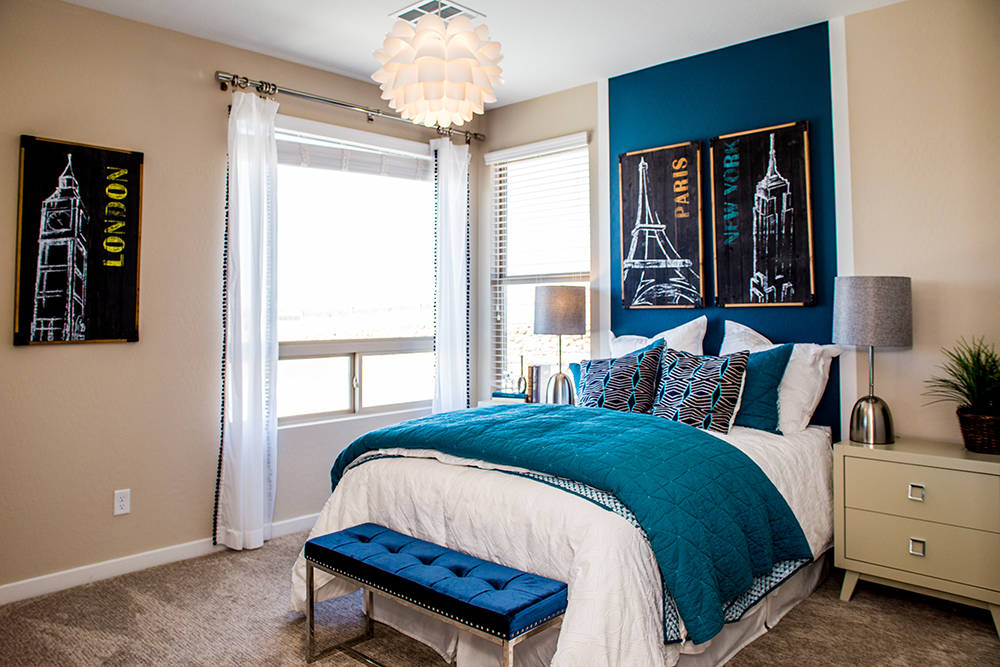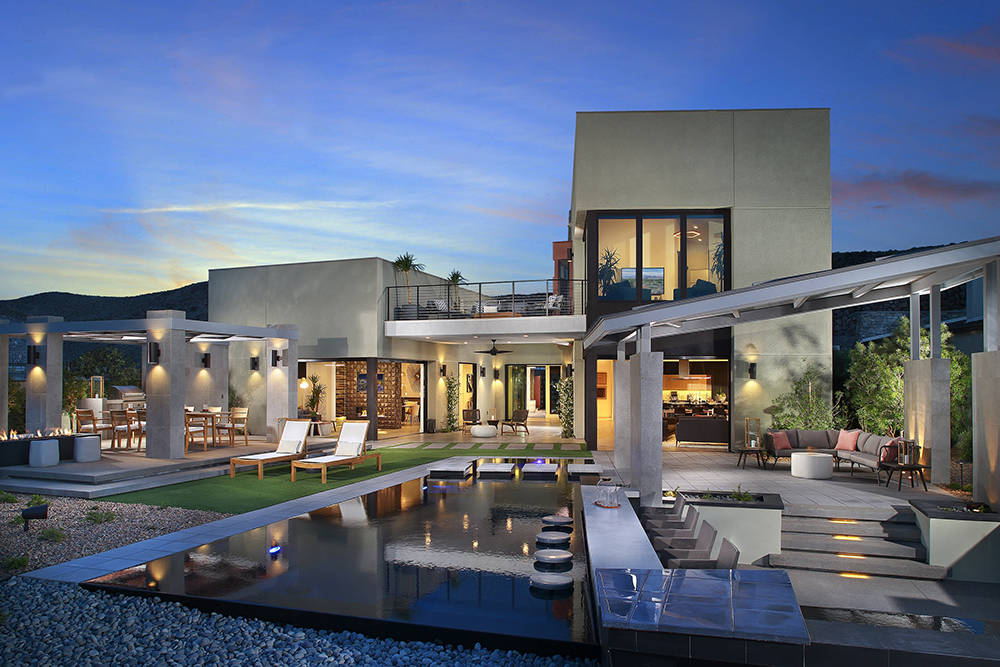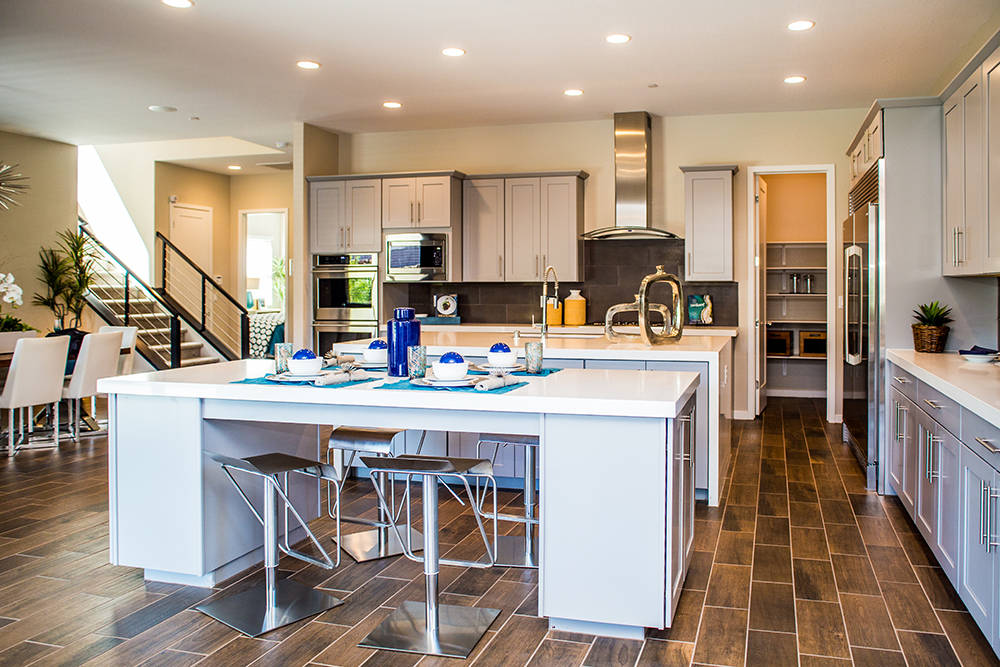 Area production homebuilders have begun to develop luxury neighborhoods with a noticeable nod toward popular modern design.
"We're moving away from rounded turrets and stacks of stone," said Pardee Homes Marketing Manager Adrian Gonzalez. "Folks have had their fill of that, and they're looking for something different."
Gonzalez noticed a shift in consumers' preferences about five years ago, resulting in Pardee Homes launching its first modern designed community, Meridian, in October 2015.
"Meridian in the southwest marked an interesting turning point in our company," Gonzalez said. "We really embrace a more modern aesthetic. Nearly every neighborhood we've opened since has been an evolution of exploring modern design as well as some midcentury modern design."
Homebuyers can see evidence of this dramatic change at the southern end of Green Valley Parkway in Henderson. There, three distinct high-end developments are positioned amid a terraced hillside: Blue Heron's Sky Terrace, The Canyons by Lennar and Pardee's Axis. These developments showcase each builder's take on modern design.
"I don't see this as a trend, I see this as the expected for many buyers," said Kamran Zand, broker and founder of Luxury Estates International. "Buyers are tired of the traditional built home styles, like traditional, Tuscan or Mediterranean. They are looking for open floor plans and clean lines. Over 50 percent of our buyers are looking for modern-style homes."
A fourth development, Pulte Homes Blackrock, is slated to open at the end of 2018 on Canyon Heights Drive, west of the Lennar and Pardee Home developments.
"I can't say enough about how responsive our buyers have been to new, modern designs," said Klif Andrews, Pardee Homes Division president. "At price points ranging from the high $300,000's to more than $1 million, our buyers are overwhelmingly choosing contemporary designs. We began this evolution toward modern design two years ago, and by the end of next year, 100 percent of our communities will feature contemporary styles."
Blue Heron Design Build took control of a 15.17-acre defunct community from a previous developer in October 2012.
Since 2004, Blue Heron has designed and built exclusively "Vegas Modern" homes. The design, according to Blue Heron owner and founder Tyler Jones, is specific for the desert climate and customized for the Las Vegas lifestyle.
The development showcased five predesigned custom home plans that offered flexibility with options.
"It takes more time to design predesigned custom homes than custom homes," Jones said. "We wanted to be able to add things and make them all work within the floor plan. That's important to us to get them to the custom home quality level."
The homes range from 3,460 to more than 5,000 square feet, pricing from $600,000 to more than $3 million. The site has 44 homes. Two custom lots are still available. The rest of the community is sold out.
Sky Terrace home designs maximize the 360-degree views and connect the indoor/outdoor spaces with large pocketing doors and windows, sky decks with entertainment amenities and private interior courtyards.
"The location was a perfect fit for us," Jones said. "When we have elevated lots with a view, that's when all those Vegas Modern concepts work so much better."
Jones saw consumers shift to modern design following the quick sellout of Blue Heron's debut community, Stone Canyon, showcasing 23 Vegas Modern homes in 2004.
"We took a chance on that," Jones said. "It turned out to be a good decision."
"All the other companies are now working on different modern stuff," Jones said. "People are embracing it, and that's fantastic. The more the better as far as I'm concerned."
Influenced by Blue Heron's Sky Terrace, The Canyons by Lennar opened earlier this year. The smaller, highly amenitized contemporary homes are a first for the builder. The development offers four plans ranging from 3,194 to 3,669 square feet, priced from $595,990 to $627,990. There are 143 home sites over 34½ acres for this gated community.
"We did think about that area as it relates to Blue Heron because it is such a standout," said Joy Broddle, Lennar Las Vegas division president. "We knew that corridor had something unique to offer."
Although influenced by Blue Heron, Lennar chose to go with a more contemporary design offering a mix of traditional and modern. This is reflected down to the detail through the use of fixtures, doors, hardware and sinks.
"We really had to do a lot of research on the look we wanted," Broddle said. "Everything is included so we had to nail everything down. Now that we've accumulated a portfolio of things we know work, we can apply that to a future development."
Blending warm and cool tones on the exterior elevations complement the natural hillside that borders the community. A key feature is the specially stained rock wall that borders the development along Green Valley Parkway. The wall is lighted, making a dramatic effect along the roadway at night. "We put a lot of time into developing the community design and floor plans to make sure they were appealing to our buyer profile, which we believe are people who want to live in Green Valley but don't want to buy used," Broddle said.
Recently moving into The Canyons, Jeffery Ho said he chose the development because of the modern design as well as the location. Ho has lived in the area for more than 35 years.
"I'm very drawn to clean, simple and straight line designs and architectures," said Ho, who chose Lennar's Orion floor plan. "It is very well-designed with no wasted space or long hallways.
"Also, the neighborhood is zoned for the best elementary school in Nevada and best middle school in Las Vegas and Henderson area," Ho said. "It's far enough away from the hustle and bustle of the Strip, yet it's only 15 minutes away from work."
West of Lennar, Pardee Homes Axis community offers five distinct floor plans ranging from 2,936 to 4,451 square feet, pricing from the low $800,000s to more than $1 million. The 35-acre acre development has 78 home sites.
"Axis really stands on its own," Gonzalez said about the gated community. "It's very different. Not traditionally what people think of as modern. We feel we went to another level altogether.
"The Wall plan, for example, has a very dramatic statement," Gonzalez said. "There is a diagonal wall element that rises about 32 feet at the front and tapers off as it goes behind the house. This wall almost acts like a blade cutting the floor plan into two very distinct wings."
Shifting from one distinct design to another takes time for production homebuilders. According to Andrews, it takes six months to develop a design and "take it through approvals to a building permit."
"It is fairly complex, especially at the luxury level, like Axis," Andrews said. "A typical design will cost us about $40,000 with our consultants."
Distinguished as "next level modern" design, Pardee's Axis offers five distinct floor plans: Frame, Frame X, Sky, Sky X and Wall. The X denotes a second level.
"We have been building different contemporary styles in Las Vegas for two years," Andrews said about how the terrain influenced the design.
"And this luxury community at AXIS was an obvious fit for even more modern architecture."
The location is what drew all four developers to the area by providing spectacular views of the entire valley while bordering a natural hillside, which is protected by the city of Henderson.
"We had an amazing site that combined outstanding Strip views, convenient location and in a neighboring area that includes MacDonald Highlands and Anthem Country Club," Andrews said. "Our instinct was that this site was a brilliant location for new modern architecture. We complemented that with a contemporary landscape design that wraps the whole package up in a very stylish look."