Houses of worship help create communities
January 24, 2016 - 5:05 am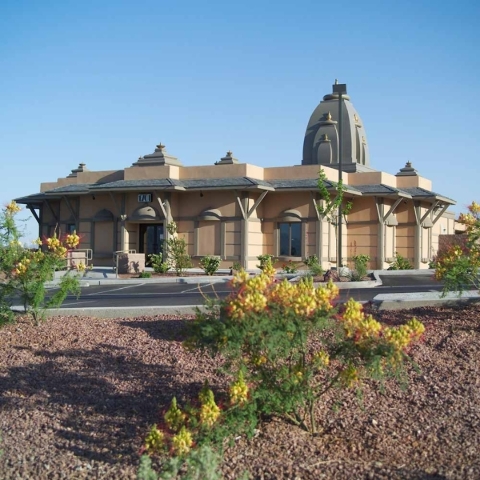 Developing community is the goal of most master-planned communities. This sense of community is created through communal activities, events and community gathering places such as houses of worship.
"I see our church create community by giving people not only a place to attend worship on the weekends but a place where people can have a sense of belonging," said Joe Pena, lead pastor of Relentless Church in Las Vegas. "In my perspective, church is only expressed partially as a large gathering. It is complete when people scatter into communities and homes and do life together."
Pena is starting to look for potential locations as the church's permanent home.
Currently, meeting in the Regal Cinema at Village Square, Pena is considering master-planned communities, possible in the Summerlin area.
"The Summerlin area hasn't had a church plant for 11 years, since Central Summerlin Campus started," Pena said, who is planning on building within the next five years. "It's exciting to look around and see the options."
According to Gean B. Haffey IV, owner of the Horizon Realty Group, a percentage of potential buyers seeks out communities that offer amenities and services within walking distance.
"I would say a full 50 percent of real estate shoppers have a "school (zone)" focus or a "house of worship" type focus where proximity to that place is very important to their lives," Haffey said. "Buyers who are heavily involved in their church spend a great deal of their time at the church, generally multiple times a week, and at multiple trips back and forth and so the time savings of being close is a high concern."
The rising demand for walkable urban environments is discussed in an article titled "Suburbanism: Reinventing Inner-Ring Suburbs" by D. Jamie Rusin, Sean Slater and Ryan Call published in Urban Land Magazine. The authors contend that residents are looking for shorter driving distances to cultural and leisure activities such as worship.
"Houses of worship have been an integral part of Summerlin's master plan from the beginning," said Tom Warden, senior vice president of Summerlin/The Howard Hughes Corp. "We recognize spiritual health is important to overall well-being and we're proud of the religious diversity that exists in our community.
"The chapels and temples provide sanctuary; add architectural beauty to the community; and serve as gathering places for a variety of religious, cultural and social events and activities," he said.
Two years after the first family moved into the community, Summerlin's first church, The Church of Jesus Christ of Latter-Day Saints, opened in 1993. Currently, Summerlin offers 14 houses of worship representing 12 different faiths. These include churches, synagogues and a Hindu temple.
"Summerlin boasts more worship centers than any other master-planned community in Nevada and they stand as hallmarks of faith and tradition to our residents who value the opportunity to worship in their own neighborhoods." Warden said. "As development continues, additional houses of worship will open in the community adding to the religious vibrancy and diversity we celebrate in Summerlin."
At Skye Canyon, a new master-planned community in northwest Las Vegas, the developer is allocating property for future construction of churches.
"We are working through those details, but we have a site designated for P-F (public facilities), which would allow a place of worship," said Chris Armstrong, vice president of Olympia Cos..
According to Mike Graham, Realtor for Crown Point Realty, all master-planned communities allocate parcels for a mixed use, which includes either schools or churches.
"I think any MPC would set out to have parcels for those purposes, either of those promotes families being there and that's really the goal for any MPC," Graham said.
"If families can live closer to a church, they will, so that helps from a buyer side and seller, can use that to their advantage."
Nationally, larger master-planned communities, such as Denver Colorado's Stapleton, integrate houses of worship in the overall plan of the community.
"Residents of the Stapleton neighborhood are served by numerous churches in surrounding neighborhoods as well as those that are located in Stapleton," said Thomas J. Gleason, vice president of public relations for Forest City Stapleton Inc., master developer for Stapleton, a subsidiary of Forest City Realty Trust. "One congregation, Stapleton Fellowship Church, purchased a historic former hangar and converted it for use as their church."