It's easy to get floored by so many design trends
February 19, 2016 - 3:54 pm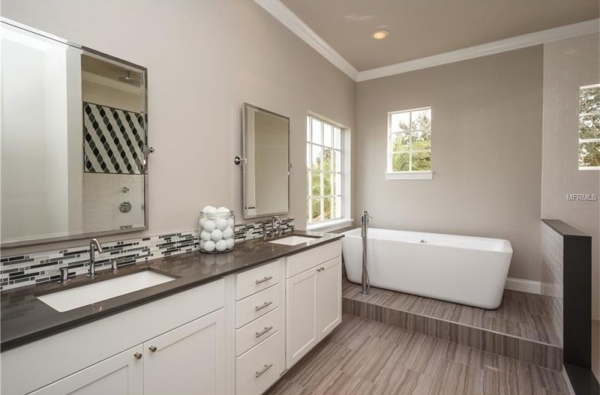 Much like finessing an ensemble isn't complete until the perfect shoes are adorned, a home isn't polished until the perfect flooring is underfoot.
But what's perfect in flooring — and probably in shoes — varies according to style, taste and budget. Keep an open mind and check out the trends to find hot new options.
"Pick something that you love first and then worry about the cost," said Dan Coletti, president of Sun West Custom Homes. "Once you find the look, you can always 'value engineer' later with something that looks similar."
Color
As the housing market trends toward contemporary, the colors of floors have evolved to match. Earthy tones rule in the flooring market, and grey comes out on top.
"I am using lots of gray tones in flooring from woods to stone and tile," said Jill Thomson, owner of Jill Thomson Design in Las Vegas. "Gray is currently a hot new neutral option to browns and beiges."
But why stop at gray? Bill Thornton, general manager of Floor & Decor in Henderson, said the newest color is "greige," a mix of gray and beige.
"This hot color is sweeping the area — and the nation — with its warm, neutral appeal," he said. "Greige pairs beautifully with white and gray tones to help you complete any look."
Whites — and other light, earthy tones — create the illusion of space and often help hide dirt. Consider the light colors of dust, dirt and rock from the desert creeping into a room. Against a dark carpet or wood, it sparkles. On earthy tones, it blends.
Wood
Hardwoods are timeless, stylish and make for great resale value. With so many options, hardwood floors can be customized to fit just about any buyer … but at a price.
"You can't miss the unique graining, and rich, natural color of Brazilian cherry, Santos mahogany, and other exotic wood species," Thornton said. "Go premium with rare, hardy woods, like Amazon rosewood and African blackwood."
Nevadans, according to Thornton, are looking for the authentic look of hand-scraped floors. Hand scraping adds dimension by distressing the wood to add contour and exaggerate its natural characteristics.
But, as the hardwood look stays stylish, but the budgets get squeezed, a new trend is pushing to the forefront.
Tile
Wood tile flooring offers the look of wood grain with the durability of ceramic at the price of tile.
"Wood tile flooring has made big progress because the wood tile looks exactly like wood, " Coletti said. "It is great because it is lower maintenance than real wood."
The maintenance is key. The tile is stronger, holds up better and can usually withstand harsher abrasives for cleaning up the scary spills of a growing family or a housetraining pup.
"Wood's attractive appearance remains popular and can be enjoyed with easier maintenance and greater durability with these tiles," Thornton said. "The rich colors work for floor and wall applications."
And, as most things go, the bigger the better. The old 12-inch-by 12-inch tiles are out. What's in? Think bigger — like twice to three times that size.
"I love using the 12-by-24 size of tiles and stone," Thomson said. "They look great set straight for a real contemporary look or offset for a transitional feel."
Using a grout of a similar color to the tile allows for a seamless look to the room.
"Because they require fewer grout lines large tiles visually expand a room, making them perfect for big or small areas, whether on a floor or as wall tile," Thornton said. "A rectangular size lengthens a space even more."
Also, keep an eye on the hexagon tiles of the 1920s. It might have taken nearly 100 years, but the style is back in black (and white).
Sustainable
Bamboo is the tried and true of sustainable, but a new up-and-comer is cork. Cork offers great protection from mold and mildew but isn't as durable as other flooring.
"You'll also enjoy the comfort it provides under foot, and the thermal and sound insulation it provides," Thornton said. "For higher-traffic areas, however, cork would not be your best bet, as it can scratch easily."
"Cork is a hot new trend as it offers a less distinct patterning than bamboo," Thomson said. "I find most clients are still shopping on look plus price or value over choosing eco-friendly products which do carry a slightly higher price point. The other drawback to cork flooring is it does tend to be less friendly to heavy wear and pets."
Bamboo offers a more affordable option in the eco-friendly arena, but also keep an eye on corn husk carpets and carpets made with bamboo fibers.
"There are two key factors with sustainable products. First, a product that is considered sustainable on its own," Coletti advises. "Second, selecting locally within the city, state or even country is considered sustainable instead of choosing something that transits from overseas."
Concrete
Stained concrete offers a very durable product at a pretty attractive price point. But experts suggest it isn't suited for regular living spaces.
"Stained concrete or concrete with an epoxy finish is what we typically do in our garages because it very durable and looks great," Coletti said. "I have seen stained concrete in homes, but it is not something we typically do in our homes."
Concrete can be finished with a high gloss, but it makes the surface slick.
"Concrete floors are hard to patch, cold to walk on and while they may suit a loft or commercial space, I find them appropriate for only a few select projects."
Expert advice
"My best advice would be take home samples," Thomson said. "Think about how you and your family use the space. Choose the most appropriate flooring material for the space. Evaluate the samples over a few days to see how they look in different lights. When in doubt, always consult a professional. Mistakes can be costly."