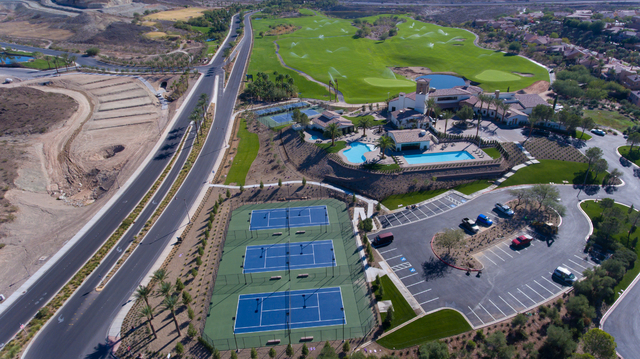 As the valley rings in the new year, the Lake Las Vegas master-planned community opens its newest amenity, a campus-style Sports Club.
The Club, spanning more than 17,000 square feet, is part of Raintree Investment Corp.'s process to revitalize Lake Las Vegas. Raintree began with the purchase of 1,000 acres of undeveloped land on the north side of the lake in 2012. Its purchase was the first step of restoring the Lake Las Vegas master plan.
"The opening of the club continues the development and promise of this very special residential, golf and resort community," Raintree president Patrick Parker said of the Jan. 1 opening. "We're not finished yet, but we have much to be proud of and invite the community to share it with us."
Raintree purchased the Club's property in 2014 as part of its Reflection Golf Course acquisition. Acquired without incurring any debt, the property was formerly the Falls Golf Club that closed in 2009.
"When you talk about the financial stability of Lake Las Vegas, it has never been more financially stable in the history of its inception," said Cody Winterton, Raintree executive vice president.
Raintree this year converted the old clubhouse from a golf facility to the Sports Club. The golf cart storage building was torn down to make room for the pool, cabanas, fitness studio and game room.
"Basically we repurposed the existing buildings," Winterton said. "It's completely different."
The Sports Club features a fitness center with state-of-the art workout equipment from TechnoGym. The equipment incorporates mywellness cloud open-platform.
"When you walk up to the machine it recognizes who you are," Winterton said. "It consolidates all your information into the wellness cloud that, as a member, you'll have access to."
Winterton noted the exercise machines have a TV screen that members can watch or have access to individual social media accounts.
The Club also offers a large movement studio with views of the Strip, and social gathering rooms. Its family game room features poker tables, pool and shuffleboard tables, full bar, a pinball and arcade games.
"Lake Las Vegas has needed a place that the community can gather and spend time with their neighbors," Winterton said. "I think this is going to take the community to a whole new level." Club general manager Dann Battistone plans to eventually convert the 2,000-square-foot kitchen into its previous use as a restaurant. The restaurant closed in 2009.
"As the interest grows and there is a need for a full kitchen, then we would add that," Battistone said. "We really want it to be a gathering place where members come enjoy the facility and great food."
A unique benefit to Club members is the plan to have Hell's Kitchen winner Scott Commings, now head chef of Reflection Bay, host special culinary classes and monthly Chef Series events at the Club for an additional fee.
Outdoor activity areas include four tennis courts, two pickleball courts, a 25-meter lap pool and 2,000-square-foot family pool, barbecue area and a large courtyard.
Battistone, who played tennis professionally and was ranked in the 100s in the world in ATP (Association of Tennis Professionals) doubles, wants the club to have a heavy emphasis on tennis. He plans to teach group and private lessons.
"We really want to have a thriving tennis community here," Battistone said. "We have four tennis courts and there is room to expand. My dream is to be able to expand out and hold bigger tournaments."
Pickleball instruction will be offered by an independent contractor.
As part of the renovation, the Falls Golf Course was converted into a park-like area referred to as the Green Grass project.
"We worked with the community and the city of Henderson to convert the golf course into a private facility," Winterton said. "This is all now open space with walking trail."
Members also will be able to use paddleboards and kayaks and have access to the white sandy beach at Reflection Bay.
Tandem Interior Design Studio designed the $3.5 million Sports Club renovation in early 2016 and construction began in April, with Raintree as the general contractor and GTI performing the exterior, pools and site work.
Tandem, who also designed the Reflection Bay Golf clubhouse, converted the former club's lounge into its main social gathering place. The design provided a home finder area off the main entrance and developed an exterior lounge area with large couches, floor lamps, coffee table around a large fireplace.
"The overall goal was for members to feel like it's an extension of their own home," said Dezirae Janowicz, the Tandem designer who oversaw the project. "I really wanted to do something different from your typical clubhouse.
"So often I think clubhouses tend to lean masculine. We wanted it to be gender-neutral but very comfortable."
The Club's "modern farmhouse' design makes for a warm and inviting facility with dark wood beams, stone columns, using fresh color palette of whites, taupes and grays. The entire Club's interior is lined with wood-look porcelain tile done in a herring-bone pattern. The main gathering room is decorated with Four Hands furniture pieces, a 14-foot custom rug, vertical sheers hanging on the oversized windows and Restoration Hardware pendants installed on the walls. A custom-designed glass chandelier hangs from the ceiling. Individual pendants hang down at strategic varying lengths to create a modern focal point.
"Instead of having it made into one chandelier we ended up fabricating it here," Janowicz said of the fixture estimated to cost $10,000. "We wired all the pendants and worked out the height of each one to make sure it took up the space properly."
Tandem further oversaw the exterior painting of the building switching the Tuscan orange color to the white also used for Reflection Bay, drawing inspiration from a hotel in Santa Barbara.
"The building didn't have a presence when you drove in," Janowicz said. "After they painted it, people realize there is something here. Now it makes a nice presence coming in."