Las Vegans want large pantries
January 22, 2016 - 3:15 pm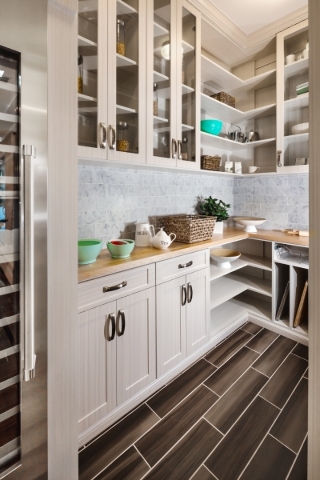 Homebuyers often look for more of an emphasis on elements that some builders tend to overlook, said PulteGroup's Director of Marketing Jason Demuth.
"In the kitchen, one of those spaces is often the pantry," he said.
According to Demuth, in Las Vegas, PulteGroup's floor plans feature larger pantries with shelving and several home designs offer a standard or optional oversized pantry with shelving.
"This offers more storage space for your bulk groceries, meaning you can stock up on items you use most," he said. "It also allows for easy access to the groceries and supplies your family uses every day."
Demuth added that Pulte Homes has a partnership with Town Square-based, The Container Store, which can provide a host of customization options for pantries.
Toll Brothers Las Vegas Division Vice President Daniel Wright said walk-in pantries have been incorporated into their floor plan designs.
"Large pantries are a huge selling advantage and additional storage is always desired," he said. "We've put a lot of thought into how our model pantries are designed and merchandised so buyers can use them as a starting point and design them to how they're going to live in their homes."
Wright said Toll Brothers offers wood as the standard shelving system material, however, it offers buyers the opportunity to meet with a custom closet company that can help them design their own pantry.
"Buyers are including wine racks, butcher block counters, baking sheet patricians and building in wine column appliances," he said. "They want to do more customizing with pantries."
At Century Communities, walk-in pantries are included in most floor plans to provide buyers with ample food storage, according to marketing coordinator Melissa Fama-Flis.
"An essential element of any gourmet kitchen is a walk-in pantry," she said. "Creating these additional spaces makes the kitchen more functional for our homebuyers."
According to Fama-Flis, pantries are no longer food-only areas.
"Many homeowners also use their pantries to store nonfood items such as disposable plates and flatware, paper towels, light bulbs, cleaning supplies and cookware," she said. "We keep our homebuyers lifestyles in mind when designing new products."
Contact Ann Friedman at afriedman@reviewjournal.com or 702-380-4588. Find her on Twitter: @AnnFriedmanRJ