Master suites continue to be popular
September 25, 2015 - 10:18 am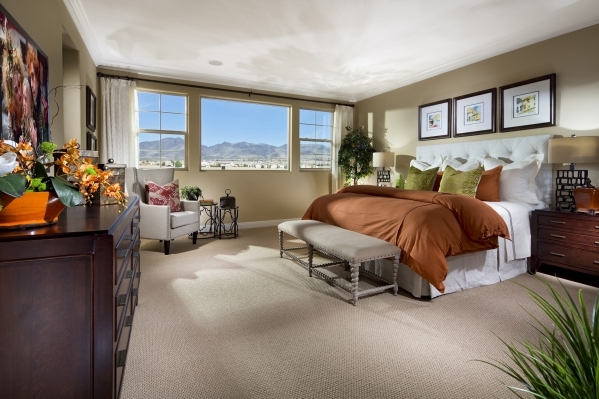 We all answer to multiple masters. Now, our new homes do, too.
Whether it's caretakers bringing parents back into the home or boomerang children returning to the nest, the need for multiple master bedroom suites continues and homebuilders are coming on strong with the options.
"We see boomerang children coming back, parents moving in, relatives moving in, friends and relatives waiting for a home to be built moving in on a temp basis; couples who enjoy separate master suites — all kinds of these situations calling for homes that can become multiuse or multifunctional or multipurpose residences,"€ said Rob Tuvell, Pardee Homes'€™ regional director of sales. "€œSometimes these become permanent solutions, sometimes they are temporary. But, when homes are flexible, they work for all situations."
That'€™s the priority for homeowners these days: flexibility. And homes that offer multiple master bedrooms give them just that.
In 2010, the number of households containing three or more generations in the United States grew to 5.1 million, up from 3.7 million in 2000, according to the U.S. Census Bureau.
The Census defines these homes as a head of house living with both a child and a parent, a head of house living with both a child and grandchild or all of these options.
And with this growing trend, homebuilders must flex their options as well.
Pardee offers multiple master bedrooms in most of its new construction, including in the Bella Verdi neighborhood in Inspirada in Henderson and the Castle Rock neighborhood in Eldorado in the northwest valley.
"€œWe are finding it more and more important for customers to be able to have the ability to expand the functionality of their home to accommodate expanding and contracting groups of families,"€ Tuvell said. "€œDual master suites and Gen Smart Suites are perfect examples of flexibility and functionality to accommodate the needs."€
Woodside Homes offer dual master bedrooms in its new neighborhoods in Cadence, a new master-planned community in Henderson.
"€œWith the family structure and dynamic changing, where children and even grandparents are moving back into new homes, we are seeing quite a bit of requests for separate living areas within our new-home construction,"€ said Mike Casey, director of sales and marketing for Woodside Homes.
Woodside Homes offers Next-Gen options with separate master suites, often providing an outside egress from the home so adult family members can exit or enter the room without entering the main part of the house, as well as kitchenettes with refrigerators within those living areas.
"€œIt feels like a small apartment offering privacy, yet access to the main home,"€ Casey said.
New homes are typically built with the main master upstairs complete with the extras,€" spa showers, jetted tubs, fireplaces,€" and a downstairs master made for easy access for adult children or guests.
"€œThe extras that are being added to master bedrooms are sitting areas, decks, fireplaces and ceiling details,€" including lighting,"€ said John McDonough, of Canyon Creek Custom Homes.
McDonough refers to the second master, for guests, children, parents,€" as the mini master, which has many of the same details like tile work, large bathrooms and spacious closets, but the room is slightly smaller than the main master bedroom.
The separate living areas, multiple entrances, sitting spaces, decks, patios and personal bathrooms all offer one main thing: privacy.
The economy has changed many living situations, and, according to a 2013 Census Bureau report, "€œfamilies are often seen as a support system in times of need. During these times of need, many adults were no longer able to afford to live alone or apart from their families. Adults are less likely to live alone if there is high unemployment and high rental costs in their areas."€
And with more and more adults in a single home, privacy and private living areas are always at a premium.
McDonough said he sees more homes with multiple masters than without and suggests it can only help the resale value of a home simply because of the number of people who seek the option.
"€œThe days of a home only serving one purpose are likely coming to an end, or at least on hold for the current time we live in," Tuvell said. "€œIt'€™s all about flexibility, functionality, livability and open space for larger groups of people to gather inside the home."