Number of retirees choosing Nevada increases
Updated March 26, 2018 - 3:55 pm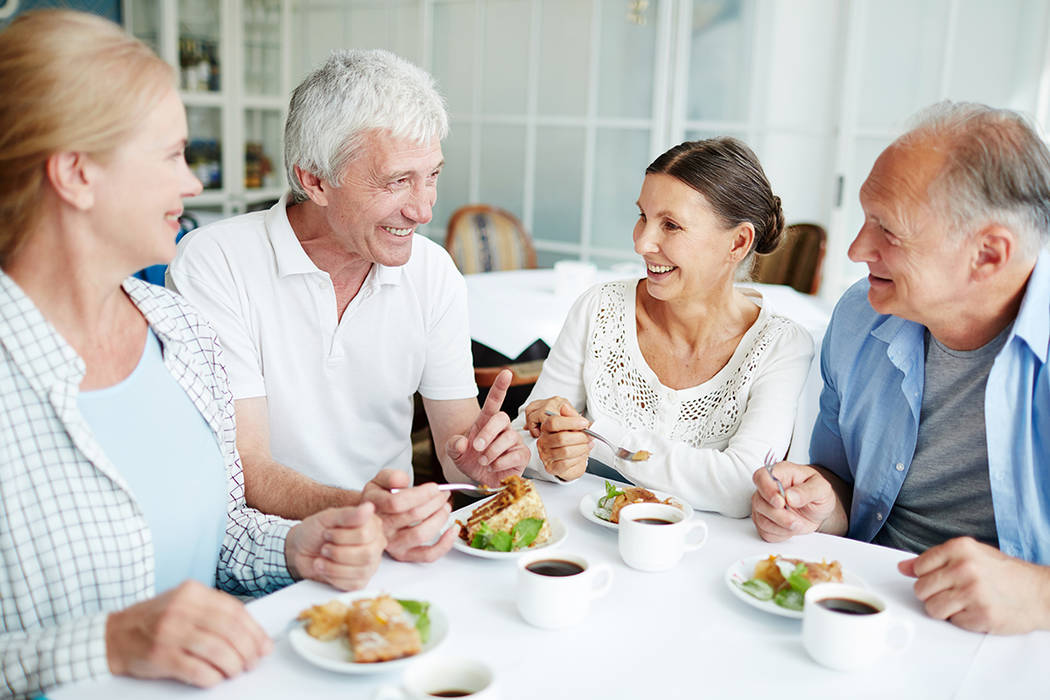 Retirees have been a player in the local economy for decades, but the breed of retiree has shifted over the course of the years. Sure, there's always that snowbird looking to avoid harsh winters, but California has now overtaken the conversation as the largest feeder market for the Silver State. Simple real estate economics are driving this trend.
"I had a client from Newport Beach who said a beautiful $750,000 home here would be $2.2 million in Newport, and it wouldn't even be on the water front," said Ray Glasser, a real estate agent with Summit Properties who specializes in working with retirees.
With the influx of California retirees and others, homebuilders are taking note. With three age-qualified communities currently selling new units and a fourth near Pahrump coming online soon, retirees are putting their own stamp on the local real estate market. At the same time, resales in long-established retirement communities, if priced right, are moving fast, too
More popular than ever
Nevada is fifth in the nation for retiree in-migration (those 60-plus moving to the state), according to Where to Retire magazine, a publication dedicated to retiree relocation for more than 25 years.
Dating back to the 1995-2000 time frame, the state saw an average annual in-migration of 10,018. Flash forward, however, to 2011-2015 and the in-flows have climbed to 17,939 annually. Where to Retire uses U.S. Census data for its reports. The magazine's editor, Annette Fuller, said Florida has been the most popular retirement destination since the 1980s, particularly for those who live on the East Coast. Arizona has long been in the No. 2 spot nationwide, but Nevada's rise has been a bit under the radar and surprising. South Carolina is No. 3 and North Carolina earned the No. 4 spot.
"To be second, after Arizona, in markets West of the Mississippi, that's huge," she said.
Where to Retire's 2017 annual reader survey also highlights the primary attributes retirees are looking for, and Nevada ranks high for most of them. The top 15 include: low overall tax rate, mild climate, scenic beauty nearby, good recreational facilities, low cost of living, an active social and cultural environment, low housing costs, no state income tax and a nearby commercial airport.
California frenzy
According to Fuller's research, the seventh most popular state-to-state in-migration trend around the country for retirees is California to Nevada. The magazine's latest report estimates about 40 percent of those 60-plus who move to Nevada are from the Golden State. Glasser's business mirrors this research.
Most of my buyers are from California, but they're still being conservative," he said. "People are looking for open floor plans generally seen in new homes, energy-efficiency, but they still want to keep it affordable. … The hot price point is really between $300,000 and $400,000."
New homes, popular communities
Glasser said there are three active new-home communities catching the interest of today's retirees moving to Nevada.
■ Trilogy at Summerlin by Shea Homes is a 55-plus community that started selling in 2017. With single-level and multilevel floor plans starting in the mid-$400,000s, the resort-style neighborhood is home to many indoor and outdoor amenities, including pickleball and bocce ball courts, a Zen garden, unleashed dog park, culinary studio and a central clubhouse. There are more than 350 homes slated for Trilogy at Summerlin.
■ Regency at Summerlin by Toll Brothers starts in the high $400,000s with square-footages ranging from 1,600 to 2,400. An active 55-plus community slated for more than 430 homes, it also includes a clubhouse, fitness center, multipurpose rooms for gatherings and many other amenities. Home lots are still available, even though the upscale community has been selling since 2015.
■ Heritage at Cadence, in Henderson, has also been selling since 2015 and is slated for 980 homes. Built by Lennar, the age-qualified community has attractive price points from the low $300,000s to mid $400,000s and has a 22,700 square-foot recreation center.
■ For those who don't mind being an hour drive away from Las Vegas to enjoy resort-like amenities, opening this spring is Ovation at Mountain Falls from William Lyon Homes. Built inside the Mountain Falls golf-course master-planned community in Pahrump, prices for the 55-plus offering start at $295,000.
Resales in Henderson and Summerlin retirement neighborhoods are still going strong, Glasser added. "Homes are selling at full list price and a lot may have multiple offers. … If it's a nice house attractively priced it'll have interested parties right away," he said. "But people are still being cautious and prudent and not just paying any price."
Retiree preferences do skew toward newer homes, Glasser also noted. Ardiente, in North Las Vegas, also a Shea community, does not have any new homes to offer anymore, but most homes are typically only a few years old, and it's becoming known among retirees for its energy-efficiency, too.
"I do quite a bit of business in there because of the affordability and the solar power." Glasser said.
Affordability concerns
With demand growing and very low supply, upward pressure on pricing exists. Glasser said he sees only about half the number of active listings today in popular Summerlin and Henderson retirement communities that he saw only a few years ago.
Vivek Sah, director of UNLV's Lied lnstitute for Real Estate Studies, said with the Las Vegas market experiencing double-digit appreciation, rates for the past few years, there's a concern that retiring in Nevada may be less attractive in the future.
"If prices keep going up … year over year, we might price people out. The biggest two selling points for us are no state income tax and cheap housing," he said. At the same time, if retirees are deterred from coming to Nevada, the state stands to lose quite a bit of property tax revenue, he added. Sah estimates that if roughly 3,500 retirees purchase homes in any given year, based on the mean effective property tax rate for the state, those purchases bring in almost $10 million more in property tax revenues each year.
Sah also said retirees, through property tax payments, help to pay for local schools.
"They don't need the school infrastructure, but with them we have more people contributing and paying for that infrastructure," he said.
States where retirees are moving, 2011-2015
1. Florida
2. Arizona
3. South Carolina
4. North Carolina
5. Nevada
SOURCE: Where to Retire magazine, which uses U.S. Census data for its reports