Pardee builds 'next-level-modern' community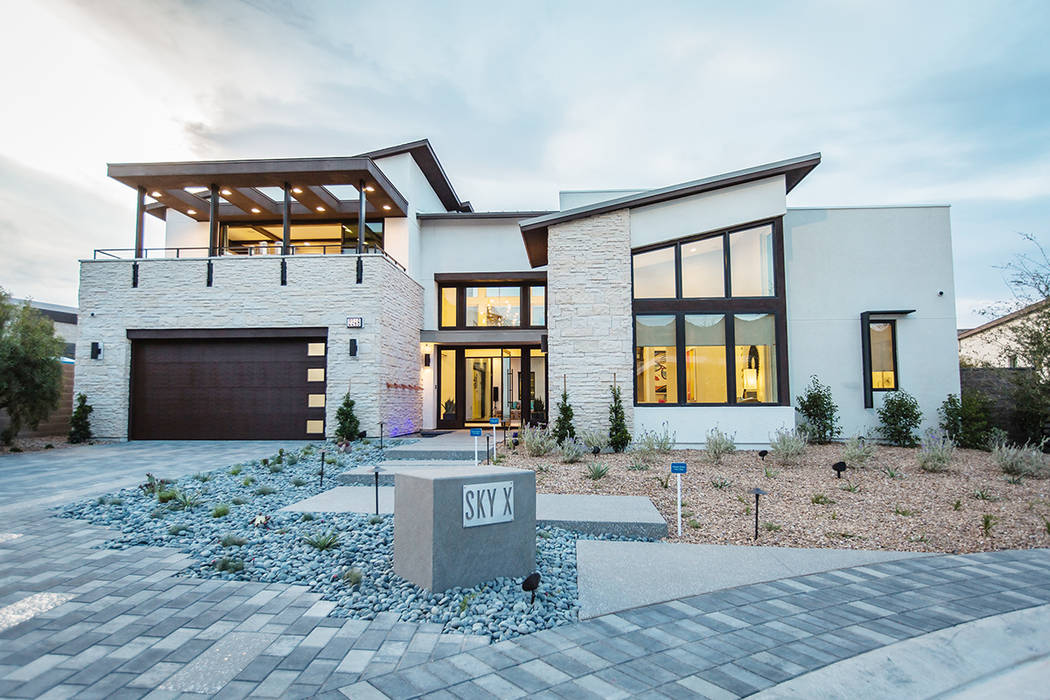 Sales and construction are underway for a new ultra-luxury Pardee Homes community in Henderson.
Pardee Homes has begun sales for what it's calling a "next-level-modern" community in Henderson. Axis is under construction on 35 acres at 2239 Sky Pointe Ridge Drive and will feature 74 homes with prices ranging from the $800,000s to more than $1 million.
The developer held an invitation-only event April 7 to unveil three luxury models and introduce its highest-priced new-home community in Las Vegas.
The homes at Axis are referred to as next level modern because they contain unconventional design elements, according to Klif Andrews, division president for Pardee Homes. He said he sees an industry trend toward modern design from furniture to window coverings to very sleek finishes throughout the home. "The homes (at Axis) have some very cool, unusual touches, like the master bath in one of the models has a window with a Strip view in the shower," Andrews said.
"They have very cool finishes inside and out, like smooth Venetian plaster on the exterior in places and very modern and up-to-date quartz finishes on the insides."
One of the options for homeowners at Axis is to equip their home with a premium home automation system that they can customize to control lighting, shades, video and audio distribution, alarms, the thermostat and pool equipment.
Axis is one of the very few new luxury home communities being built in Henderson, according to Andrews.
"I think the recovery in Las Vegas has come to the point where once again luxury homes are in high demand," he said. "Buyers may have been in their homes for a long time because of the recession. They were underwater and couldn't get out of them. So, affluent buyers may have been in their homes for longer than they wanted to, and now there's a real desire out there to see fresh new designs. We're seeing that in our other communities, as well."
Brian Gordon, principal at Applied Analysis, said the higher end of the market, while a relatively small share of the total housing picture, is experiencing a reasonable pace of sales.
"The market seems to be attracting buyers at all price points from entry-level housing all the way up to custom homes," Gordon said.
According to Andrews, Axis is attracting a diverse group of prospective buyers who might otherwise be looking at custom homes.
"A custom home from start to finish can take about two years, and we can have a buyer in their home in six months," he said. "For half the price of a custom home and for less than half of the time, we think you can get a great, very modern and very up-to-date fashionable house, and it's really getting attention."
Five floor plans are available at Axis, including Sky, Sky X, Frame, Frame X and Wall. The single-story Sky plan features three bedrooms and three-and-a-half baths and is approximately 2,936 square feet.
Sky X is a two-story home that is built around a central courtyard creating a main living area in the center of the home. It is approximately 3,669 square feet and features four bedrooms and four-and-a-half baths.
The Frame model features a main entrance that frames the home and sets the stage for the interior. It is 3,460 square feet and features three to four bedrooms and three-and-a-half to four-and-a-half baths. The two-story Frame X model is 4,039 square feet with four bedrooms and four-and-a-half baths.
The Wall floor plan is the largest home available at Axis and offers 4,451 square feet with four bedrooms and four-and-a-half to five-and-a-half baths. The Wall model features a two-story rock wall architectural element that anchors and defines the home's exterior.
Newport Beach, California-based Bassenian Lagoni Architects was the architectural firm for Axis, and Pardee enlisted Los Angeles-based Bobby Berk Interiors + Design and Yolanda Landrum of Yolanda Landrum Interior Design to consult on the interior merchandising of the homes.
Berk's designs are found in the Wall model home and Landrum's in the Frame and Sky X model homes. Berk, who has appeared as a design expert on several television networks, including Bravo and HGTV, outfitted the Wall model with a modern contemporary interior.
According to Berk, part of the inspiration for the Wall model design was a canyon in the Las Vegas desert.
"It's like kayaking through those really narrow canyons that have big walls on each side — that's what this is," Berk said. "You walk in and you have a canyon that starts here and it flows through the house and all the way out to the back door and opens up to the valley view."
The community is estimated to be complete in mid-2019.