San Francisco-based Opendoor.com partners with Lennar
January 13, 2017 - 10:00 pm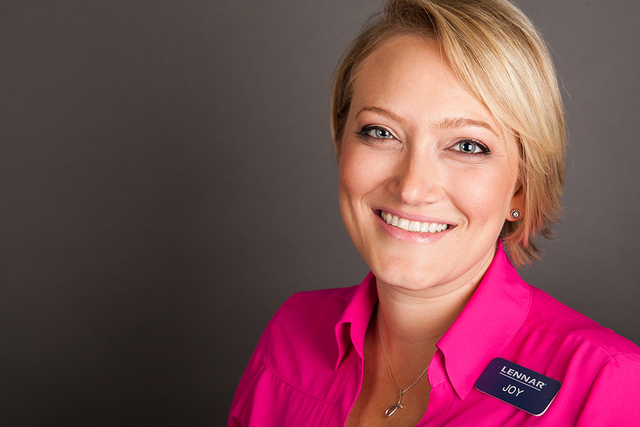 Recently launching its Home Trade-Up Program, Lennar Las Vegas hopes to revolutionize the way consumers purchase and sell homes.
"It's a brand-new concept, very out-of-the box," said Joy Broddle, division president for Lennar Las Vegas. "You can trade in your car and upgrade your phone. Now you can do the same with your home."
Lennar partnered with the San Francisco-based Opendoor.com to make its new Trade-Up program a reality. According to Lennar's website, Opendoor is a "consumer marketplace for homes," offering an online real estate service. Founded in 2014 by Keith Rabois, the company has offices in Phoenix, in Dallas and soon to open in Las Vegas.
"Opendoor is thrilled to be able to serve new homebuyers by offering a streamlined sale on their current home," Justine Palefsky, spokesperson from Opendoor, said in a written statement. "Our vision is to give all homeowners the freedom to move on their timeframe without any of the traditional hassle."
Developed late last year, the program exclusively launched in the Las Vegas market last month. Lennar plans to expand to the Phoenix market later this year.
"We are beyond excited about this new program," Broddle said. "It makes it easier than ever to sell, buy and move into a brand-new home."
Broddle compared the Trade-Up program to the traditional model of homeowners continually having to keep the home clean, being ready to show their homes at inconvenient times and coordinating home sales with the closing of new homes.
"The current process for selling and buying a home can be complicated and puts a lot of obligation on families," Broddle said. "This modern program eliminates those traditional hassles, is more transparent and actually gives the buyer more control."
The program breaks the real estate process into easy steps. Opendoor.com/Lennar provides the seller a free offer to purchase their home at an agreed price.
According to Opendoor's website, the offer is contingent on a "comparative market analysis and the home's unique story." The offer is followed by a brief home inspection.
Opendoor requires homes to be in the Las Vegas or Henderson markets and valued under $500,000. As an introductory offer, Opendoor requires the seller pay a 6.5 percent fee on each transaction in lieu of traditional real estate service fees. Once the introductory period is over, the fee is subject to change.
Opendoor purchases the home after a price has been negotiated, and it works with Lennar to schedule the closing dates after the seller chooses a new Lennar quick move-in home.
"There is no need to move twice, board pets or put things in storage," Broddle said. "We'll get you into your new, move-in-ready home seamlessly and quickly."
Lennar also will help with the moving costs associated with the transition, paying up to $2,000 toward Lennar preferred moving services. According to Broddle, Lennar has move-in-ready homes available for the program, and people can move in as little as 10 days. If more time is needed, the process can be pushed up to 60 days.
Lennar's properties offer home automation, green technology and an "Everything's Included package," which includes "desirable features in a home at no extra cost."
"More and more homeowners in the Las Vegas market are seeing a little more equity in their current homes," Broddle said. "Lennar developed this program to make it easier to use that equity to move into a new home without the hassles and time-consuming process of the traditional home selling process."
For more information on Opendoor, visit www.opendoor.com.