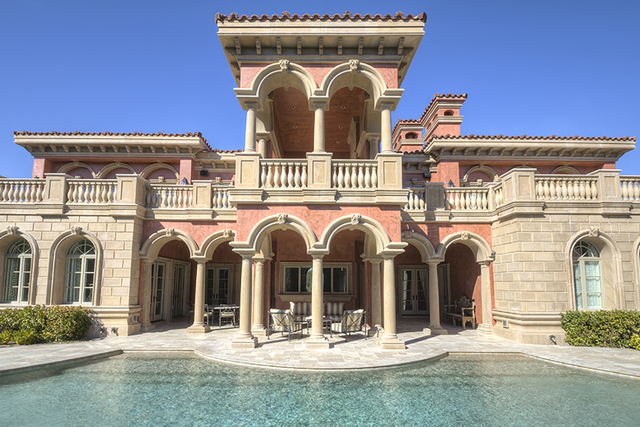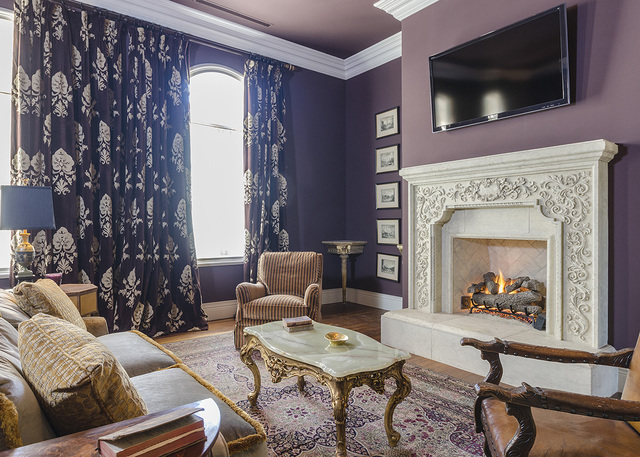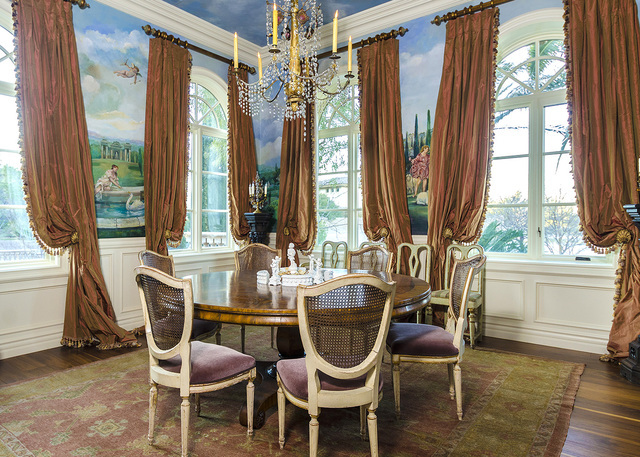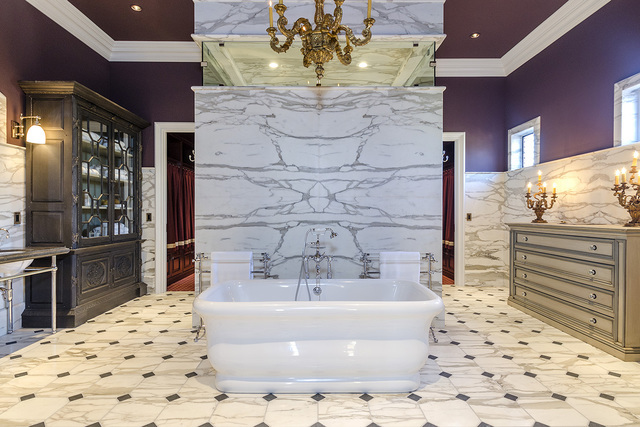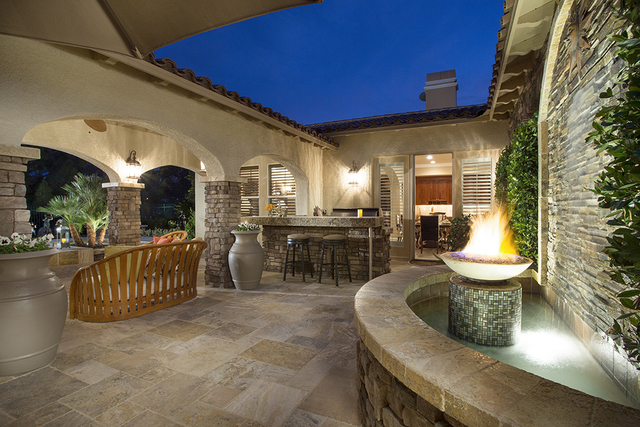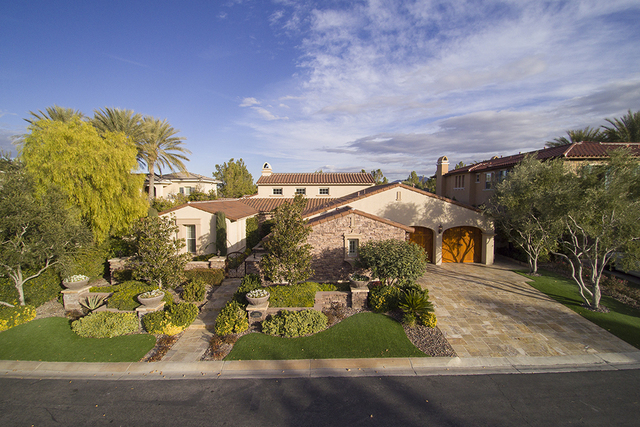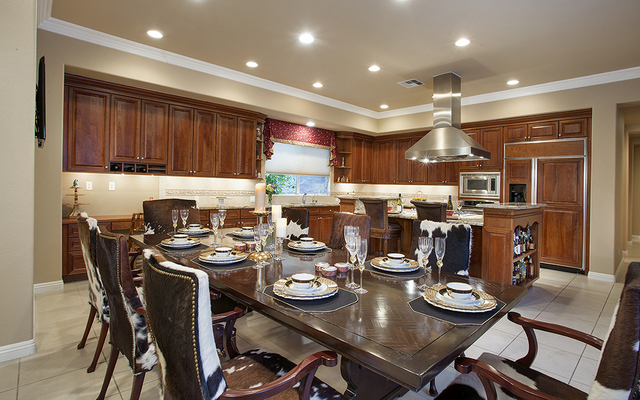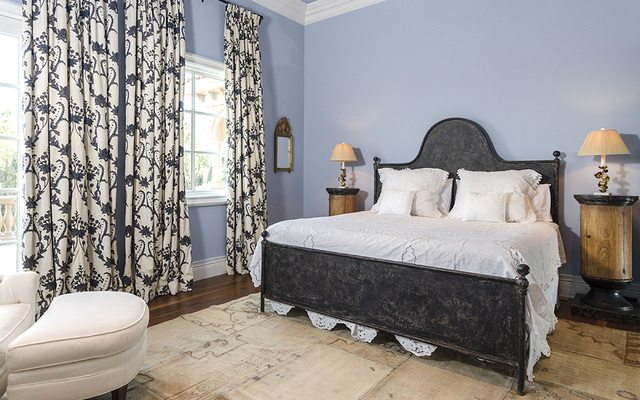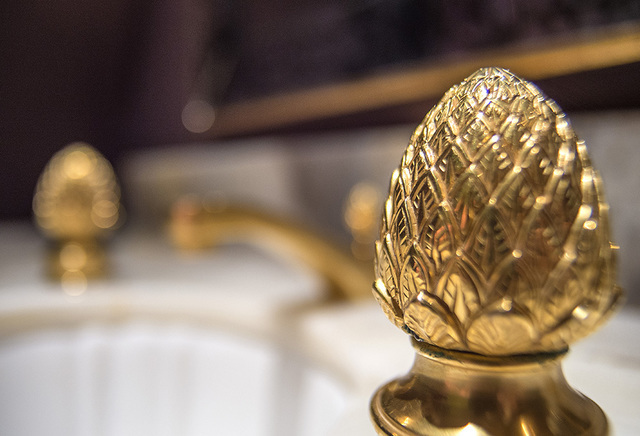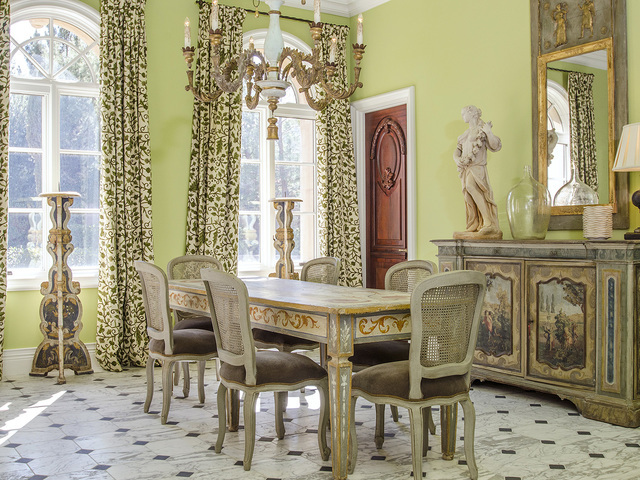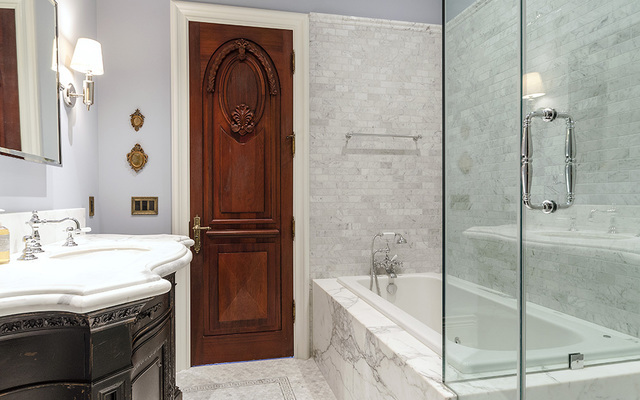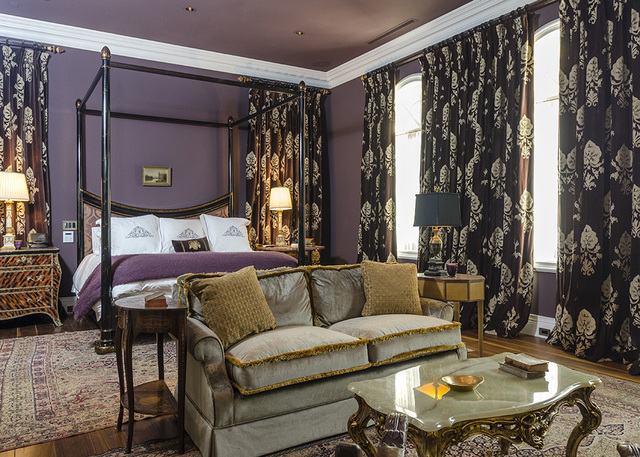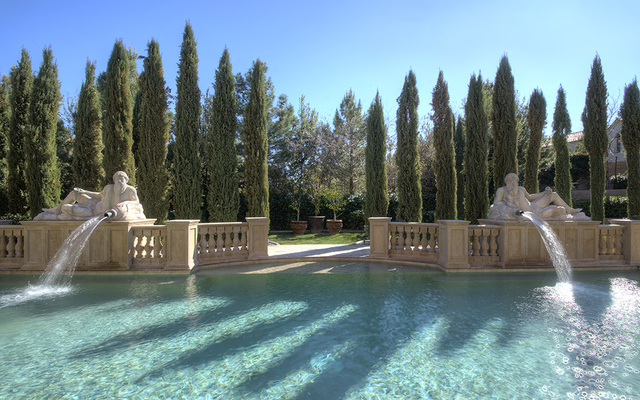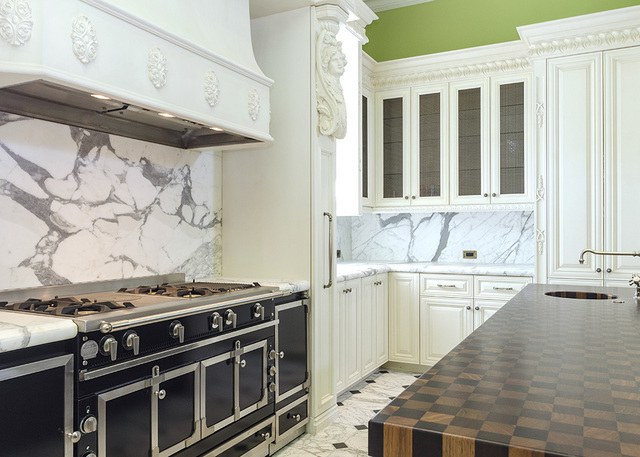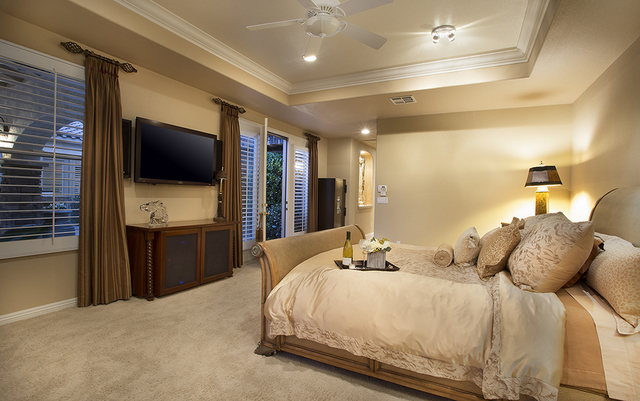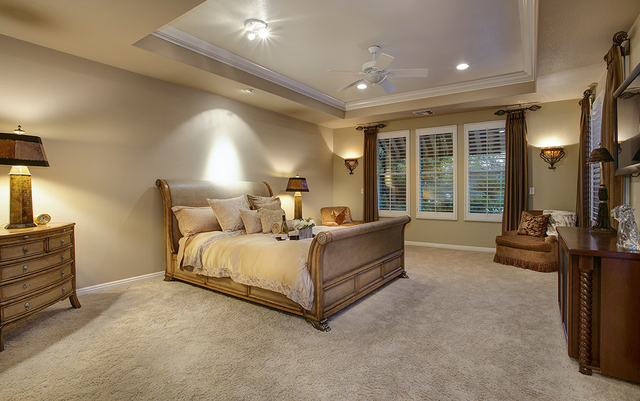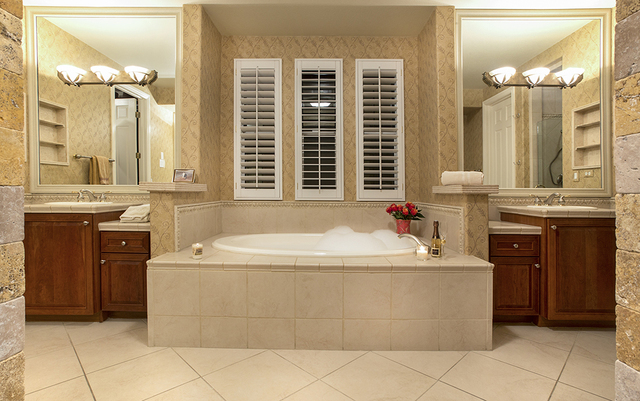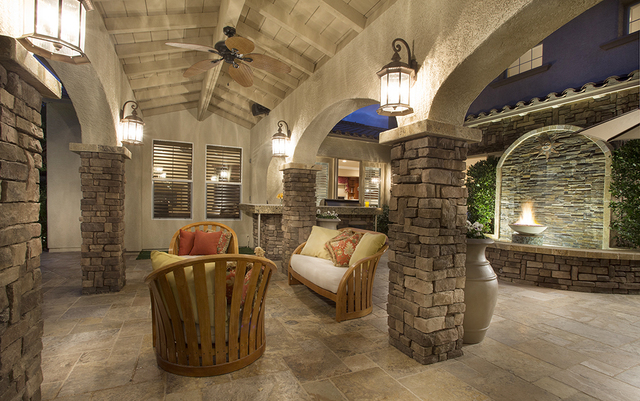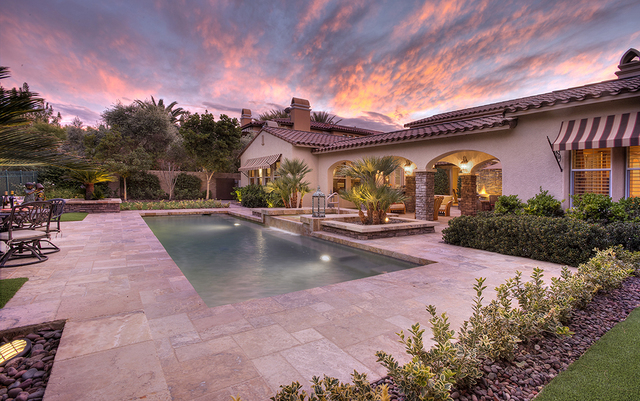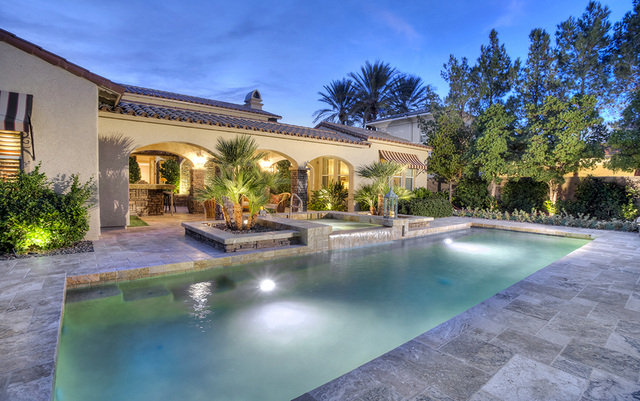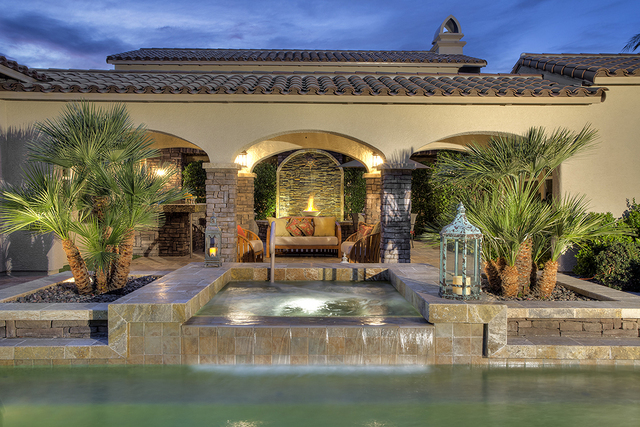 Southern Highlands is home to some of the Las Vegas Valley's most luxurious residences. Real Estate Millions takes a look at two Italian-themed estates that offer a touch of Europe in the desert.
An estate worthy of a Roman emperor sits nestled in Southern Highlands' most prestigious community at 19 Eagles Landing Lane. Inspired by the magnificent Italian villas of Lake Como, Italy, this three-level, 18,787-square-foot custom home mirrors in design what Michelangelo might have come up with if he had been hired as the architect.
Driving up an expansive circular paver driveway, past a massive carved stone water fountain, one is immediately dwarfed by the estate's towering grand entrance, crowned by its stone-pillared balcony. Framing the elongated wood and beveled-glass entrance are four life-size stone statues embedded into the exterior walls. Statuesque palm trees and lush green shrubbery round out the finishing touches to this palette of traditional Italian Renaissance architecture.
"Every little thing in this house was well thought out with an emphasis on privacy," said Zar Zanganeh of Luxe Estates &Lifestyles, the agency listing the $9.5 million estate for sale. "The home took four years to build and was designed as the family's ultimate vacation home."
Featured amenities include five bedroom suites, 7½ baths, a grand great room, library, an eight-car garage, a separate caterer's kitchen, oversized balconies and white velvet marble floors throughout, which has also been custom-fitted into the master bath walls.
Wood pillars throughout the home, as well as along interior balconies and ceiling molding, were all handcarved by artisans. A wet bar, chiseled from rare Brazilian marble with a gold-plated sink and faucets, discreetly hides in one corner.
The formal dining room has murals painted on the walls and ceiling. Priceless artwork is hung about, along with several Renaissance-style chairs estimated to be between 200 and 300 years old, Zanganeh said.
Natural stone tile encompasses the estate's exterior rear swimming pool area that boasts a water feature of a large stone statue casually reclining on a pedestal pouring water into the pool.
Adjacent to the pool is a free-standing casita with comfortable living quarters and a small kitchen.
"This is one of the best well-crafted homes I've seen," Zanganeh said. "All the marble is matched up. Attention to detail is amazing. All the bedrooms have their own balcony or veranda. This home will attract someone who is well traveled and who appreciates European flair."
Another Italian-style home near the golf course
Continuing with the Italian theme is a 3,936-square-foot, Tuscan-style residence at 11856 Brigadoon Drive that buffers the Southern Highlands golf course and boasts picturesque views of the mountains. The three-bedroom, 3½-bath residence sits on approximately one-third acre and features backyard amenities that include an elegant swimming pool and spa, water wall with fire-bowl and a built-in barbecue and granite bar. Travertine tile covers the enclosed backyard that offers a bird's-eye view of one of the golf course's picturesque holes, complete with a rustic running waterfall.
"This is a great entertainment house," said Kristen Routh-Silberman of Synergy, Sotheby's International Realty that has the home listed for $1,350,000. "The landscaping is so lush. It has a European feel of sculptured gardens."
Routh-Silberman compares this golf-course home to something one might see in Beverly Hills or Bel Air, California. Lush shrubs and trees ring the home's step-up entrance, as well as along the perimeters of the secluded backyard. The great room has soaring ceilings and a massive stone fireplace. A nearby professional chef's kitchen is equipped with top-of-the-line stainless steel appliances, large granite countertops and an oversized granite island with custom cabinetry.
"This home would easily appeal to a Southern California couple or empty-nesters," Routh-Silberman said. "It also has a great courtyard in the front with a bubbling fountain. This home is super livable."