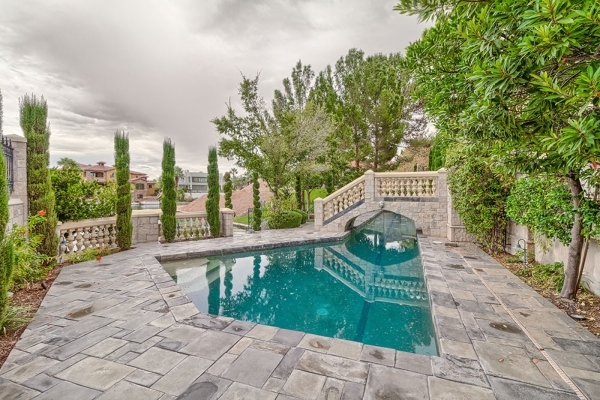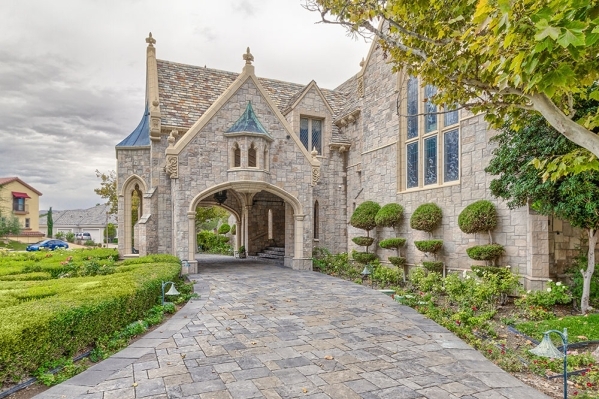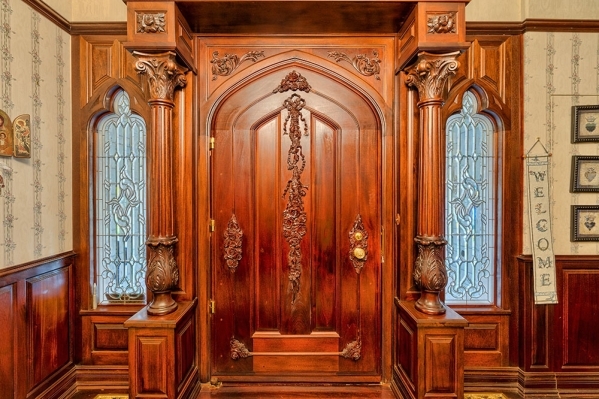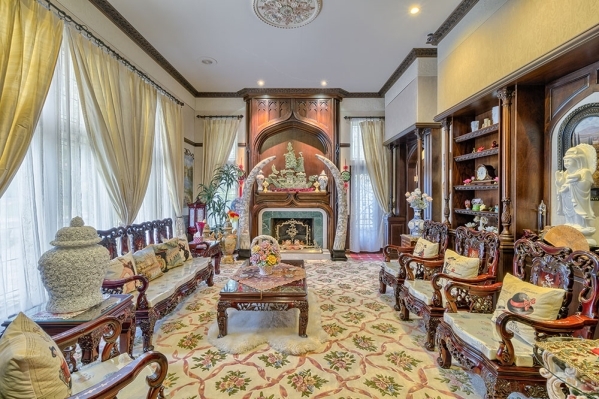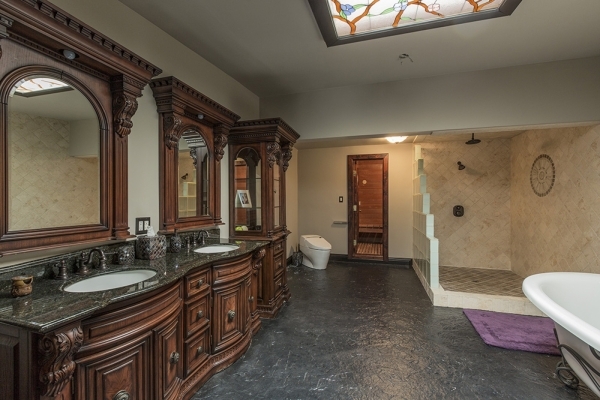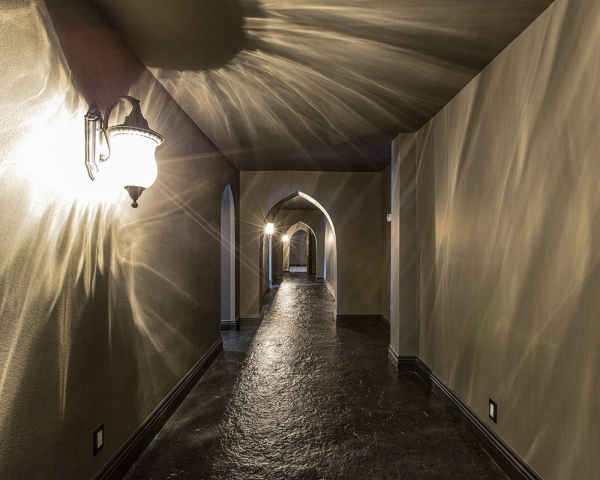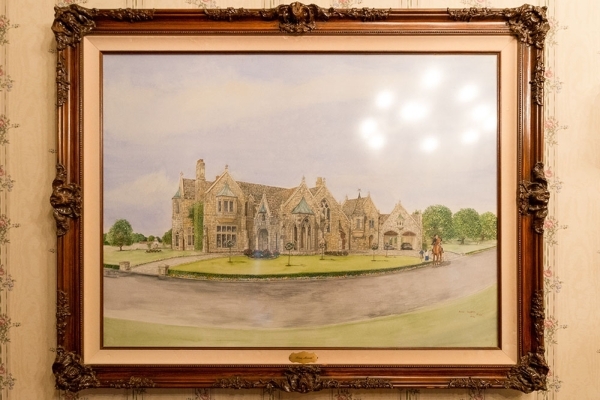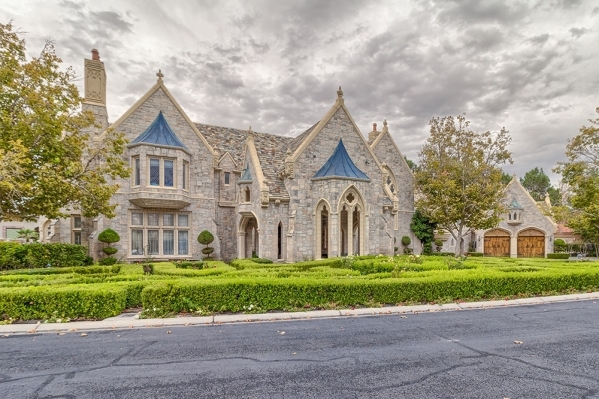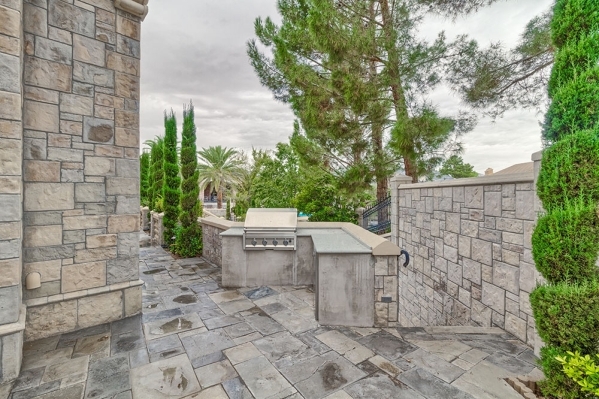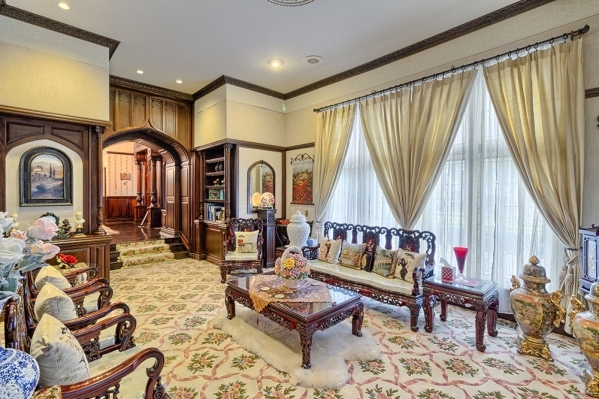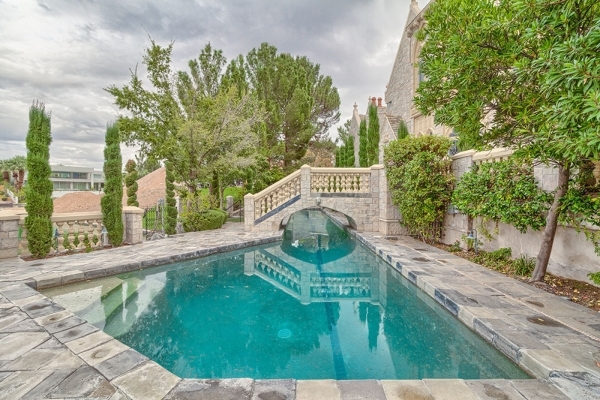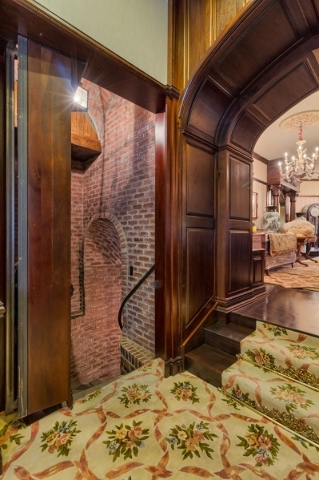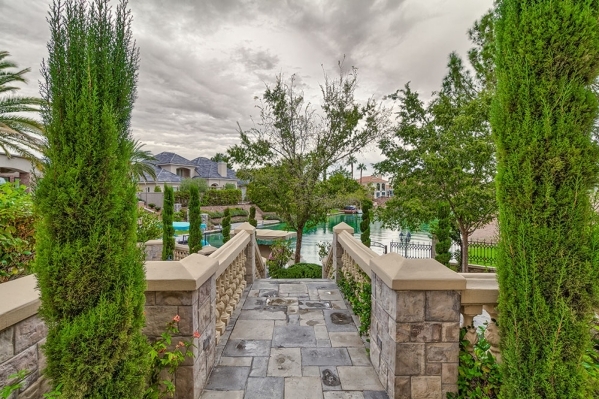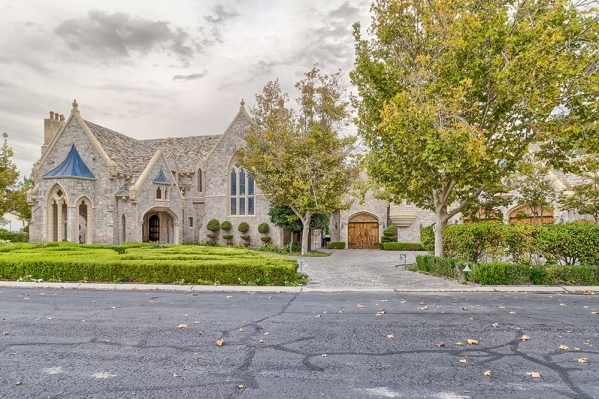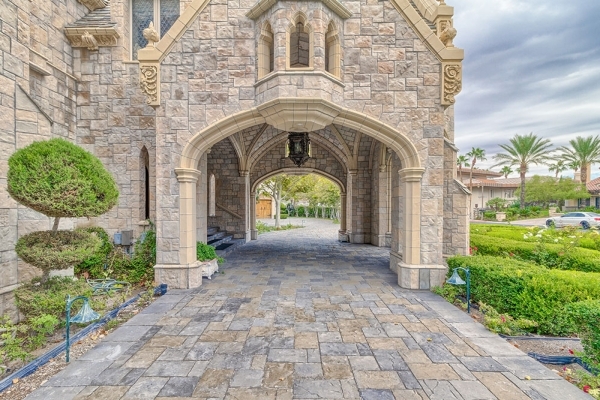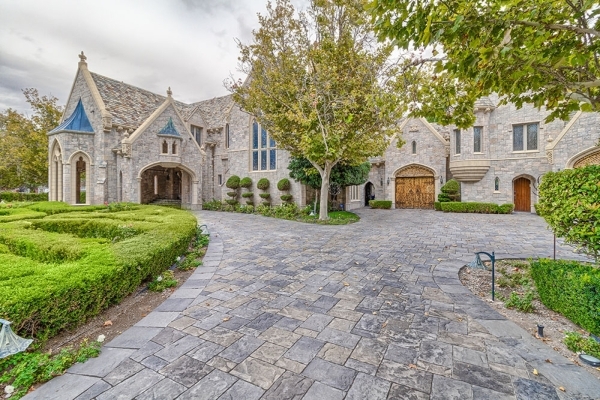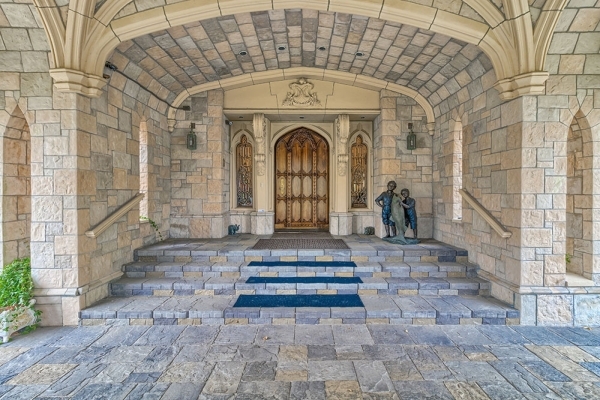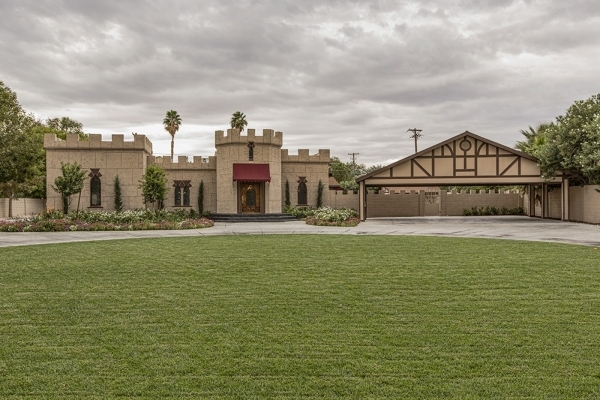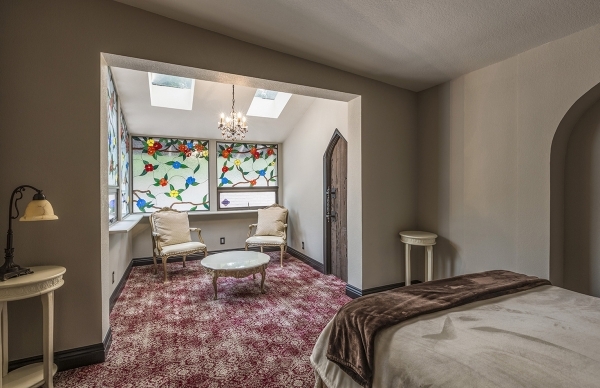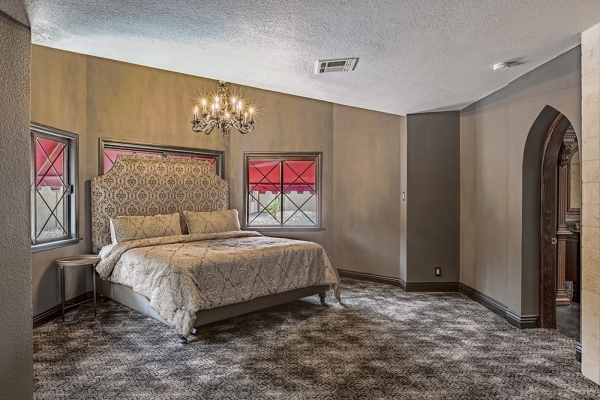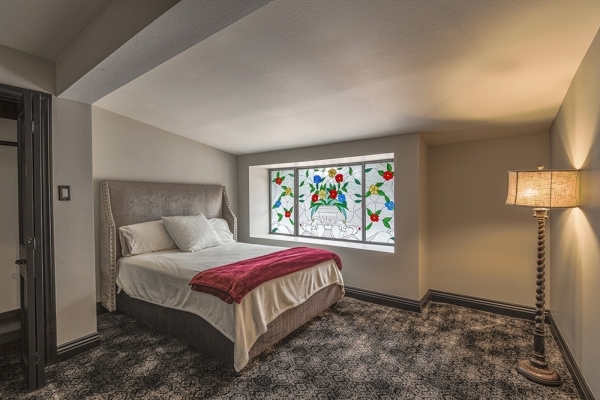 As a little girl growing up in Las Vegas, Jody Miller enjoyed her storybook childhood roaming the halls and nooks and crannies of her parent's 12,000-square-foot home, a replica of an 1800s Victorian castle, perched on picturesque Lake Sahara.
Festooned with towering triangular exterior cast stone walls embedded with beveled and stained-glass windows, a massive 700-pound mahogany carved door, rustic slate roof and perfectly manicured English garden-style hedges, everyone driving by was fascinated and wanted to know who lived in this magnificent castle.
"The house to me was so magical," Miller said, remembering how she and her siblings would crawl and play amongst several secretly built hiding places. A bookcase in the living room, for example, provided an eerie access to what they called the "dungeon," a private office built in a basement. Unusual for Las Vegas, this home named Rose Manor for ornate roses carved into the 12-inch front door, had a basement with 16-inch poured concrete walls.
The home took four years to build and was designed by California architect Robert Symons of Robert Symons Associates in Rohnert Park, Calif. He has designed and built several castle replica homes, including one in Lake Tahoe that caught Miller's parent's attention and sparked the idea of building a similar home in Las Vegas.
Mark Walton, a well-known leaded and stained-glass window designer from Campbell, Calif., created all the windows throughout the estate. Walton had worked closely with Walt Disney designing windows for Disney properties in California, Japan and Paris.
"Our family had spent a whole summer in Europe and fell in love with castles," Miller said. "When we saw the one in Tahoe that Robert Symons built, my parents loved it … My favorite thing about the house was all the stained-glass windows."
The six-bedroom, six-bath custom home with its own private boat dock has 144 custom windows of either stained- or beveled-glass. The slate roof took a year to complete and boasts stone imported from China. Each hand-casted exterior stone, designed to appear like old carved limestone, weighs between 10 to 15 pounds. In addition to the massive wooden front door, there's about $1.5 million worth of carved mahogany wood fixtures throughout the authentic-looking English castle.
Her family moved into Rose Manor on June 3, 1991, Miller said. They lived there until 2005. All the furniture inside was designed with a medieval flare, complemented by real suits of armor and swords hanging about.
"We would have Halloween parties and people loved coming to our house," Miller remembered. "It always got a lot of attention on Halloween."
The massive estate sitting on 0.53 acres, at 2928 Coast Line Court in the Lakes, has had several owners since the Millers sold it in 2005. Currently, the residence is being listed for sale by the Luxe Estates and Lifestyle real estate firm for $4.3 million.
"This property is quite magnificent," said Zar Zanganeh, owner/principal of Luxe Estates. "It was really planned and built for a big family. One wing was designed just for girls and another for the boys. We have been receiving a lot of interest in the property."
In another part of the sprawling Las Vegas kingdom, less than a fortnight away by carriage, stands yet another magnificently constructed castle in what's called the mystical realm of Rancho Circle.
In 1969, the late Las Vegas gaming executive Donald Pettit, who founded the Jolly Trolley, Money Tree and Coin Castle in downtown Las Vegas, purchased a 1,500-square-foot, two-bedroom ranch house built in 1945 at 500 Rancho Circle and decided to transform it into a Tudor-style castle.
The estate was expanded into a 6,500-square-foot compound with five bedrooms, four baths, an oversized great room fit for a king, two fireplaces, a wood-paneled library, stained-glass windows throughout and a freestanding pool house. The roofline is punctuated with castle-like machicolations and the front door is heavy and thick — appearing to have been chiseled from some ancient cypress tree.
Pettit's idea was to transform his Rancho Circle property into a medieval castle similar to his downtown Las Vegas Coin Castle. At one time, the residence was a popular stop for bus tours when the now-gated community of Rancho Circle was open to the public.
New owners recently completed a $150,000 renovation of the property, which sits on 1.1 acres. The remodeled interior features expresso-colored stamped concrete throughout, complemented by dark wood flooring. The kitchen was completely gutted and updated with stainless-steel appliances, raw-edged black galaxy granite countertops and dark-wood cabinets. A Gothic crystal chandelier hangs in the dining area and the foyer is accented by a large Renaissance mural and two ornately carved thrown-like chairs.
Custom cabinets were installed in all the bedrooms, new carpeting laid down, the laundry room was upgraded with a state-of-the-art front-loading washer and dryer combination and a large theater roomed added.
The owners, who purchased the property last year for $690,000 are keeping it and renting it out for $6,500 a month. The dwelling, including the pool house and large backyard featuring an expansive swimming pool with a 10-foot-deep end, encompass about 7,500 square feet.
"There is a lot of demand for big houses like these because there aren't a lot of properties this size around," said Zanganeh, whose agency is representing the homeowner.
In today's market, Zanganeh said the estate would probably sell for about $1.5 million.