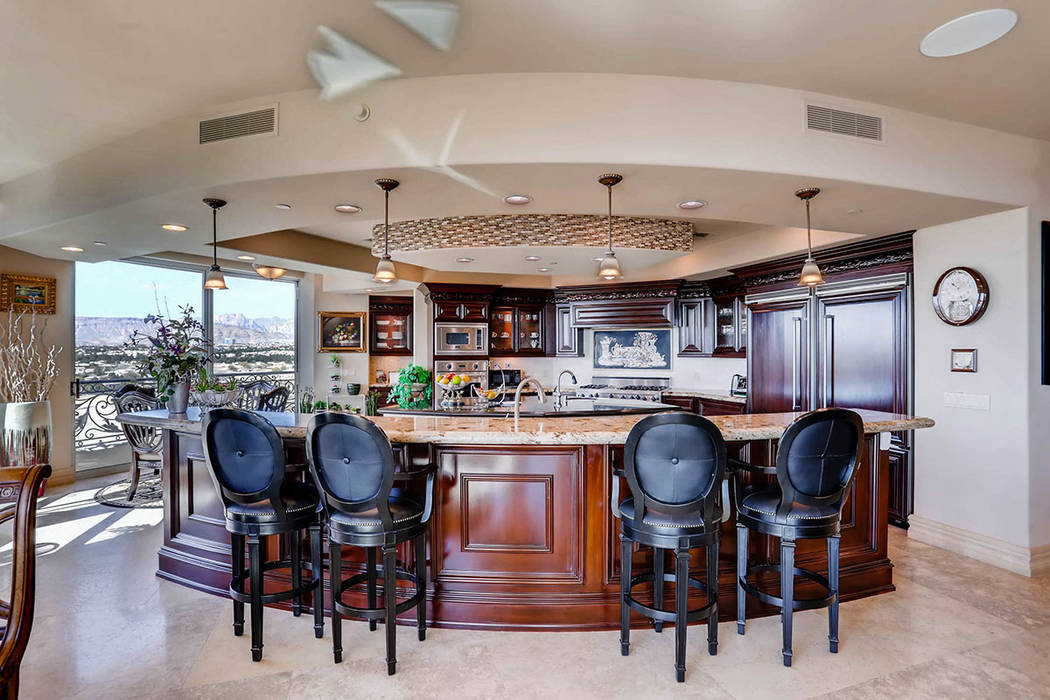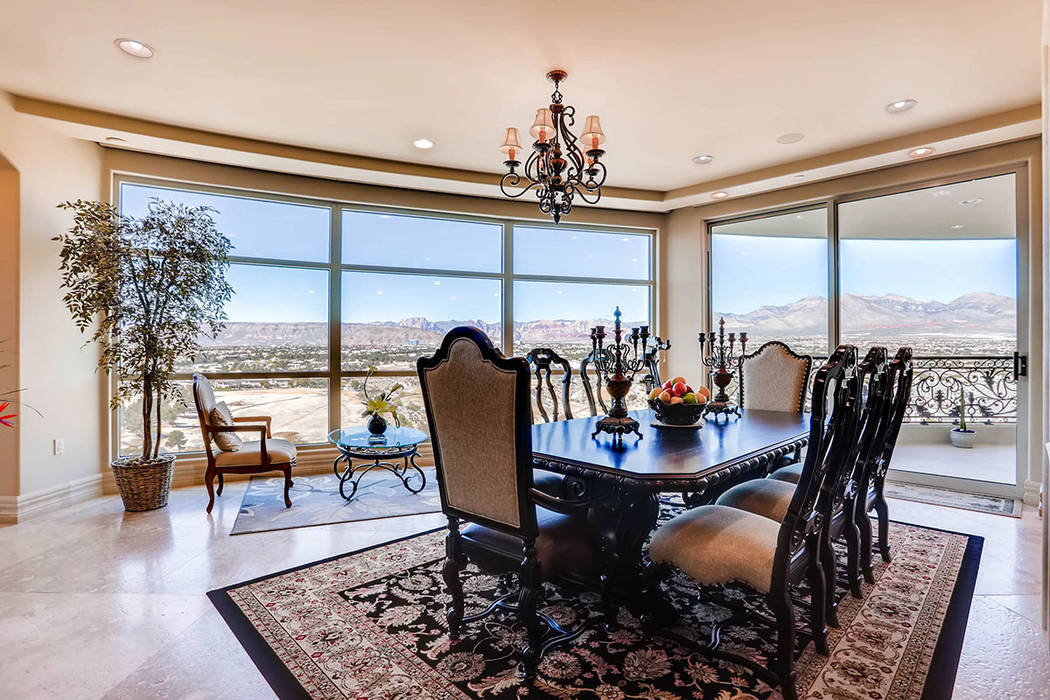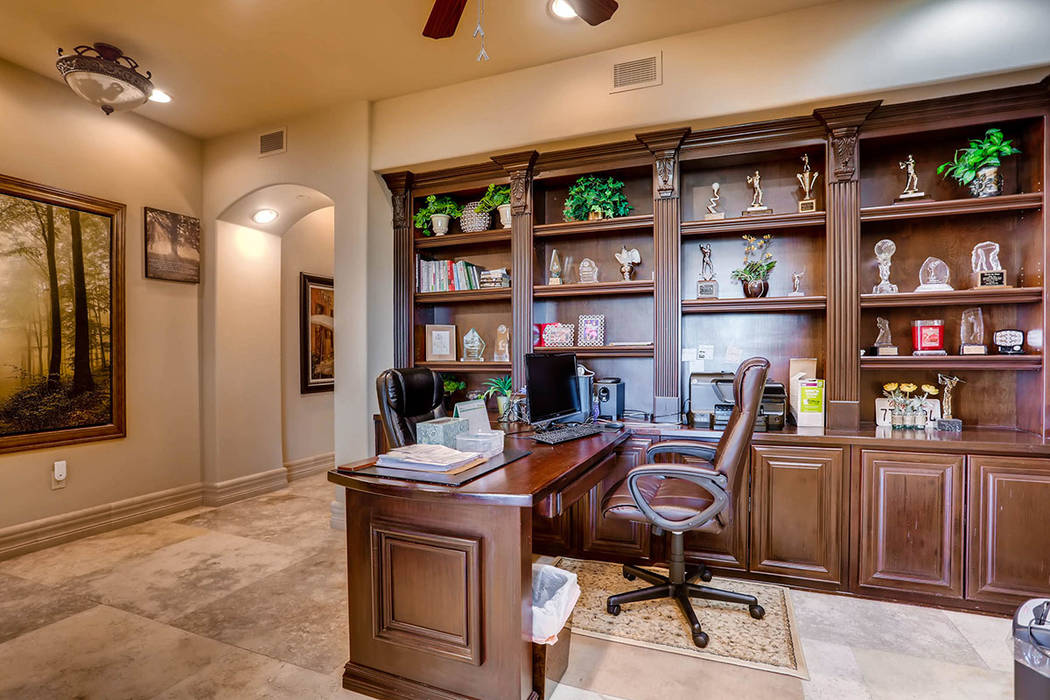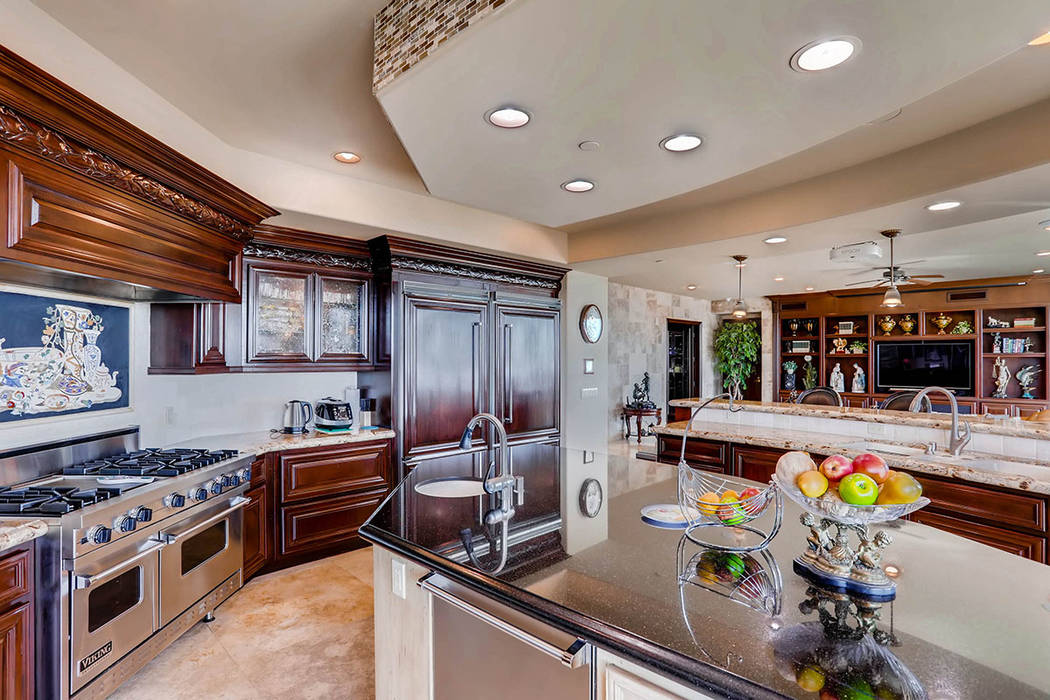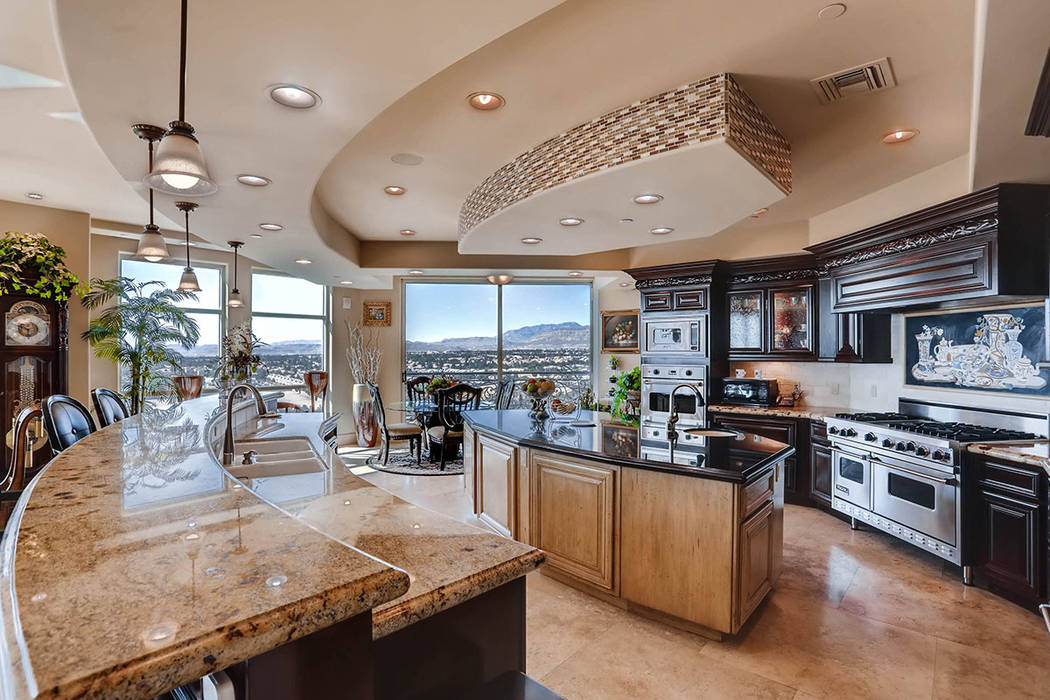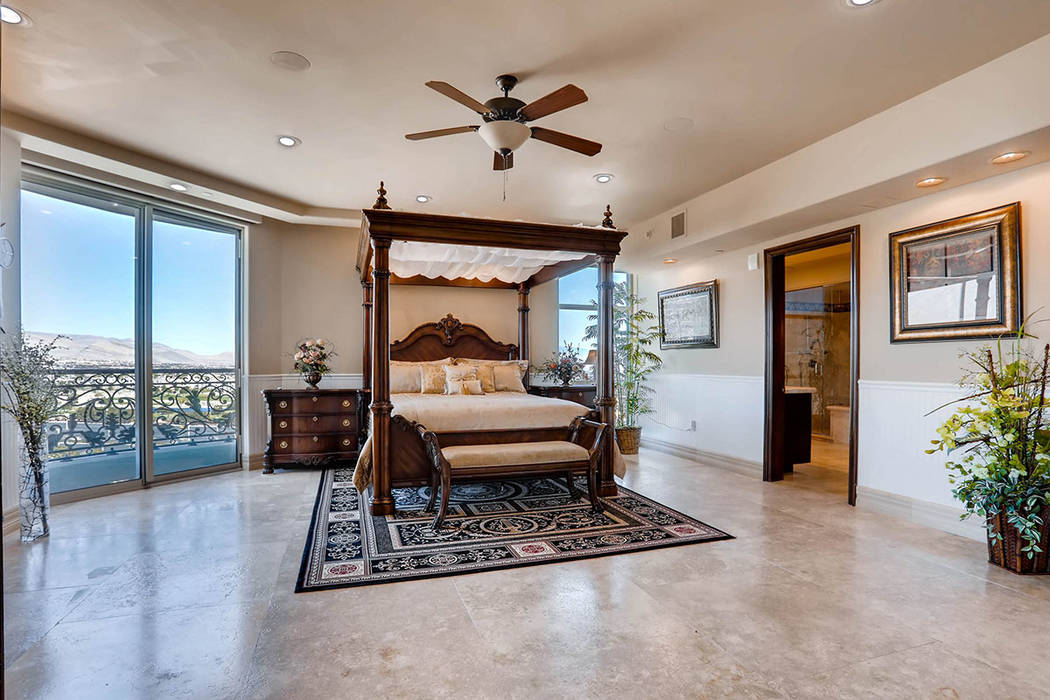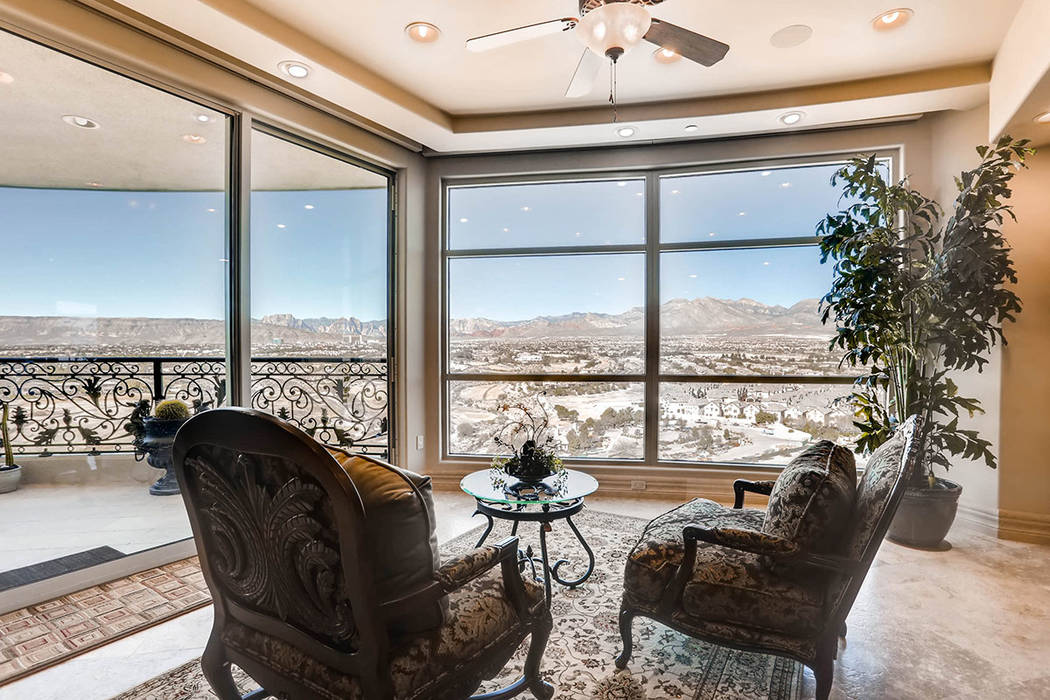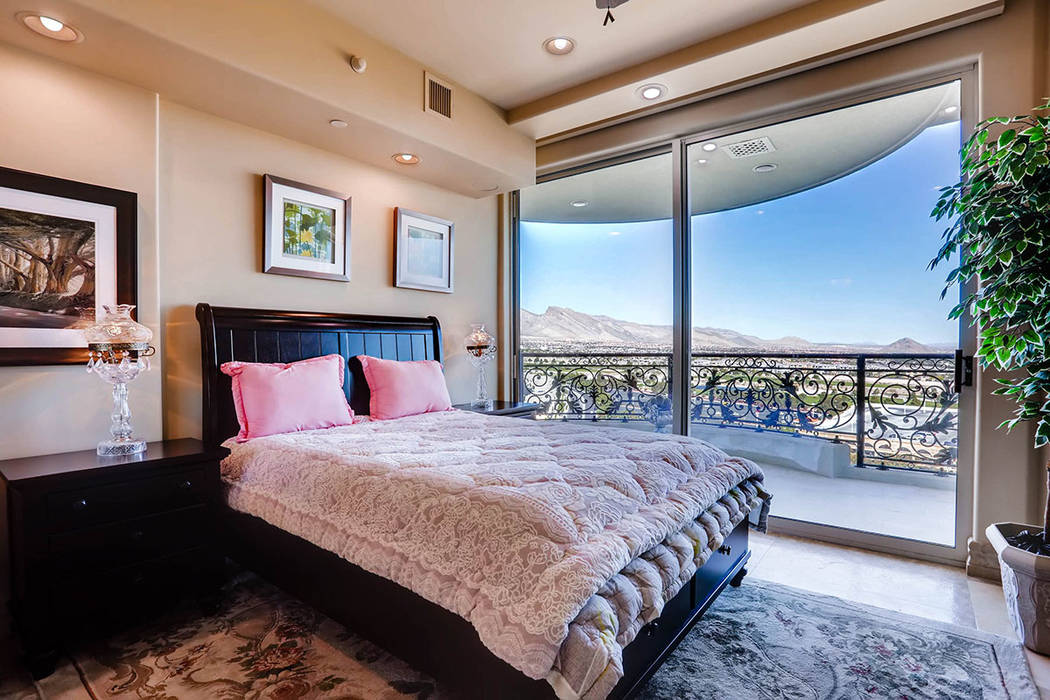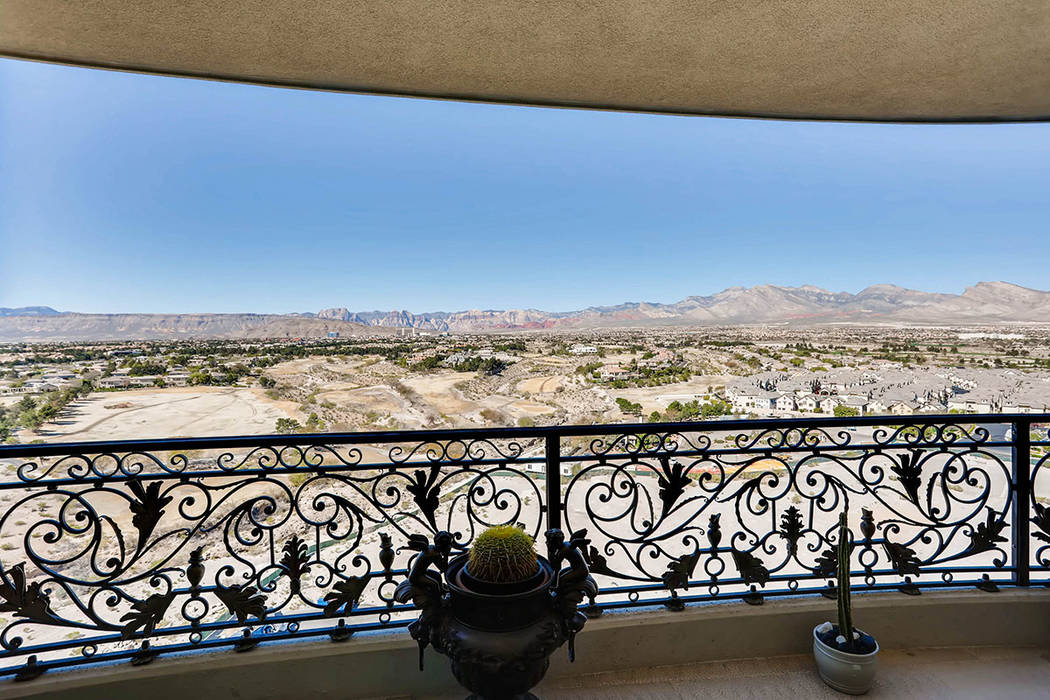 Rising 15 stories above the desert floor, the One Queensridge Place penthouse is an example of masterful architecture.
"These are very much mansions in the sky," owner and broker Randy Char of Char Luxury Real Estate said about the Queensridge homes.
"This penthouse stands at nearly 6,000 square feet, making it one of the largest high-rise penthouses in the city."
Listed for $4.5 million through Char Luxury Real Estate, One Queensridge Place penthouse No. 1501 is in one of the two Queensridge towers at 9103 Alta Drive.
Inspired by French and Italian design, the penthouse is a sophisticated retreat featuring incredible signature stonework, premium cabinetry, exquisite light fixtures and high-quality construction. It encompasses the entire west end of the 15th floor, revealing a nearly 360-degree view.
"One of the biggest selling points of the suite is it's a corner unit," Char said. "That's really rare."
Designed for easy living, the 5,844-square-foot custom suite features three bedrooms (including a private master suite and two junior suites), 3½ baths, formal and informal dining areas, a formal living room, a family room, an office, a bar and a private subterranean four-car garage.
Char said one of the suite's previous three owners was celebrity impersonator Rich Little. According to the Clark County assessor's office, Little purchased the suite in 2011, selling it to its current owner in 2014. The suite's original owners, Michael and Jamie Kiger, purchased the property in 2009.
The elevator doors open directly to the suite's grand foyer, graced with large, imported natural stone tile and a 10-foot dome-shaped ceiling.
The expansive open floor plan flows easily from one room to the next, making entertaining and living easy. The foyer opens into the formal living room with a signature Queensridge central stone fireplace. The fireplace, designed as a divider wall in the formal dining area, acts as a center between two arched doorways. The formal dining room features a coffered ceiling and exquisite lighting.
Large, floor-to-ceiling windows draw the eye across the room and beyond to stunning views of the mountains and the Strip. In addition to the extensive windows flanking the entire suite, three full balconies showcase panoramic views of the valley.
"You can see the entire Las Vegas Valley," Char said. "Including the Strip, mountains, Tivoli Village and Boca Park. The views at night are spectacular."
The suite's gourmet kitchen is equipped with professional-grade stainless steel Viking appliances, double gas ovens, a dishwasher and a custom built-in refrigerator and freezer. A butler's pantry and walk-in pantry offer additional storage.
"One of the best things about this home is the kitchen," Char said. "What makes it so beautiful is the island."
The light-colored center island contrasts with the surrounding dark wood cabinetry. Two-tone granite countertops enhance the space's opulence.
A custom Roman-inspired pietra dura (an inlay of highly polished colored stones to create decorative art) serves as a strong visual above the double ovens. At the end of the kitchen is a small breakfast nook sited perfectly for breathtaking views and opening to one of the three large balconies.
On the north side of the kitchen, a wraparound breakfast bar borders the voluminous family room.
The family room features a projector and large-screen TV in a custom built-in entertainment center lining the north wall. The room opens to another large balcony with views of Red Rock Canyon National Conservation Area and the Spring Mountains.
A room directly off the family room features custom built-ins and is used as a second office.
"The room could be used as a media room, office or den," Char said.
The private master suite is a secluded retreat located independent of the two other bedrooms. The large suite is complete with a sitting area, a Juliet-style balcony and a spa-like bathroom with a large tub and walk-in shower.
Custom vanities and beautiful tile add to the spa ambiance. The huge walk-in master closet features built-in shelves and storage.
The remaining two bedrooms, classified as junior suites, are in a separate area down a long hallway from the master retreat.
"It would have been so cool to be in this place when (Little) had it," Char said. "The nostalgia that was on that wall (leading to two bedrooms) included pictures of Johnny Carson and Frank Sinatra. He had everyone on that wall."
Each room is complete with its own private bath and opens to an adjoining balcony unveiling more breathtaking views of the Las Vegas Valley.
Masculine in nature, the office design is complete with dark wood finishes and custom built-in shelving.
A personal, private elevator in the suite leads to a private subterranean four-car garage.
"The garage is enclosed, which makes it super unique." Char said. "I don't know of another high-rise in this city, maybe even on the West Coast, built like this."
The suite's custom, detailed design includes motorized window coverings, solid core doors, effective construction barriers to noise and an AMX sound system throughout the unit.
"This (penthouse) is designed like a home," Char said. "It has everything you need."
A 24-hour, guard-gated secure community with four additional security points of entry, One Queensridge Place encompasses two 18-story towers with 219 units.
Designed and developed by Executive Home Builders in 2006, the towers offer a wide variety of amenities to enhance lifestyle living for its residents. The smallest condo starts at 2,000 square feet, with units that measure more than 15,000 square feet in the Crown Jewel two-story penthouses.
"They put so much investment into this building," Char said about the more than $400 million investment. "From the customized tile to the medallions to the semi-precious stones carved into hard stone. There is some rare stuff in this building that is extremely expensive and timeless."
Amenities for the towers include around-the-clock valet and concierge services, a fitness center, a private dining room with chef's kitchen, conference rooms, guest casitas, indoor lap and outdoor pools, a 25-seat movie theater, Café, his and her spas, a billiards room, a library, a dog park, an outdoor kitchen, a wine cellar featuring a wine locker for each resident and private subterranean enclosed garages.
"It's one of the highest amenitized buildings you'll find," Char said. "One of the most comprehensive setups to enhance your lifestyle."
About the penthouse
Price: $4.5M
Location: One Queensridge Place, 9103 Alta Drive, unit No. 1501
Size: 5,844 square feet, master suite, two junior suites, four baths and four-car enclosed subterranean garage
Features: Private penthouse suite on the west corner of the 15th floor. Kitchen has butler's pantry. Home has bar, office, media room, fireplace, three large balconies and one Juliet balcony showcasing almost 360-degree views of the valley and electronic shades.
Amenities: Around-the-clock valet and concierge services, fitness center, conference rooms, guest casitas, indoor lap and outdoor pools, 25-seat movie theater, Café, private dining room with chef's kitchen, his and her spas, billiards room, library, outdoor kitchen, dog park, wine cellar featuring a large bottle wine locker for each resident and private subterranean enclosed garages.
HOA fees: $2,144 a month
Listing: Randy Char, owner and broker, Char Luxury Real Estate