$9M MacDonald Highlands home celebrates love of horses and art — PHOTOS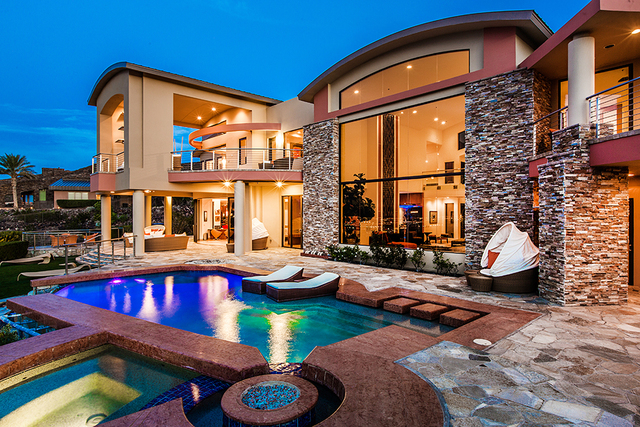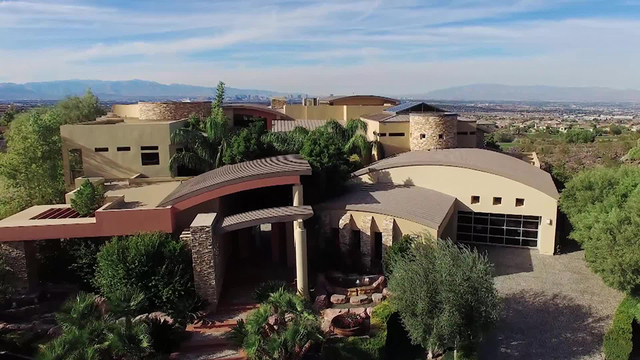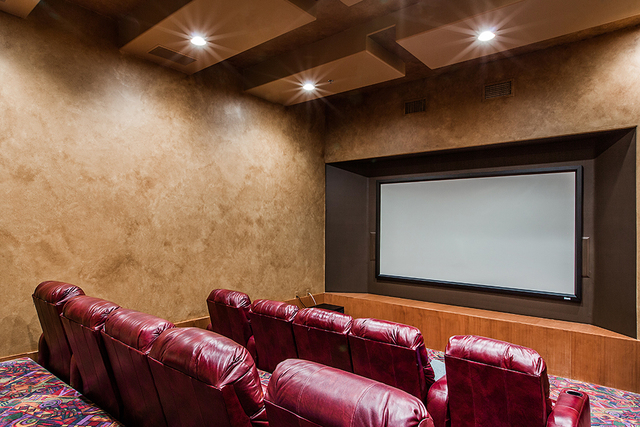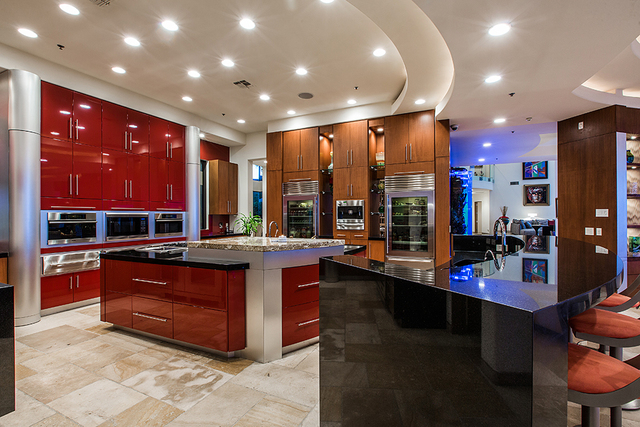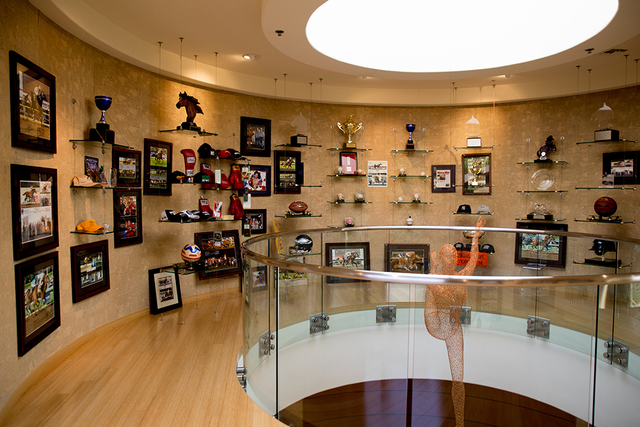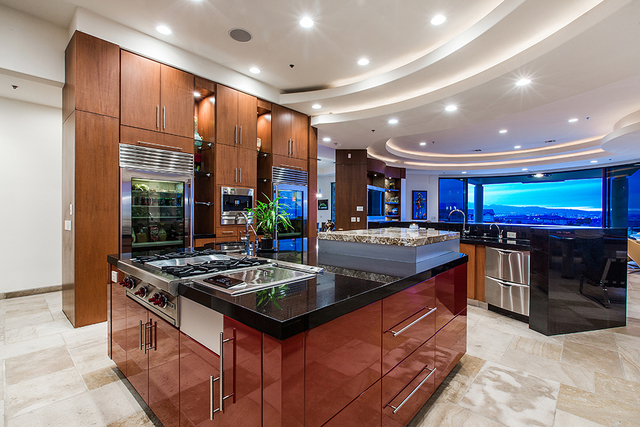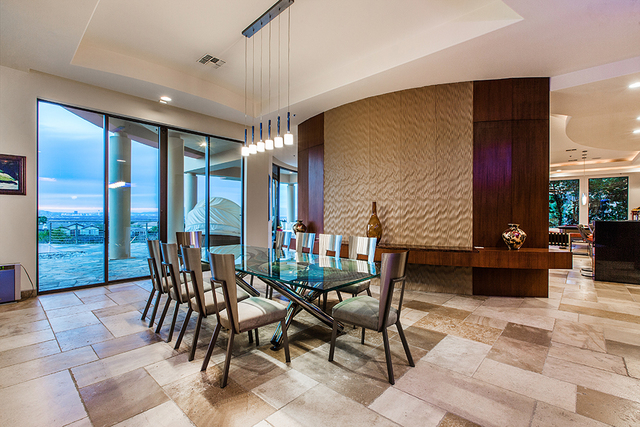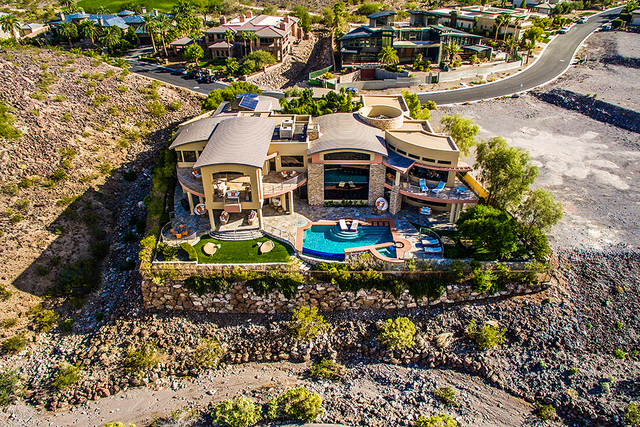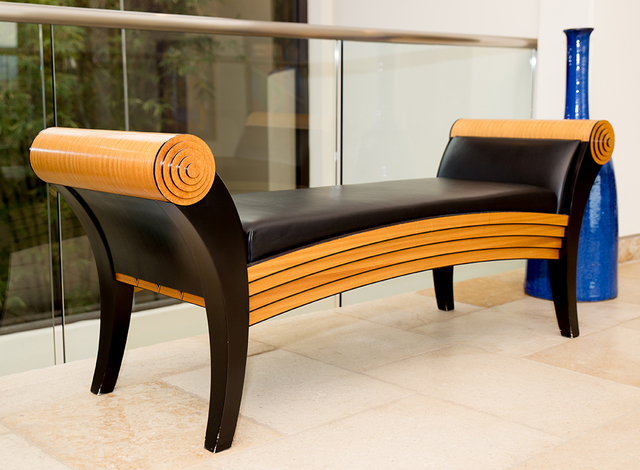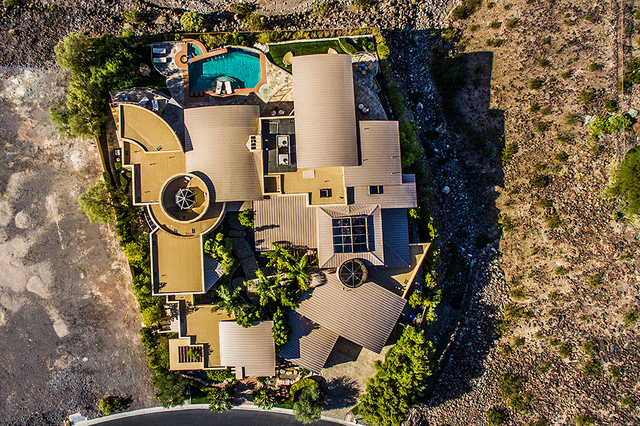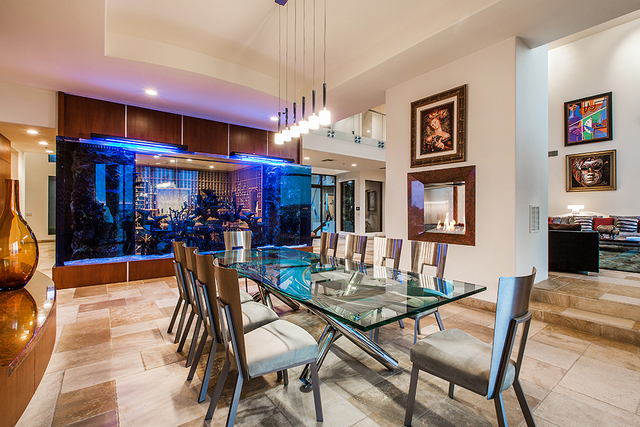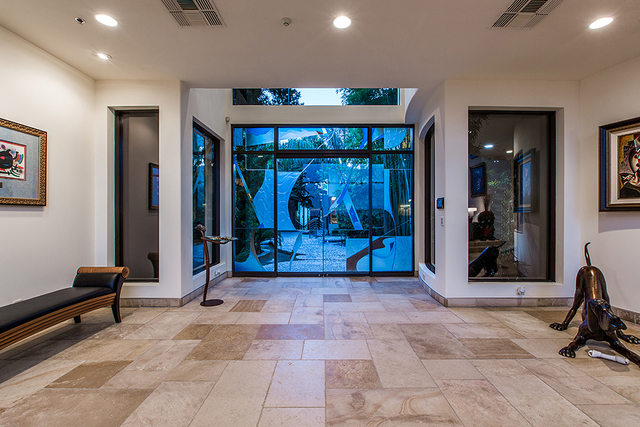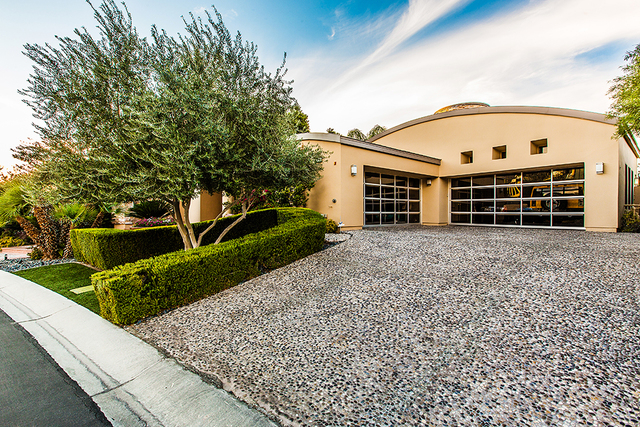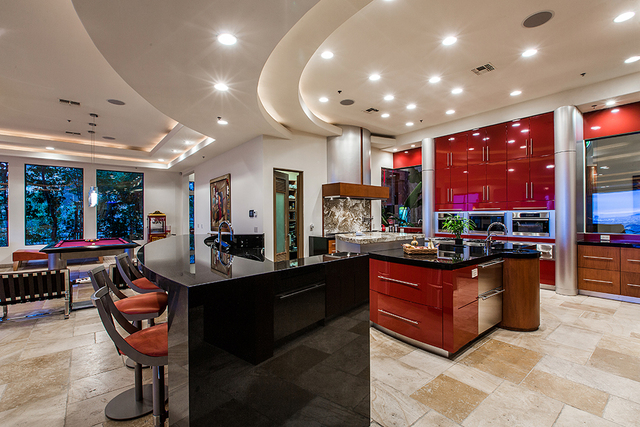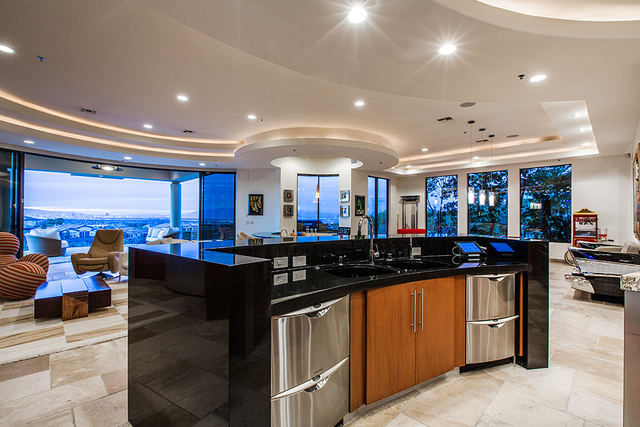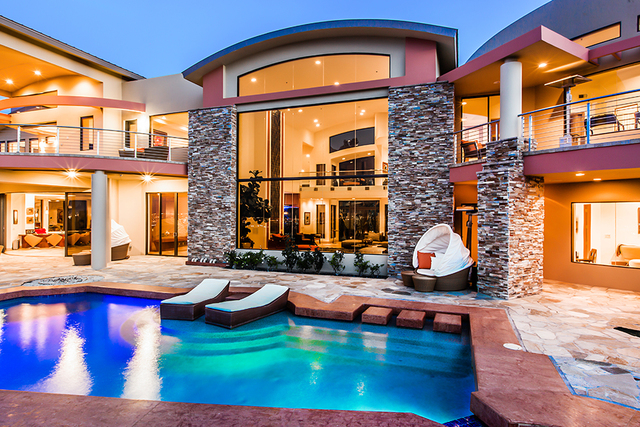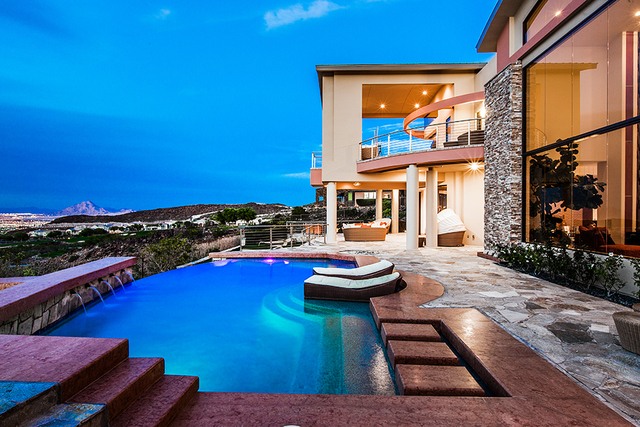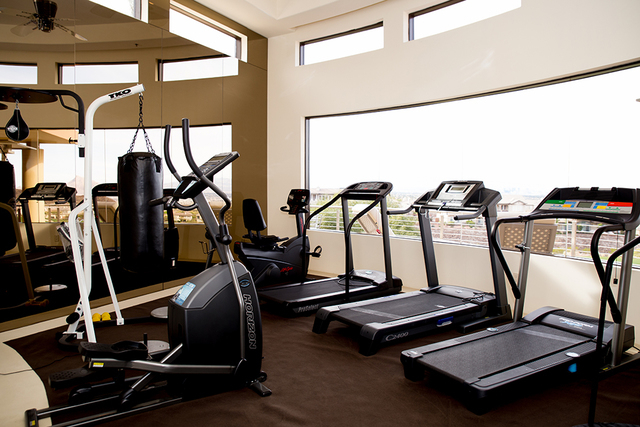 As a kid growing up in Puerto Rico, Mickey Gonzalez had his sights set on becoming an architect. Like many people, life took him along a different path and into following in his father's footsteps of working in the family's insurance business. Success and the entre-preneurial spirit followed, leading Gonzalez beyond Puerto Rico, to other cities and countries … and eventually to the MacDonald Highlands community in Henderson.
"When I was young, I always wanted to be an architect. I instead went into business with my father and did very well. But I always thought that someday, I am going to design and build my own home," said Gonzalez, an entrepreneur who owns several businesses.
Circumstances and research led him to MacDonald Highlands.
"In the early 2000s, we had similar (economic) issues in Puerto Rico like the U.S. recently has … After we lost money, my wife and I began to research the best places to invest and the best three states to invest in real estate. All of the research said that Las Vegas was the best place (for real estate)."
That was when he came across the MacDonald Highlands community and its custom-home sites where he could pursue his childhood desire to design his own home.
His 2003 purchase of a 0.65-acre lot at 605 St. Croix St. led him down the path of meticulously designing the two-story residence that Gonzalez named "Pincelada," which literally translates to brushstroke in Spanish. This 14,485-square-foot showcase home weaves together elements of nature and art and features six bedrooms, seven full and two half baths, and a four-car garage. It is now listed for sale at $8,995,000 through Ivan Sher of Shapiro &Sher Group, Berkshire Hathaway HomeServices, Nevada Properties.
"It took about two years to design the home and a few years to build. I was inspired by one of the Seven Wonders of the World — the rainforest of Puerto Rico," Gonzalez said. "… I love the home, the views, everything. Every time I am here, I keep working on it, making little changes and upgrades. It's been wonderful to do something you've always wanted to do."
Designing a super-sized residence is no easy task. Gonzalez spent much time to make the home "just right," with more than 200 change-orders during the construction process. These included big and small things like connecting a wall-size aquarium in the main home to a large (and rather noisy) filtration system in the garage by placing the connecting plumbing under the courtyard; slightly changing the slant of the master-suite balcony to ensure rain flows away from the terraces; and adding designer touches like steel accents to the top of the baseboards.
"Mickey is very passionate about the home. It is not just a home, it's been a passion project. With all of the details, it has become a piece of art," Sher said.
While enjoying the sunlit backyard patio with impeccable views of the adjacent DragonRidge Golf Course and the city, Gonzalez explained that during the design and construction process he became concerned that these near perfect valley views could be slightly inhibited when he noticed the construction of some two-story residences across the fairway.
To help ensure that did not happen, Gonzalez was involved in the purchase of three residences, which had already begun to be framed as two-story, requested that the builder construct single-story residences instead, and upon completion sold them. This was important to Gonzalez since he designed Pincelada with these views and the rainforest in mind.
Hidden behind a gated entrance from the street is an enclosed courtyard reminiscent of the grounds of a tropical luxury hotel with its green plants and trees growing toward the home's second level, sounds of water features and a pebble stone walkway.
Upon entering the tall glass doorway, views of the Strip are unavoidable through the living room's floor-to-ceiling windows, as is the artistically laid glass, metal and wood that surrounds its fireplace. Nearby retractable glass doors open to a patio, pool and spa.
The second-floor master suite also takes advantage of the views from its wrap-around terrace and affords the convenience of a kitchenette, his-and-hers en suite baths and walk-in closets.
The element of water is brought in through multiple water features as well as a fish tank wall along a wine room capable of holding 2,860 bottles.
Artistic elements are incorporated throughout with custom furniture and decorative use of metal, glass and stone. Walls are accented by multiple artists; with Picasso, Matisse, Chagall and Miro seamlessly fitting in with the home's aesthetic.
Hanging above a circular, two-story office is a fiber-optic cable sculpture of a ballerina that moves. Peering past the ballerina sculpture to the office's second floor offers insight into Gonzalez's other interests.
"One of my passions is horse racing and I decided to create a sort of sport memorabilia museum on the second floor of my office," Gonzalez said.
This area features a unique collection — signed horse racing memorabilia and photographs of thoroughbreds, signed boxing gloves and photographs of boxers, signed baseballs and a Lakers jersey.
There are also photographs of athletes, well-known individuals and celebrities, some of whom were among the nearly 250 guests who attended Pincelada's 2007 open house celebration, such as Sylvester Stallone and Hillary Clinton.
"I am not political," Gonzalez said, adding that he met the Clintons years ago.
Another unique area is a first-floor wing designed for entertaining that incorporates the tropical rainforest feel with stone floors, a water feature and greenery. A grape beech tree that Gonzalez brought in a pot from his Puerto Rico villa has grown toward the atrium's glass ceiling, offering shade for a "food court" area that includes signage of Starbucks and McDonald's and a section set aside as an oxygen bar.
Nearby is a home movie theater and an arcade room.
"I created a special movie theater with a ticket box office. Originally I did this so when I entertain or hold big events, my guests could donate money at the ticket box office that we then give to different charities in Puerto Rico," Gonzalez said.
Other unique features include a state-of-the-art high-tech security system with multiple cameras, a panic room, cigar room, 36 TV plasma screens, a second-floor gym with a sauna and steam room, two terraces overlooking the golf course and city and a glass spiral staircase, just to name a few.
Why is Gonzalez selling Pincelada now? The answer: Family and a passion for horses.
"I have owned other homes and villas, but this (Pincelada) is the first and only one that I have designed myself. I thought that this would be my home for when I retire, but my children and grandchildren do not visit often. Now I want to be near my family in Puerto Rico. I am ready to pursue another passion — thoroughbreds — and plan to develop a horse facility in Puerto Rico," adding that he currently owns more than 40 horses that reside in three different states.
There's little doubt that if Gonzalez puts forth the attention to detail in developing the horse facility that it will be one-of-a-kind like Pincelada … except with the actual rainforest outside its doors.
ABOUT THE HOME
LOCATION: 605 St. Croix St., adjacent to the DragonRidge Golf Course within the MacDonald Highlands community in Henderson.
PRICE: $8,995,000
FEATURES: This 14,485-square-foot, two-story home with six bedrooms, seven full baths and two half baths, four-car garage, executive office, atrium, wine room with a fish tank as its wall, cigar room, home theater, fitness room, infinity-edge pool and spa, and expansive views of the Las Vegas Valley and Strip.
PRICE: $8,995,000
HISTORY: According to Clark County Assessors' online records, the 0.65-acre custom-home site was purchased in 2003 for $685,800 where its owner designed and built the custom home of his dreams, incorporated elements of nature and art throughout, and named it "Pincelada." The home is offered for sale by its original owner, Mickey Gonzalez.
LISTING: Listing sales agent is Ivan Sher of Shapiro & Sher Group, Berkshire Hathaway, HomeServices, Nevada Properties.