Ascaya development breaks ground on clubhouse in Henderson
August 21, 2016 - 1:39 pm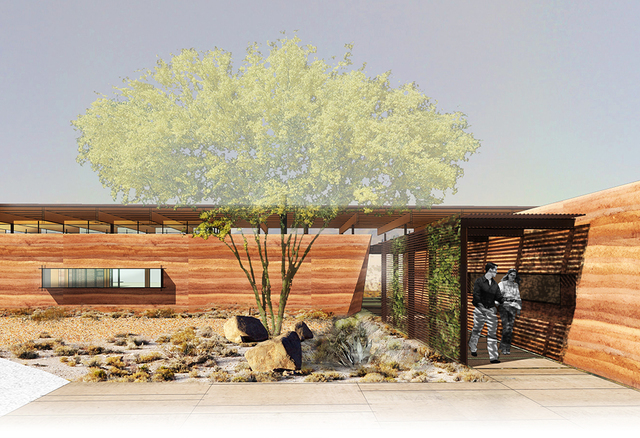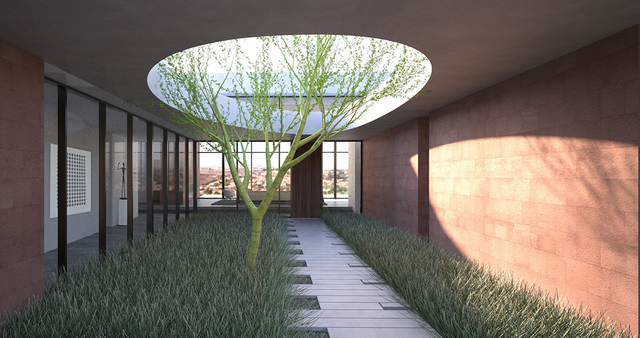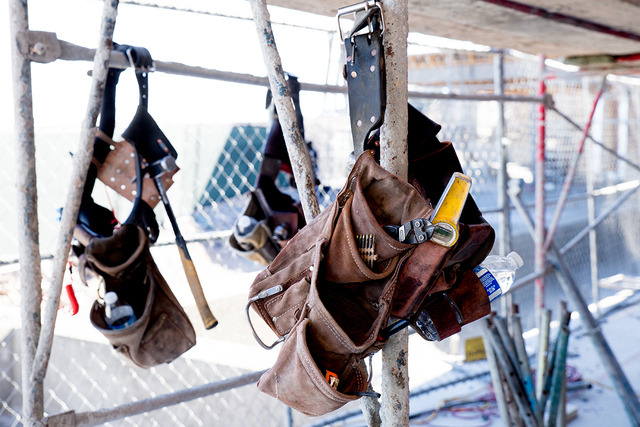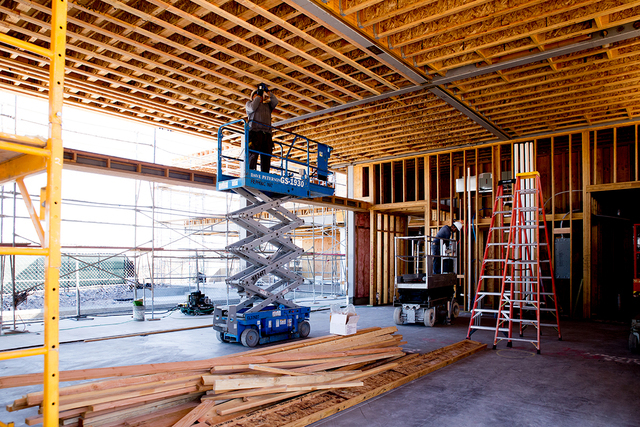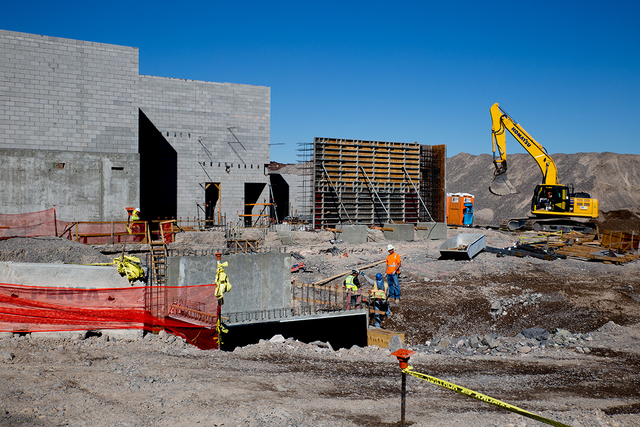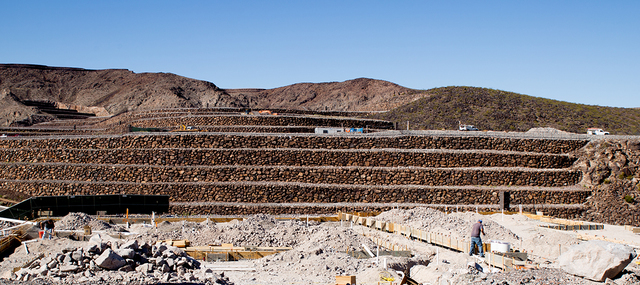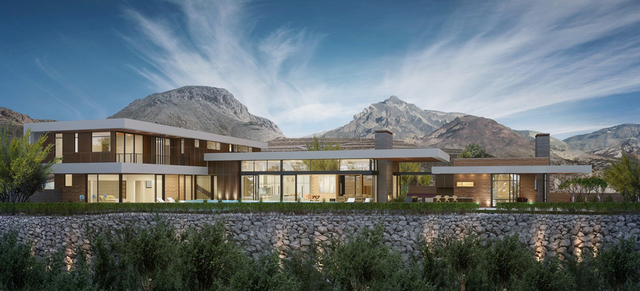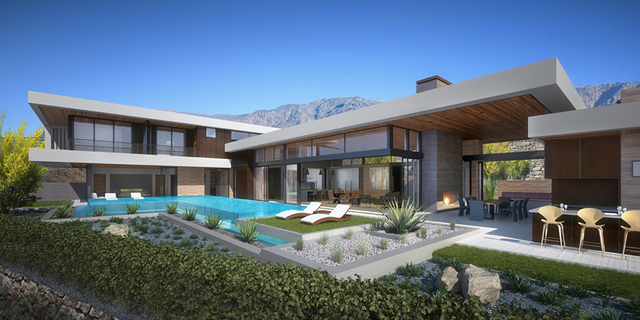 From the construction crews framing the new clubhouse, to the new monument sign at the entrance spelling out its name, all indications are that the Ascaya development is moving full speed ahead.
The ultra-luxury home community at the south end of Roma Hills Drive in Henderson is experiencing a growth spurt in multiple fields; four lots were just sold; seven developer-financed inspiration homes are breaking ground; and the community clubhouse is now under construction, according to, sales manager Darin Marques.
Eight homes are under construction, and two more will break ground in the next two months, Marques said. One completed home saw the first residents move in about four weeks ago.
"We should have three residents living here by the end of the year," he said.
And mailboxes have been installed, even in front of lots that haven't been assigned addresses.
Mesquite and palo verde trees have been planted along the main road in the past six months and should look mature within two to three years. In the meantime, jackrabbits and quail dart freely around the still rural mountain range. Joggers do not yet appear on the 1.5-mile specially designed walking path that winds up the road.
"We didn't want to put cement and concrete sidewalks in the development because we thought it would take away from the natural element, so we put these walking trails made of a compacted crushed granite," Marques said.
The clubhouse will be for residents only. It will have workout facilities, including a cycle room, Pilates/yoga room, concierge service, resort-style pool, massage rooms and some type of restaurant service not yet determined. The Penta Building Group has the construction contract.
"The homeowners are really excited about this," Marques said.
So far, the developer has spent $290 million building Ascaya, said Marques, including putting $65 million into the development this year. This includes the construction of the new clubhouse and seven inspiration homes, super upscale home models to show wealthy owners what kind of architecture fits into the community. Seven different architects were chosen to design the homes. Only one is from Nevada — CJ Hoogland of Hoogland Architecture.
SB Architects from San Francisco, known for designing mostly luxury hotels, was commissioned by the developer to create a two-story inspiration home on lot No. 11.
"They were so impressed by the Ascaya development that they agreed to come and design a home for us," Marques said. "The architect who designed this for us was so impressed that he said within the next few years, he felt Ascaya would be in Architectural Digest Magazine."
SB Architects faced a challenge in the lot No. 11, which is shaped like a very long, skinny pie wedge. Most buyers typically want a square or rectangle, Marques said. "We wanted to demonstrate to buyers that you can take a lot that seems challenging and design a really incredible home on it. They really made maximum use of the space here."
When completed this January, it will have a casita, pool, outdoor fireplace and, of course, disappearing glass wall pocket doors. The first-floor master will have a view of the Strip and the pool. The house is being built by Sun West Custom Homes.
There's a grey retaining wall between it and lot No. 12, which will be fitted with planter systems attached to the wall to create a lush green barrier.
On lot No. 16, architect Marmol Radziner of Los Angeles was selected to build a 7,500-square-foot, two-story inspiration home with a floating staircase in the center. "You can see this home is going to have some spectacular views," Marques said. It is expected to be completed next spring.
Two other inspiration homes, which will measure between 13,000 to 15,000 square feet each, will soon break ground on lower lots, and they still will have a city view, he said; "because of the angle; just a little different, more direct view, versus the higher lots, which have a combination of city and mountain views."
Marques said he expects each inspiration home is going to have a resale value of between $6 to $8 million; some possibly a bit more. Most new homes in Ascaya are going to cost "between $450 to $600 a square foot, not including the lot, and that includes our inspiration homes. We're spending, on average, $550 to $650 a square foot, which will be a great value for the homeowners as well."
Marques has sold four lots in the past two months, which he says is more than they sold in the last quarter of 2015.
"All the construction going on has really helped with the sales momentum. One of the reasons we're seeing that is that resale (home) prices have come up to the point where they're in line with new construction prices; whereas two years ago, when we first opened, you could still buy a resale home for $300 to $350 a square foot in a resale community. Now, in almost all the communities neighboring here, MacDonald Highland, The Ridges, homes are going anywhere from $600 to $750 a square foot, and that puts you in line with new construction," he said.
There are 313 total custom home sites available in Ascaya. To give buyers a sampling of what life is like up on top of the hill, they offer weekly Wednesday wine tastings and host other client events in a hilltop tent. Private dinners are sometimes arranged "if a client wants to come out and experience what it's like to live here … with their family. It really makes it a nice experience for them."