Bill Walters lists his Seven Hills home for nearly $5 million — PHOTOS
January 18, 2016 - 2:26 pm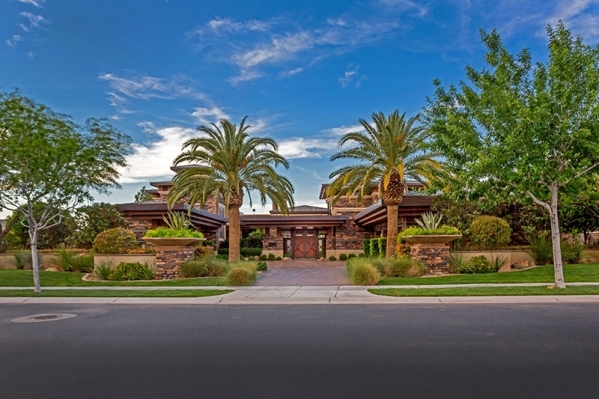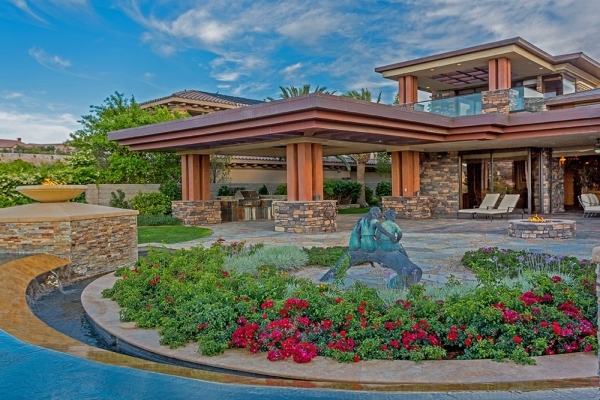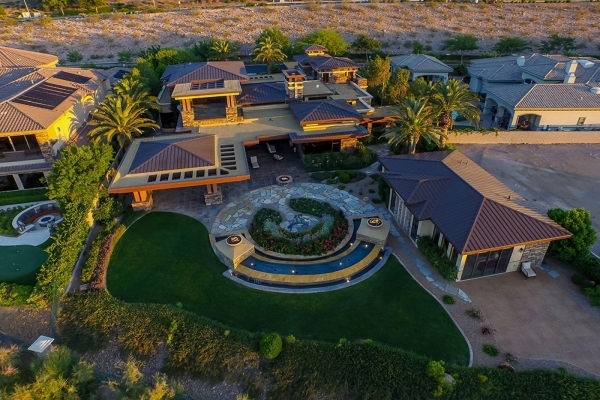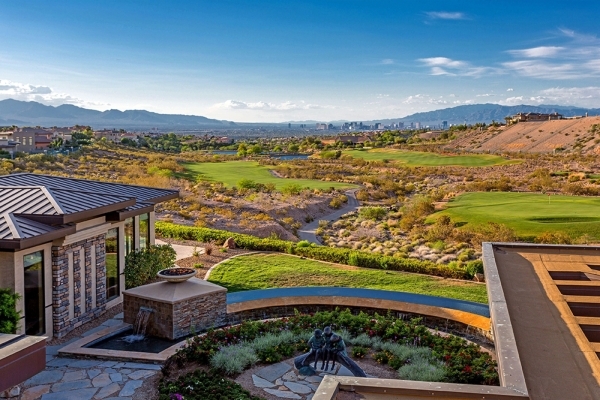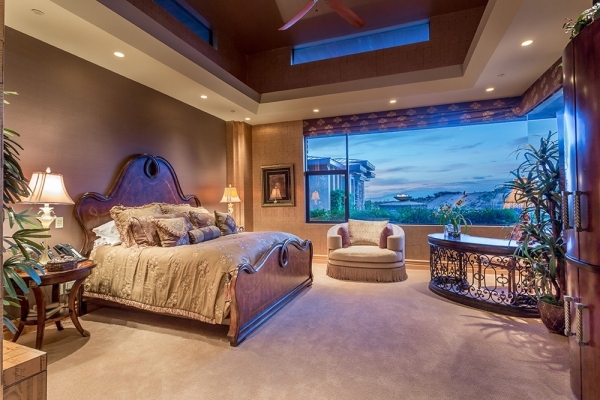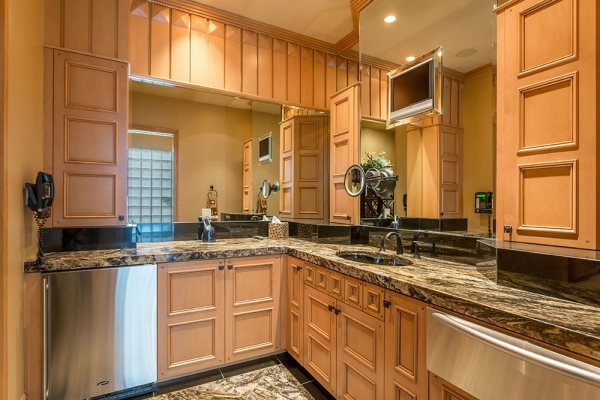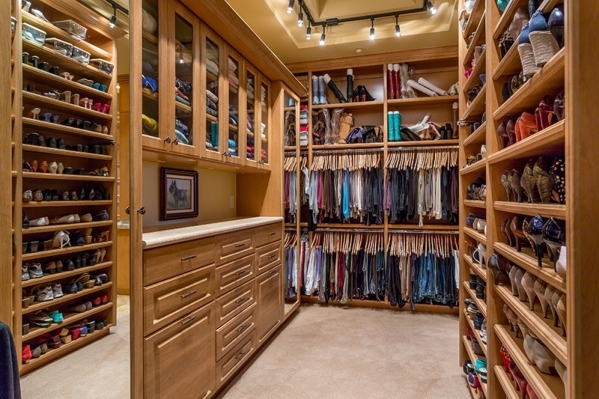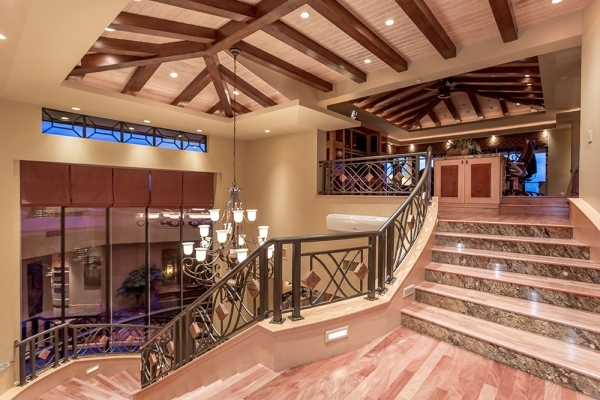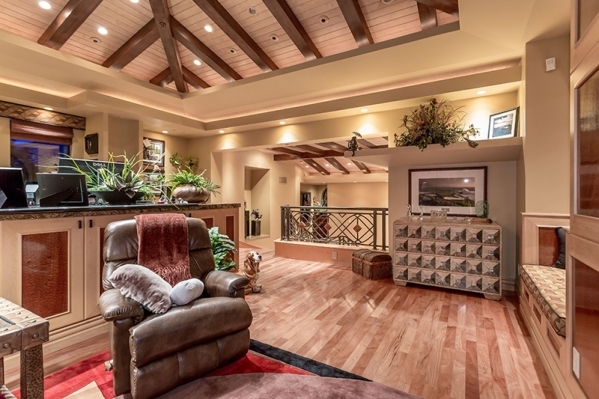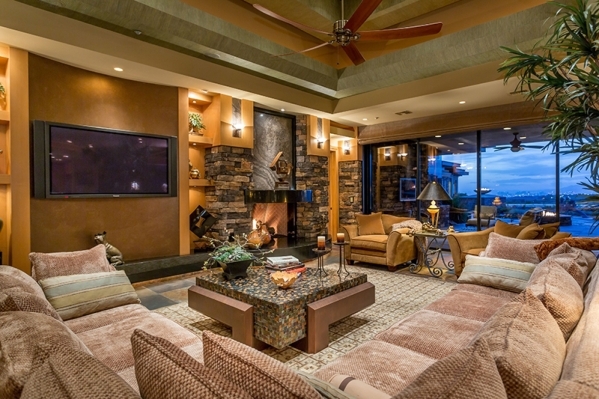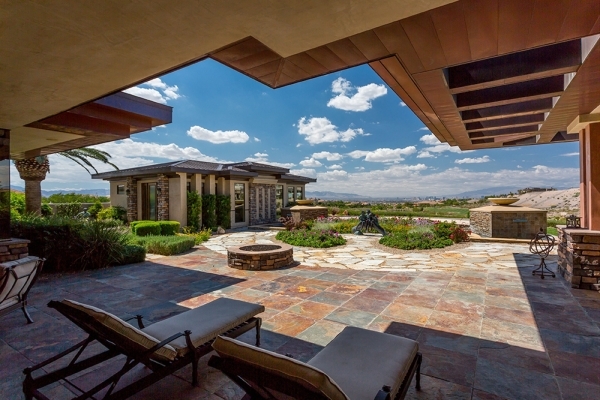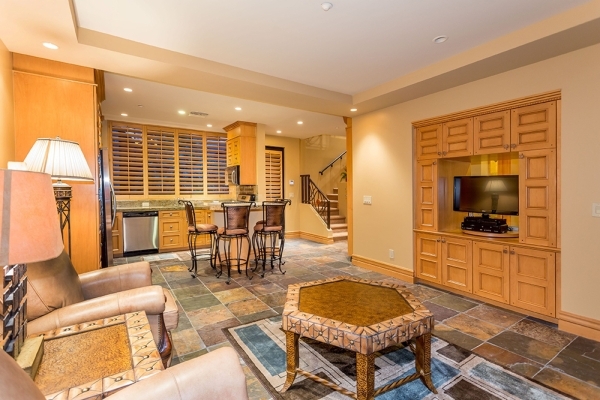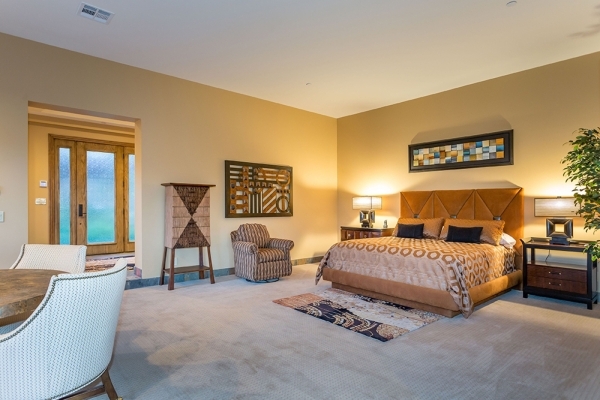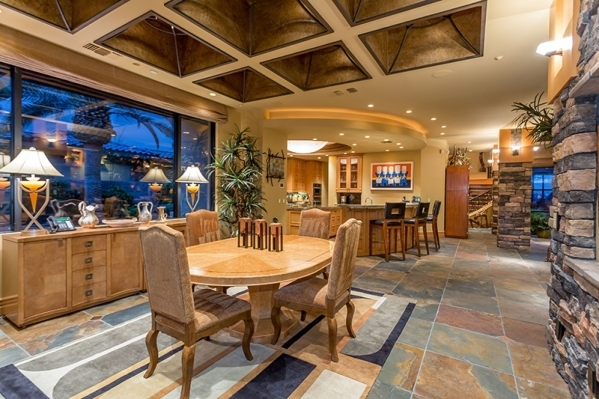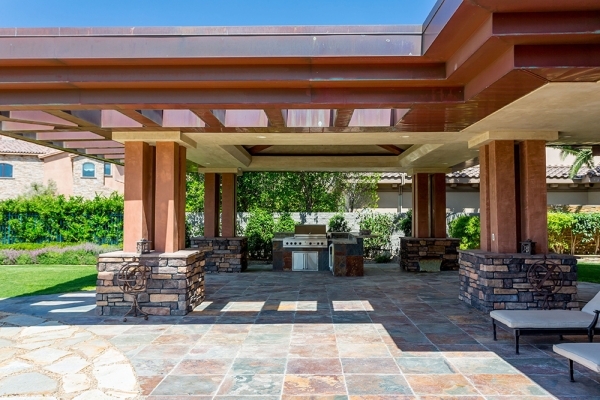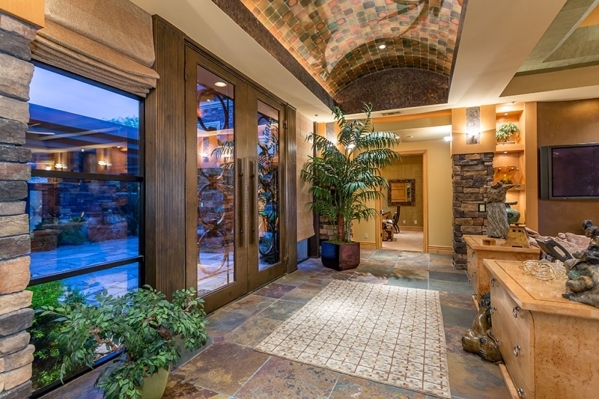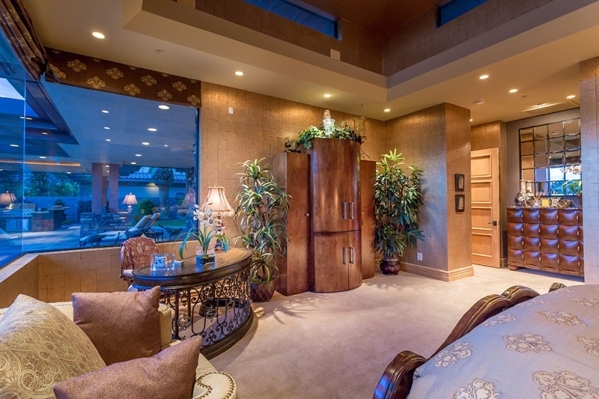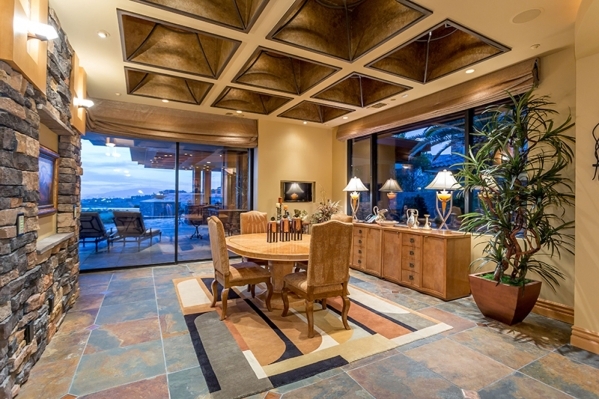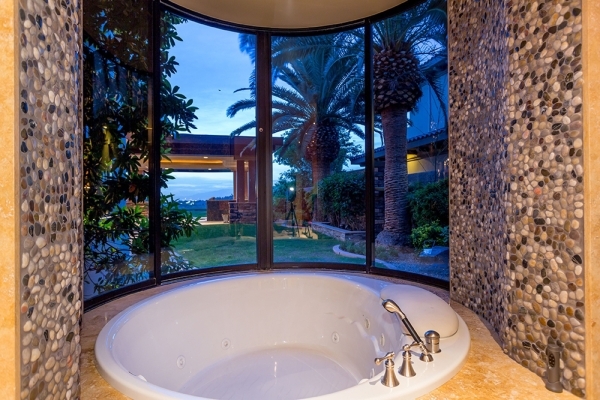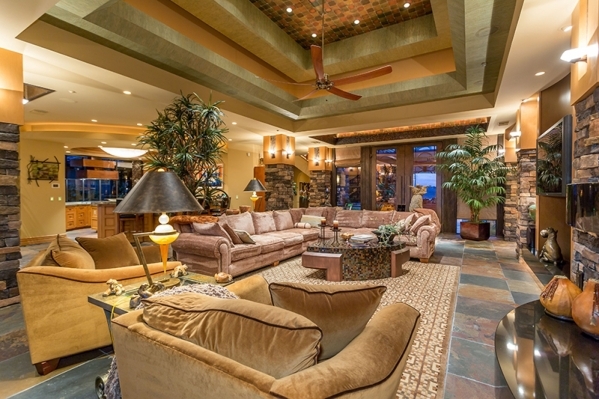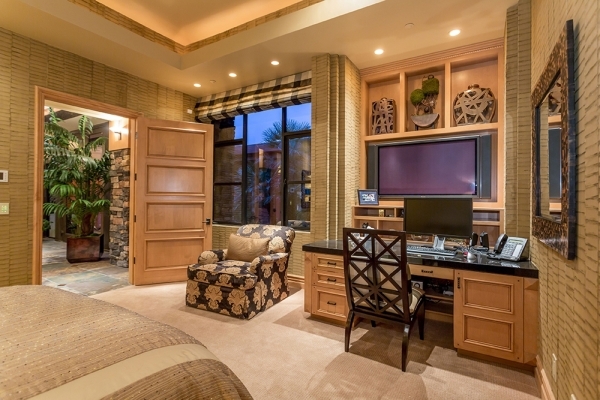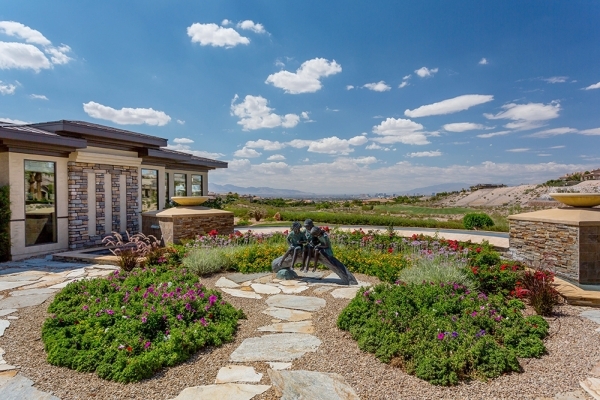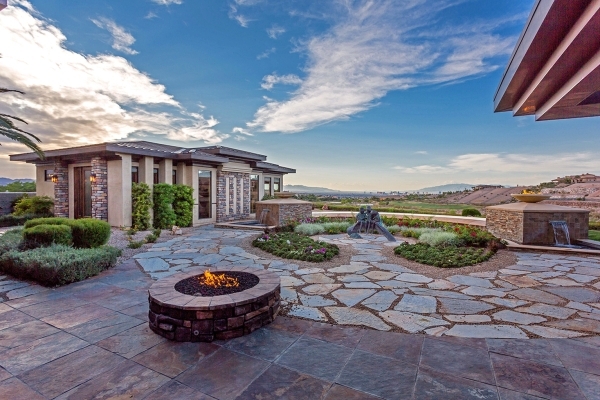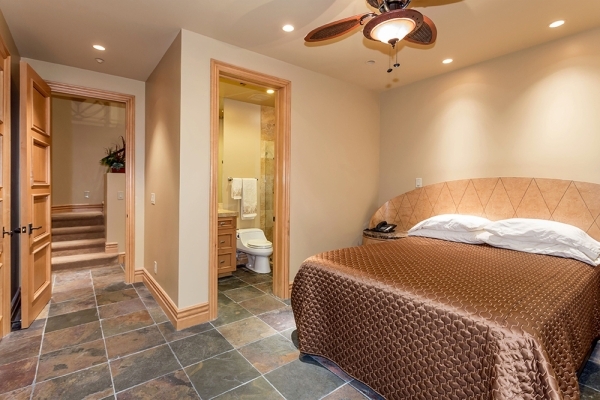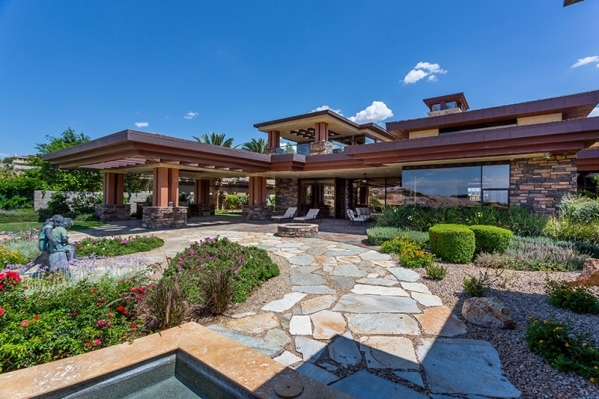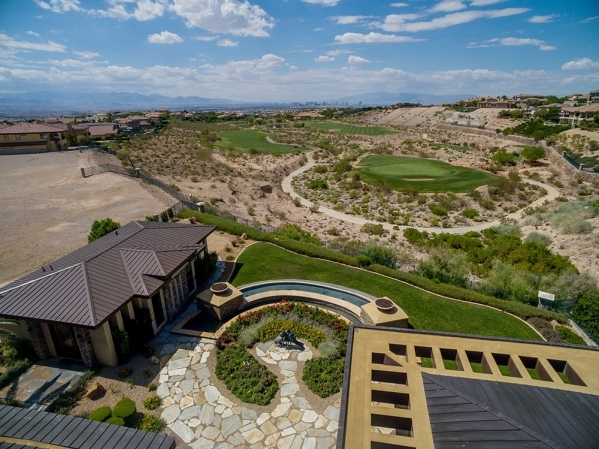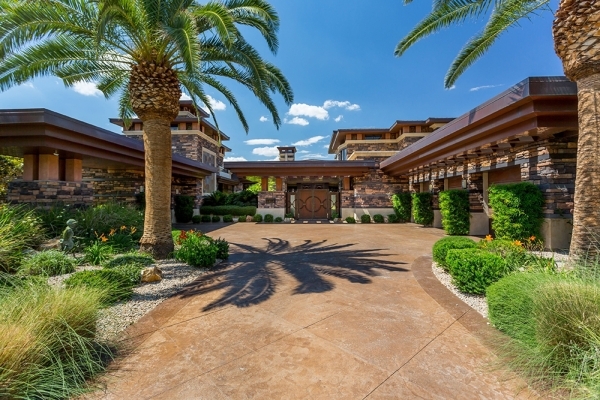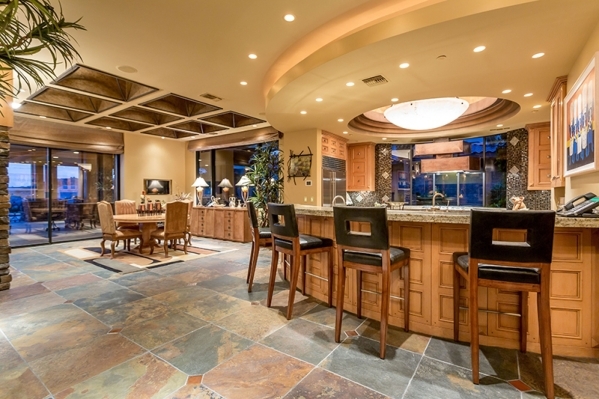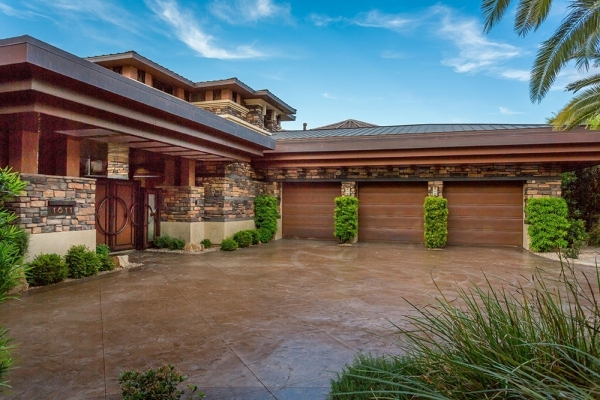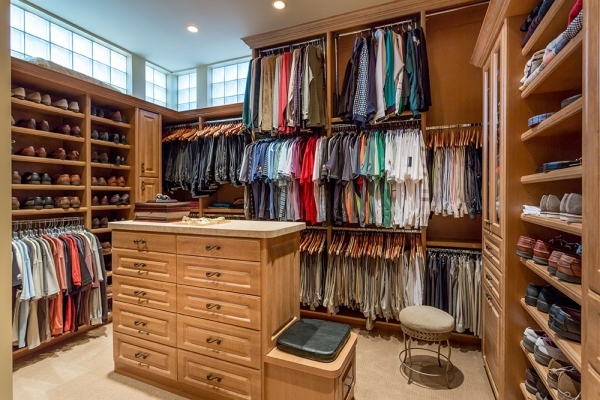 Commanding the high ground of an arroyo in Henderson's Seven Hills, a remarkable home looks over the green fairways of Rio Secco Golf Club that stretch below. To the distance, a pro-level view of the entire Las Vegas Strip and the rugged mountains beyond entices the eye.
The home is owned by Las Vegas high-profile sports betting and golf course magnate Bill Walters and his wife, Susan. The Walters have created notable links in town, including Bal Hai, south of Mandalay Bay Resort and Royal Links at the foot of Frenchman Mountain on the eastern edge of the valley.
The Walter's Seven Hills' 8,299-square-foot mansion is listed at $4.9 million through broker Donna Ruthe, owner of the Today's Realty Inc. real estate firm. It has six bedrooms, six full baths and two half-baths. It was built in 2004.
The front approach to the estate is architecturally thrilling.
"When we started this project, we wanted it to be Frank Lloyd Wright-inspired architecture," Susan Walters said.
The playbook for such design can be seen at Taliesin West in tony Scottsdale, Ariz. The Henderson home features handsome flagstone walls, evocative angles and glinting copper roofing. It is inviting to look at, especially with the regal palm trees that rise above the long walkway, as well as the vibrant, flowering landscaping.
The home's interior makes the external architectural statement extremely livable. A wide great room is the main floor's centerpiece. With an alcove ceiling and a large stone fireplace, it can accommodate extensive couches and free-standing seats, as well as a dedicated media center wall. It is sided by a northwest-oriented, floor-to-ceiling glass door that opens onto the backyard patio and the Las Vegas skyline.
The great room is fully open onto an impressive, gourmet-level kitchen. A wide, curving, marble-topped island forms a functional separation between the areas. It can seat a half-dozen diners. Beyond, there is an island outfitted with a professional-sized sink. There is a lengthy space that holds ovens and a stove-top range.
The kitchen also has a handy wine bottle storage nook and extensive cupboards. The home's shelving and drawers are manifold and are often laid out in a grid of square cubbyholes, taking cues from Indonesian-style design. Just off the great room and kitchen zone is a dining room alcove. It has floor-to-ceiling windows onto the patio, too. A massive, curving staircase leads to the upper floor.
On the upper level of the home is one of its most exceptional areas — an enormous home office or den. It holds a gigantic, raised, double-desk platform, something essential for a couple like the Walters, who oversee extensive business operations.
"Both of us work out of that office, and we probably spend more time there than we do in any room in the house," Walters said. "Sometimes we even eat up there."
Beneath the desks on a lower is an additional media center space.
"We sit up there and watch movies. It is a comfortable room," she said.
On the upper level there is also a large dedicated home gym room, another essential feature for executive-class residents who have busy schedules and need to maximize their personal efficiency.
The master bedroom is highlighted by its window wall onto a gorgeous outdoor setting. The master bath complex is astounding. Like the kitchen area, it is filled wall-to-wall with cabinets. There is a lovely raised, circular bathtub with wide sitting room at its entrance side. It is ensconced in a window-lined wall that brings in natural light.
The master bedroom suite is augmented with a huge, walk-in wardrobe. There is a secondary full master bedroom, as well.
The backyard patio is astounding. It has a built-in barbecue, and an expansive, covered loggia. Beyond, there is a beautiful waterfall feature that looks over the golf course below. It is ringed with manicured greenery. It should be noted that the home does not have a pool.
There is also a full casita built in the backyard. Importantly, it has been specially outfitted by the Walters with elder-care and other mobility-sensitive residents in mind. This is especially valuable in the Las Vegas region, which is proving increasingly popular with retirees.
A climate-controlled, finished garage holds four vehicles.
Rio Secco Golf Club's proximity is one of the highlights of owning this mansion. The 18-hole course was designed by the acclaimed Rees Jones and has 7,400 yards of challenging links that draws golfers from across the world. Even more, the expansive 30,000-square-foot clubhouse features top-notch amenities like a pro shop and a full-service dining establishment, Janelas Restaurant and Bar. It also houses an outpost of the famed Butch Harmon School of Golf. Harmon himself has taught pros like Tiger Woods and Natalie Gulbis.
For all these amenities, it's the view, however, that Walters mentions most fervently.
"We love being able to sit down looking at the lights, as I'm doing now," she said.
About the home
PRICE: $4.9 million
LOCATION: Seven Hills, Henderson, Terracina gated community
SIZE: 0.68 acre lot; 8,299-square-foot main house; has a separate one-floor casita.
FEATURES: Six bedrooms and eight baths. Immense great room, open kitchen with gourmet-level appliances and wine storage, large home office with ample workspace for two, media center, huge patio with water feature and expansive city view, extensive outdoor cooking and dining areas, four car garage.
LISTING: Real Estate broker Donna Ruthe, owner of the Today's Realty Inc. real estate firm. It has six bedrooms, six full baths and 2½ baths. It was built in 2004.