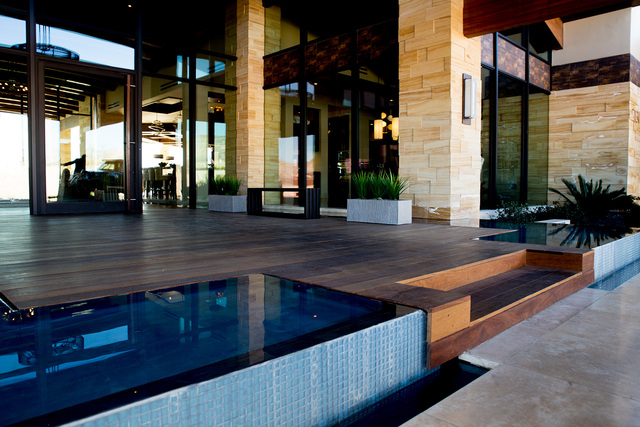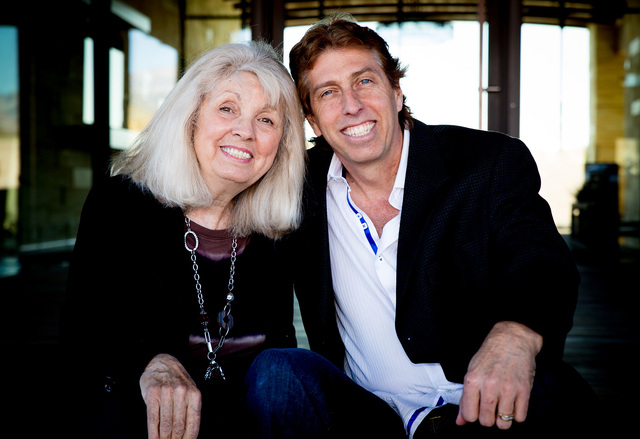 It's rare to have two generations of a family building homes in Nevada, but Cindy Coletti and her son, Daniel, have forged a successful partnership in their 27 years in Las Vegas running Sun West Custom Homes LLC.
The company has built hundreds of Las Vegas homes, including many in the Ten Oaks, Canyon Vistas, MacDonald Highland, Mt. Charleston communities, ranging from $2 million to $15 million, including Celine Dion's Lake Las Vegas mansion.
When the local housing market nosedived a few years ago, they didn't slow down much, because their market is strictly custom, not tract homes. They had 35 employees at their peak, and still have 30 on staff.
"We only use one superintendent per job. That's of paramount importance to create client rapport," Dan said. And they also offer clients the convenience of combining roles of designer and builder, which saves them time and aggravation.
Cindy grew up on Long Island, N.Y., where her parents bought their first home when she was 15.
"I grew up just being interested in everything about homes. I never even had my own room."
She and her first husband moved to Northern California in 1959, where he had a job at Lockheed Martin. In their spare time, they built two homes "on spec," meaning with no guarantee of payment, which they sold for a nice profit. "I just remember loving what I was doing," she recalled of the projects.
A few years later, after having two sons, they divorced and Cindy moved to the Gulf Coast of Florida to be near her then-retired parents. At the time, an acre parcel of land could be had for $10,000, and Cindy was eager to use her recently acquired homebuilding skills.
"I just had an idea in the back of my mind, 'maybe I can do this'" she recalled. "Western Florida was a good place to try this." She looked into the requirements for obtaining a construction contractors license. At the time, (1976), no formal school was required; you just had to pass an extensive exam with a 70 percent or higher score.
"I didn't know if I could do it or not, but I definitely was going to try," she said. "It was a difficult, all-day exam, but I passed with a 70.1 percent score."
And she was only the second female in the state to do so.
She founded El Rancho West Homes, and soon could be seen pulling into the local lumber yards in her El Camino with her younger son, Daniel, who took an interest in the business and often helped out. She quickly learned the ins and outs of hiring subcontractors, and with kid gloves, handled communicating with them through family members (wives) on the (precellular) phone so as not to upset anyone.
"I acted as the super for us," she explained, "and would sometimes have to call them at home."
The anomaly of being a female boss in construction was a hurdle she cleared quickly.
Eventually, the company designed and built 22 "simple, basic" homes in the area, while Dan took community college classes in building and construction technology.
When the recession began to affect the housing market in the early 1980s, Cindy researched growth opportunities, and decided Colorado Springs was a good place to land. Getting her contractor's license in Colorado was not as daunting a process as it was in Florida.
"Everyone in the business there was so accepting and friendly."
Cindy remembered one of her first days driving to an early job site in the area. She was waved down by a fellow contractor who offered unsolicited but welcome advice, including a list of subcontractors she would need to complete the job.
"That kind of thing would never happen in today's world," Dan said.
Eventually, the family planned to move to California, but stopped in Las Vegas, visited a builder at Spanish Trail, and decided the long-term growth opportunity was here.
"We were impressed by the clean air," (this was 1988) and proximity to Lake Mead, said Cindy, who wrapped up their business in Colorado while Dan set up shop here, adopting the new name Sun West Custom Homes.
Their first couple of Las Vegas houses were built on spec, which "was unique at the time," but they did sell quickly. Next, they built two homes in 10 Oaks, near Buffalo and Oakey boulevards, eventually building 30 in that subdivision alone.
"It just progressed … the designs become more elaborate, nicer and bigger. And it's been pretty much nonstop," Dan said.
The company has earned a solid reputation for delivering excellent service.
"They do a great job — one of the best in town," said Henderson developer Rich MacDonald of the firm.
"I groomed my partner," said Cynthia of her son, who took over operations in 2001.
"He was always entrepreneurial. He had a licensed, bonded lawn maintenance business before he could drive."
Dan started out running framing crews, and is now the company president and architect. And that may indirectly benefit their business, because of reluctance by some clients to work with a woman in charge.
"I will never know how many jobs I lost" due to stereotyping, Cindy said. "I am sure that happened."
Now remarried and living in a home her company built at The Lakes, Cindy spends time on their pontoon boat or kayaks. She has developed an interest in travel writing and works with a local writers club.