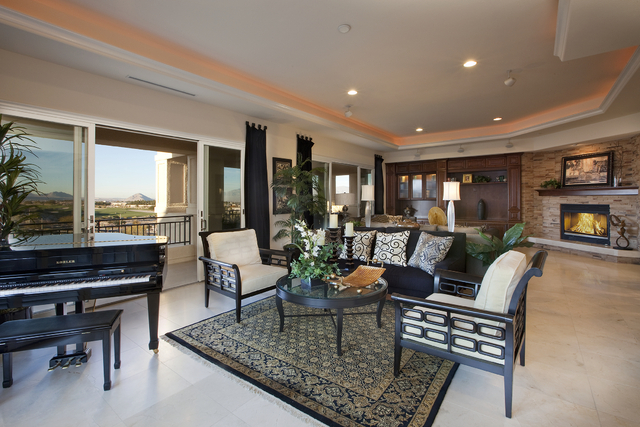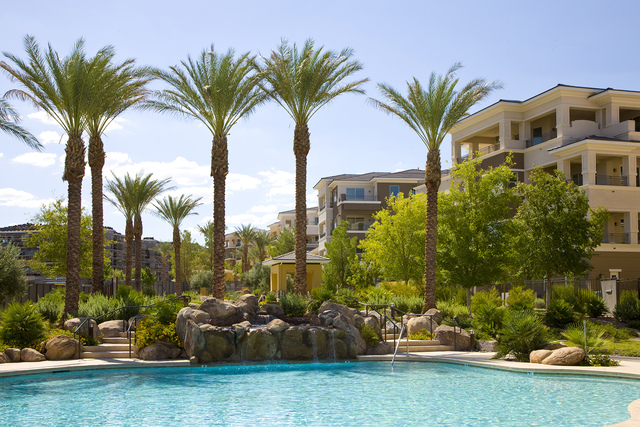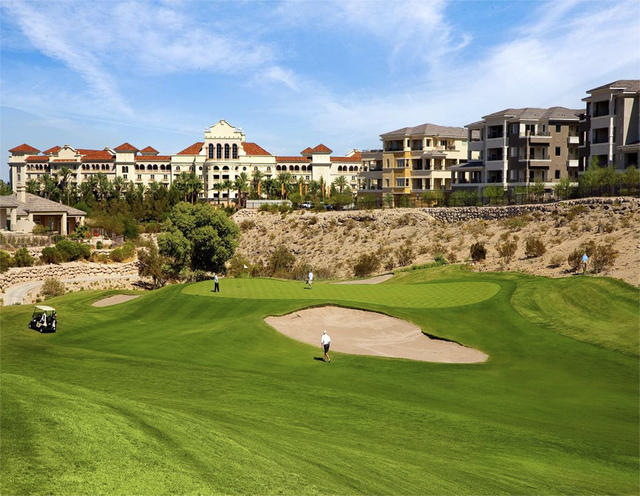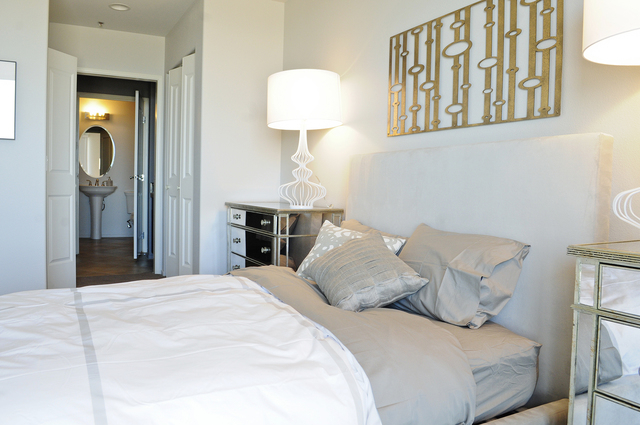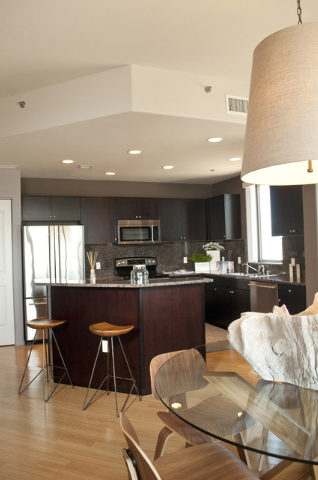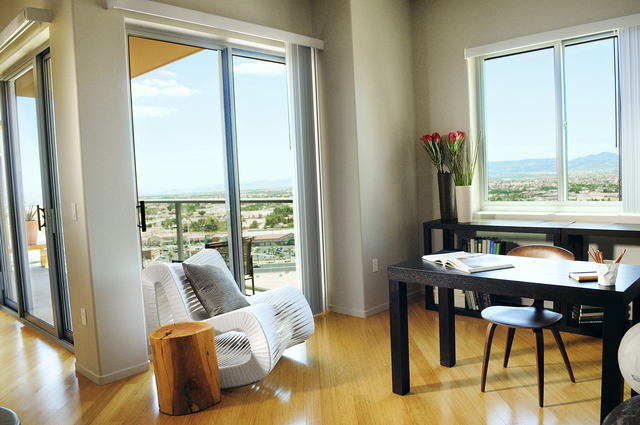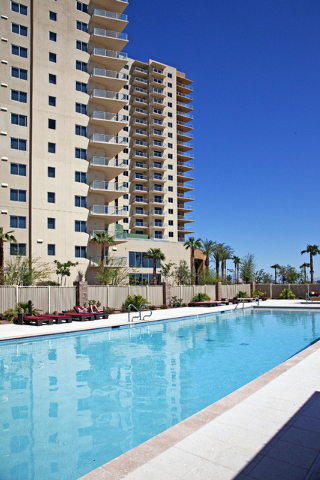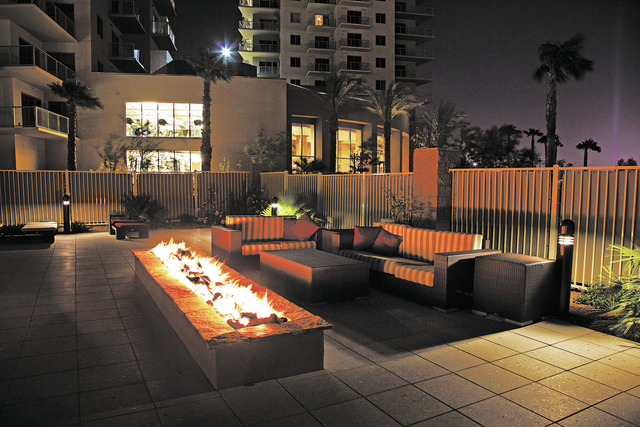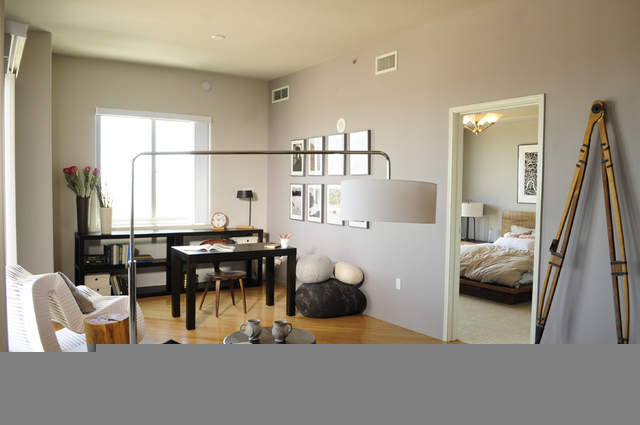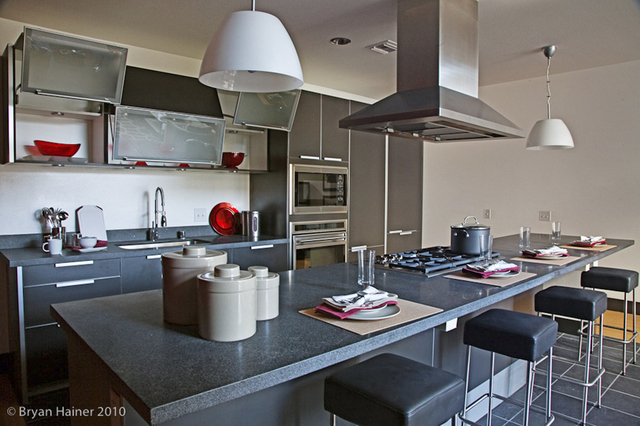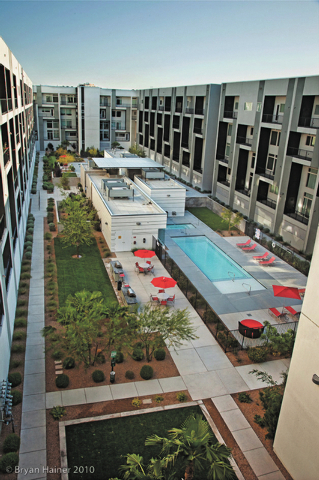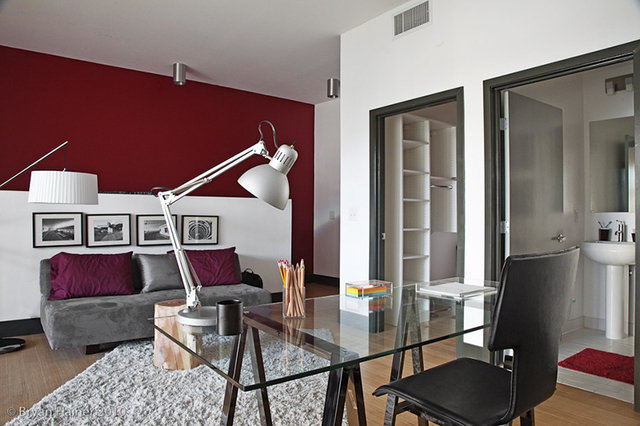 Although high-rise condominiums have been a fixture on the Strip and downtown Las Vegas for some time, suburban high-rise and midrise homes are a relatively new thing. Not all projects made it out of the Great Recession, and some are now apartment complexes. But with the economic recovery, experts say the market is slower and more stable.
For the majority of people who live in suburban high-rise and midrise condos, it is their primary residence.
"Everything at (One) Queensridge is sold except for two penthouses," said luxury Realtor Florence Shapiro, who is a resident of the building at 9101 Alta Drive. "People bought them more like homes and live here year-round. We have retirees, younger people, even families with children."
Shapiro gave several reasons she and her neighbors like living at Queensridge, including the views of the Strip and the mountains; convenient shopping and restaurants; and amenities right in the building such as a concierge.
"There's a barista in the great room. You can have breakfast there every morning," Shapiro said. "The elevators go right to your unit. The doors open and you're home and you can forget your troubles. I love it. It's like a condominium in the sky."
Forrest Barbee, a corporate broker for Berkshire Hathaway HomeServices Nevada, said that it's a self-contained lifestyle.
"The idea is that you live in them and never have to touch the ground," he said.
He said that retirees aren't making compromises in living space for the convenience because suburban high-rises tend to be as large or bigger than the average single-family home.
"It used to be when people retired, they'd downsize," Barbee said. "That's not true anymore. Those in their 50s or early 60s are upsizing. They're just getting rid of yard work, they're not giving up space."
Real estate expert Steve Hawks said people are less likely to move to a high-rise or midrise condo as an investment. Most are there because they want to be part of the lifestyle.
"Living in a high-rise presents a lot of opportunity for entertainment and interaction," Hawks said. "You see your neighbors most every day. You get the small-town atmosphere with a little bling."
Queensridge boasts a movie theater, gym, a full-service spa, coffee shop, caterer's kitchen, wine locker and multicar garages for each individual unit.
Hawks said that regular and midrise condominiums are among the hottest investments in the valley, in part because the prices on single-family homes have gone up, making condos a bargain. Because the number of high-rise units is relatively small and it's hard to spot trends, he cited more vertically challenged condos.
"There's a big growth spurt in multifamily housing," Hawks said. "Some condos we purchased a few years ago for $20,000 have been going for $80,000 or $100,000. There are others I've seen for $60,000 or $70,000 that are now going for $150,000."
The total number of local high-rise properties sold on the Greater Las Vegas Association of Realtor's Multiple Listing Service from Jan. 1 through Aug. 12 was 375 units. During the same time last year, 520 high-rise properties sold.
"It's safe to say fewer high-rise condos are selling so far this year compared to last year, which was a pretty strong sales year based on recent history," said George McCabe of Brown and Partners, the public relations firm that represents the Realtors' association. "The same trend is true in the overall Southern Nevada single-family and traditional condo and town home markets. Sales have been running between 10 to 15 percent behind last year's sales pace so far in 2014, though home prices are now up about 11 percent year over year."
Mira Villa, 9151 Canyon Run Drive, was one of several projects that stalled during the financial crisis, but the project was purchased out of bankruptcy by Condo Capital Solutions, rebranded and the last unit just sold.
"It's a midrise boutique condominium," said Stephanie McMahon of Five Star Marketing, the firm that handles publicity for Mira Villa. "It was the first to be Fannie Mae approved after the crash."
Bank-loan approval for condos was difficult if not impossible for several years, in part because the high number of renters compared with owners made them appear to be a less attractive investment.
"We have a very high owner occupancy rate," McMahon said. "It's 85 to 90 percent."
At the height of the housing boom, many apartments were converted to condos. After the downturn, some converted back before construction was completed or soon after. Hawks said that the trend of purchasing apartments and turning them into condos has already begun in earnest in some parts of the country, and similar projects are already in the works in the Las Vegas Valley.
Real estate investment management company KRE Capital purchased five large properties and has announced that one of them, the Ogden, is set to have its condos go on market in the fall. The downtown property leased its condos instead of selling them during the economic downturn. Two other properties — One Las Vegas, 8255 Las Vegas Blvd. South, and Loft 5, 2715 W. Pebble Road — are suburban high-rises and midrises that may eventually follow suit.
"When we bought the portfolio, the idea was to thoughtfully and strategically bring them back to market as condos as the market calls for it," said Uri Vaknin of KRE Capital. "We don't want to put them all on the market at one time."
The company plans to base the condo sales on market conditions and the success rate at the Ogden.
"They're amazing properties," said Vaknin, who lives at One Las Vegas. "One Las Vegas has a full range of amenities from a concierge to tennis courts and a dog park. Loft 5 is probably the coolest community in Las Vegas."
Both were originally built as condos and still are technically, with 10 to 15 percent of the units owned by individuals and the remainder leased by the management company. Both properties are more than 95 percent occupied. Vaknin didn't have a timeline for the properties' return to the market.
"The market in Las Vegas is incredible," Vaknin said. "According to the Case-Shiller Home Price Index, Las Vegas is the No. 1 city in price growth. The market has stabilized and there's no inventory outside of resales."
Both the properties are south of the Strip, but still within a few minutes drive to the resort corridor and McCarran International Airport. The residents are a mix of primary and part-time residents. Vaknin thinks that location and amenities will make the properties attractive to buyers when the time is right.
"Las Vegas still has the best affordability of any Sunbelt city," Vaknin said. "If you look at the rent versus own analysis, it still makes more sense to own than rent here. It's an incredible moment in time in Las Vegas, where all the ingredients are in place to be a great success."
Barbee is optimistic about the market and sees hope for the high-rise and midrise housing market as construction of several commercial projects is renewed.
"There are some things that are being resurrected," Barbee said. "There's Downtown Summerlin, the shopping center near Red Rock (Resort) and (the property originally developed as) Manhattan West, which is now The Gramercy, (9257 W. Russell Road.) When I see commercial projects getting life breathed back into them, that's a good sign that the recovery is happening. It's fragile, but it's a sign that we're on the right track."
Downtown Summerlin and Gramercy have housing as part of their plans. The first multifamily residential development in the 400-acre Downtown Summerlin is a planned joint venture of The Howard Hughes Corp. and the Calida Group.
The 124-unit, gated luxury apartment complex is expected to begin construction this fall and provide many of the amenities associated with condos, despite being a more traditional three-story with access to a fourth story rooftop mezzanine. Downtown Summerlin is scheduled for completion in 2015.
In just weeks, Gramercy's commercial tenants are scheduled to begin moving in and construction is well underway for the retail elements. The midrise housing is slated to open as apartments, but the developers hope that in the near future they can be brought to the market as condos.
Although changes may happen in projects that have been completed or were underway when the market stalled, McCabe doesn't think any new high-rise housing construction is likely in the near future.
"From what I hear from the Realtors and developers that I work with, you'd be pretty foolhardy to build a high-rise now," he said. "The market isn't really there for it because there's still quite a bit of stuff that could be sold."
McCabe thinks that caveat should be heeded even more outside of the Strip.
"The universe of high-rise projects in the suburbs is extremely small," he said. "There were many that were proposed, but they didn't materialize."
That universe may be small, but for those lucky enough to be inside it, they wouldn't want to be anywhere else.
"It's easy living," said Frank Pankratz, a resident of One Queensridge. "You don't have to worry about the gardener or the pool service. There's peace of mind in terms of security and a beautiful environment."
Pankratz isn't just a resident. He and his wife moved to Las Vegas after retiring but within a year he got bored and went back to work, and is president of Executive Home Builders.
"I was part of the team that built both Queensridge and Tivoli Village," he said. "We were among the first few to move in December of 2007. I've moved 18 times. I told my wife that my next move would be in a box."