Celebrity interior designer Kelli Ellis sculpts home out of 43rd-floor gray shell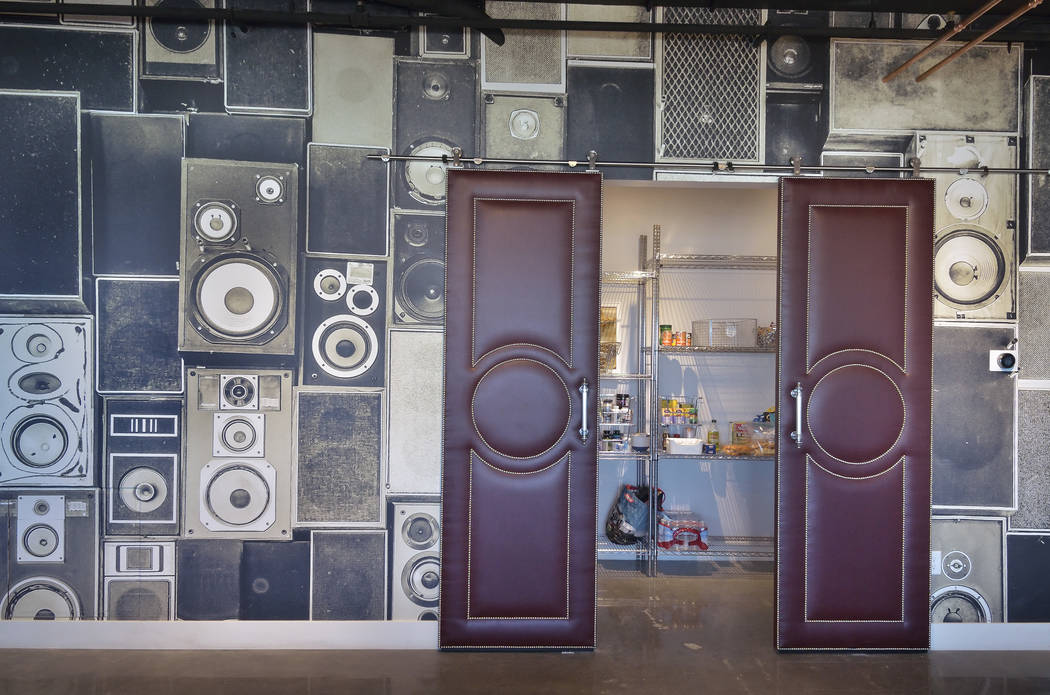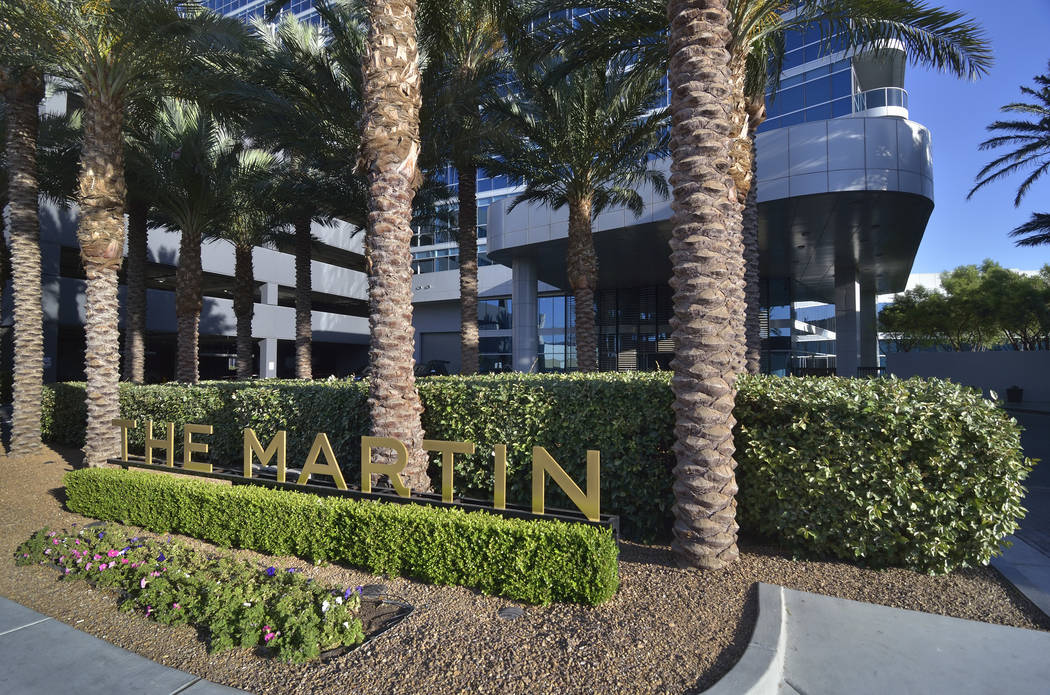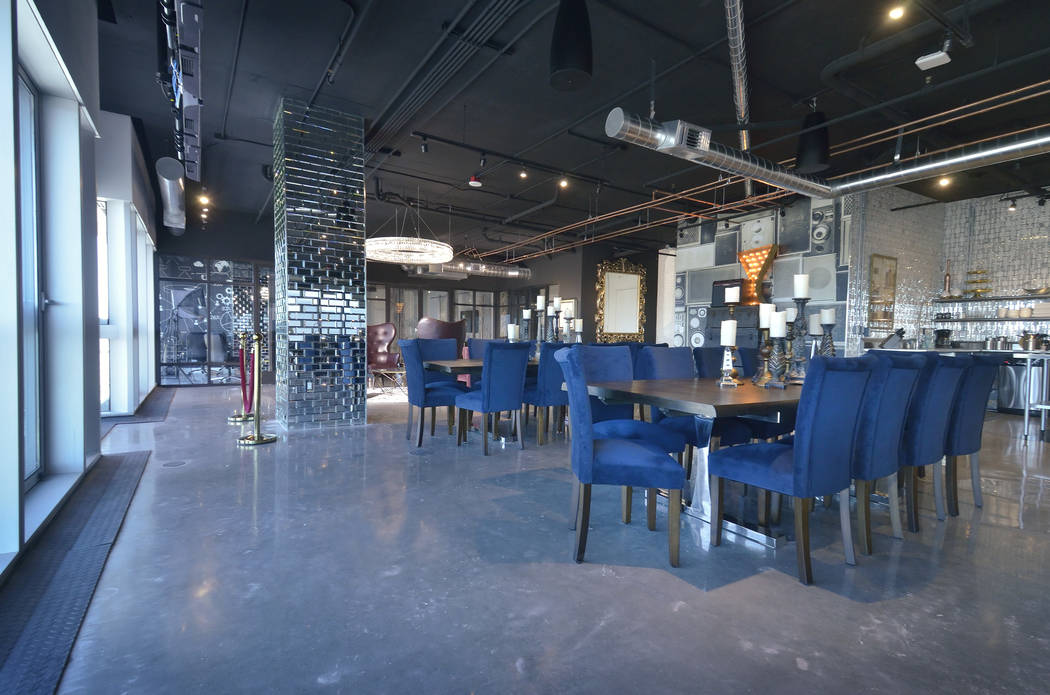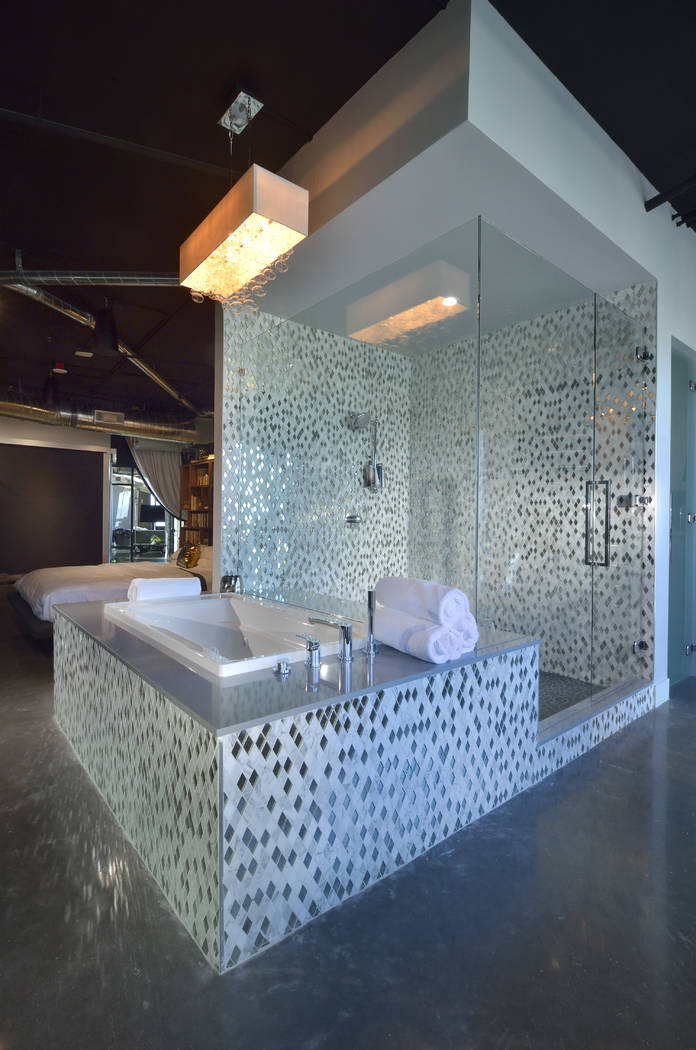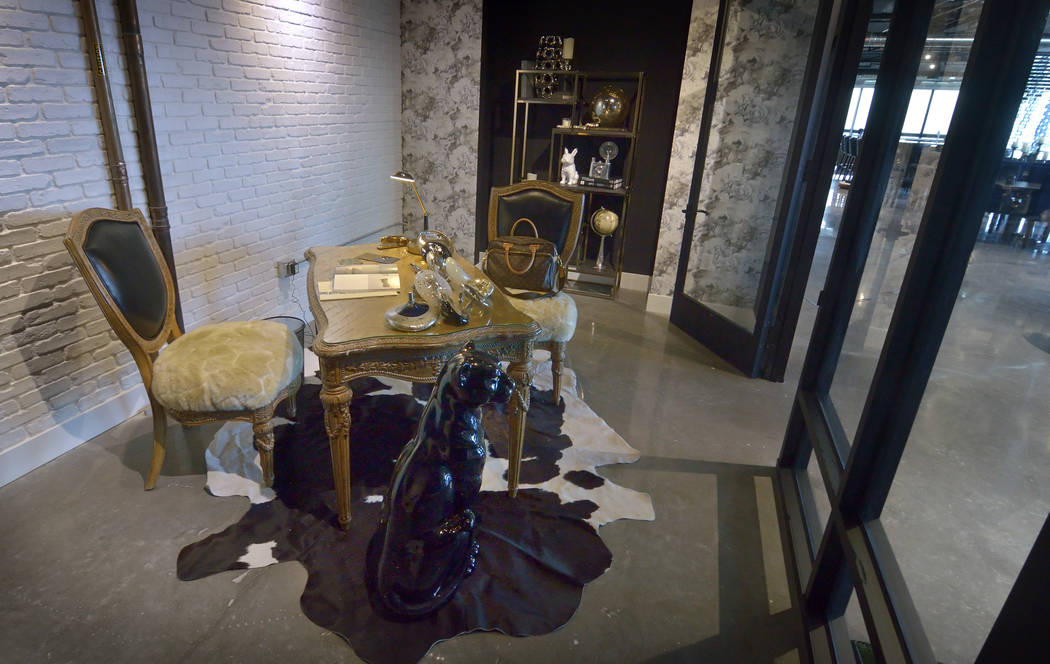 When one of a few penthouses in the luxury high-rise condo tower The Martin came up for sale, celebrity interior designer Kelli Ellis and her husband, John Spencer Ellis, quickly bought it and began planning her dream urban-style loft home. Nine months later they moved into their bold, punky penthouse that puts the Las Vegas skyline front and center.
The recently finished project has the exposed ducting, black ceiling and polished concrete floor you would expect in a loft. But this design goes far beyond the typical by using clear glass and steel storefront framing where most homes would have drywall, and conduit placed deliberately on top of newly created tile and brick walls. The result is a truly unique Las Vegas loft that hits visitors with a dramatic, 43rd-floor view from the moment they enter.
Ellis approached the 5,0000-square-foot gray shell like a sculptor with a giant slab of clay and a set of newly sharpened tools.
The previous owner was planning to build a four-bedroom, three-bath condo, but Ellis tossed those plans in the trash. Instead, the home has a wide span of floor-to-ceiling windows
"It was horrible. So choppy and awful. You would have walked in and walked into a wall," she said. "I didn't want to disrupt the view. My dream has always been to have a New York City loft. So I thought, this is it. It's a gray shell, I can do what I want."
The Ellis's paid $1.75 million for the condo last October, and spent an estimated $400,000 on the build out.
With the help of contractor JMF Development LLC, they created an open floor plan with two bedroom suites on opposite sides of the main living area; two offices and a powder room. All except the latter have glass walls, though the bedrooms have curtains for privacy. Drywall appears sparingly, mostly on the south wall bordering the exterior corridor. This storefront look emulates a converted warehouse or urban office found in older cities, Ellis said.
Jeremy Fray, the general contractor who worked with Ellis said it was the first time he's done a project like this one.
"It's the first one I've done in that specific style. The only thing that would be comparable would be the Newport Lofts downtown, which is somewhat similar but this is much more dynamic," Fray said. "We kind of nudged her in that direction. I told her if we're going to do it, let's go a 100 percent, make it really look like we took an old building and modified it."
It has a smart, open floor plan with multiple gathering spaces laid out across the room. At the north-facing entrance, an arrangement of four chairs is lit by a ring-shaped crystal light fixture. "I didn't want the traditional look of a chandelier, but I love the crystals. I just didn't want the cascading look. So I just added a little bling in a clean way," Ellis said.
More communal areas center the room; two dining tables seating 10 each, and a square bar that seats a dozen. The bar's Cambria quartz counters are infused with shiny bits that, along with the mirrored subway tile on the rooms support columns, reflect light.
Ellis has designed hundreds of homes, internationally. Her celebrity client list includes cast members of "Dancing with the Stars" actress Ashley Greene and "Shark Tank's" Robert Herjavec. She wrote a book about design psychology called "Do I Look Skinny In This House?" She appeared on TLC's "Clean Sweep," followed by HGTV's "Takeover My Makeover." She is currently working on HGTV's "House Hunter Renovations," some of which may be recorded here, Ellis said. Her talents also include painting, tile and home furnishings designs, which are marketed on Kelliellis.com and through corporate partners.
Ellis was a contributing designer in the 2016 and 2017 Christopher Kennedy show house for Palm Springs Modernism Week, one of the most prestigious in the country. Kennedy, who produces the annual event, was excited to see the Ellis penthouse unveiled.
"My impression of the design is very much like my impression of Kelli; it's glamorous, it's edgy, a little bit rock and roll, eclectic, yet still warm and comfortable," he said. "She took it in a bit of a different direction, industrial meets glamorous, adding the brick, and leaving all the utilities exposed, like a loft in New York dropped down into Las Vegas. It's very cool."
The walls are monochromatic; white brick, black-and-white, cabbage-rose wallpaper, and a mural of speakers and amps.
"I just feel like this is such a rock-and-roll pad. I guess I secretly want to have a nightclub," she said. A set of red velvet ropes stand ready to be placed at the entry for VIP visitors.
Ellis added colors via accessories and the furniture, both vintage and contemporary. Many pieces are family heirlooms. Two black, tufted, cane, leather chairs with Klismos legs from the 1920s were owned by her great grandfather, along with the library of first editions in the master bedroom.
"To honor him, I always bring the chairs and books together in the same house, just to be sure we're not haunted," she said jokingly.
A pair of burgundy wingback chairs came from the defunct Newport Beach restaurant, Ambrosia.
One side of the open floor is a seating area with velvet couches arranged with a view of the balcony and western sky. Close by, Ellis has placed a vintage chaise lounge, newly reupholstered with black leather and faux fur, next to an original 18th-century Rococo table.
The kitchen is all about industrial style, but with a bit of glitz. It has no cabinets, utilizing open, commercial pieces instead. The open island, fashioned with reclaimed wood on a steel pipe base, ends with a stainless-steel workstation. A large pantry behind crimson leather, nail head-trimmed barn doors stores everything that would typically go in cabinets.
Ellis didn't want the traditional kitchen she creates for most clients.
"It has the same functionality," she noted. "Nobody does upper cabinets anymore. They all do open shelving. Sometimes, you can do everything in the island."
A Vent-A-Hood adds flair to the kitchen, along with a huge $9,000 English-made AGA four-oven electric stove, a very high-efficiency appliance brand with a loyal following (building codes prohibit gas stoves in high rises).
From floor to ceiling, the kitchen walls are covered with a marble based, mirrored and glass tile created by Ellis for her eponymous collection at Tilebar.com. She used her other patterns in the master and guest baths.
The master suite includes a semi-open bath with soaker tub and shower stall. It flows into the vanity and closet areas, then around in a circle to the room's entrance. A custom bookshelf, with the bed built in, separates the sleeping area from the closet. It offers a full view to the west and south.
The couple, who have another home in Dove Canyon, a small community in inland Orange County, California, had been living in another unit they own on the 21st floor of The Martin since 2014.
John Spencer Ellis, an entrepreneur coach, uses his home office to film and broadcast live training on Facebook for clients. The office has a sweeping view, an even better one than their other condo has.
"It's more panoramic. When you get up this high, your perspective of all of Las Vegas changes, he said. "You realize the beauty from a different perspective, and I feel incredibly fortunate to be able to do that."
He turns away from the view when he needs to focus on work or gaze at it when he needs inspiration.
"I actually get ideas for marketing… I'm looking at all the multitude of ways that these incredible hotels and institutions are bringing people in, and I use that for inspiration."
The Martin at 4471 Dean Martin Drive was built in 2009 and has 45 floors, three of them with penthouses. It offers owners an array of amenities including fitness center, pool, library, 24-hour concierge, and car service.
About The House
Location: The Martin, 4471 Dean Martin Drive
Size: 5,000 square feet, two bedroom, 2½ baths, two offices, open kitchen, living, dining area, three balconies
Features: Penthouse loft, designed by owner Kelli Ellis, custom tile, views in all directions
History: Building built in 2009; gray shell unit purchased May, 2014 by Wasatch Holdings for $1.4 million; purchased October, 2106 by John Spencer and Kelli Ellis for $1.750 million.