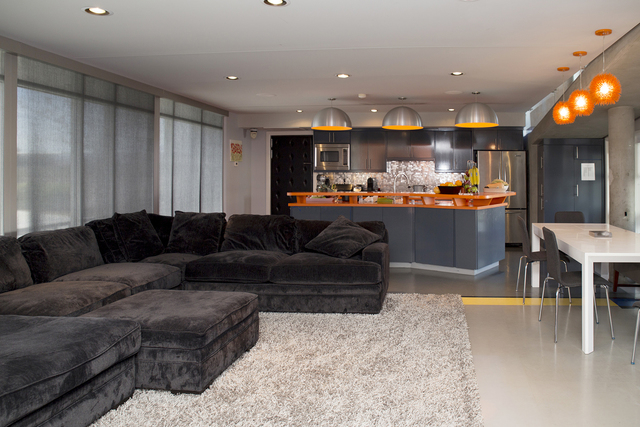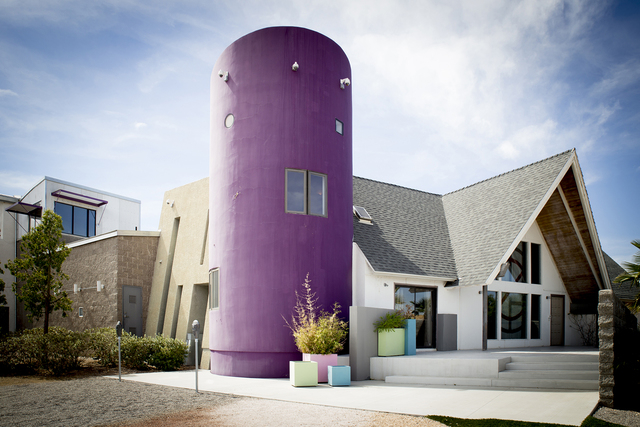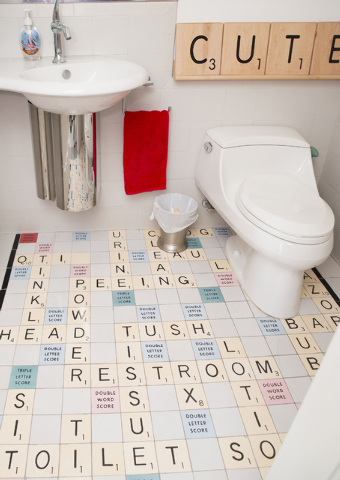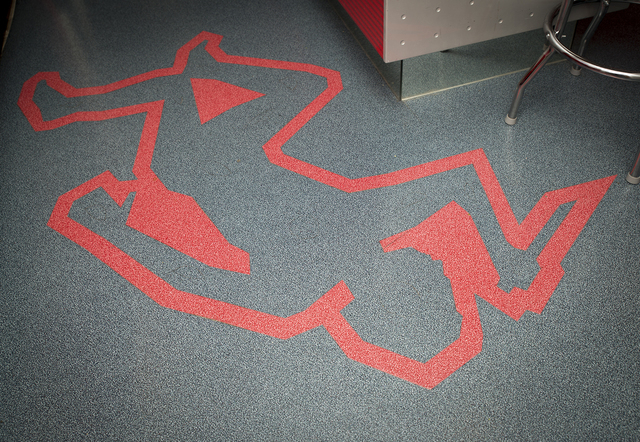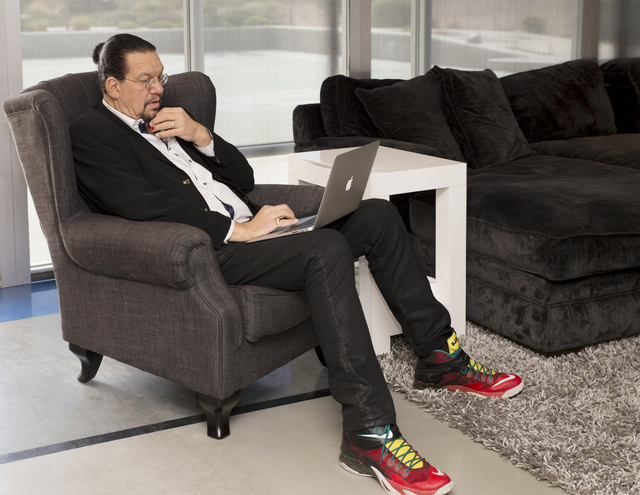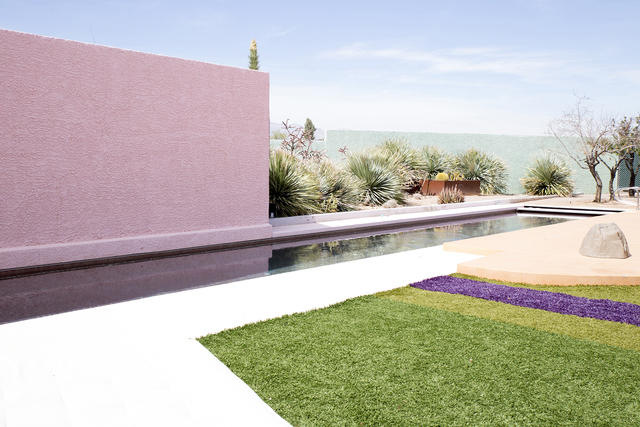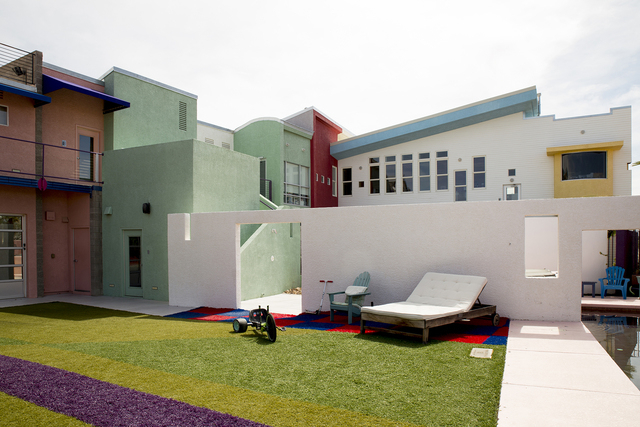 A home known as "The Slammer" is bound to be unique.
It stands out on West Wigwam Avenue with its big purple cinderlike structure next to its A-frame design. To the casual passer-by, the custom home's east-facing side looks a bit modern albeit bland with its gray cinder-block (think penitentiary) and white color scheme. Its west-facing side is all colorful with pastel pink, sea-foam green, red, a muted yellow and white and the appearance of minibuildings constructed next to one another.
Inside, creativity merges with functionality, and entertaining co-exists with family life.
This is the home of Penn Jillette (the tall guy who does all of the speaking in the Rio's world-renowned comedy-magic show "Penn & Teller," which is set to make an appearance at the Marquis Theatre on Broadway this summer) and his family.
Real Estate Millions toured portions of the 7,932-square-foot compound alongside TV co-host Megan Telles, Realtor and TV correspondent Zar Zanganeh, and cameraman Eric Brugger of the nationally syndicated "OK! TV" show and local "Valley View Live!" The celebrity-home segment aired last week on each show.
Entertaining + Family
The residence at 7601 W. Wigwam Ave. was first an A-frame home in the desert. Penn began building around it to create a home to live in along with his parents in the mid-1990s.
"Having an A-frame home in the desert is funny," Jillette said with a laugh.
With the additions, The Slammer has what the Clark County assessor lists as six bedrooms, seven full baths and two half baths. To enter the private 6-plus-acre compound, one must drive through two sets of automatic chain-linked fence entries. Upon entry, its uniqueness is evident with parking meters next to the home in addition to the gray cinder-block reminiscent of prison walls. Covered parking is found underneath.
There's more than meets the eye. This residence has more than one entry. The most obvious entry is at the A-frame used for entertaining and also houses Jillette's office, a recording studio and a home theater.
More hidden is the entry to the family wing where Jillette, his wife, Emily, and their two children live. The entry into the family wing also showcases creativity and personality with a family room next to a gray and orange kitchen and a guest bathroom with alphabet tiles spelling out bathroom-related words on a Scrabble-inspired floor.
The Slammer
The two-story entertaining wing was the focus of Real Estate Millions' and the TV crew's visit. Upon entering, visitors sign in and have their "mug shot" taken along the wall with horizontal lines pinpointing one's height. One photo per person per calendar year.
The entertaining wing entry leads to a comfortable-looking living area where one can hang out and an adjacent dining area. A dual kitchen seems subdivided with two designs — one slick with black and red and the other with a less updated look. An outline of Jillette's sidekick, Teller, holding a knife is traced on the floor of the black-and-red kitchen area, like that found at a crime scene. (Teller lives about a mile south of The Slammer.)
Jillette spends a lot of his time on the second floor in his office, with its walls and cabinets painted in pink. Windows offer uninterrupted views of the city. In addition to the typical office things, the room includes a collection of mugs from TV shows he has appeared on — ranging from "The Tonight Show" to "Today" to "The Donny & Marie Show."
"Every time I am on a show, I steal a mug," he said.
The walls are decorated with album covers including that of Bob Dylan, Ida McBeth and Dean Martin. The key to Las Vegas, a local Emmy and an empty "Vanilla & Chocolate Magic Swirtle" ice cream container that he created as part of "All-Star Celebrity Apprentice" to raise funds for Opportunity Village were among the items placed on a shiny steel-topped countertop for the TV shoot. A urinal and sink are hidden behind the office door
Jillette tells us the term "The Slammer" is not about a prison like many think. Rather it refers to a patient unit of U.S. Army Medical Research Institute of Infectious Diseases at Fort Detrick in Maryland, where patients with infectious diseases are isolated. The home is a place for privacy — a place to relax and live when not on the stage.
"The land may be worth more than the house," Jillette said, adding with a laugh that they could sell the residence and just "blow it up." Seen from his north-facing office windows is land readied for development.
As of March 23, the home was not listed on the market, according to Zanganeh. Per Realtor.com and Zillow.com, the home was listed and delisted in summer 2013 for $2.1 million.
Other highlights of the residence include: An outdoor catwalk connects the office and other second-floor rooms, faces the backyard and provides desert views. Stairs and a firehouse pole lead from the catwalk to the backyard.
The backyard of the entertaining wing features faux grass in hues of green, purple, red and blue; a lap pool; and a raised gold-fish-cracker-shaped feature that 11 turtles and multiple fish call home.
A sound-proof recording studio where Jillette records "Penn's Sunday School Podcast" features a conversation piece — a table decorated with vintage Playboy-like playing cards on its top.
A colorful movie room hosts weekly movie nights and features a full screen that when moved up to the ceiling reveals a ministage ideal for a small band.
Behind the residence's family wing is a separate backyard perfect for children with a tetherball and pathways for bikes, rollerblades and playing.