Check out this house in the historic Rancho neighborhood — PHOTOS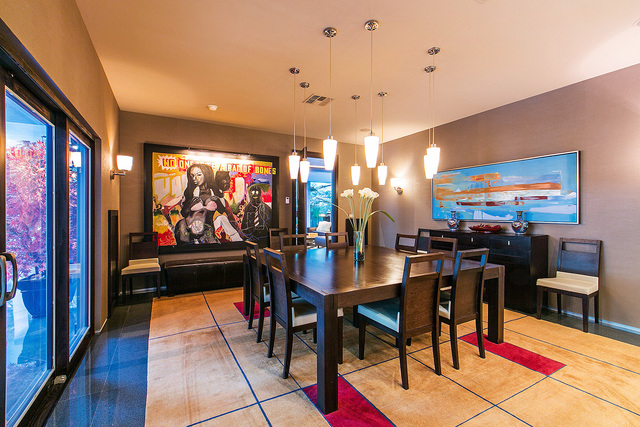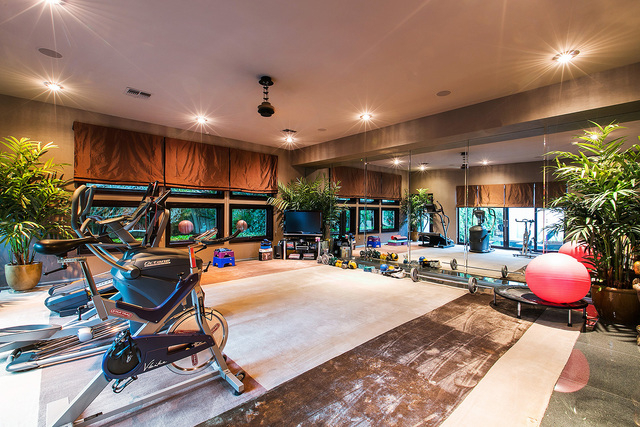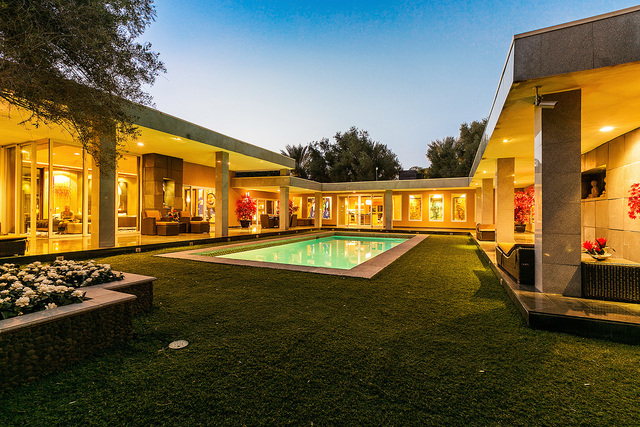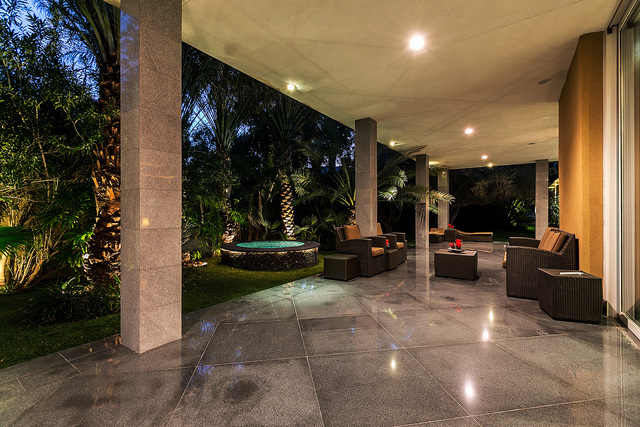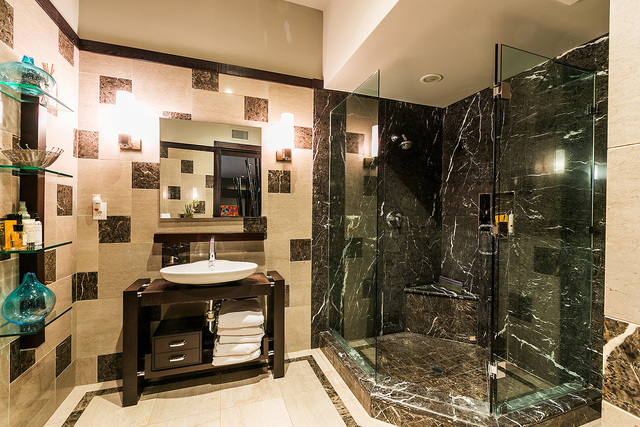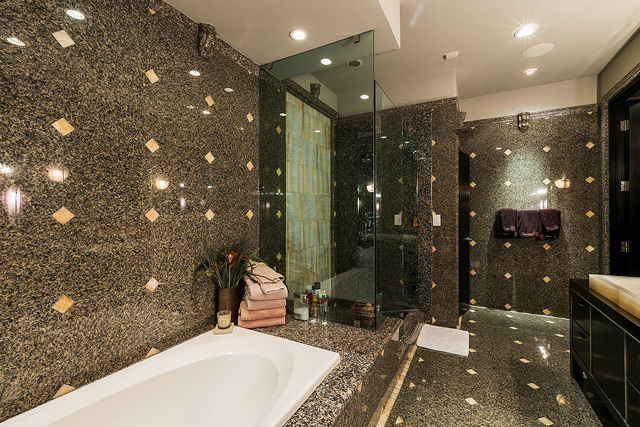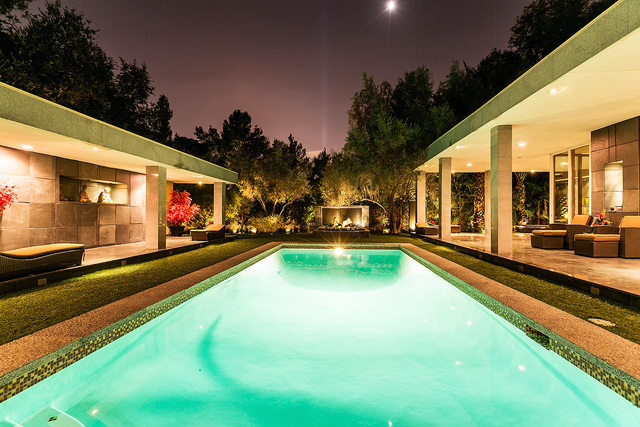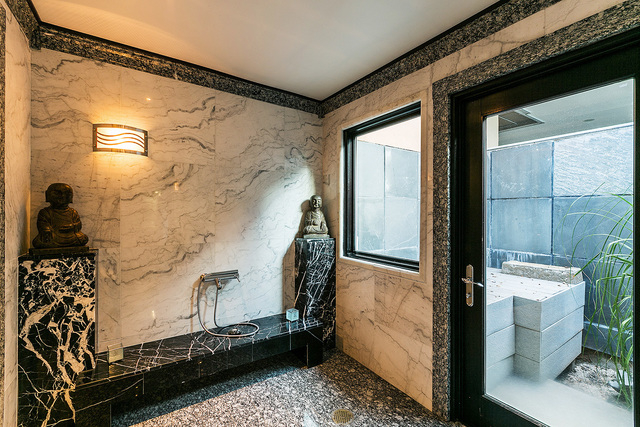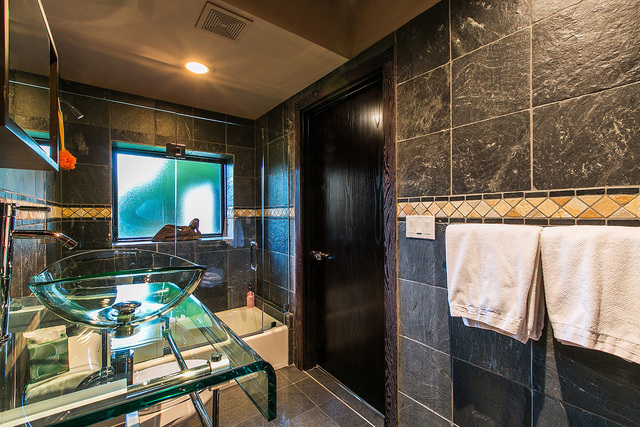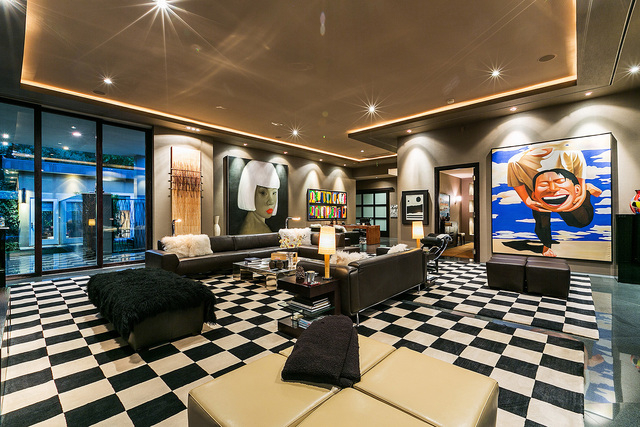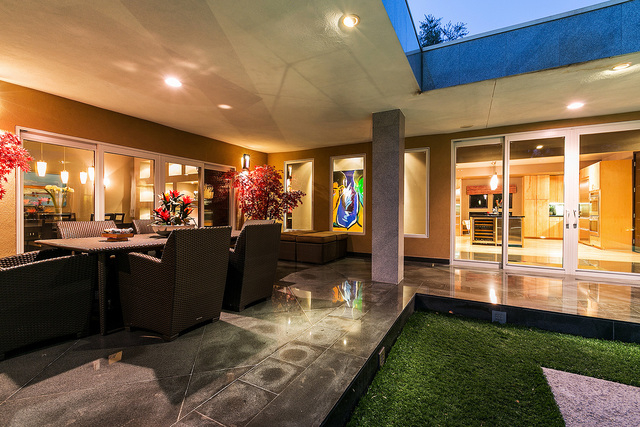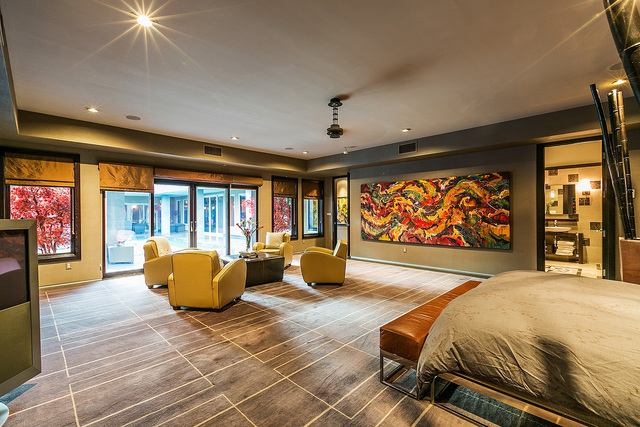 Aside from elegant date palms swaying in Mojave Desert breezes, someone could easily mistake the tree-filled, green environs around the Pinto Lane home for a prosperous section of a more northerly Western metropolis such as Salt Lake City or Denver. But this neighborhood is vintage Las Vegas through and through.
"This area is the historic district of Las Vegas," said Ivan Sher of Shapiro &Sher Group, Berkshire Hathaway Homeservices, Nevada Properties, the agency representing the home. "So all of the landscaping is very mature."
Sher said Pinto Lane and surrounding streets — often called the Rancho neighborhood — are where Strip executives built their first estates in the 1950s.
But even someone well versed in the precinct's rich legacy would be hard-pressed to imagine the 6,859-square-foot architectural and design extravaganza that lies beyond the addresses' front wall.
Behind the front gate, visitors are greeted by a flagstone-lined walkway adorned with statuary and a waterspout-filled pond. It almost has the feel of a temple — a mysterious but entrancing preview to what's inside.
The property's original structure was refurbished by previous owners in the early 2000s.
"They created this Zen, artsy, contemporary, fantastically alive home," Sher said.
The copper-roofed house, on the market for almost $2.9 million, is owned by art lovers; and as the front door swings open, a painting-filled foyer leads into a gorgeous great room. It's smartly geometric, with huge, floor-to-ceiling windows accented for the eye with striking black-and-white checkered-tile flooring.
The interior is clean-lined — somewhat midcentury modern, somewhat contemporary California — but it is not austere. It's livable, especially with its frequent views into the verdant yard.
The formal dining room is unusual for American homes. It is square dimensions lend a slight Asian aura to the gathering space. Although seemingly compact, it can accommodate a table for at least eight diners. One wall is lined with recessed shelves to showcase art pieces. With a circle of hanging lights instead of a single candelabra, it is a chic spot in the single-floor home.
The kitchen is replete with stainless-steel Wolf appliances, including double ovens and refrigerators. There is a central marble-topped island and an exceptional amount of walking-around room. It is a Shangri-La for today's adventurous, cook-it-yourself foodies.
There is also an outdoor barbecue station.
Adjacent to the kitchen is an ample family room, which accommodates a billiards table on a raised-floor section, and a bar area. This is a home for entertaining.
The master bedroom is wide open, and features a sitting area.
"The master is completely separate from the rest of the house," Sher said. It is not adjacent to any other bedrooms and offers complete privacy. Even further, it has two complete bathrooms of its own.
There are three additional junior bedrooms and a comfortable den and a workout room. There are seven bathrooms, one of which has a spalike feeling, including a heated massage table, sauna and steam room.
What's exceptional about this home is its outdoor pool area, which can be seen from the great room, the master bedroom and from a long, dramatic hallway. The saltwater basin is perfectly rectangular and is offset by a pillared portico on three sides. It looks like a setting in the Hollywood Hills and could easily be on the cover of Dwell magazine.
Also outside, in a quiet nook of the immense backyard, is a little gem — an artist's studio. It is a private preserve for painting, sculpting or other creative pursuits.
There is also a second home on the 1-acre lot. It's a casita, but it's not diminutive. It's 1,900-square-foot domicile with two bedrooms, two bathrooms and a full kitchen. It also has a two-car garage. This "guest house" is basically what constitutes a single-family residence in most Las Vegas neighborhoods.
The home's immense yard also bears noting, especially in these drought-ridden days. Former natural grass has been entirely replaced with artificial turf. It stays perpetually green and never needs water. With an overarching canopy of lofty, wide-branched trees, one would never guess at first glance that the lawn is man-made.
The main house holds a gigantic, climate-controlled three-car garage. Additional environmental details include high-quality Pella windows and doors, custom lighting fixtures and radiant heating throughout the home. It is also wired with a sound system, and has video surveillance and other safety features integrated into the architecture.
Sher said that there is no homeowners association in the neighborhood, and it is in a prime location.
"It's the perfect place if you're looking to be close to the Strip, close to the hospital, close to the airport," he said.
In a historic slice of Las Vegas, this eminently stylish Pinto Lane home defines its own new stories about fine living in today's American Southwest — all with surprising seclusion right in the heart of the city.
ABOUT THE ESTATE
LOCATION: Pinto Lane in the historic Rancho neighborhood
PRICE: Nearly $2.9 million
SIZE: 6,859 square feet, six bedrooms, nine baths
FEATURES: Spa room with heated massage table, sauna and steam room.; den; media room; gym; outdoor pool; detached artist's studio; and a 1,900-square-foot guest home with two bedrooms, two bathrooms and a full kitchen and two-car garage.
HISTORY: Built in 1959, the property's original structure was completely refurbished by previous owners in the early 2000s.
LISTING: Ivan Sher of Shapiro & Sher Group, Berkshire Hathaway HomeServices, Nevada Properties