Christopher Homes builds luxury across valley
January 24, 2017 - 3:04 am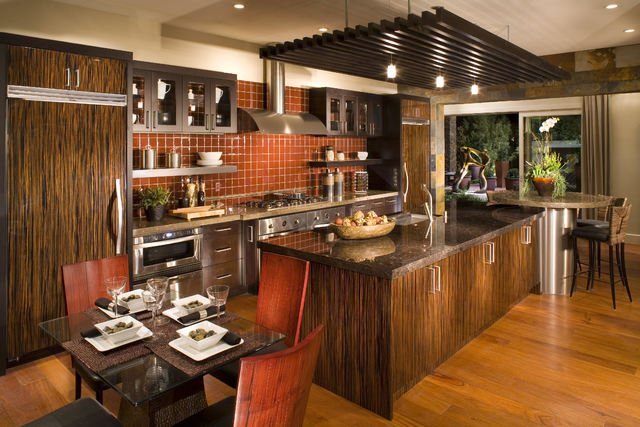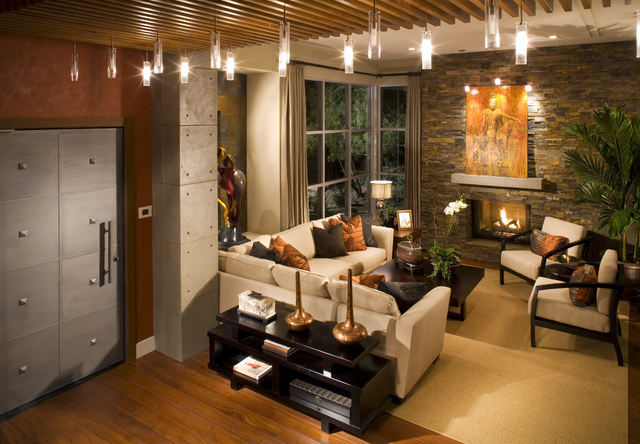 Christopher Homes has launched a new luxury hillside development in MacDonald Highlands featuring townhomes.
Construction is underway on four models and six of the 29 townhomes that already have been sold in the development called Vu "because there are gorgeous views out there," said Erika Geiser, vice president of sales and marketing for Christopher Homes. Owners are expected to move in by the end of the year.
"It has spectacular views because it's nestled on the mountainside of MacDonald Highlands," Geiser said. "There's views of the city lights, the Strip, DragonRidge Country Club and the surrounding mountains."
The project will have 132 townhomes that are essentially paired single-family homes attached by one wall and have the feel of a single-family home with courtyards and backyards, Geiser said.
Christopher Homes announced four plans. Two townhomes are single levels and range from 2,800 square feet to more than 3,000 square feet.
There are two multilevels that range from 2,600 square feet to plans with options for more than 3,600 square feet.
The least expensive townhome is $735,000 for a multilevel with two bedrooms and an office that measures 2,639 square feet.
"We call it multistory because it's not true stories," Geiser said. "The first level has a garage and a bedroom. Then you have a half-flight walk to your main level and then a full flight up to the master bedroom."
There's a version of the multistory that includes a fourth-level penthouse with a base price of $915,000. It has two bedrooms, a study and the fourth floor serves as an entertainment room.
Most of the townhomes have lot premiums and that can add between $50,000 to $150,000 to the price. The cost increases for customers who want further enhancements and upgrades such as spas.
The multistories are designed to optimize the views with the main living area on the second floor, Geiser said. Each level has decks that extend outdoors.
"When you buy a multistory, your main living area is always higher than any single-story in front of it," Geiser said. "Your master suite on the third level is getting even better views and if you buy the penthouse — because you are a hillside – you're looking down on airplanes. The townhomes have open floor plans with expansive floor-to-ceiling windows. A lot has been done to optimize the view potential of all the main areas of the home."
Even with the single-story townhomes, Geiser said the great room, kitchen and dining room is open rather than segmented with walls. It expands the outdoor space as well, she said.
"You go through an exterior front door through a courtyard, and it's an outdoor space but like an extension of livable space because of a private exterior front door," Geiser said. "You walk in the interior front door and have the great room, kitchen and dining room. Then you have a backyard which expands to the rear of your home which can be an extension of your living space. It's very open living."
The townhomes are smaller than the 5,000 square feet to 7,000 square feet seen in luxury communities, but the finishes are equal to that level of a home, Geiser said.
Christopher Homes is targeting move-up young professionals without children and move-down empty-nesters.
"These are people who don't need 5,000 square feet or 10,000 square feet," Geiser said. "A home that's 2,600 square feet to 3,000 square feet is plenty large for them, but they want the finishes that you find in a larger semi-custom homes. Unfortunately, it's hard to find that out there because as you go down in size, those builders are going down in price point and going down in finish level."
The homes have a modern feel, and a lot of effort and money went into the design of the kitchen, which is the heart of the home, Geiser said. It's designed to be entertainment space rather than a functional kitchen, she said.
"The cooktops are very minimal," Geiser said. "There are no hoods above the cooktops. There's open shelving for books and non-kitchen items. It will be a more built-in entertaining space than kitchen. The appliances have cabinet panels on them or tucked to the side where they are not the main view from the great room. It's a very clean look."
The cabinets are custom, high-end European style with flat panels and textures. There are more 30 colors to choose from and another 10 to 20 available with upgrades. There are more than 30 flooring choices.
"Buyers don't need to upgrade if they don't want to, but some buyers do and it's mainly because it's a lifestyle decision," Geiser said. "Do they want a wet bar, or don't they want a wet bar. Some people like that, and some people don't."
Geiser said it's the same with home automation.
"All their lighting, shade, HVAC, and security cameras, et cetera, can be controlled off their phones," she said. "The homes are wired as smart homes if they elect to go down that road."
The townhomes have garages that fit two cars and enlarged ones for the addition of a golf cart.
Geiser said Christopher Homes built townhomes over single-family homes because of how it worked out with the sloped mountainside and land-planning.
MacDonald Highlands is a guard-gated golf-course community with two private gates. Social membership in DragonRidge Country Club is included with a purchase at Vu, she said.
"It gains you access to the clubs and to their sports center which has tennis and fitness," Geiser said. "The neighborhood at MacDonald Highlands also has several parks and basketball courts."
Christopher Homes is closing out its semi-custom home community in Summerlin. Boulder Ridge is in The Ridges and features 46 semi-custom homes adjacent to the Red Rock Canyon Conservation Area. There are six lots left.
The homes are built on lots ranging from one-third to one-half of an acre. Nothing can be built behind it because of the conservation area, Geiser said.
Home sizes range from 4,467 square feet for a one-story, three-bedroom home and office that costs $1.78 million.
The biggest home is two stories and measures 6,832 feet and has four bedrooms. It's priced at $2.95 million.