Cold Creek is off the grid
Updated April 30, 2018 - 12:00 pm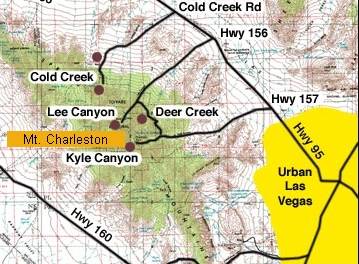 About 40 miles north of Las Vegas in the Toiyabe National Forest is Cold Creek, touted as "Las Vegas' best-kept secret."
The area is surrounded by mountains, pine trees and wildlife, including elk, mustangs and deer.
The Cold Creek subdivision has about 200 lots with 87 homes completed. There are five homes for sale, ranging from $359,000 to $650,000.
Outside the subdivision there are approximately 74 parcels, between 2 acres to 20 acres. Land prices start at $32,000 for a half-acre lot to $129,500 for a 5-acre site.
There is a 20-acre parcel listed for $180,000. Angie Tomashowski, owner of Mt. Charleston Realty Inc., said she has sold about 10 lots in the past year.
Cold Creek residents enjoy an off-the-grid, solar-powered, self-sustainable lifestyle as there is no hard-wired electricity in the area.
A community well serves as the main water source in the Cold Creek subdivision. Water is stubbed to each individual lot.
Outside the subdivision, individual wells are drilled. Cellular and internet service is available, but hard-wired telephone service is not available.
There is no commercial development in the area. Buyer demographics, similar to the Mount Charleston real estate market, are people who love nature and enjoy recreational opportunities such as all-terrain vehicles, off-road motorcycles, hiking, camping and horseback riding, Tomashowski said.
"We see it changing as the Southern Nevada community becomes more aware of this alternative area," Tomashowski said. "It will be more in demand in five years."
"With respect to land pricing in Southern Nevada, Cold Creek is undervalued, in our opinion," she added.
From North Durango Drive and U.S. Highway 95, drive north approximately 21 miles to the Cold Creek exit. Turn left and drive approximately 14 miles to the Cold Creek subdivision.