Corey Harrison of 'Pawn Stars' selling Las Vegas home for $2.3 million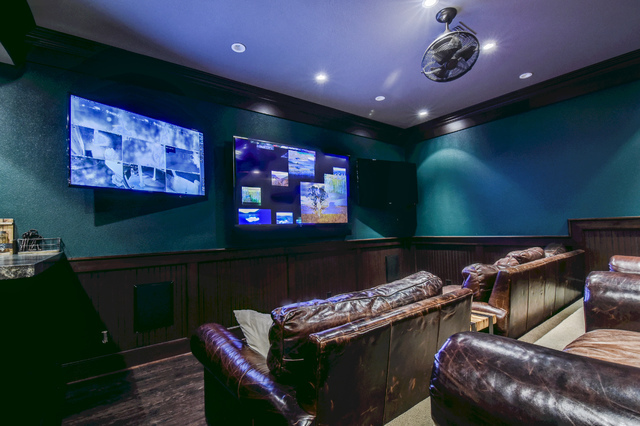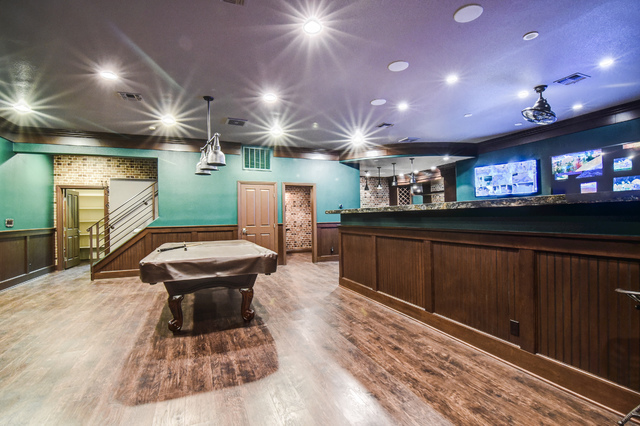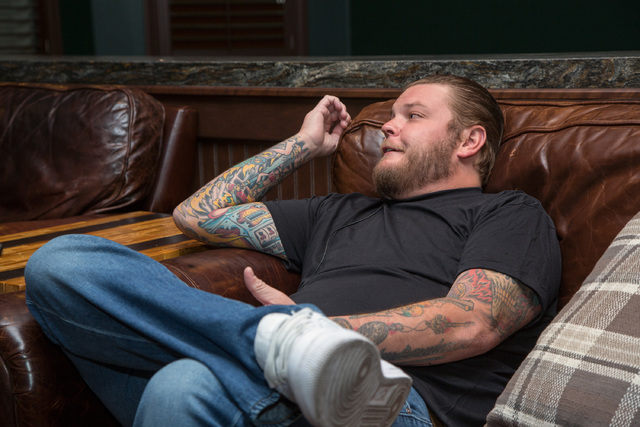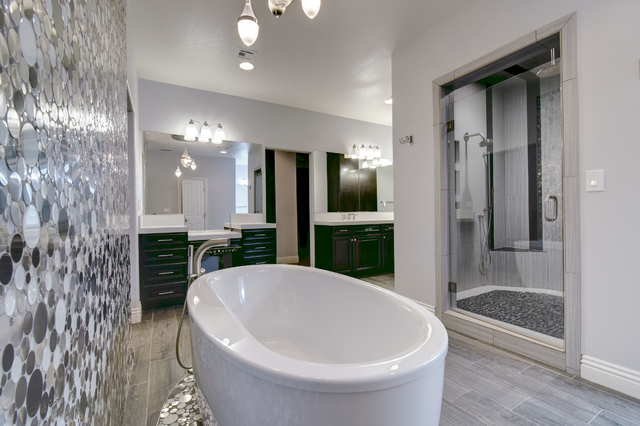 As a teenager, Corey Harrison drove himself to Centennial High School every day past a home he swore would someday be his. He met that goal in 2013. Now Harrison, who appears on "Pawn Stars," the enormously popular show on the History Channel, has listed his dream house for sale at almost $2.4 million, more than twice what he paid for it.
"Pawn Stars" is recorded in Las Vegas at the "World Famous" Gold and Silver Pawn Shop downtown. Harrison is the store manager and also co-owner of downtown's Beauty Bar. He is a born-and-raised Las Vegan and, just as he appears on "Pawn Stars," Harrison is soft-spoken and understated, qualities that are reflected in his housing choice.
Real Estate Millions caught up to him during a rare eight-month break from filming the show as he was leaving for a monthlong vacation on his boat, docked in Newport Beach, California.
The house, located near Ann Road and Durango Drive in the far northwest valley, had only one previous owner who, according to Harrison, used it as a Mormon church property.
From the exterior, the house is the epitome of suburbia circa 1985, including a circular drive leading to a white-columned entry with a large lawn, sculpted hedges, Greco-style banisters across the front, a balcony, iron fence and brick/stucco façade. But inside, Harrison (with his ex-wife Charlene) updated the finishes and added bits of bling.
The first-floor master suite has a wet bar and large walk-in closet with built-ins, or "a giant purse closet" as Harrison refers to it. The master bath has split vanities with quartz countertops, an oversized river rock-tiled shower and center-featured spa tub surrounded by a black-and-white Eskimo pie mosaic-tile backsplash wall.
In addition to the master suite, the first floor contains the kitchen, living room, dining room, family room, two stairways and an office.
"I wanted a really manly, old-school type of office," Harrison says of the dark room with Burberry wallpaper, walnut cabinets and desk.
One of two laundry rooms is on the first floor and was used as a bedroom with outdoor access for Harrison's two dogs, a pit bull and a schnauzer.
A two-story stacked stone feature wall with a fireplace draws attention in the sunken living room.
The espresso backsplash and leathered granite counters of the kitchen are offset by white cabinets and travertine floors. Wolf appliances complete the setup for an aspiring or professional chef.
Harrison says his culinary skills are nil. "I'm not a cook at all, but I wanted to have a house with a really nice kitchen," he said. "I burn more than I cook."
The spacious house was useful for parties such as the one he held for 300 people on his 31st birthday. Just before the guests arrived, he wrecked his motorcycle and broke his arm.
"And I still had to come and hang out at the party the whole time. At one in the morning, I snuck out and went to the hospital," Harrison says. "But I had people come from all over the country and I wasn't going to miss it."
The sunken family room floor is hardwood with a custom fitted shag rug. One corner had a bar that has been removed. Looking around, Harrison says he regretted never even sitting on some furniture in rooms that were seldom occupied.
"I gave most of it away. The new house is more modern," he says of the house he just moved into, which is just a few blocks away and is also his childhood home. He purchased it from his father, who had it custom-built.
The home's more than 7,000 square feet of living space (including the basement) is just too much for him now, says Harrison.
"I'm just one guy with a fiancé (named Bianca). If I had eight kids I could live here; it would make sense. I got to buy it and live in it, but sometimes childhood dreams are just childhood dreams," he says. "I never thought I would downgrade into a 4,000-square-foot house. It took me about two months to find places to put everything."
He moved his gym equipment from the old house to the new one so he can keep up the workouts that helped him shed about 200 pounds, along with lap band surgery. Now he is only able to eat 4 ounces of food three times a day, which sometimes causes discomfort when he misses the mark.
"I would still support anyone getting the surgery. I used to be 400 pounds," he says.
Harrison has a gym at the pawn shop, too, but on this break from filming, he says "I've got my first eight months to be lazy, and that's what I'm going to do."
At the base of the basement stairs is a large storage pantry with multiple shelves. That is where the original owner's influence ends.
On the other side is a mega-entertainment area, with one room sectioned into a TV viewing area with comfortable leather seating, bar large enough to seat 10, pool table and powder room with black fixtures (including urinal) mounted on a black chalkboard wall. Harrison installed several urinals in the house.
"I put urinals in all my houses," he says. "They save marriages."
Directly accessible from the house is the outdoor entertaining area with granite-topped fire pit and counters and a barbecue station with Harrison's favorite toy — a really cool smoker.
"That's what I'm good at," he says. "It's like a man's Crock-Pot. I'll just throw a pork loin on it, go to work, and when I come home it's done perfectly."
Unlike most modern homes, for which indoor/outdoor living practically dictates the pool be a focal point, this backyard is sectioned off into several activity areas, and the pool is not visible from the main floor of the house. It lies behind a grassy yard and tall trees, including two robust magnolia trees that were delivered from Virginia in 1993 by the original owner and are a rarity in Southern Nevada.
You must descend stairs and go through a gate to get to the fully fenced-in 12-foot-deep pool, slide, spa and water feature, and a grandfathered-in diving board.
Harrison says he furnished both houses with loot from his store, including art and electronics.
"I never bought a PlayStation, a Blu-ray player, I never bought a TV," he says.
Harrison expects the show to go on forever. "You can't stop 'Pawn Stars,'" he says.
And he is enjoying the fame and perks of TV stardom.
"Life is definitely better than when I made 60 grand a year and just managed the pawn shop," Harrison says. "But it does really suck when (uninvited) someone sits down at my table when I'm proposing to my fiancé. It's a little annoying. But I know that as long as people recognize me it means I'm doing my job right. So the good outweighs the bad."
The Centennial Hills neighborhood is made up of lots that are minimally a half acre. This one and several others on the block are one acre or more. Few have sold in recent history, according to Zillow.com, for more than $1 million. If this house sells for the asking price, the neighbors will surely benefit.
"This area is perfect for anyone that wants to be away from the hustle and bustle of the city yet is close enough to freeway access to allow for an easy commute around town," says Realtor Frank Napoli, who has the listing. "Buyers also seek this area to be able to own a home with acreage, privacy and no HOA. This area has always been sought after, and with the demand for more homes, new homebuilders are building tract home developments amongst the several large lot customs homes that currently exist."
The house comes with a free keg of Coors Light beer, Harrison says, and a wall-mounted TV in many rooms.
After all, he knows where to get more.
About the house:
Location: 5860 N. Campbell Road, Las Vegas
Size: Seven bedrooms, five bathrooms 5,344 square feet, 1.05 acres
History: Built 1993; bought by Corey and Charlene Harrison 2013 for $1 million
Features: Pool with diving board and water slide, outdoor kitchen, two three-car garages, basement entertainment area, private well.
Price: $2,399,000
Listing: Frank Napoli, The Napoli Group, Berkshire Hathaway Home Services