Couple creates cowboy dream home —VIDEO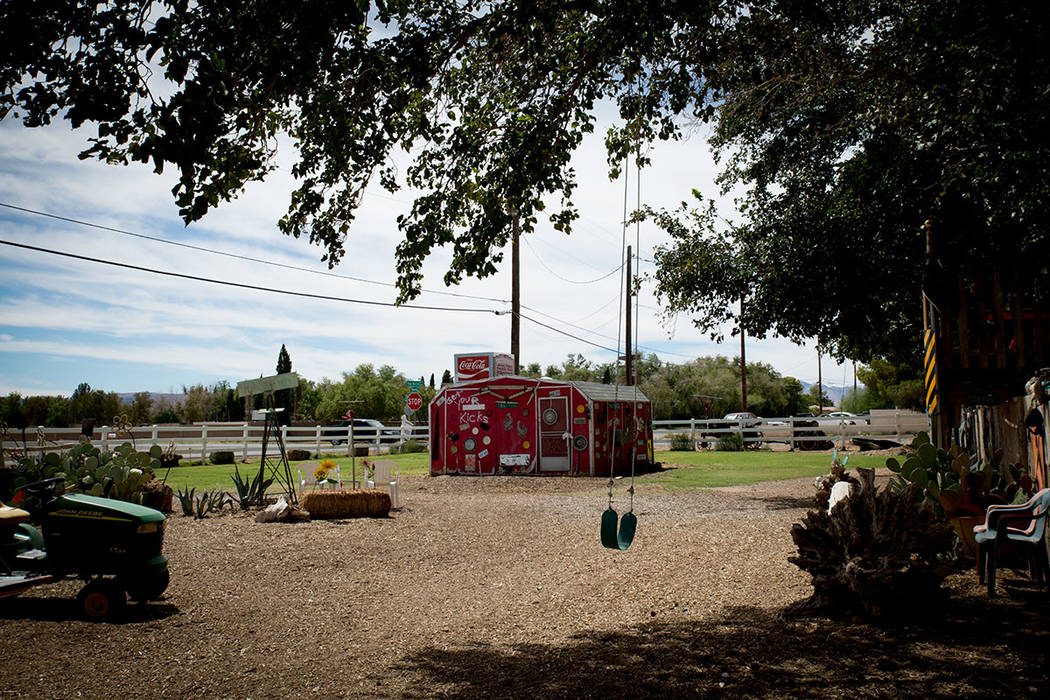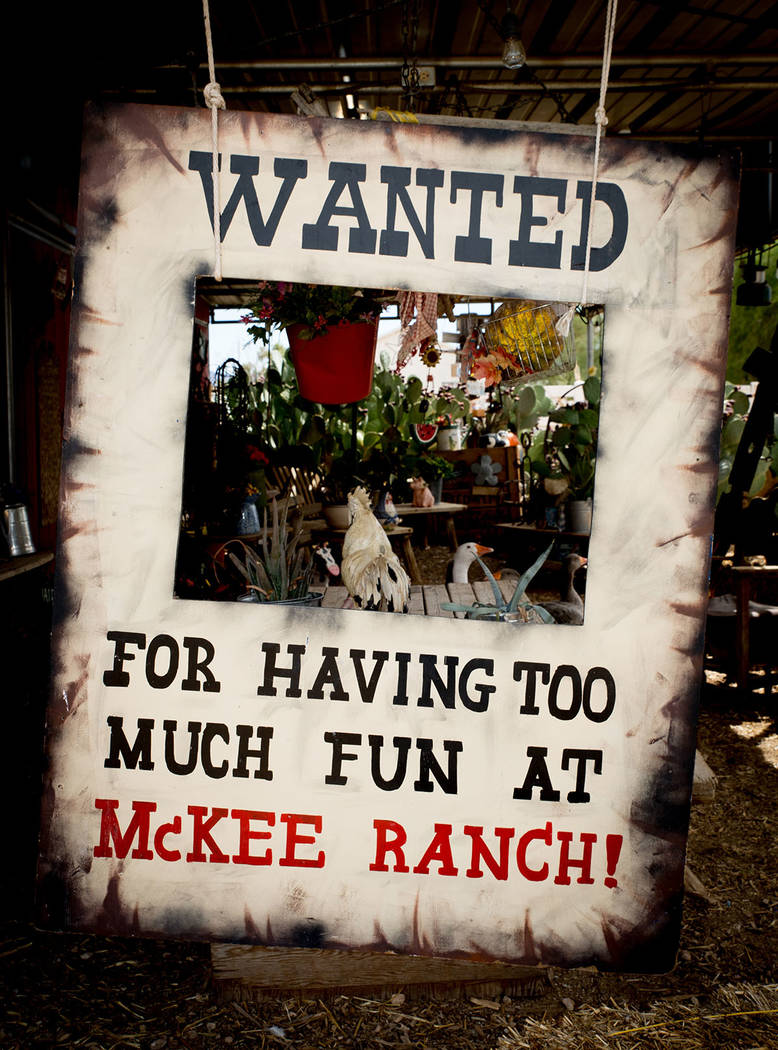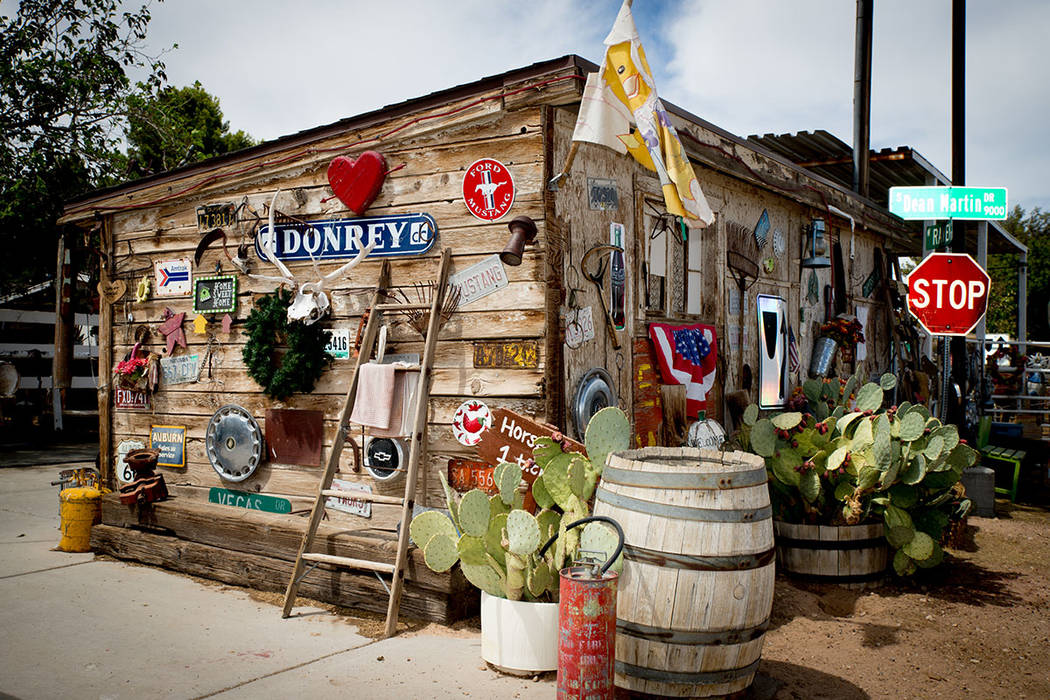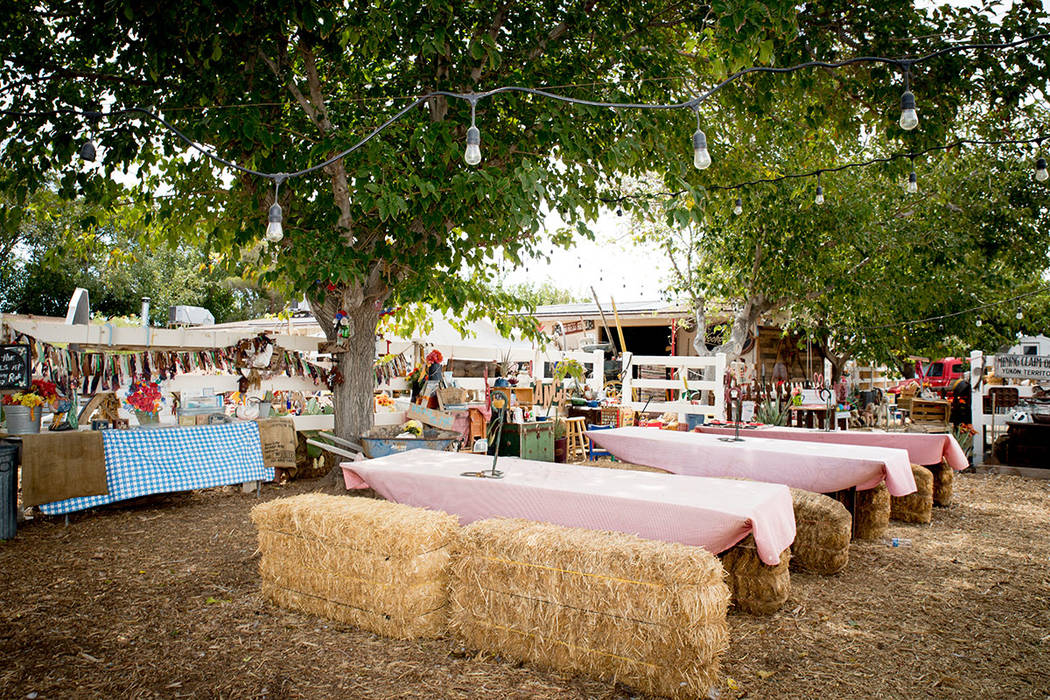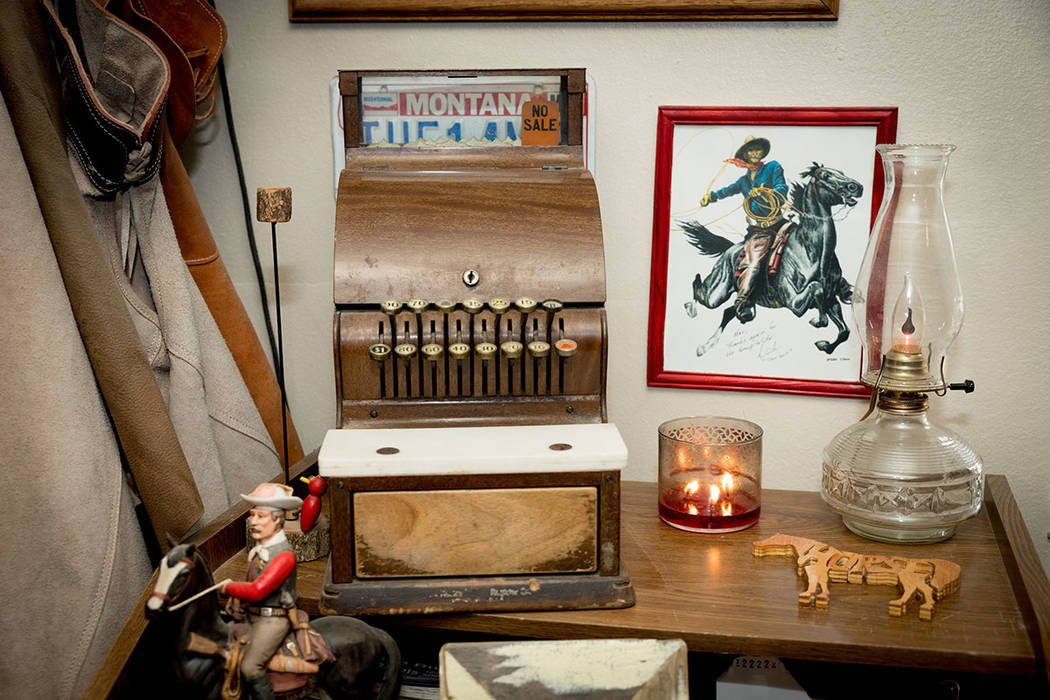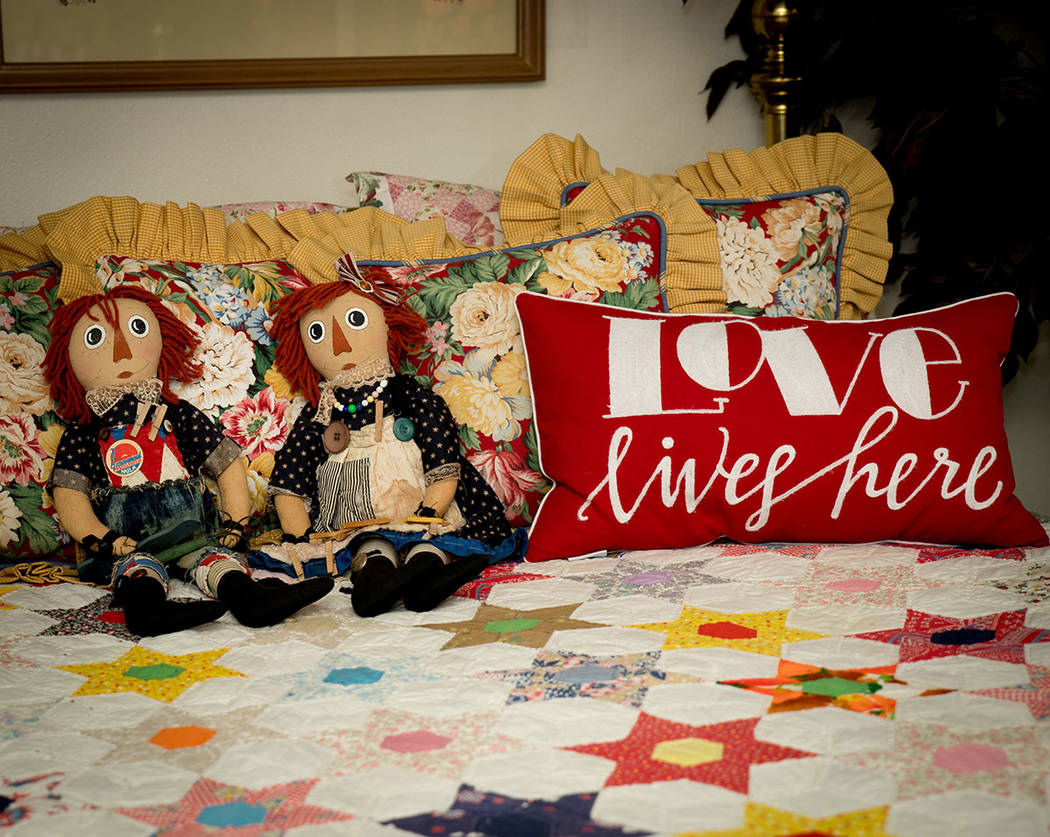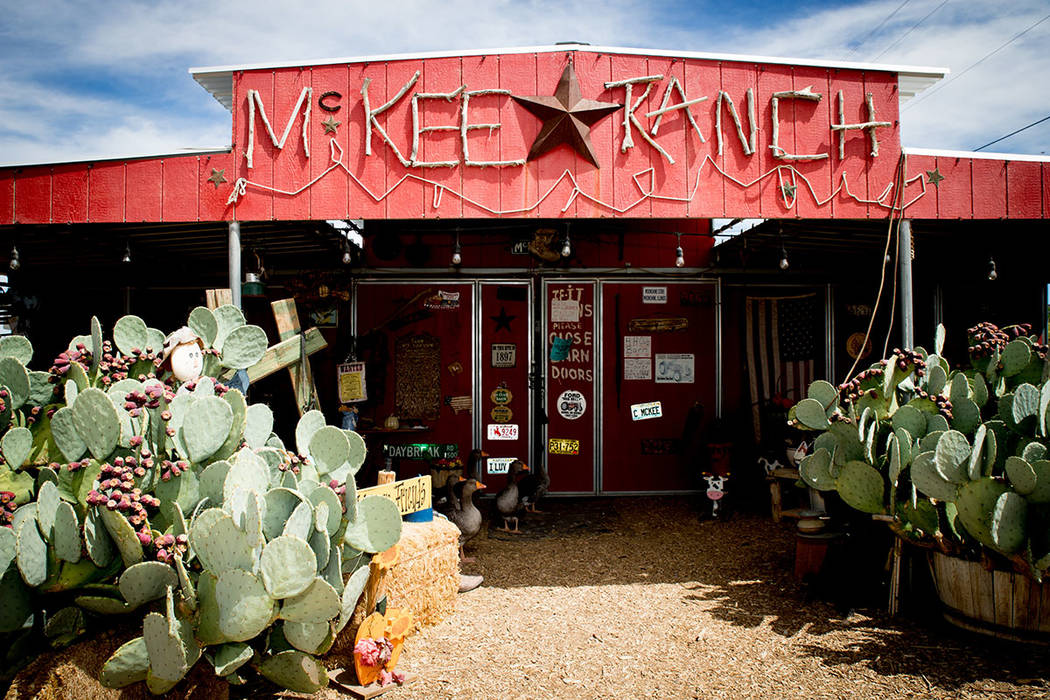 Beware, city slickers driving on Dean Martin Drive just south of the Silverton in the southwest valley. You may be distracted by the eye-catching allure of a 2-acre, privately owned ranch that is open to the public. Between the numerous "welcome" signs, the promise of fresh eggs for sale or general kitschiness, it's hard to pass by without stopping.
The McKee Ranch is a 501(c)(3) charity that welcomes visitors of all ages seeking a glimpse of Las Vegas' rural past. Its mission is to educate the public about rural life in the Vegas Valley; provide a haven for large animals; and to preserve rural ranches. The long-term vision is to provide an agricultural extension for the school district and UNLV for demonstrations on sustaining all aspects of rural living.
Owners Max and Christi McKee live on site in an all-original, 3,200-square-foot, single-story ranch house that exudes Old West flair.
The couple possess the vitality and good looks typically found in the photo that comes with a new picture frame. Christi McKee could be a latter-day Elly May Clampett.
Because Las Vegas has grown into such a big metro area, Christi McKee wants to share as much of the rapidly vanishing ranch culture with today's children, she said.
"Everybody had 2 acres and two horses. And, you always rode bareback — and that's what we like to explain to kids — that's the way Nevada used to be. Everybody had a lot of property, no fences, and you could just ride forever and ever."
Max McKee grew up in Indiana, but his wife moved here in 1962, when her parents, John and Ann Miller, left Los Angeles to open The Las Vegas Racquet Club. It was a haven for successful local professionals, and sanctuary for many of the Strip's performers and their families. It now serves as a wedding and meetings facility called The Secret Garden.
"The reason they came to the Racquet Club was so they could drink and play tennis with their families and not be bothered by the public," she said.
Because Christi McKee's parents lived kitty-corner from the ranch, the couple quickly noticed when a "for sale" sign went up in 1997. They immediately came over and offered to buy it on the spot. Three days later they closed the sale, at $304,000.
"We bought it sight unseen, 'as was' because we had to repair the floors, the roof, everything," Christi McKee said.
For the first five years they occupied the property. It was much simpler than its current incarnation. They gradually increased the animals, exterior décor and added boarding services. Then, the McKees added two barns, just in time for the arrival of a batch of horses rescued from Northern Nevada.
"Everybody in Las Vegas was asked to take them on," Christi McKee recalled.
She said her neighbor had given them their first rescue horse, Skipper D.
They bought a second horse to keep her company. Her husband gifted her with a rescue goat, Billy Jean, then pigs arrived and two steers that quickly outgrew the property and were re-homed.
The real estate crash prompted another influx of shelter animals.
"The last thing people had money for was horses, so we were left with six horses," Max McKee recalled. The heard grew to 25. "We sustained them until about 2011, then we started working on the foundation."
They now house 17 four-legged critters, including a donkey, ponies, miniature horses, goats and a potbellied pig. It is all part of an ongoing 4-H Club child development program that provides area kids a hands-on agricultural learning experience.
The house is full of treasures Christi McKee accumulated during her years operating Pandemonium Antiques, a store near Huntridge Circle that closed decades ago.
"It looked just like this. That was when Maryland Parkway had all the pine trees up and down the median. All the houses around the circle park were stores."
Other treasures, like her personalized Barbie doll box have been in the family for years. Her father painted one for Christi McKee and her sister in 1957.
"My granddaughters just love this stuff," she said.
There is an abundance of quilts throughout the house, on beds and fashioned into window treatments and pillows. Most were acquired at garage sales and swap meets, others donated.
"People know what we do, and they will bring us things," Max McKee said.
"My daughters say I live in a souvenir store," his wife added.
The guest room is a place no child would ever want to leave, with a closet full of costumes, toys, a 1950s doll house and cowboy collectibles galore, including a handmade cowboy baby quilt.
"This is where you will find any missing grandchildren," Christi McKee said.
Old Golden books like "Annie Oakley" and "Sharp Shooter" are in plentiful supply.
"It encourages our grandkids to pick them up and read them. We never allowed our daughters to have (video games), or our grandkids. You come to the ranch and you do ranch things. Instead, we collect the Roy Rogers toys," she said.
The adult guest room features a brass bed that is home to several rag dolls, an antique hobnail hurricane lamp, rocker and oak dresser.
There is no sense of the eclectic in her design plan. "It's antiques all the way," she said.
The kitchen expands on the rustic charm theme. Spices are stored in a coke bottle box on the kitchen counter, alongside a stove-top coffee percolator. An old wooden ironing board serves as an improvised kitchen island.
Christi McKee consulted remodeling professionals in the past about updating the kitchen. She said, "They just wanted to blow it up." All she was after was a new kitchen sink and possibly to replace the white tile countertop.
"This type of tile has gone in and out of style four times, she said, "So, why bother?"
Because they couldn't find the right sized replacements for the built-in stove-top and oven, and they didn't want to do a full remodel. They left them intact, but powder-coated with red paint.
"There were so many other things that needed fixing when we first bought the house," Christi McKee said.
The formerly brown appliances all still work.
"It's just fine for two people. I mean, it's not your gourmet kitchen, but we've fed a lot of people out of this kitchen."
The house was built with two small bedrooms. The second owner expanded the footprint by adding a master suite with a double-door entry that lends a spacious feeling to the room. It's large enough to include a master bath with dual sinks, shower and jetted tub with a view of the pool. A second wood-burning fireplace provides a focal point.
"You put a chunk of coal in there to keep the fire going overnight, and you wake up nice and toasty," Max McKee said.
The rooms all have pocket doors, which Christi McKee notes, "are now back in style, but these have been here forever."
As a child, Christi McKee rode a school bus that picked up kids from as far away as Nipton, California, as well as making stops at motels on the Strip before arriving at Paradise Elementary School, where she had classes with Judy Garland's two younger children, Lorna and Joey Luft.
"Back in the day, you went to school with all the stars' kids," she said. "She (Garland) was appearing on the Strip at the time, and she was also in Las Vegas for a divorce. She was here for six weeks at the Hidden Wells Ranch. I met Liza Minnelli, but she was much older and cooler than we were."
The couple belong to a close-knit community of rural estate owners in the area, and they attend all relevant zoning meetings to make their voices heard, said the McKees. So far, they have managed to halt a developer who bought several acres adjacent to their land and was trying to put a rental storage business there, which they said would have had barbed wire fences and other unattractive elements.
This October, will be their 13th year hosting a pumpkin patch, which began out of frustration at the lack of genuine, Midwestern-style fall festivals in this area, said Christi McKee.
"We called around and asked 'where's the pumpkin patch?' and were told, 'it's in the parking lot of the Sunset Station Casino.'"
So they built one.
"And, it just took off. Everybody wanted the old-fashioned pumpkin patch," she said.
This year, they expect thousands will come visit.
"We love it when people say, 'this is our family tradition.' "
The McKee Ranch at 8982 Dean Martin Drive is open daily from sun up to sunset. The month of October it hosts a pumpkin patch, corn maze and flea market. For a $20 donation, any size family can enjoy the hay pyramid, photo booth, pony and train rides and take home a pumpkin. All proceeds go to support the nonprofit foundation. The event is scheduled from 2-7 p.m. on Monday through Friday and 10 a.m.-6 p.m. on Saturday and Sunday. They also accept food donations for The Veterans Village.