Dream Racing driver calls Strip home
November 9, 2016 - 9:30 am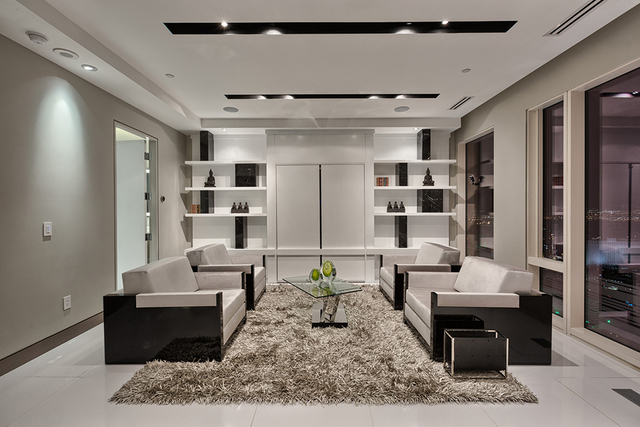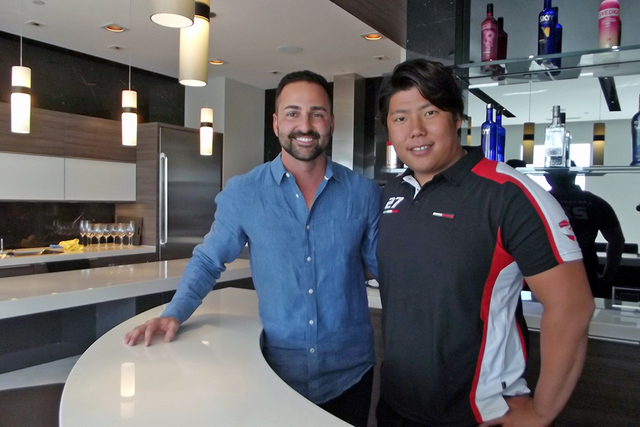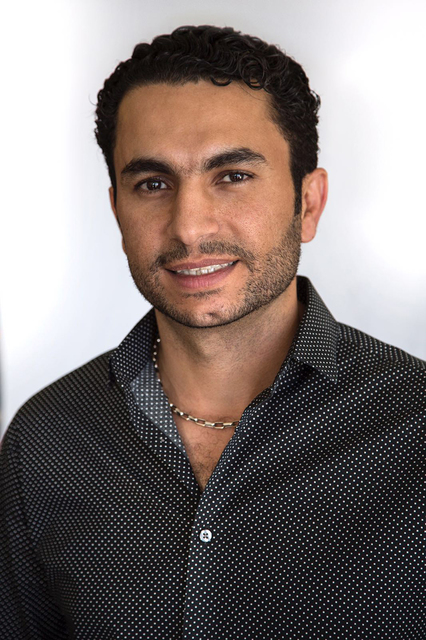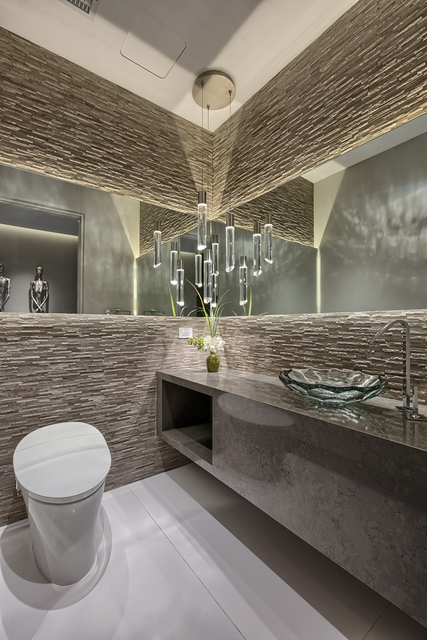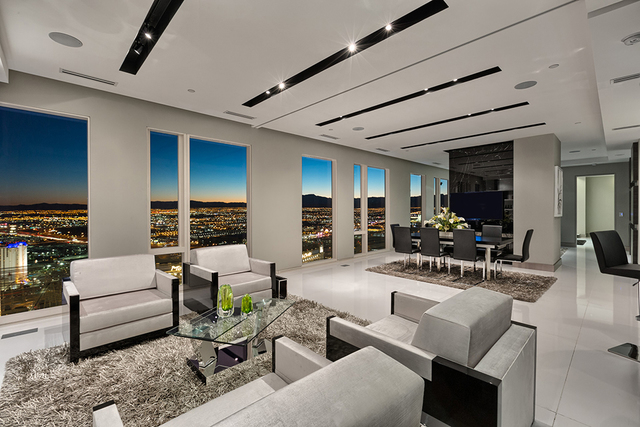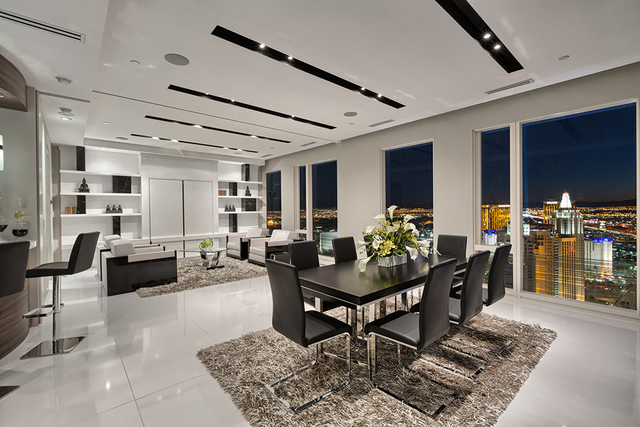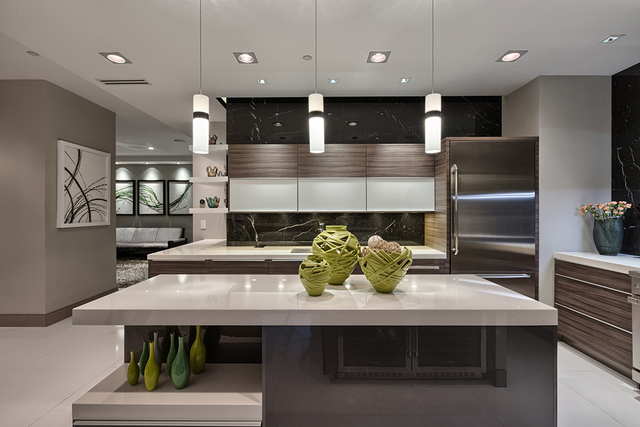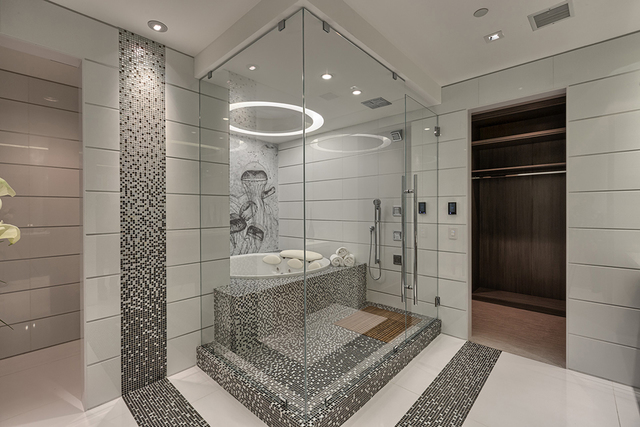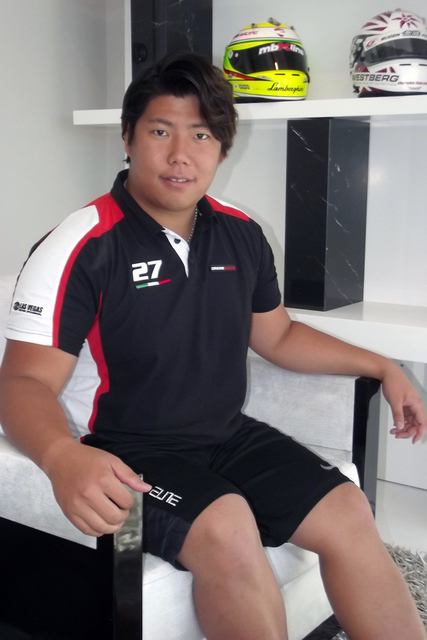 Cars are an important part of Yuki Harata's life. As a driver with Dream Racing in Las Vegas, he is used to getting behind the wheel and driving fast … really fast.
It is no wonder Harata and his Realtor Frank Napoli analogize Harata's 41st-floor penthouse at The Residences at Mandarin Oriental to a luxury sports car — a Lamborghini, to be exact, the type Harata puts the pedal to the metal while racing.
A Lamborghini is known for sleekness, shine and luxurious finishes — qualities Harata sees in the 2,247-square-foot, two-bedroom, 2½-bath residence he purchased in September for $2,930,000 or just over $1,300 per square foot.
"He drives a Lamborghini and his home is like the 'Lamborghini of the Mandarin Oriental' for its high-quality finishes and design. It's a designer showcase," said Napoli of The Napoli Group, Berkshire Hathaway HomeServices, Nevada Properties. Harata nodded in agreement.
Driving brought Harata to Las Vegas.
"I moved to Las Vegas to train with Dream Racing at Las Vegas Motor Speedway. I wanted to live in the Mandarin because I think it is the best there is in Las Vegas, and I know others who live here, too," Harata said. "It's a great location because everything is nearby. You can get to most places within five or 10 minutes, and it is easy to get on the interstate and go to the Speedway."
His home is full of contrasts. Views of New York-New York and neon lights can be seen out of his floor-to-ceiling windows, as can the quiet desert mountains in the distance. The hustle and bustle of the Strip and CityCenter are a short walk away, while a tranquil touch of elegance is found upon entering The Residences at Mandarin Oriental. His home is full of contrasting colors of white, black and gray.
A focal point is the gourmet kitchen with white shiny 60-inch-by-30-inch slab Silestone floors and white Dekton kitchen countertops set apart by dark "floating" kitchen cabinetry. Next to the kitchen is an artistically curved bar backed by a mirrored wall that reflects the sun light.
Another focal feature is found in its master suite. Its spa-quality master bath incorporates art within its design and features an enclosed 66-inch round jetted tub with a rain shower and in-wall sprayers, decorative Italian-made custom glass mosaic tile, a white tile wall with depictions of abstract gray jellyfish, and a TV recessed into the wall.
Additionally, the home's design provides versatile usage. A decorative wall divides the living areas into two and provides flexibility of where — and if — to place a formal dining room or instead have two living room areas. A pocket door separates the second master bedroom from the living area; when open, the door nestles within the wall to create a larger, seamless living space.
"Everything about my home is perfect. Every piece of it, every part of it is perfect for me. I love it," Harata said.
Mandarin Oriental offers approximately 225 residences in addition to the adjacent five-star hotel's 392 rooms and suites within CityCenter.
Residents of Mandarin Oriental can enjoy myriad amenities including concierge, valet and access to the adjacent hotel's five-star amenities and other services. Harata has utilized the 24-hour in-residence dining multiple times and can vouch that "24 hours" means "24 hours."
The Residences at Mandarin Oriental has recorded some of the highest price-per-square-foot sales in recent years among Strip high-rises. Harata's residence — which sold for about $1,304 per-square-foot — does not top a $1,633-per-square-foot sale in July, but it is much higher than a $581-per-square-foot $630,000 sale this year.
At the time of Harata's purchase, Napoli said approximately 30 units at The Residences at the Mandarin Oriental were for sale or pending with prices ranging from approximately $700,000 to $5,500,000.
"The big range in value consists of many variables: How many bedrooms and bathrooms; the floor the unit is on; if it has original Mandarin finishes, is upgraded or … is a full custom-build. Construction in a high-rise is a lot more difficult and takes a lot more time, which makes it more expensive in comparison to a single-family residence … and in turn, makes the custom or remodeled units a lot more valuable. Plus, most buyers would rather buy something turnkey rather than go through the building process," Napoli said.
"The quality of Yuki's home sets it apart from others. This is among the highest price-per-square-foot homes sold at the Mandarin Oriental because of its top-of-the-line design, luxury finishes and its views."
Harata's home was designed by Pedram Rahimi of Rahimi Designs from a "gray shell" — when the home only has a cement floor, walls, windows and plumbing. The design process was featured in a January Real Estate Millions story about four gray shells that Rahimi transformed into luxurious residences. They were featured in a series of invitation-only events for attendees of the 2016 International Builder's Show and the Kitchen &Bath Industry Show in January.
Three of the four were briefly placed on the market after the showcase and later removed. These three were placed for sale again in August. Harata's purchase was recorded in September. As of Nov. 2, the others were listed for sale: 2,126-square-foot Unit No. 4101 at $2,925,000 and the 1,652-square-foot Unit No. 2503 at $1,950,000. All three were re-listed through Roshanak Poursamadi of Realty ONE Group.