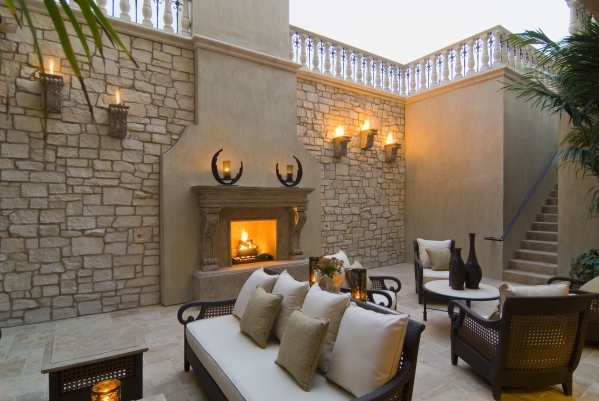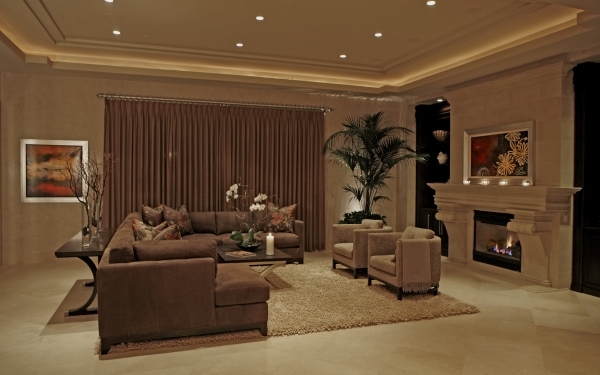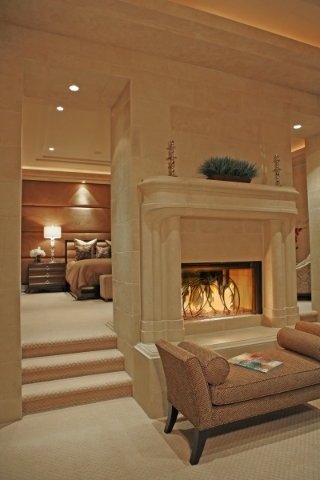 At one time, fireplaces were the focal point of every home. People sat around them to read, discuss family issues and gossip about the neighbors, cook meals or simply enjoy their radiant warmth. Today, big-screen TVs may have filled that void, but nonetheless fireplaces are still pretty popular.
Lee Guenot, fireplaces and bath accessory manager of Silver State Specialties in North Las Vegas, installs between 100 and 150 fireplaces a month for homeowners seeking to add a little bit of warmth and style to their existing or new residences. He has noticed a marked demand for fireplaces over the past two years from homeowners and builders.
Guenot said the trend is not for traditional, ornately carved boxy fireplaces, but for elongated, linear fire boxes. Logs have been replaced by a gas burner tray surrounded by reflective, broken glass offered in an array of colors. The front of the fireplace, either embedded in the wall or if projecting into a room, is sealed by heat-tempered glass.
"Now 70 percent of efficient heat radiates from the flame due to advances in direct-vent technology," Guenot said. "Direct venting has been around since the 1980s, but only within the last three to five years has direct-heat gas technology been really pushed."
Guenot said modern linear fireplaces range in size from 32 inches for $1,500 and go up to 6 feet for $8,000 or 8 feet for $9,000. Larger units are more expensive. He works with 12 different manufacturers.
"A fireplace easily adds $5,000 to a home," Guenot said. "It will take the chill off an area without having to turn on the home heater in the morning. A 3,000-square-foot room can very easily be heated."
For people who prefer a more traditional-looking fireplace with carved European Tuscan mantels and corbels, Realm of Design Inc. in Henderson has been fulfilling homeowners' needs since 1991. The family-owned-and-operated company manufacturers surrounding framework for fireboxes in a variety of sizes. The structures, cast from concrete, are designed to look like aged stone, marble or granite. Some are lavishly embedded with pewter or bronze.
Cindy McCombs, co-owner, said demand is about 50/50 for old designs versus modern-looking fireplaces. Some mantles they've designed have been 25 feet tall and 20 feet wide and are quite expensive. Common units 9 feet tall by 15 feet wide range in prices from $12,000 to $14,000, she said. The majority of the surrounding fireplace facades they have designed have gone around gas fireboxes, she said.
If someone is looking to make a bold statement, a fireplace will definitely set their house apart from others, McCombs said. "You can do something really nice, a moderate fireplace, for $1,500 to $3,000."
Installation of traditional wood-burning fireplaces has been prohibited in the Las Vegas Valley since November 1991 unless they meet Environmental Protection Agency guidelines, according to the Clark County Building Department. Those installed before 1991 are grandfathered in and don't have to meet EPA regulations.
According to the EPA, new requirements for wood-burning fireplaces reduce smoke emissions by about 90 percent and are considered more efficient that older units. It is illegal to buy a new wood-burning fireplace or stove unless it is EPA-certified.
The Hearth, Patio and Barbecue Association lists the types of EPA-approved wood-burning fireplaces and stoves to include:
* Catalytic stoves that employ a catalytic converter that works as an afterburner to reduce wood smoke. The converter is preheated to 500-600 degrees Fahrenheit and routs smoke through a catalyst that burns tars, vapors and other organic compounds that make up wood smoke.
* Non-catalytic stoves attain two, three or four stages of combustion by guiding smoke coming off burning wood to targeted zones in the firebox where it is mixed with preheated oxygen. Internal temperatures of 1,000 degrees Fahrenheit burn the wood smoke.
The Clark County building code that addresses fireplaces and appliances for the Las Vegas Valley and Boulder City is R1007 and applies to internal home units that are at an elevation of less than 4,000 feet. It doesn't regulate homes above 4,000 feet or fireplaces or fire pits outside the home, such as those on patios, according to Ron Lynn, director of Clark County's Department of Building & Fire Prevention.
Lynn said county inspectors check inside home gas fireplaces and stoves to make sure they are properly installed and vented. They also inspect the facades around fireboxes to make sure that they meet codes and that the fireboxes are working properly. With regards to patio gas fire pits, Lynn said his inspectors check to make sure the gas lines are working properly.
"Our concern is for the safety of inhabitants inside the structure," Lynn said. "What we are looking at is that they are installed according to manufacturers' installation and meet EPA guidelines."
While gas fireplaces make up the bulk of units within the Las Vegas Valley and wood-burning, whether grandfathered in or of the new EPA design, the rest — a few homeowners install electric units. These produce flamelike effects with realistic glowing logs powered by LED technology. You basically plug them into a nearby household outlet and, voila, you're in business.
"These are nothing more than a sexy space heater with a little flame," Guenot said. "They're nothing more than smoke and mirrors. Seventy-five percent of what we sell is the (gas) burner tray with broken glass around it."
Tom McCormick, president of Touchstone Living, has been building tract and high-end homes in Southern Nevada for 20 years. He noticed that while having a fireplace is important for some people, many other homeowners could care less.
"I would say the demand is going down in tract homes," McCormick said. "They add expense to the home, $2,500 to $10,000 for gas depending on size and $1,500 to $3,500 for electric. … I'd say 50 percent are taking fireplaces as an option when they buy a home."
McCormick feels fireplaces are more of a design element and not important to homeowners for spreading heat. If we lived in a colder climate, he said more buyers might choose fireplaces as an option.
But Daniel Coletti, president of Sun West Custom Homes LLC., said he builds six to 10 custom homes a year, and each residence has three to five fireplaces installed, usually in the master bedroom, living room, study and outside patio near the pool or barbecue. In all, he said he designs and builds between 30 and 50 fireplaces annually.
"It's very much an aesthetics thing," Coletti said. "People have seen a photo of something they liked and want it. Lately, the design is very long, 6 to 8 feet wide and 2 feet high. People are spending upwards of $20,000 in the larger homes."
Coletti said some people are going all out and instead of having mantels made from concrete to look like aged stone or marble, they are actually asking for granite and marble, which drives the cost even higher.
"Fireplaces are an interesting way to warm the room," Coletti said. "They can throw off a lot of heat. … And on a lot of them, there is a switch to light them. You can also activate them from your iPad, which is pretty neat."