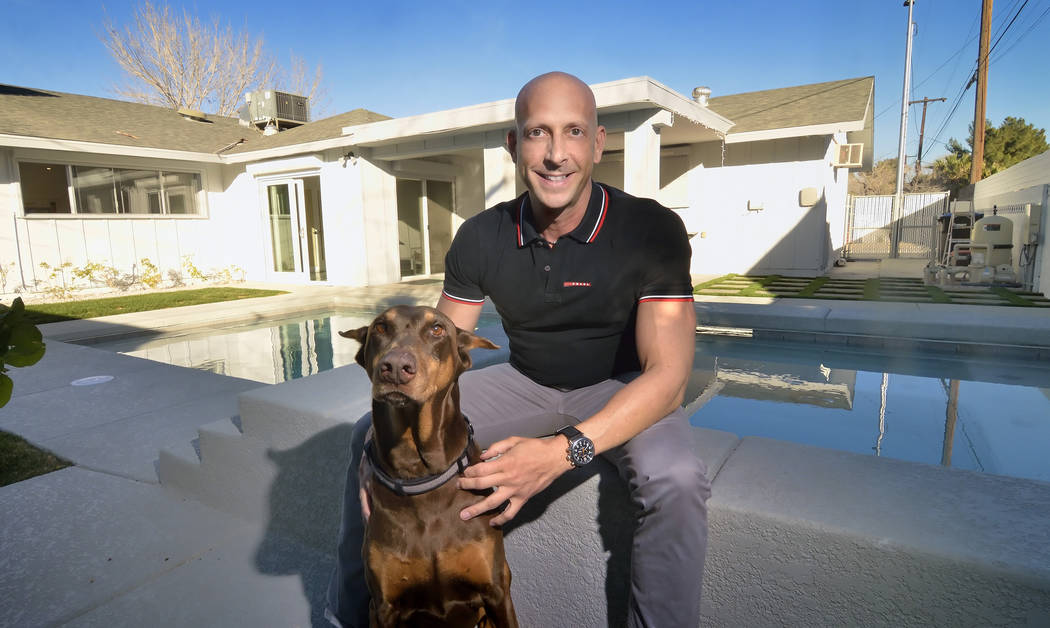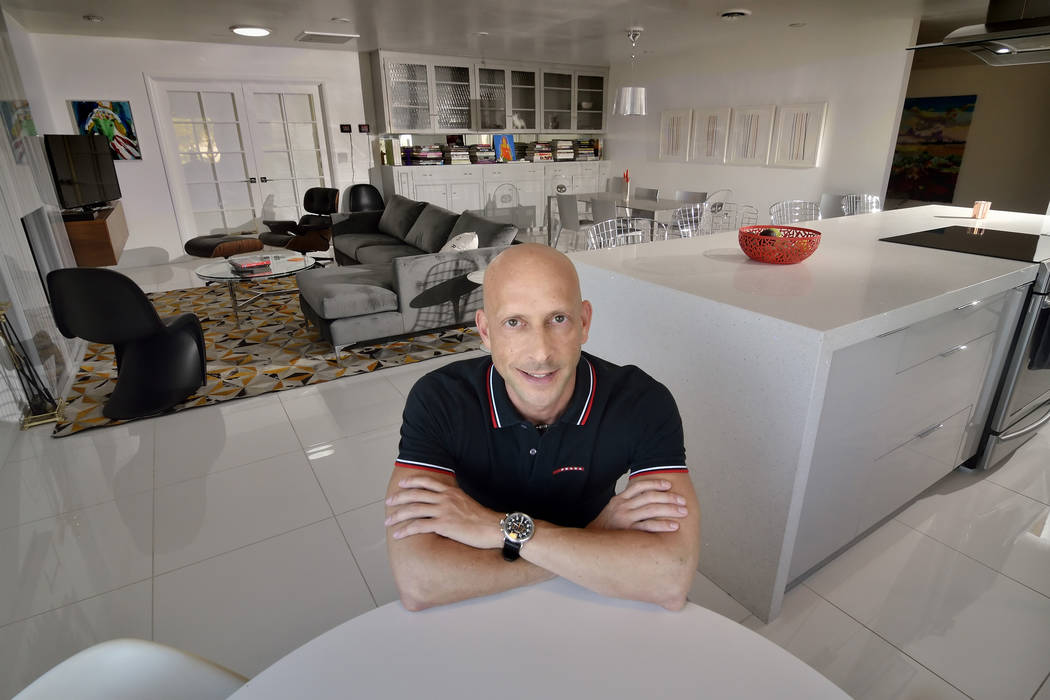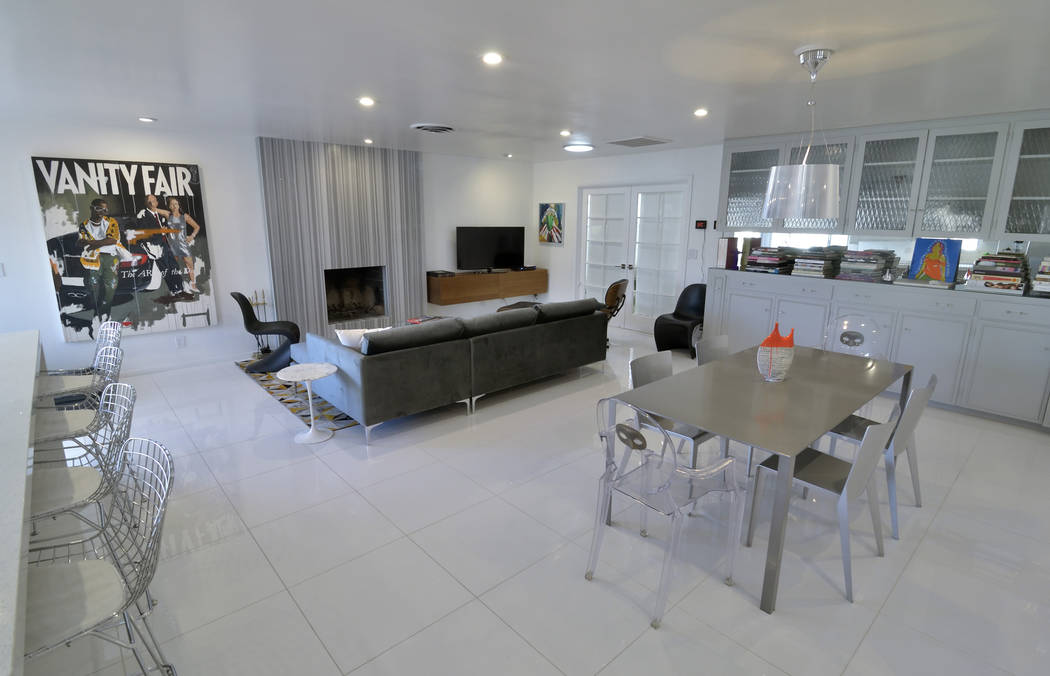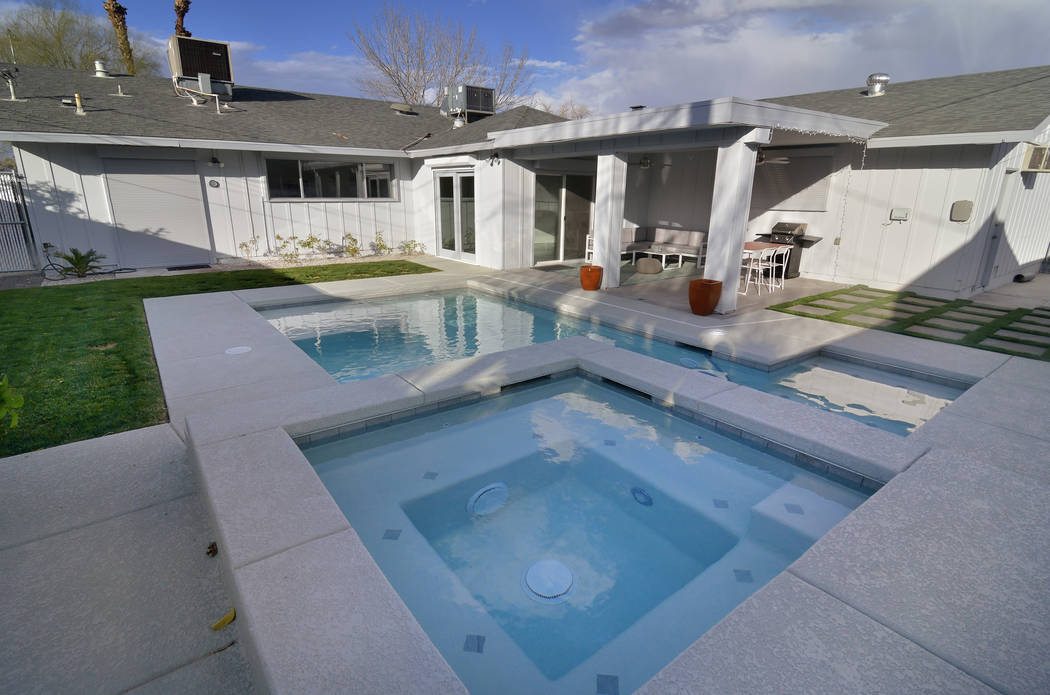 Uri Vaknin wanted his new home in historic Las Vegas to showcase his art as if it were a gallery. That's fitting for Vaknin who serves on the board of The Art Museum at Symphony Park.
A partner with KRE Capital that owns The Ogden and Juhl condos in downtown and One Las Vegas on far South Las Vegas Boulevard where he once lived, Vaknin wanted a single-family home in Las Vegas. He chose McNeil Estates south of Charleston Boulevard, west of Rancho Boulevard and north of Oakey Avenue.
The single-story, ranch-style home built in 1967 is in an area referred to as "old Las Vegas," Vaknin said, noting a home built 50 years ago is only considered old by Las Vegas standards. It will be on the Nevada Preservation Foundation's home tour in April.
The original developers of McNeil Estates sent architects to the San Fernando Valley in Southern California because they wanted those ranch-style homes to be re-created in Las Vegas, Vaknin said.
Started in the 1950s, it has "beautiful sidewalks, wide, open streets and mature landscaping with old trees and great architecture."
The home looked bland from the outside. It had a "bad red brick with crème wood with a brown front door. He painted the exterior two-tone and gray, and the front door Sherman Williams Eros pink.
"I wanted a neighborhood with character, and I also didn't want to live in a HOA (homeowners association)," Vaknin said. "I have two double pink front doors, and you can't do that in a typical HOA."
Vaknin said he was enticed to the area because four of his fellow art board members live in the neighborhood. They're trying to build a major museum in Symphony Park.
"I figured it had to be a cool neighborhood, and it's been great living here," Vaknin said. "My favorite thing to do in the morning is sit right there (at the kitchen table next to the window) with a cup of coffee because the early sun comes up and streams in. It's just beautiful. You see everyone walking their dogs and strollers. It feels like a neighborhood, and I love it."
Vaknin closed at the end of June, paying $405,000 for home that he renovated extensively before moving into it during October. He said he probably overpaid for the home given the work needed to be put into it, but he didn't care. He loved its layout.
"It just felt good," said the 48-year-old Vaknin who moved to Las Vegas four years ago. "I had a vision for it, and everybody thought I was crazy when I bought it. 'This is not anything you want,' they said.
"I said it's not what I want, but what I can make it."
Vaknin said he originally wanted a midcentury modern home in Paradise Palms, but the limited number of homes available needed too much work, he said.
"It wasn't the architecturally significant midcentury modern I was looking for, but it turned out to be a beautiful blank canvas," Vaknin said. "The whole concept behind my house is an actually backdrop for the art world."
Vaknin said he worked on space planning with his designer but did most of it himself. There's was some experimentation, and it didn't always work at first, he said.
"Everything was beige," Vaknin said. "The carpet was beige. There were beige walls and beige popcorn ceilings and a bunch of little rooms."
Vaknin picked a bright white paint to cover the beige, only to check on the painters when they were three quarters of the way done.
"Somehow the coloring here changed it all blue, and it was horrific," Vaknin said. "I called my paint contractor told them I know I have to pay for the hours and paint, but I have to redo this. We went with Sherman Williams Pure White because the whole idea of the house is it's a blank canvas for the art work."
Vaknin is a longtime art collector. He collects national and international artists such as Jenny Holzer and Fahamu Pecou, and local ones like Justin Favela. The main living room was centered on a painting of Favela that's made out made of piñata materials. He said he loves when people tell him his home looks and feels like an art gallery.
"Where most people design their space with the furniture, and they pick art to match it," Vaknin said. "To me the art has to stand out. This is all about seeing the art work and creating a minimalist background for the furniture and everything else to really enjoy the art."
The home measures 3,000 square feet with three bedrooms and two baths. The renovation cost at least $100,000 out of pocket, but it would have been tens of thousands of dollars more Vaknin said if he had not used the construction vendor who works with him on his real estate properties.
The most expensive work inside the house was creating the great room, which is the heart of the house and a place he can entertain both formally and informally. It includes a new kitchen, bar, dining room and entertainment area where the television is situated. It had been four "choppy rooms" until he removed walls and doors to make it one large room.
Vaknin said he debated whether to buy a home with a pool already in it since it's a big expense and owners don't get back its value when they sell the home. He said he wanted it for entertaining, and it measures 15-feet-by-25-feet.
"You can't live in Las Vegas without as pool," Vaknin said. "I like to call the pool area the second living room. In the summertime and in the evenings in the fall, I like to entertain and be by the pool."
The home was used over the holidays for a party and an interior breezeway between the house and garage was used as the party room. It was built sometime between 1967 and 2005 and measures 40-feet-by-14-feet.
"That was one of the things I loved about the home," Vaknin said of the party room. "I had this idea to turn it into a casita, library or art gallery but then I hosted the company Christmas party, and this room had an incredible dance floor for a major salsa party. People said I needed to rethink my idea for the party room, and maybe leave it a party room."
Vaknin said he's undecided at this point whether to turn the party room into bedroom with a separate bar area. As for one change, he said one of the master bedrooms has a den, and he plans to turn that into a third bath.
Vaknin said he loved the lifestyle of living in a condo but that it was uncomfortable to live in a space when he's the seller and everyone knows everything about him.
Summerlin is beautiful and other developments are as well, but Vaknin said he's a "downtown enthusiast and ambassador," who believes in the area and wanted to be close to its restaurants and shops. He said he also loves the access to McCarran International Airport.