High-rise resale market heats up
January 5, 2018 - 2:01 pm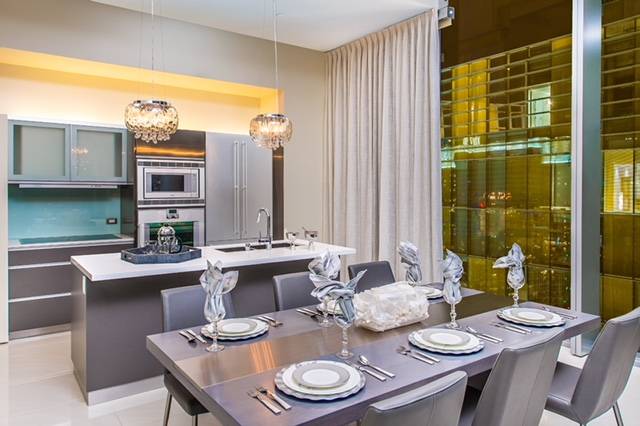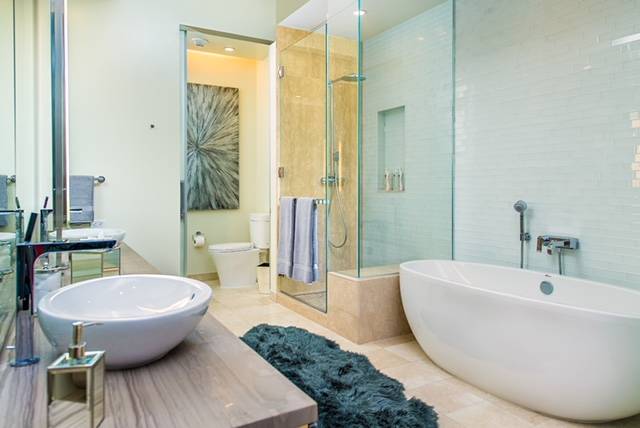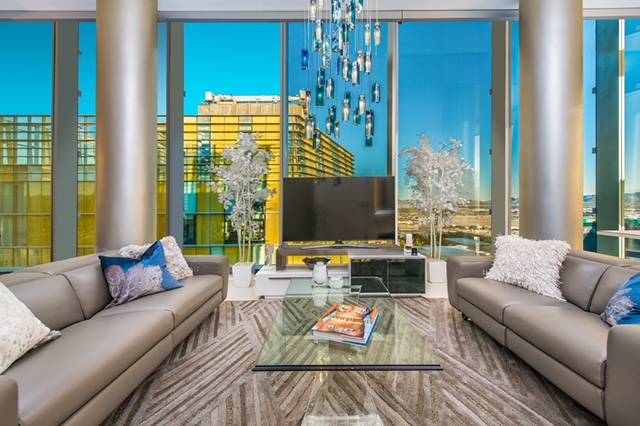 The Las Vegas high-rise condo market continues to soar and shows no signs of slowing down and could further benefit in 2018 from Californians' ongoing migration to Southern Nevada, according to analysts and real estate professionals.
SalesTraq, the residential research firm of Applied Analysis, said the 804 sales of existing high-rise units through Dec. 20 has surpassed the 717 resales in 2016. There were 626 resales in 2015. It tracked 21 high-rise properties in Las Vegas, including condominium hotels.
"The real estate market overall in Las Vegas has performed fairly well throughout 2017," said Applied Analysis Principal Brian Gordon. "We've seen it in the single-family market as prices have continued to rise, and inventory has remained low. There's been increased interest in the commercial market, and we've seen it in the high-rise residential market as well with a fairly stable demand. The economic conditions, including tourism, suggest there will be continued demand for this type of resale product."
Randy Char, the broker and president of Char Luxury Real Estate, which handles the marketing and brokerage for the sale of units owned by San Diego-based Pathfinder Funds at Sky Las Vegas, said the high-rise market and luxury market are the last to recover.
"We're an appetite for Southern Californians and people making investment decisions based on the pro sports coming into town," Char said. "The high-rise has a lot more sexy appeal for them, and they can use it as a crash pad. Casinos are surviving more on entertainment than gaming. Guess what? If you don't gamble a lot, you don't get a lot of comps. Room rates keep growing, and it makes more sense to own something."
There were 405 condo sales in the first six months of the year and 399 between July 1 and Dec. 20, SalesTraq said. There were 175 sales in the first quarter, 230 in the second quarter, 205 in the third quarter and 189 in the fourth quarter with 11 days left to calculate.
Mandarin Oriental at CityCenter had the highest average price in the condo market with its eight sales during the fourth quarter. It was $1.46 million or $959 per square foot. For the year, it had 36 sales, which Char said is a sign of the strength of the market. There were 21 sales at Mandarin Oriental in 2016.
The condo market gains are part of a solid rebound from the collapse of condo sales when the Great Recession hit a decade ago and prices plummeted.
One of the beneficiaries of the condo rebound has been New York-based Ladder Capital Finance Holdings, which in 2012 acquired 427 of the 670 units in Veer Towers from MGM Resorts International. The twin, 37-story towers that opened in 2010 as part of the $8.5 billion CityCenter project was one of the last built before the market collapse.
Florida-based Pordes Residential, which handles the sales and marketing for Veer Towers, announced it recently sold the last penthouse at Veer for $1.6 million. Darwin Dizon, director of sales at Pordes, added there were there are only 10 of the original 427 condos it acquired left for sale.
SalesTraq reported 20 sales during the fourth quarter, which would include sales from Ladder and any from individual owners. The average sales price was $633,528 or $647 per square foot. The $119 million in sales reported in 2012 was for $278,000 a unit or about $300 per square foot.
The last penthouse sold measures 2,014 square feet and has two bedrooms on the 36th floor of the west tower.
It was acquired by Martin Mueller, the owner of Mueller Custom Cabinetry of Nevada Inc., who moved his business from California to Las Vegas five years ago because of the tax advantages and the significant amount of amount of construction work he does here. He does interior work for Strip hotels, restaurants and nightclubs and will be working on the planned Raiders stadium.
Mueller, 58, splits his time between the Strip and Rancho Santa Fe near San Diego after recently selling his Henderson home following the death of his wife.
Mueller, who said he worked at Aria, said he made the right decision to live in CityCenter.
"I didn't want the maintenance of a home any longer," Mueller said. "This is just an amazing place for me, was furnished and had a great view. I can pull right in, and there's the casino and all these amenities. And it's great because I work on the Strip."
Mueller's move of his business from California to Nevada is been part of trend that shows no signs of slowing.
Uri Vaknin, a partner with KRE Capital, said his group has seen continued interest from California buyers that even picked up since Congress approved tax cuts signed into law by President Donald Trump on Dec. 22. KRE Capital, in partnership with Dune Real Estate Partners and Northcap, purchased The Ogden in 2013, and the group also owns Juhl in downtown Las Vegas and One Las Vegas on the far South Las Vegas Boulevard.
Vaknin said they recently sold their most expensive condo at The Ogden to a California buyer "on strict orders from his accountant to avoid additional tax liability" because of the GOP tax bill.
"This is the second buyer from whom we have heard this sentiment," Vaknin said. "The (Trump tax plan) could be a boon for Vegas real estate with California buyers fleeing California. We've been seeing this exodus from California of people coming trying to escape the high taxes and high cost of living. The list goes on why people want to leave California."
The tax plan limits deductions of state, local and property taxes to $10,000, and some have suggested that could expedite the move of some Californians for Nevada and other locales.
Vaknin said many Californians have homes priced between $500,000 and $1 million, and they can't sell and move within the state because it would be more expensive than what they have. Many are opting to buy properties here for 25 percent to 33 percent of what they have now and "enjoy living off the rest of it."
Gordon said he expects Las Vegas to continue to be sought out by Californians who are the No. 1 source of migration here, and it's possible financial decisions might prompt them to seek out the destination in greater numbers if their tax burden swells.
In addition to the high cost of living in California, Vaknin said they're seeing inquiries from people who are fleeing the wildfires that destroyed homes and communities. While Southern California has served as a feeder market to Las Vegas, Vaknin said they're continuing to sell condos to Raiders fans in Northern California in anticipation of their team relocating to Nevada in 2020. He also said planned casino and construction projects grow the economy and create more jobs that attract people to relocate.
"There's a lot of people who plan to retire in Las Vegas who understand the extreme value the prices still represent, especially on the condo side," Vaknin said. "It costs $1,000 a square foot for a condo in Los Angeles, and you can get one for $300 a foot in Las Vegas with better amenities and a better location. I think 2018 will be an exciting year when we see the Raider stadium coming out of the ground. That will add a new layer of tourism, which is sports tourism."
There were 52 sales at Vaknin's One Las Vegas — a favorite of Raider fans he said — between July 1 and Dec. 20. The 26 sales during the fourth quarter averaged $343,327 or $245 a square foot, according to SalesTraq.
Vaknin said there's no new high-rise condo projects that have opened in Las Vegas since the downturn and none in the pipeline, meaning the existing inventory is all that's available for several years. That will foster price appreciation, he said.
Vaknin said they researched a new condo development and that they would have to sell the units for $550 a square foot. The properties they're showing today are half that amount, he said.
The average prices for high-rise condos in 2017 reached their peak in the first quarter when they were $519,218 or $395 per square foot. They were $491,405 or $372 per square foot in the second quarter. The third quarter sales averaged $477,932 or $382 per square foot, and the fourth quarter average was $462,123 or $385 per square foot, according to SalesTraq.
All of those quarterly prices are higher than the 2016 average of $445,706 or $370 per square foot, according to SalesTraq. Prices between 2015 and 2016 had risen between 8 percent and 12 percent, depending on the mix.
"I think we will continue to see a stable performance in terms of number of sales, but it boils down to price point," Gordon said. "If the buyers and sellers are able to negotiate those transactions at a fair price point, we will see some of that inventory move and those that are overpriced will take longer to get the attention of potential buyers."
Near the end of 2017, SalesTraq said there were 366 units on the Multiple Listing Service of the Greater Las Vegas Association of Realtors. The average listing price, however, was higher than what has been selling. It was $851,528 or $474 per square foot.
"There are some hopeful sellers, but the mix of units selling versus the units available is somewhat of a disconnect," Gordon said. "We always tend to see a number of people put their properties on the market as the economy gets better. The tourism industry has improved and the value has come back for those condo homeowners, and maybe they're looking to exit their ownership interests."
Turnberry Place had the most units on the market with 53 on Dec. 20. The average value of those units was $1.29 million or $436 per square foot.
The average highest asking price was $3.5 million. As of Dec. 20 there are 10 units at One Queensridge Place on the market. That comes to $696 per square foot. In 2017 through Dec. 20, One Queensridge Place had two sales with an average price of $867,000 or $406 per square foot.
Owners of units at Trump International Hotel had 12 sales during the fourth quarter with an average price of $591,006 or $579 per square foot, the highest price those units have fetched this year. There were 42 sales at Trump so far in 2017, up from 27 in 2016 when the average price was $422 per square foot. There were 32 Trump units on the market through Dec. 20 with an average price of $512,853 or $641 per square foot.