High-tech toilets include ambient lighting, music streaming capability
October 24, 2016 - 11:08 am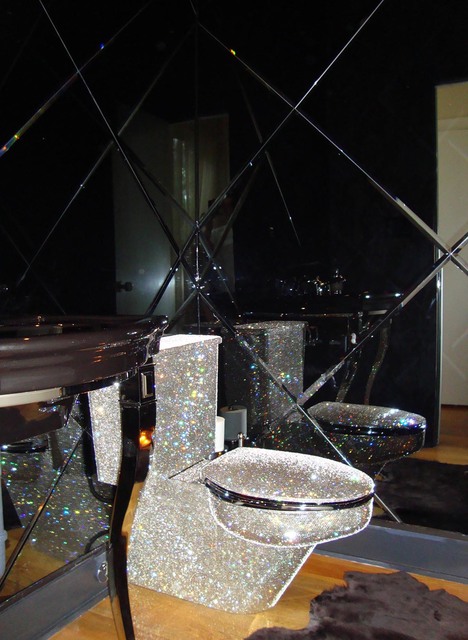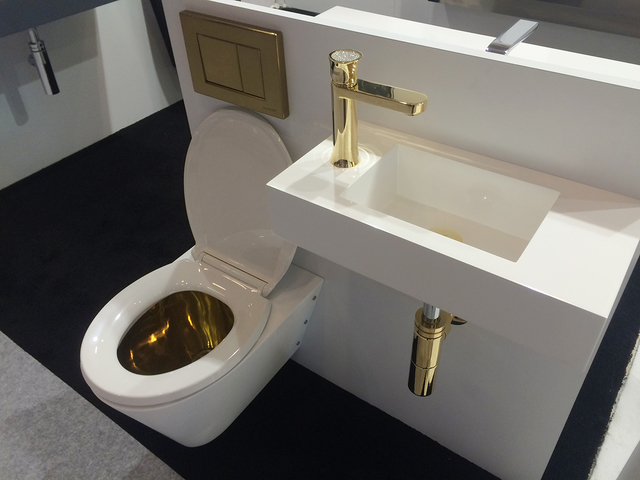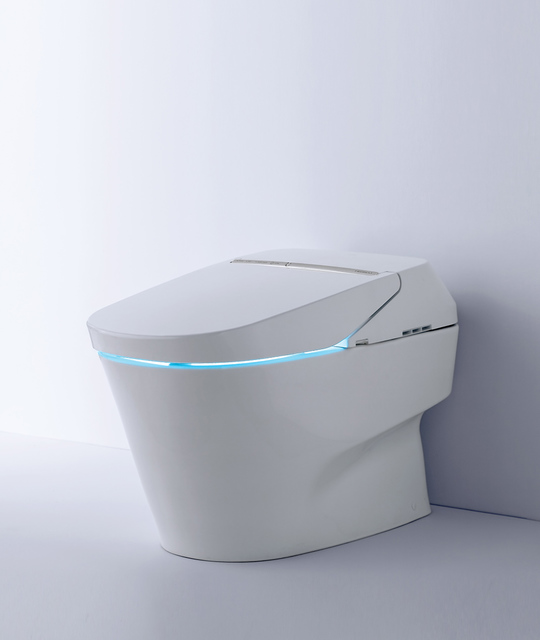 Upscale consumers who demand a lifestyle of luxury are increasingly looking for ways to add indulgence to the loo.
California-based NeoMetro's Urban Metro design epitomizes this movement. The Urban Metro is an $80,000, 70,000 Swarovski crystal-studded toilet.
"We can customize toilets to fit just about any décor and color, from brushed stainless steel, polished stainless steel to powder-coated colors," said Jeff Showalter, NeoMetro business development manager.
Showalter's toilet designs include high-polished stainless steel with a translucent gold powder coat to create a toilet that looks like 14K gold.
"Matte colors, gloss and translucent colors, patterns like the butterfly toilet, and, of course, custom crystal toilets," he said.
In addition to glamorous toilets, other manufacturers design fixtures featuring innovative technological advances providing the opportunity to make going to the bathroom a high-tech experience.
"Technology has become so embedded in our lives," Shane Allis, director of marketing for Kohler Brand Sanitary Products at Kohler Co., said. "It's become an expectation throughout most touch points in our day."
According to a 2016 Houzz Bathroom Trends Study, one-fifth of homeowners renovating and replacing the toilet are choosing a toilet with at least one high-tech feature.
"High-end toilets are something we have seen for a long time," said showroom consultant Lindsey Wiley from Ferguson Plumbing in Las Vegas. "The features and benefits were available, but the technology and aesthetics have improved."
Houzz noted the features homeowners are looking for include a self-cleaning function, a motion-activated cover, and/or a built-in nightlight. Other options include a warm air dryer, heated seat, ambient lighting, music streaming capability, dual-flush, in-bowl catalytic deodorizer and energy- and water-saving features.
"The demand for technology in the bathroom has been increasing for decades," Allis said. "Over the past few years, homeowner and commercial properties realized the integration of technology in the toilet not only delivers experiential options that target cleanliness and well-being, it also offers streamlined designs and simplify the cleaning process of a toilet, one of homeowners most dreaded domestic tasks."
Kohler's Numi, listing for $7,013, integrates technology with built-in personalized bidet functionality with an intuitive auto-open and -close lid. It also features a sleek, interactive LCD touch-screen interface that has Bluetooth capability.
"Numi offers a few unique features that are not available on any other Kohler toilet," Allis said. "This includes warm air that heats the floor surface and the user's feet, the ability to wirelessly stream music from your smart device and ambient lighting."
According to Kamran Zand, broker and owner of Luxury Estates International, most high-end homes valued at more than $1 million feature luxurious, high-tech bathroom amenities.
"The most popular amenities in our market are modern, high-tech toilets," said Zand, who has seen significant advances in toilet technology and design. Other bathroom trends he sees in luxury homes include medicine cabinets and mirrors with built-in television, steam showers with multiple rain heads and body sprayers, heated bathroom floors and freestanding tubs.
Zand notes that though installing a high-end toilet doesn't necessarily increase the home's value, it does potentially help when selling the home.
"It would more than likely justify why the buyer is paying a premium for the home," Zand said. "Especially if my seller is looking to set a record price."
The marketplace is seeing more toilets providing better flushing systems that use less water. This includes integrating dual flushing capability with two buttons on the tank as an option for either a full flush for solid waste or a lighter flush for liquids. Some high-efficiency models like Toto's NeoRest series and Kohler Veil Intelligent toilets go even further, offering water savings that are well under the government's 1.6 gallon-per-flush standard.
According to Bill Strang, president of operations and Ecommerce at Toto USA, every evolution of their toilet has been in an effort to reduce the consumption of water and improve the hygienic results of the flush.
"Several things we look for in performance of a product," Strang said. "The ability to flush away lots of solids and also the ability to clean the toilet. This ensures every visit is a clean and hygienic one."
Toto's higher-end products utilize a Tornado Jet flushing system. Instead of water pouring down from the rim, the Tornado Flush projects two powerful jets of water from inside the bowl. The motion creates a whirlpool effect that cleans the entire surface. The toilets have a rimless design so there is no place for debris to hide.
Bidets with a warm-water personal-cleansing functionality are becoming a popular feature.
"While consumers generally know what a bidet is, they usually have an outdated picture in their mind," Allis said. "As this feature has become integrated into seats and toilets, consumers have realized there is an attainable solution that provides better, cleaner results."
Today's bidet provides cleansing features such as a wand extending from the toilet when activated. These wands use of warm water provide more thorough cleaning compared to toilet paper alone. The units provide the ability to personalize the experience by controlling the spray position as well as the water pressure. The seat is complete with an integrated sensor to disenable the spray and contain the water.
"Consumers expect technology to make their life easier and more convenient, and their standards continue to rise," Allis said. "We expect the integration of technology in toilets will continue to rise as consumers realize the cleanliness and wellness benefits."
Locally, manufacturers Toto and Kohler are leading the high-end sales by offering products at a range of prices. Wiley said integrated toilets typically cost $3,000 to $6,000, depending on options.
"Vegas is an interesting market," Wiley, who said that 70 percent of Ferguson's local high-end home projects feature high-tech toilets. "I find more clients are tech-savvy. They want the latest and greatest."
A higher-priced option is the Toto NeoRest 750 H, which retails for $10,000.
"Most people would say, 'Who would possibly buy that product?'" Strang said. "You'd be surprised. It is very popular."
Its features include an intuitive sensor operation with auto open/close and auto flush, integrated personal cleansing system with warm, aerated water, warm air dryer, and heated seat. It also comes with an in-bowl catalytic deodorizer and energy- and water-saving features.
Robert Bero, owner of Chateau Development, recently installed a Toto toilet in a McDonald Highlands home that cost $4,200. The toilet featured a self-cleaning function, a motion-activated cover, integrated LED lighting, stereo music with remote control, high-flush capability and water temperature control.
"Their technology, to make light of it, will stand up and sing the national anthem when you walk into the room," Bero said. "This toilet has quite a list of options."