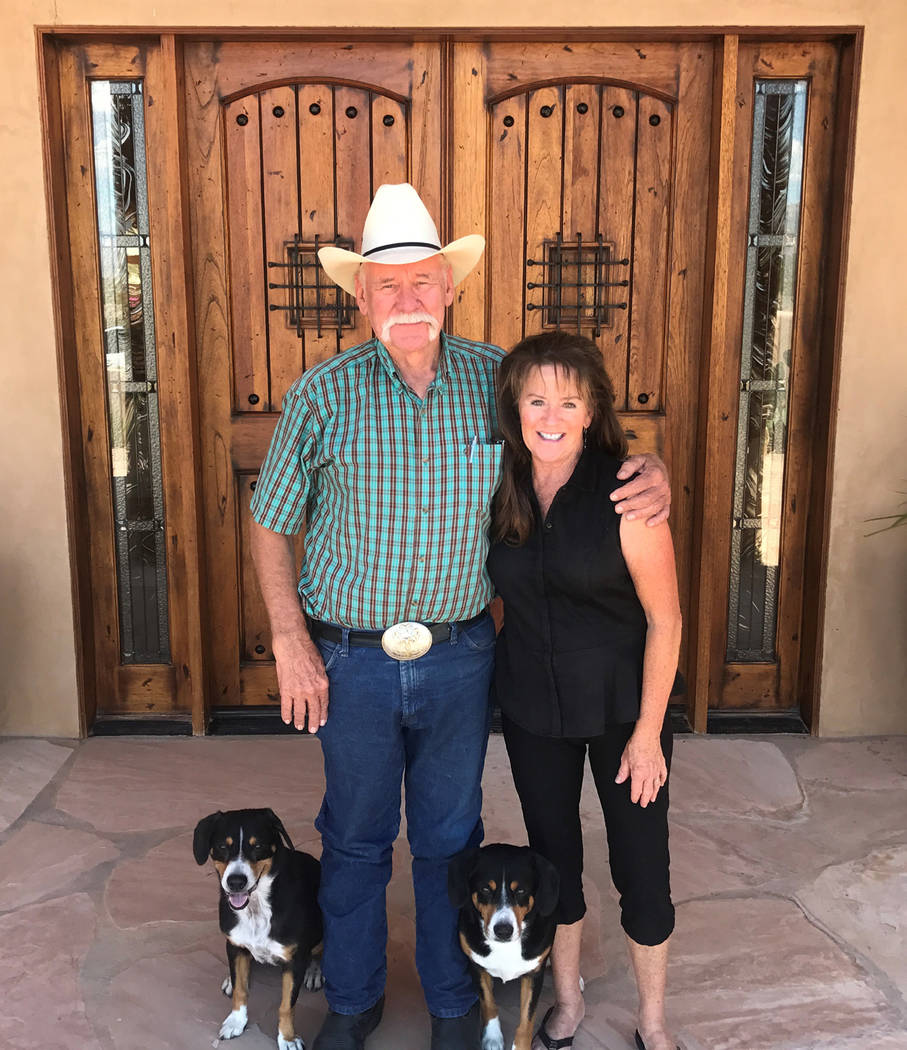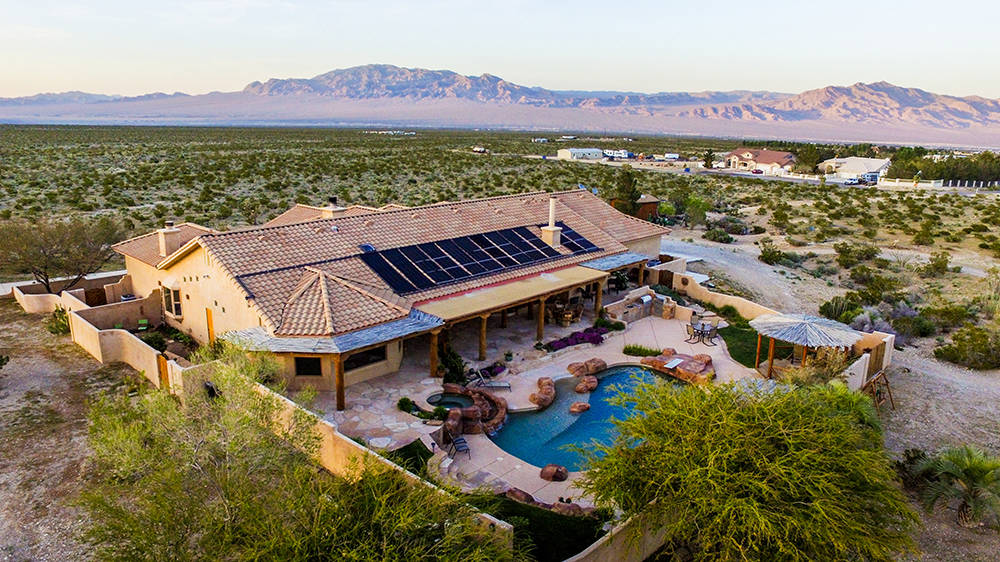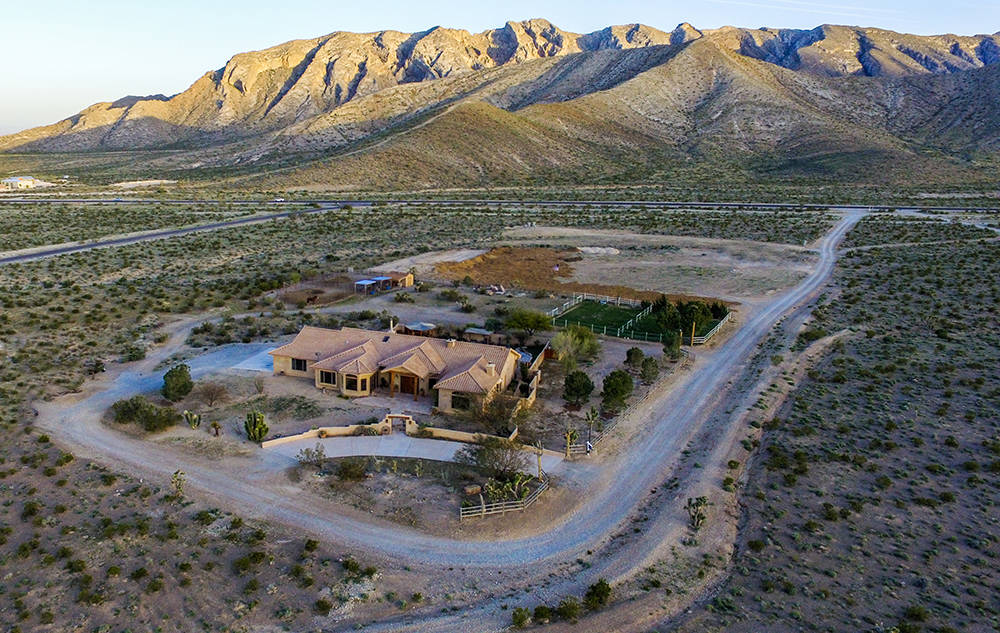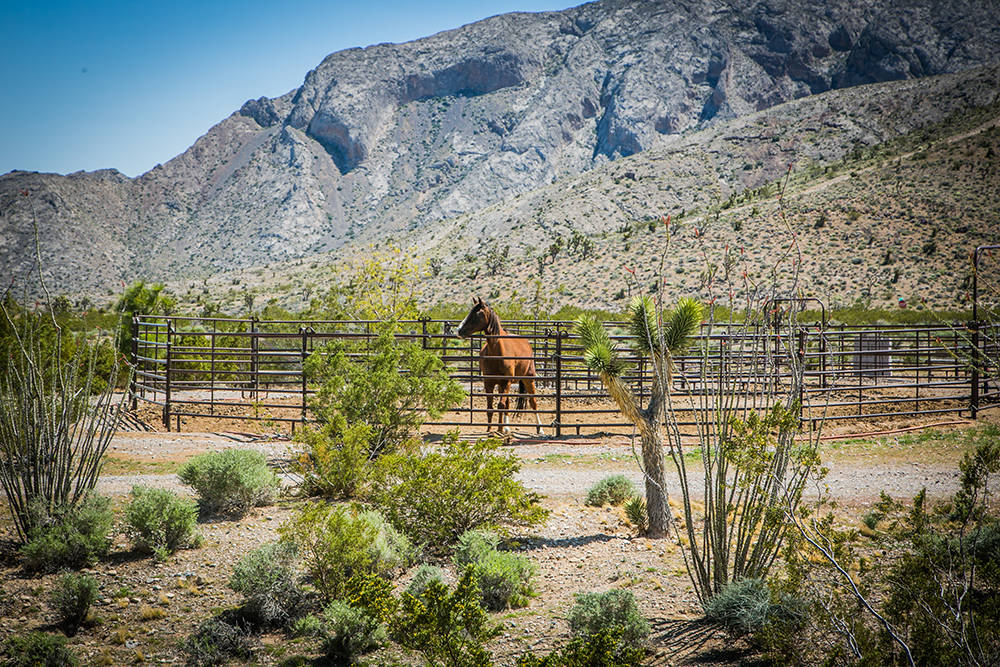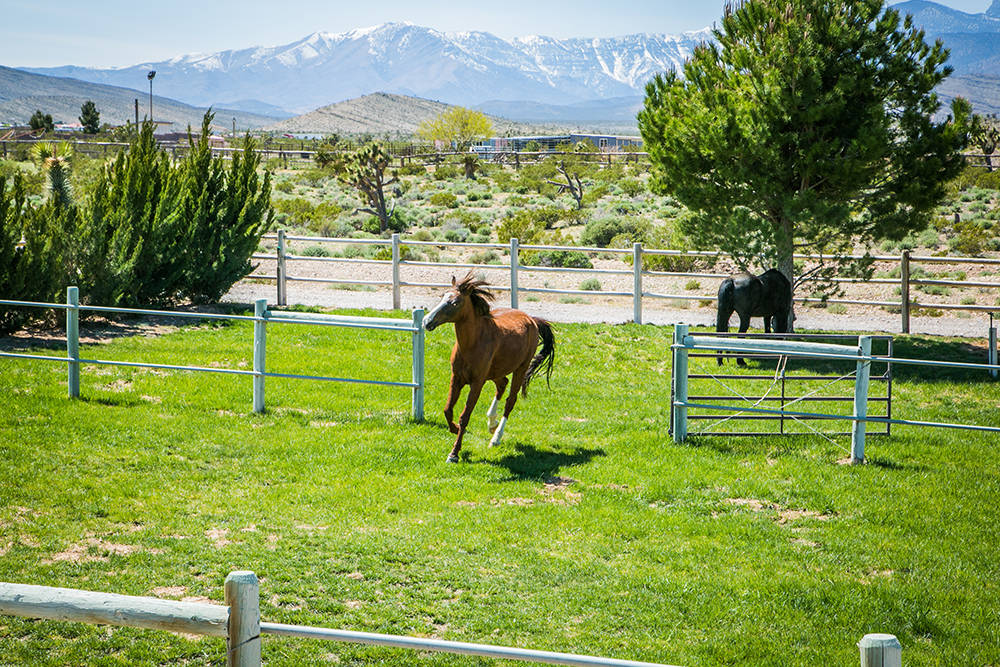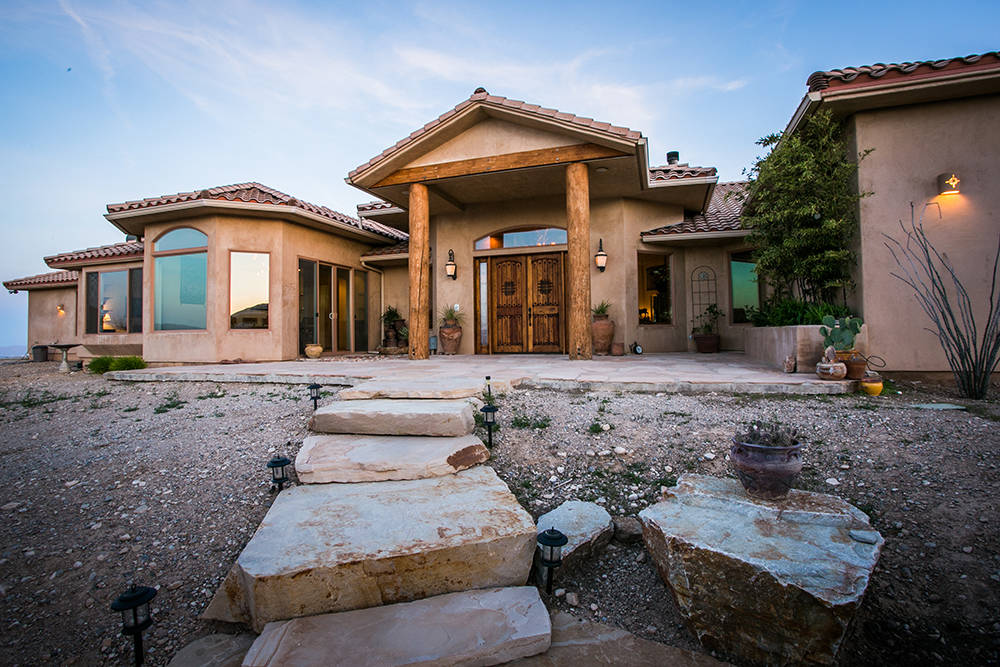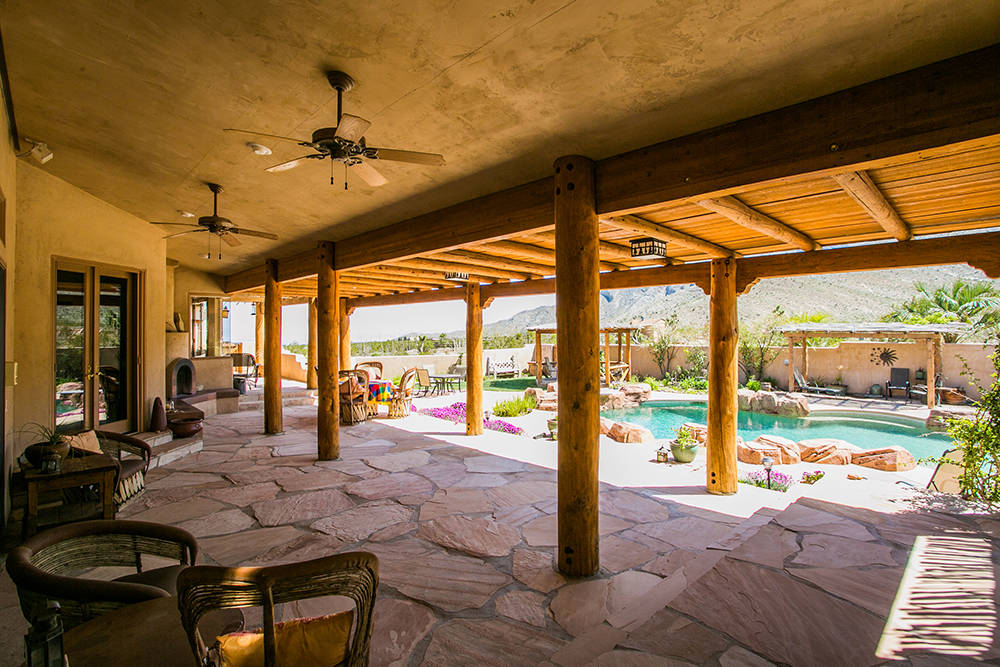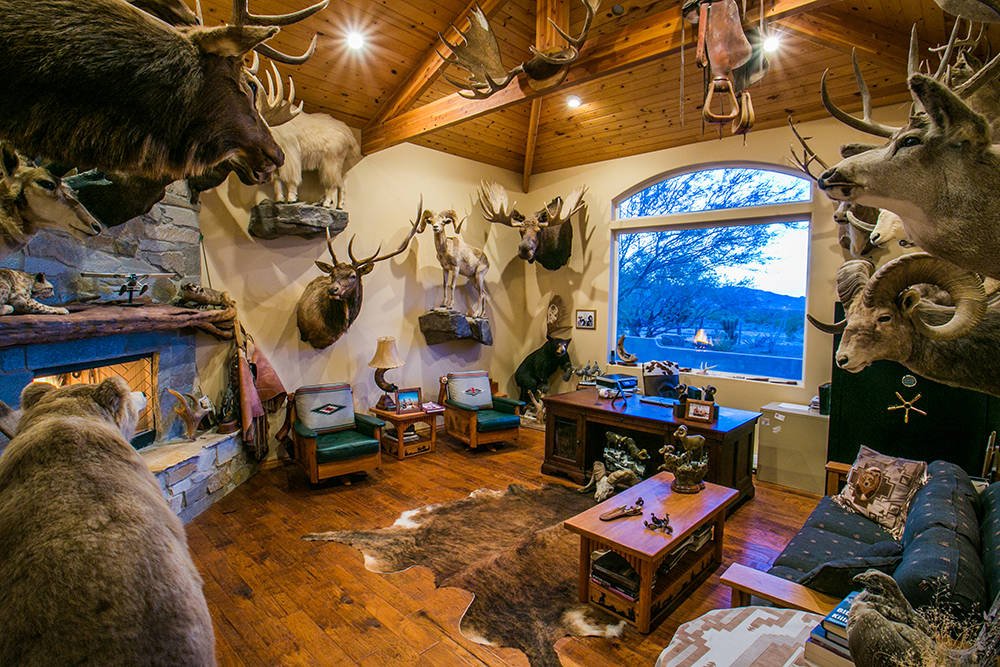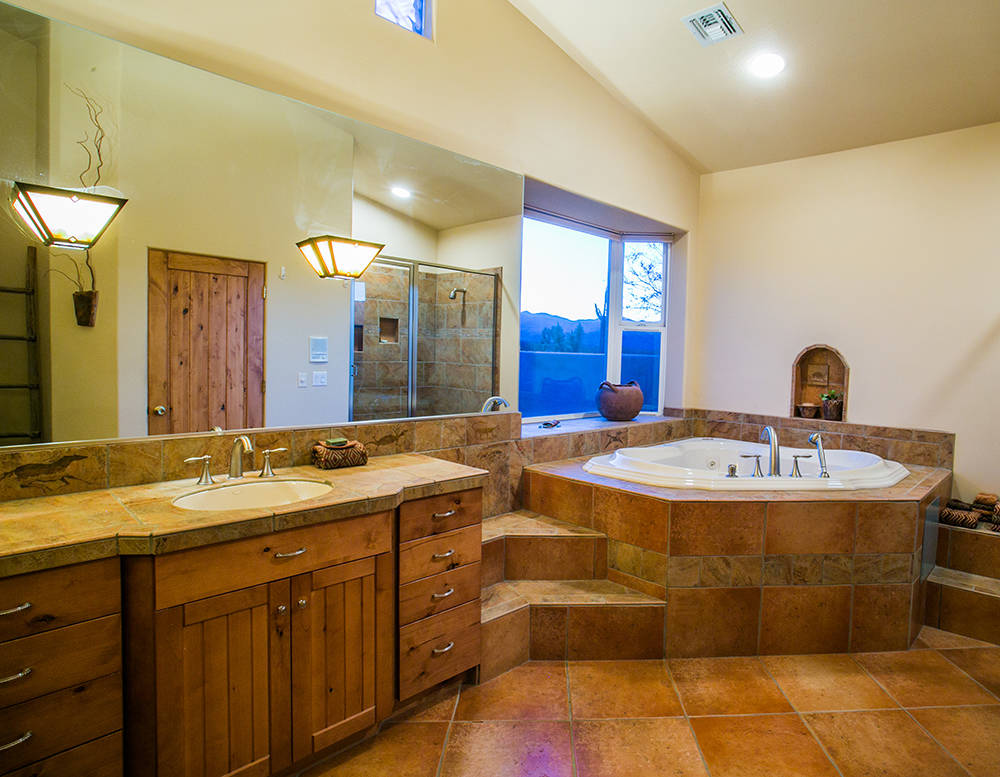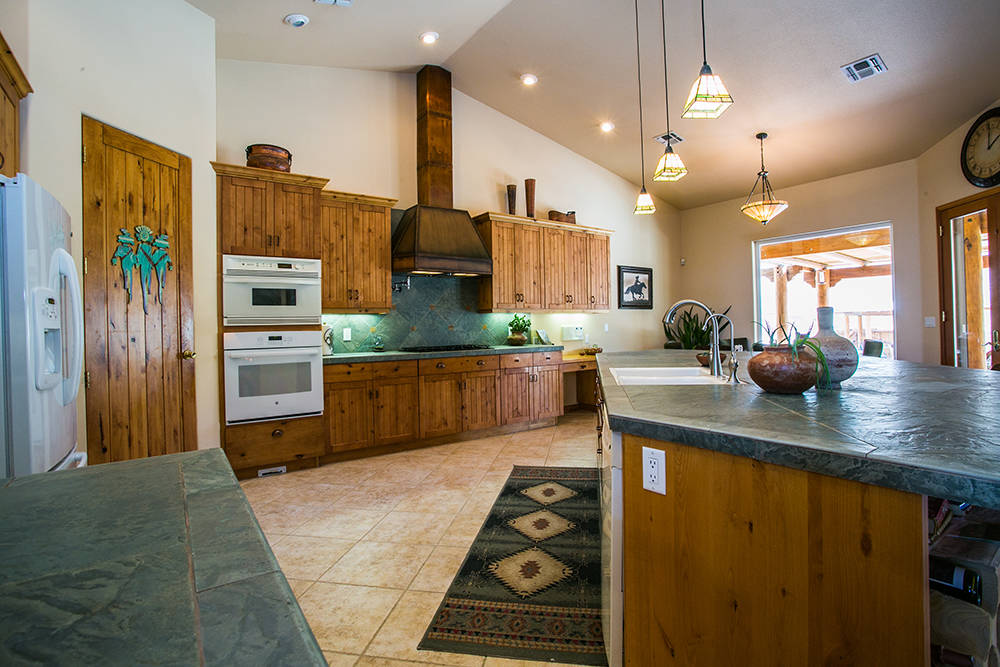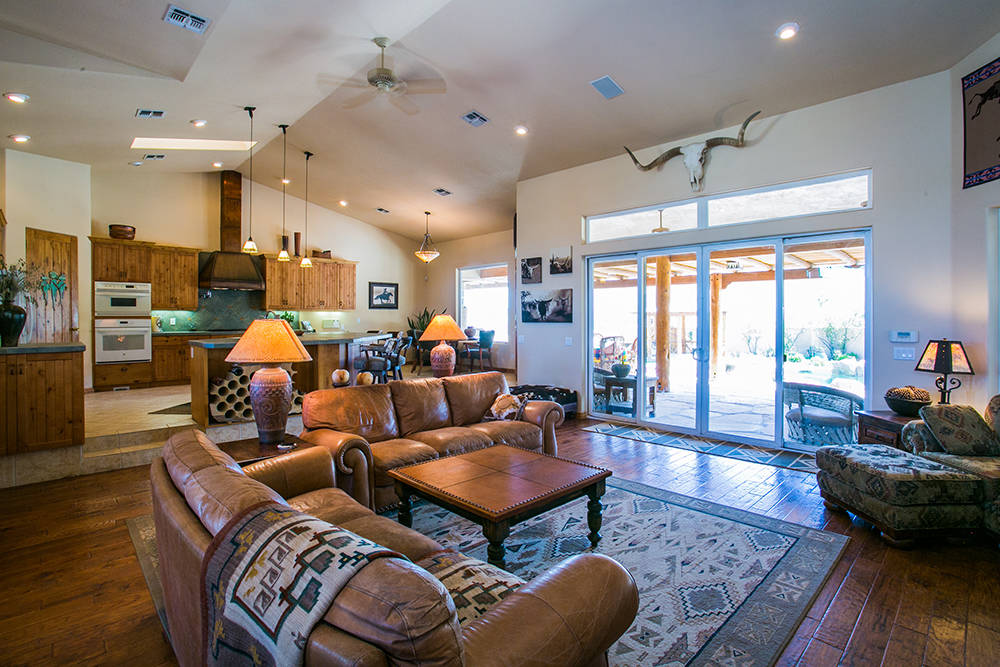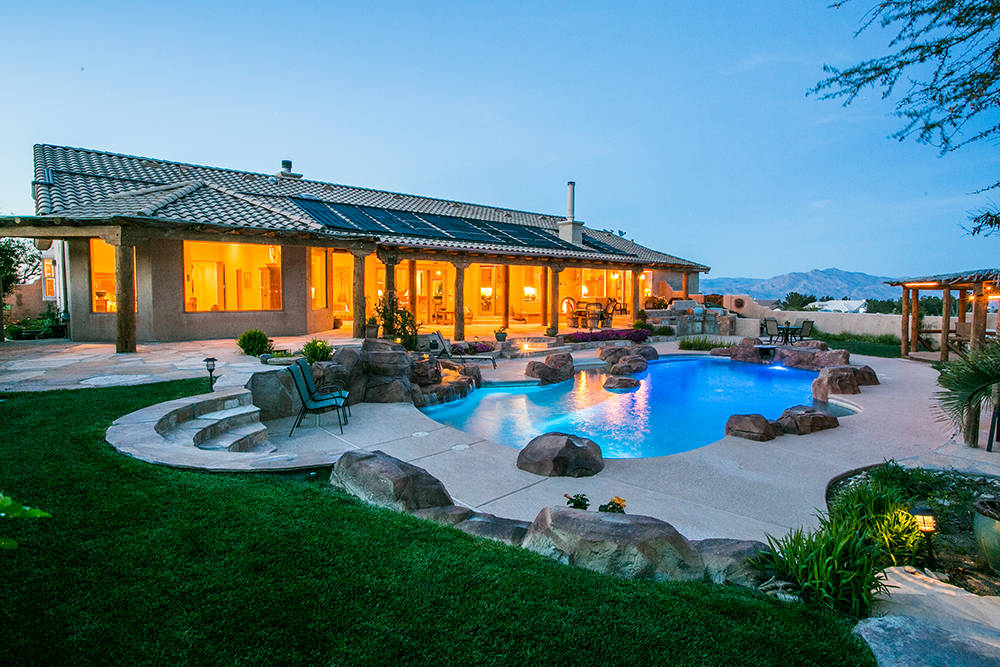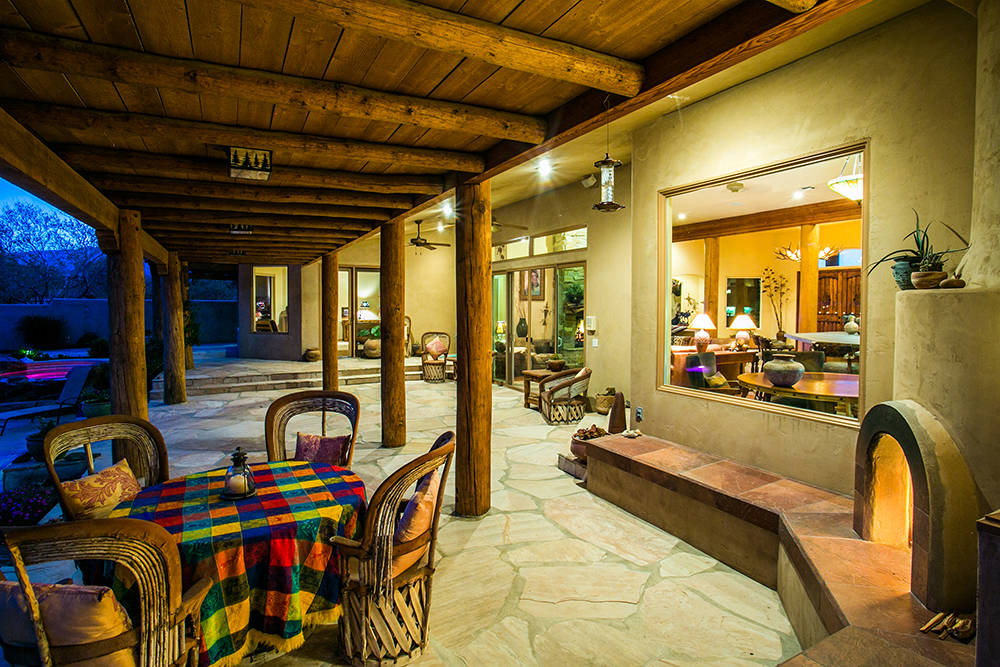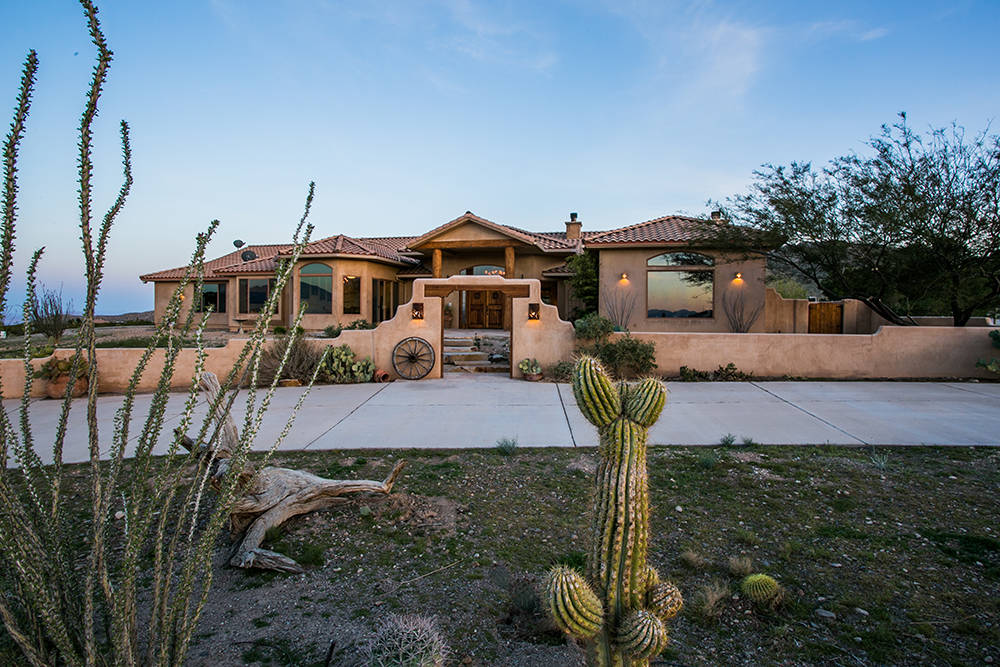 Royce Woods started building custom homes in Las Vegas in the 1970s, but it seemed every place he built, soon neighbors started sprouting up around him like Joshua trees. It's not that Royce didn't like company. He just yearned for a little more elbow room to ride his horses and let the dogs run freely.
When a 2.2-acre piece of property just off Kyle Canyon Road on the way to Mount Charleston became available, Royce "Woody" and his wife, Trish, snapped it up immediately. For six months they labored over designing their dream home, and finally in 2002 they finished construction on a 3,938-square-foot, single-story residence they appropriately named The Bunkhouse Ranch.
"We wanted the architecture style to be Southwestern," Trish Woods said. "The layout of the house was very important to have enough room so family and friends could visit and stay over."
All the rooms in the sprawling ranch house are large. The master bedroom measures 30-feet-by-21-feet, a second bedroom is 13-feet-by-13-feet, and the third bedroom is 15-feet-by-14-feet. The living room, which is sunken, measures 24-feet-by-12-feet, and the dining room is 15-feet-by-12-feet. Flooring is a combination of hardwood knotty alder, ceramic tile and lush carpeting.
Interior pillars, 16 inches in diameter, and support beams throughout the home are solid pine. All the doors are carved from knotty alder and stand 8 feet tall. All the ceilings are vaulted, with the exception of two. The living room ceiling is exceptionally high, measuring 17 feet at its apex.
"We wanted a lot of windows so we could see the mountains and the lights of Las Vegas," Trish Woods said.
Every room has large bay and picture windows, with the dining room accented by 8-foot-tall, double-glass doors.
"We can accommodate 50 people very easily," Royce Woods said of their entertainment capabilities.
The 1,200-square-foot, covered patio boasts a full outdoor kitchen with two barbecues — one gas and the other charcoal. The patio floor is constructed of irregular-cut sandstone.
An adjacent saltwater swimming pool and spa with artistic waterfalls, diving rocks and water benches augment the relaxing outdoor atmosphere.
"We have a blender built into the patio countertop," Royce Woods with a laugh. "You got to be able to make margaritas for a party, don't you?"
All the doors at the back of the house open onto the swimming pool and outdoor kitchen areas.
The ranch features three fireplaces — on the patio and in the living room and den. The mantels on the fireplaces in the living room and den are cut from 100-year-old juniper tree logs that appear to have died in a fire, Royce Woods said. They've turned a rustic buckskin in their old age.
Robyn Yates, a broker at Windermere Prestige Properties in Henderson, is listing agent for the Bunkhouse Ranch and points out that three sides of the property are surrounded by desert and unavailable for development. So neighbors will always be far and few between.
"The thing that is so unique is that every room has a beautiful view of the desert," Yates said. "And this is high, lush desert. … You get a little snow, but it melts. It's between 10 and 20 degrees cooler than Las Vegas."
The ranch is zoned for horses and other livestock. The Woods keep two horses at the ranch, Justice, a standardbred, and Ms. Liberty, a Tennessee Walker. They roam around a 60-foot-by-60-foot corral and a 60-foot round pen for exercising. A tack shed and two shaded areas are adjacent to the corral. There is also a 96-foot-by-70-foot green pasture area for the animals to graze. The property also has its own water via a private well.
"It's nice because you don't have to trailer the horses," Woody said. "And you don't have to go far. There are riding trails everywhere."
Trish Woods points out that the home's interior features are especially accommodating. A central vacuum is built-in with five convenient hookups positioned throughout the rooms to plug into for suction. The kitchen has a state-of-the-art Advantium oven that uses light to cook with radiant heat produced by halogen bulbs. As a result, food is cooked evenly and is moister.
To light dark walk-in closets and the laundry room, rather than use electricity, the Woods installed Solatube lighting, which uses tubular portals that stream in sunlight through the ceiling. Trish Woods described the tubes as being round ducts with highly polished stainless-steel interiors.
Trish Woods said she wanted to landscape with a variety of lush plants and shrubs, not only around the exterior property lines but also surrounding the swimming pool, which is temperature-controlled by a solar heating system mounted on the roof. She leaned toward a variety of butterfly bushes and bougainvillea.
"I wanted the color scheme to be orange, blue and fuchsia," she said. She took her time studying what would grow well in Southern Nevada's desert climate and handpicked every plant and bush around the ranch.
The Woods have decided to sell their Bunkhouse Ranch, currently on the market for $1.5 million, to move back to Oregon, where Trish has a lot of family. They'll be taking their horses and two Entlebucher Mountain dogs, Jake and Stella, but leaving behind a suitcase full of memories and a unique, custom-built property for someone or a family who would enjoy the amenities of contemporary Southwest living set against the backdrop one might see in a John Wayne movie.
"This property is for someone looking for something special and unique, who loves horses and the outdoors," Yates said. "You're 30 minutes away from the Las Vegas Strip, if you want, and surrounded by open desert and minutes away from Mount Charleston. This is for someone who wants the best of both worlds. …
"There are a lot of hiking and horse trails. It's self-contained. No HOA (home owners association). And no one can build on the north, west and south of you. It's a preserve (Bureau of Land Management land)."
About the house
Price: $1.5 million
Location: 30 minutes from Las Vegas off U.S. Highway 95 north and left on Kyle Canyon Road.
Size: 2.120 acres, 3,938 square feet of living space. Three large bedrooms, den 2 ½ baths. Three-car attached garage.
Features: Covered patio; salt-water swimming pool and spa; solar-heated; full outdoor kitchen; zoned for horses; coral; round pen for exercising; two shade areas for horses; and a tact shed
History: Built in 2002 by current owner custom home builder Royce "Woody" Woods
Listing: Robyn Yates, a broker at Windermere Prestige Properties