Housing veterans launch Paragon Life Builders
Updated January 2, 2018 - 2:05 pm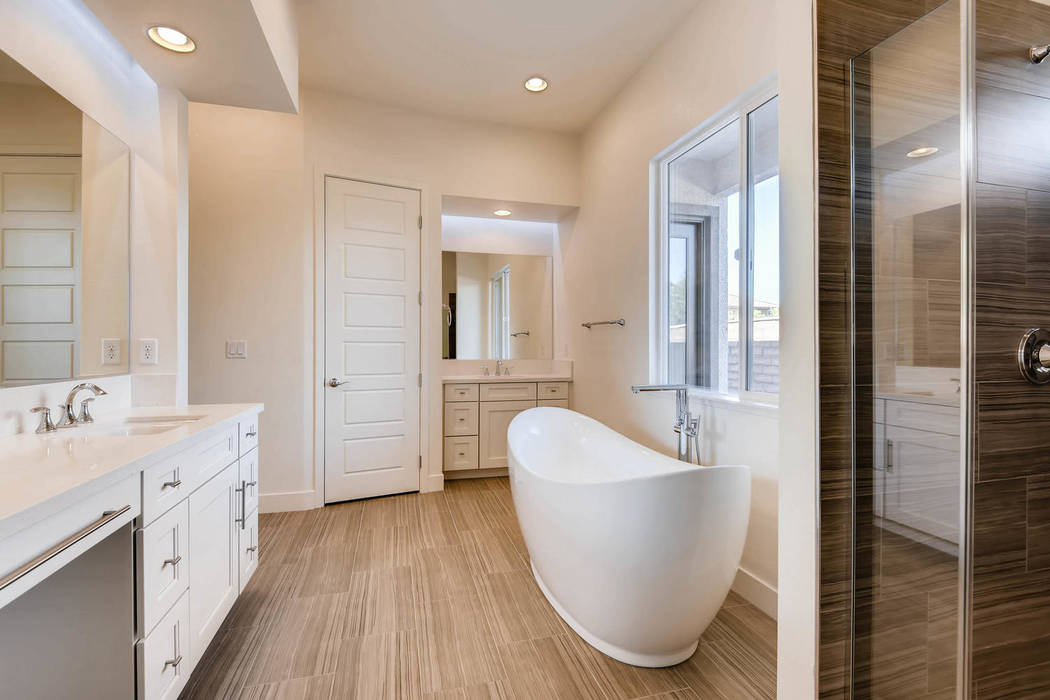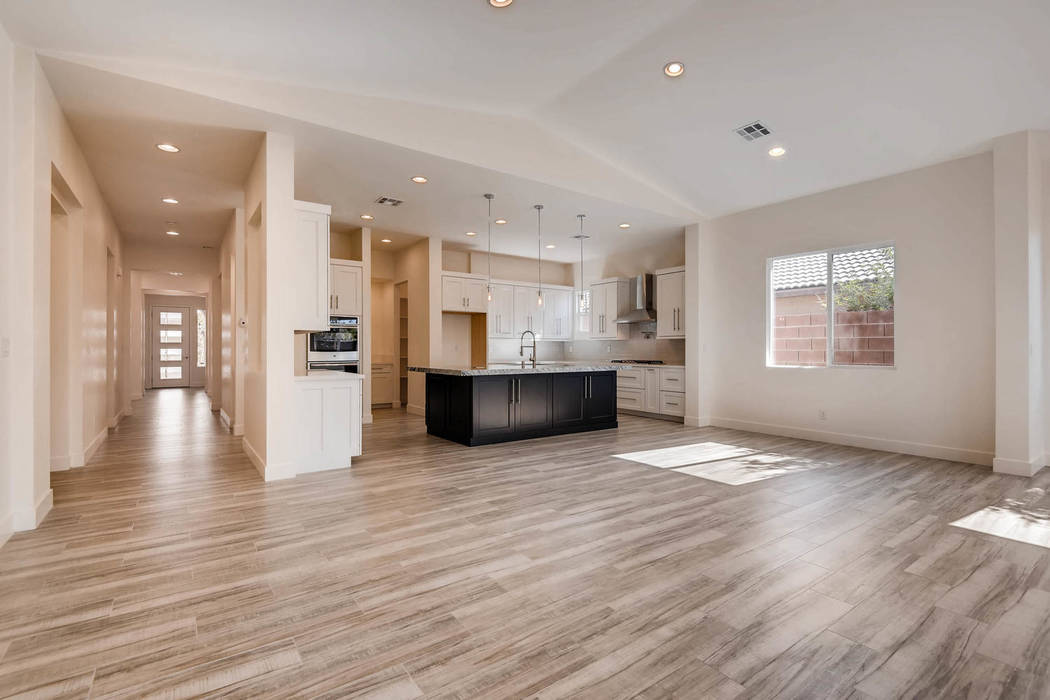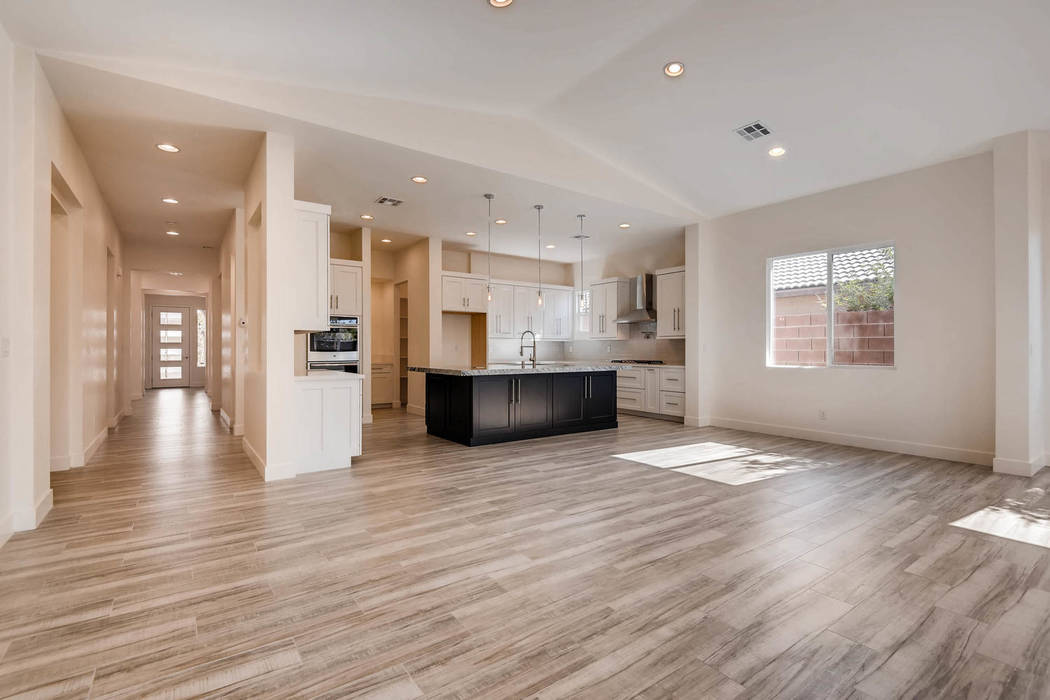 The boutique residential home building firm Paragon Life Builders was started in 2015 and is responsible for 18 finished homes around the valley from Lake Las Vegas to Mountain's Edge. And although that number might be modest by comparison, it likely will quadruple in 2018, according to the company's principals, Mo Seebeck and Eric Tan.
They have been given the green light on multiphase projects in Southern Highlands and a new town house development near Interstate 15 and Blue Diamond Road, and they are building several speculation houses in the $600,000 range.
They considers themselves a "one-stop shop" for buyers who want a more personal touch than larger national homebuilders can offer, and take pride in their list of standard items for all homes, including wood-look porcelain floor tile, quartz and granite counters and undermount sinks. These items and others on their standard list are typically a price upgrade with most builders in their price range, Tan said.
"When we started, we knew we didn't have the volume to pitch to our subcontractors like (larger companies could), and we couldn't get their kind of pricing, so we looked to where our competitive advantage could be in offering product to our buyer base. Other builders typically charge for the fancy faucet, the wall-mounted TVs (hardware) and elongated toilets. Who doesn't want that standard in your home? As a small builder, we have to offer something more and better but not necessarily spend more, so we get creative with what we include in our homes and how we go about purchasing."
So they rolled up their sleeves and did a lot of the work themselves, Tan said. "From an efficiency standpoint, we may have to get away from that, but in getting this started and offering what we wanted to, we just had to just do it ourselves."
Both came from corporations where they managed large teams of employees.
"When we got into this, we said we don't want to manage people, we want to manage our projects," Seebeck said. "And if you have too many people, that's all you're managing."
The partners capitalize on opportunities in uncompleted communities such as Loretto Bay in Henderson, which was started in 2005 by Pageantry Homes before being turned over to D.R. Horton, Richmond Homes and others after the market crashed. Paragon bought several small pads from the bankrupt project and built eight condos, four of which are for sale.
Located in the subcommunity La Tesoro, ranging from 1,406 to 1,862 square feet and priced from $247,000 to $284,800, they include three bedrooms, 2½ baths and a two-car garage. Two of the three floor plans include a third floor and open flex space with plumbing for a sink, and all have a small patio.
Loretto Bay is a gated community near Wigwam Avenue and Arroyo Grande Boulevard across from Cornerstone Park, and it has a community clubhouse and workout facility.
When they take on such projects in established communities, the company is challenged to make their product blend in with the existing homes.
"Southern Highlands Architectural Review Committee really wanted us to match what they did, and we asked what are the requirementsm, and they said, 'Well, go see what Cal-Atlantic and Richmond did,' " Seebeck said. "We said, 'We saw, and we want to do better than that.' "
In January, they will begin the first phase of 23-home development in Southern Highlands called Paragon Place. It will offer three floor plans of 2,336, 2,520, and 2,761 square feet with prices starting in the $300,000s, and sales should begin next summer.
The firm also has received county approval to start phase one of a modern town house project that will total 45 units in the active corridor east of I-15 and south of Blue Diamond Road. The town homes will combine stucco with corrugated steel exteriors and angled metal roofs and were designed with the millennial market in mind. It has been named Paragon Lofts and will offer four floor plans from 1,591 to 2,313 square feet. They expect to begin selling in the fall of 2018 at prices from the high $200,000s to mid-$300,000s.
So how does such a fresh startup company grow so quickly in such a competitive business? Both partners have a solid background in finance and residential development.
Tan started at Ernst and Young in Los Angeles and was division controller at Pulte Homes Los Angeles Division. He and two coworkers from Pulte moved to Las Vegas in 2008, starting Pacific Rim Real Estate Group to invest in local distressed real estate. He later worked with Rialto Capital, an affiliate of Lennar Homes. And by the way, he's fluent in Mandarin and Cantonese.
Seebeck had a 12-year career in civil engineering before taking a series of executive positions with Rhodes Homes, LandTek, Harmony Homes and Storybook Homes. During his time with LandTek he oversaw operations of the Inspirada and Mountain's Edge master-planned communities. He joined Tan at Pacific Rim Real Estate Group, and in January 2015 they started Paragon Life Builders.
Recognizing that they are a startup firm and not a more established builder with a longer track record, they opted to include a 10-year warranty issued by an underwriter specializing in homebuilding with each sale.
"When we started, we were aware that no one knew who we were, necessarily. They knew the company we were involved with. So we said, we're going to provide the same warranty that every other builder does. … We bring onto every one of our projects a 10-year structural warranty package," Seebeck said.
Their buyers have their cellphone numbers and are welcome to call the partners with any concerns.
They say they have shown up to help their customers with issues including changing furnace filters, reprogramming a thermostat and making design decisions as part of the after-the-sale service.
"They literally call us with everything that happens with the home," Tan said. "If something is not right, it's a personal call to us, and we're the owners of this company."
Customer referrals have been a great source of business, Seebeck said. "We try to deliver on customer service, so they can say, 'We know Mo, we know Eric.' You can always reach us, and we'll show up."
As the company's projects grow in size, the partners say they will strive to maintain that level of personal service, Tan said. "We're building within our means, so from a customer standpoint, absolutely, that is our full intention. We'll be the first ones to tell you, from day one, being in a small business in such a large industry, it takes being nimble. We don't know what tomorrow holds, but our full intention is to stick with it because that is what the foundation of this company was, and that's why we got out on our own."
Its website says the company's core philosophy is to practice kindness and compassion. Which is why it's named Paragon "Life" Builders, not "House" Builders.
About the Homes:
Location: 1525 Spiced Wine Ave., Henderson — No. 16103, No. 16104, No. 16105, No. 16106
Prices: $247,000, $264,800, $262,800, $284,800
Sizes: Three bed rooms, 2.5 baths, tw-car garages, 1406 square feet to 1,862 square feet, three floor plans
Features: Quartz counters throughout, undermount sinks, wood-look tile floors, USB power outlets, prewiring for wall-mounted TVs, ceiling fans and lights
Listing: Keri Lade, Luxe Estates & Lifestyles