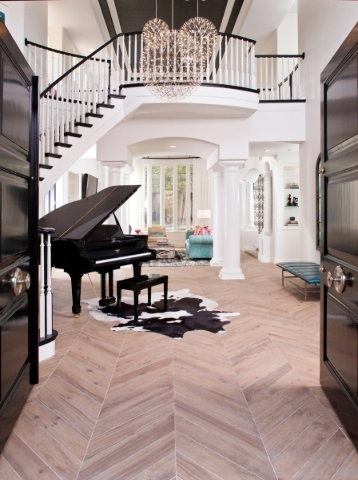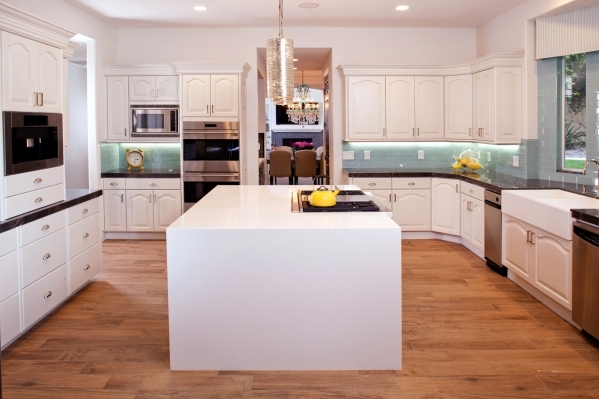 So you recently decided it's time to build your fantasy dream home, or maybe you were lucky enough to have purchased a property at a very good price packed with loads of remodeling potential. Before you start ripping out fixtures, repainting walls and buying furniture, here's some suggestions local leading interior designers say might help you along your journey.
Forget about trying to make everything look the same in each and every room of your home. It's OK, says Peggy Scinta of P. Scinta Designs LLC, to mix silver and gold when it comes to kitchen faucets and cabinet hinges. The same goes for kitchen countertops. If marble or granite is used on the perimeters, then use something like quartz in the center island.
"Nothing says tract home like having everything match," Scinta said. "It takes the date stamp off by mixing. The home looks more sophisticated … Maybe have some antique gold with bronze. The best-looking homes look like they weren't done recently."
Scinta said the philosophy behind mixing is that first, people don't want to follow trends where they have to remodel every couple years, and secondly they like their homes to reflect the aura of the homeowner living a well-traveled life.
Some things that are old are now becoming new once again. Wallpaper, for instance, is hot. Scinta said new colors and textures are proven to be a treasure trove for homeowners demanding a look and feel of something different. Grass cloths, popular in the 1950s, are making a comeback for wall coverings. The new patterns and woven texture of grass cloths are very appearing.
"People are even putting wallpaper with subtle glitter in it on ceilings," said Kathy Wilson of Impressive Interiors in Las Vegas. "With flooring, people are going to tile planks that look like wood so you can have spills and pets that won't affect it."
Michelle Montgomery of Michelle Montgomery Interiors said people want their living spaces to be more comfortable, uncluttered and elegant-looking. Her clients are preferring the modern functional look of Eames furniture aspired by the look and feel of the 1930s and 1960s.
"People are going to soft white for the walls because it goes with the uncluttered and clean look," Montgomery said. "White shows off the modern lines of the furniture."
And yet, many of her clients are still preferring natural wood floors made up of wide planks, such as French oak. She says people are also either building their homes with large windows or having them installed during remodeling so plenty of light can stream into open
"Custom cabinetry is big now, too," Montgomery said. "The finishes are different with their high glosses and metallic paints showing through under clear finishes."
With regards to kitchen appliances, the commercial stainless-steel look for ranges is still very much in vogue, but Montgomery points out that convection and steam ovens are being purchased more often by clients leading active healthy lifestyles. These ovens prepare food much faster and hold in the natural juices and nutrients of the dishes.
With regards to other changes in the kitchen, Montgomery says cabinets are being custom-built with drawers below instead of doors because they create a feeling of fine furniture.
"Clients are also looking for original artwork to hang on their walls and are using mohair fabric in furniture because it lasts forever and now the colors are stunning," Montgomery said.
Scinta says interior lighting in homes has changed dramatically with the advent of light-emitting diode lights. Besides emitting a brighter light, the LEDs last forever.
"Light definitely makes the home," Scinta said. "I did a home in Summerlin and put LEDs in the foyer for a very dramatic effect."
Technology is playing a huge part in today's modern home, according to Cary Vogel of Interiors by Cary Vogel, explaining that people like being able to control everything in their home via their smartphone or notebook computers.
"Besides being able to lock or unlock the front door, now you can set the temperature before you come home, control all the lights, the television and check the premises (with security cameras), Vogel said.
Dany Zeitouni has seven televisions installed in walls throughout his home at Sterling Ridge in The Ridges. All are controlled via his iPad, as is the air conditioning, lights, music, the pool heater and window curtains.
"Every single function you would do manually I can do from my iPad," Zeitouni said. "This makes life a little easier … This is a home that I wanted to do entirely for me. It's for me to enjoy a different atmosphere in different parts of the house."
Zeitouni, working with designer Vogel, created eight different atmospheres throughout his house. He built a lap pool outside designed in close proximity to a fire pit and custom barbecue grill, which is next to a large table and large-screen TV for entertaining guests, usually around 10 people, while he is cooking.
Inside, Zeitouni built a wine room that's constantly kept at 55 degrees and can shelf 1,000 bottles of wine with storage capacity on the floor for about 20 more cases of wine.
"I told Cary I wanted very contemporary furniture," Zeitouni said. "I wanted open space, and I wanted something that was easy on the eyes. I don't like clutter."
Vogel ordered furniture for Zeitouni in patterns of grays and blacks, he said, utilizing beige for the walls and complemented by whites and some brown.
"It's all about comfort and making the home a friendly unit when entertaining," Vogel said, adding that many homeowners like installing folding glass walls that open up to expose the patio.
"If you are entertaining guests outside, now you don't have to miss all the fun when you are cooking," Vogel said. "You can still interact with people, if they are in the pool or spa."
Montgomery said entertaining continues to play a major role in her clients' design requests. She's noticed that living spaces in custom-built homes are becoming larger and bedrooms are shrinking.
"Guest rooms and guest houses are becoming more popular," Montgomery said. "Personalized gyms are also in demand. I've been matching the leather colors on the equipment with colors on the floor.
"We are fortunate to be living in an area where people are building custom homes. The age range building these houses are very technology savvy and want to be very involved with the designer."