Inside HGTV's $6.25M 'Best Party Room' in Las Vegas
Updated June 25, 2017 - 10:34 am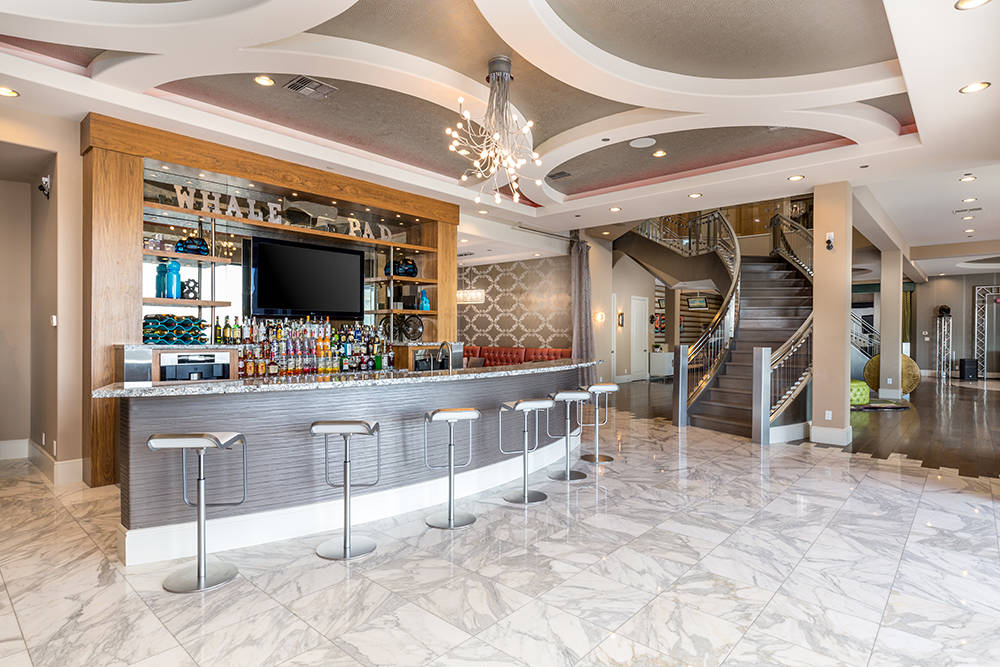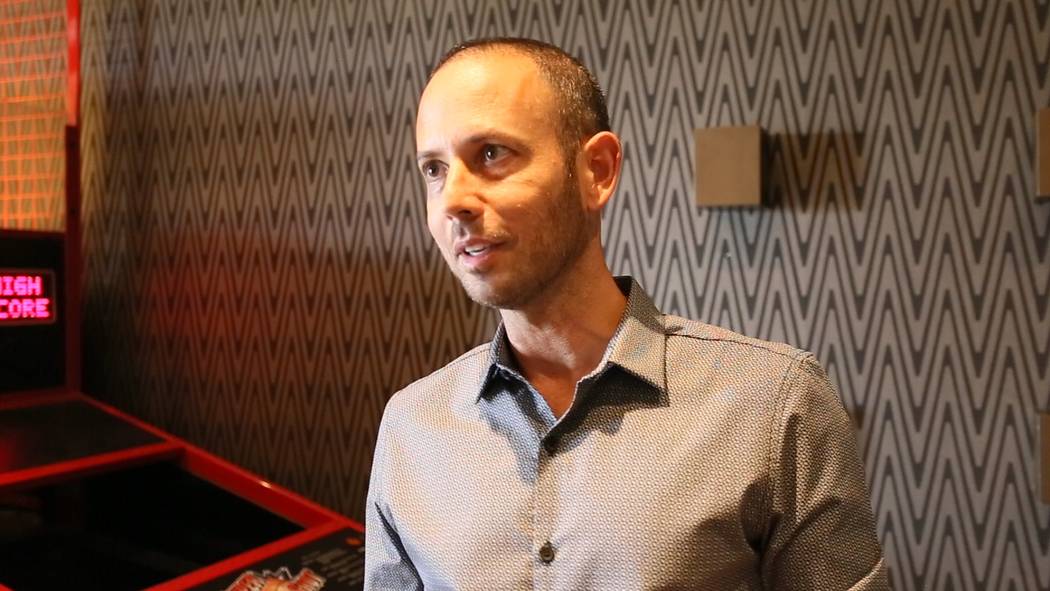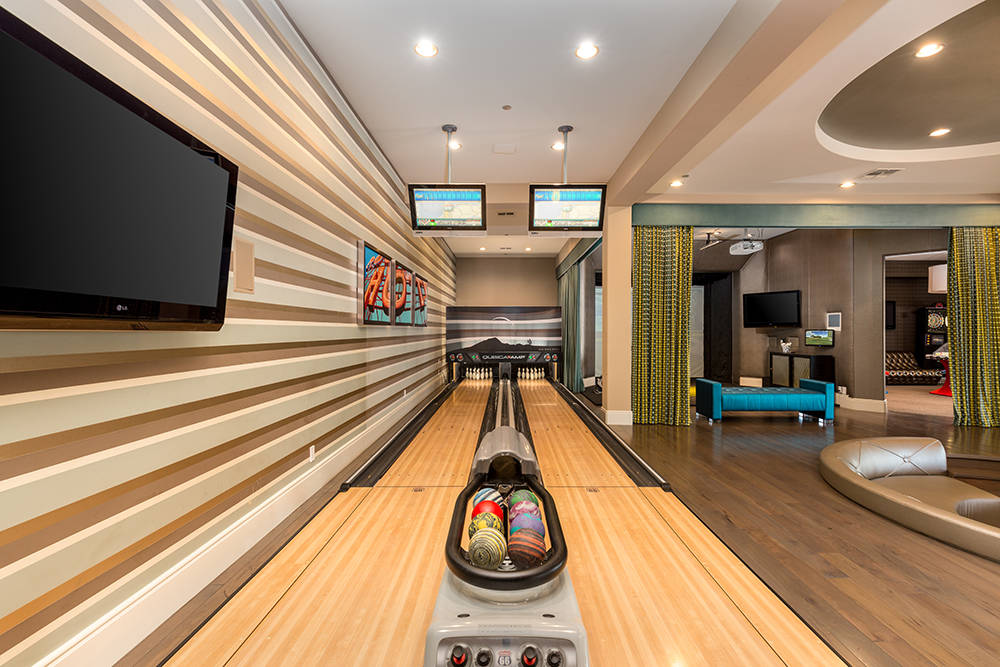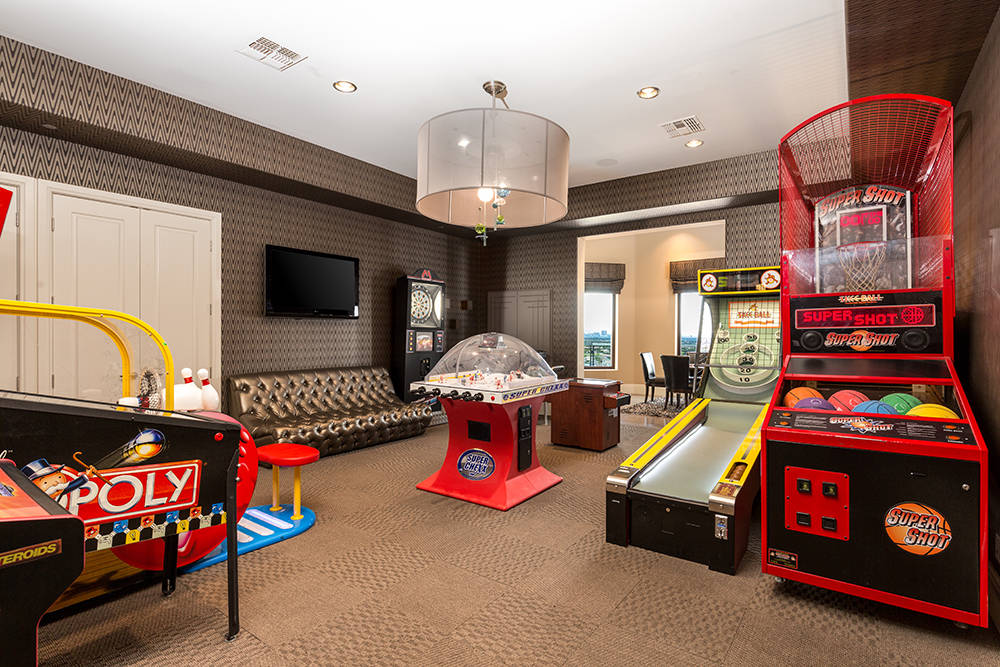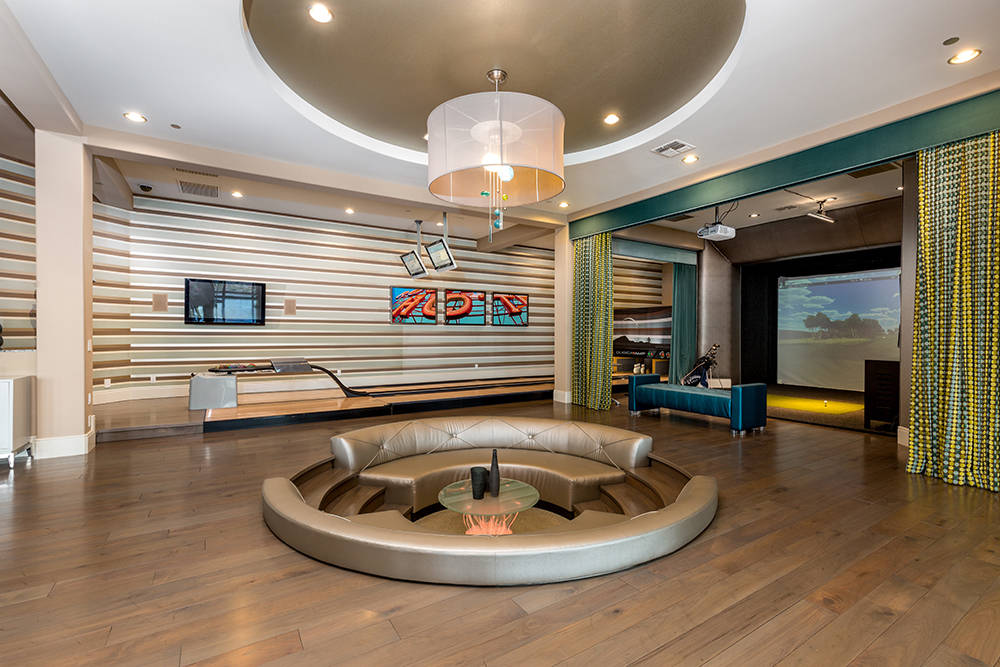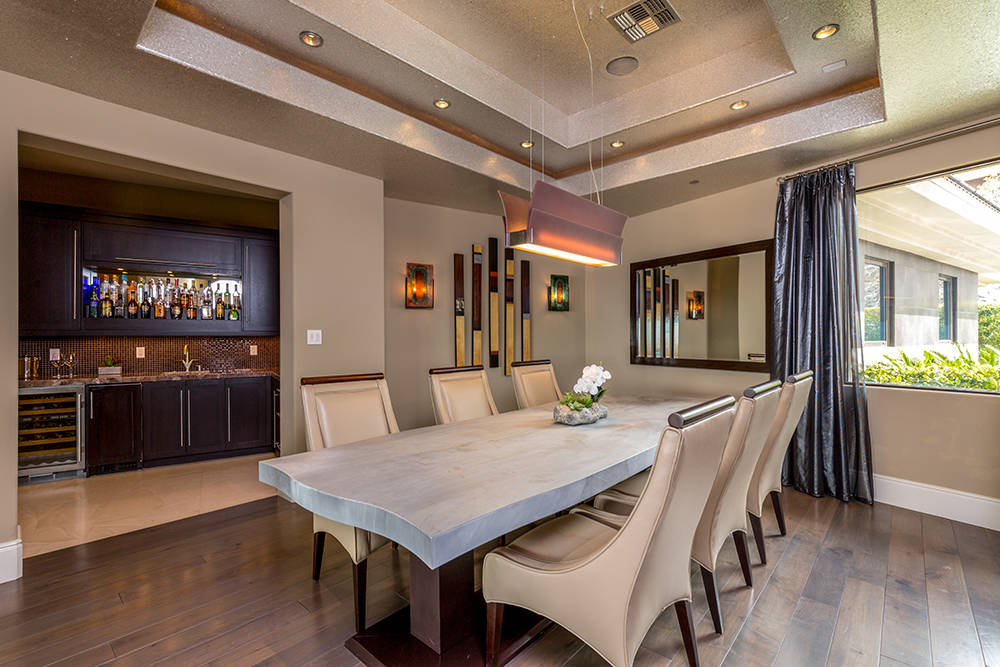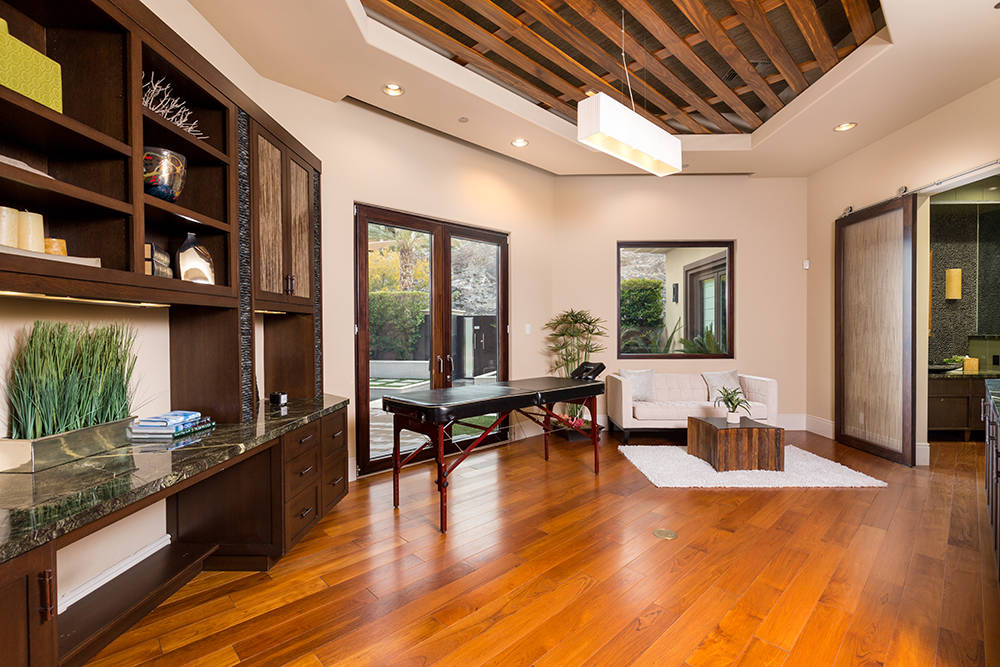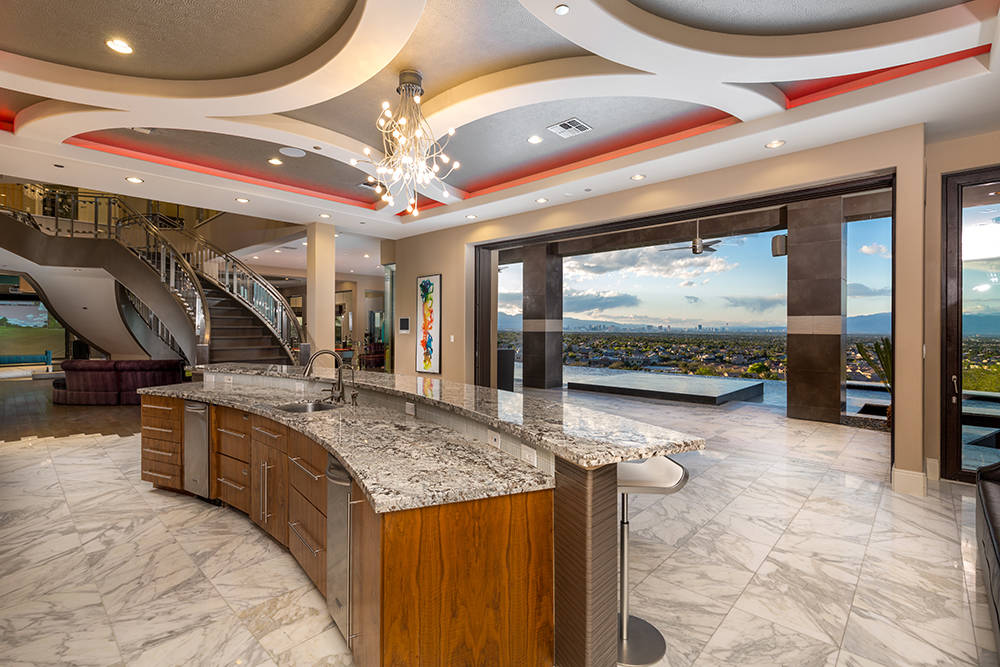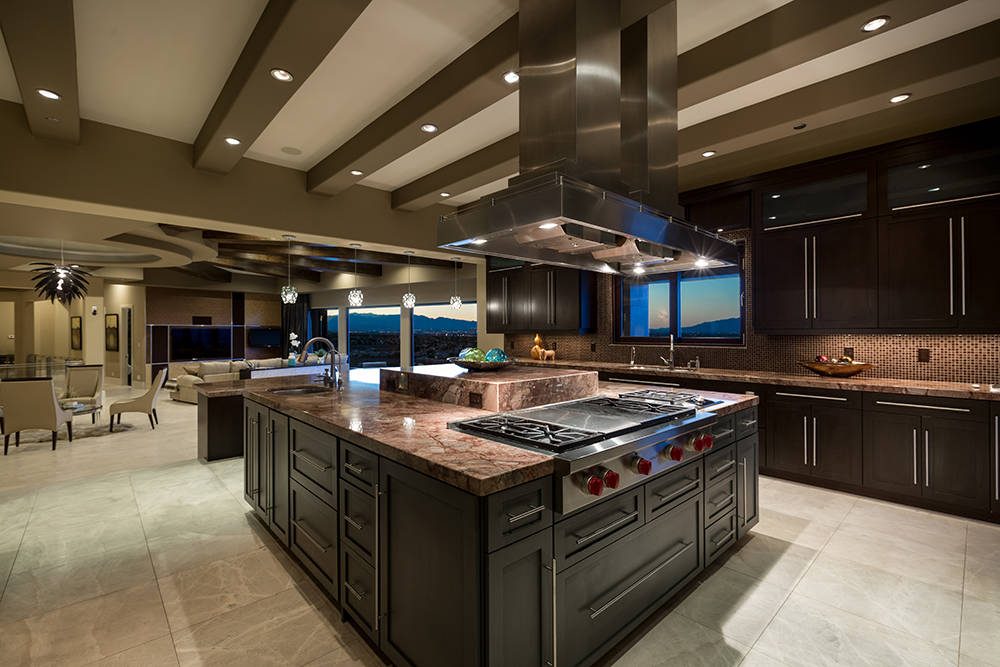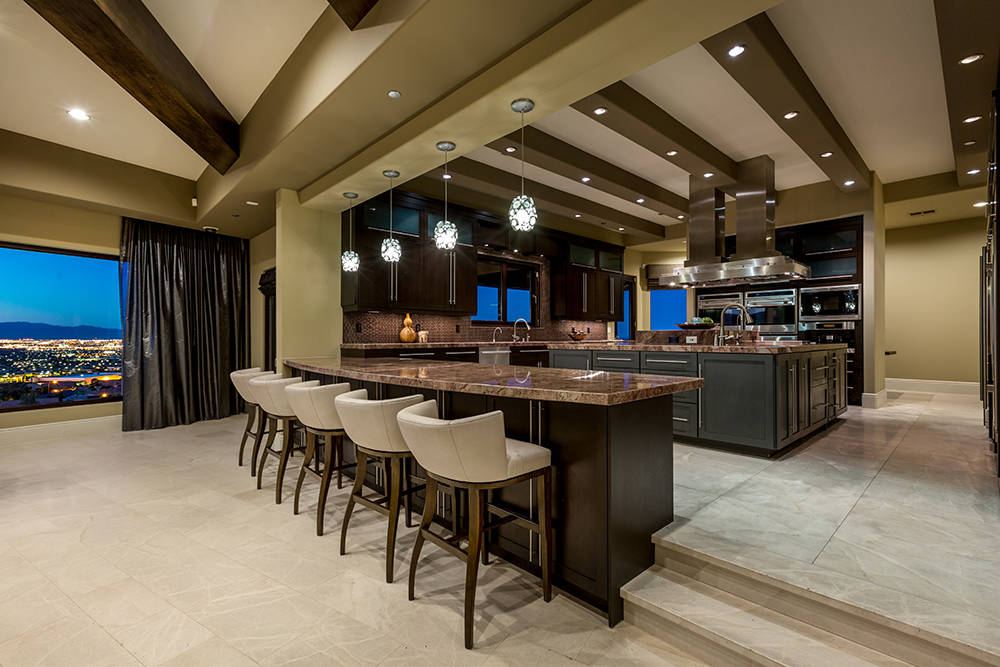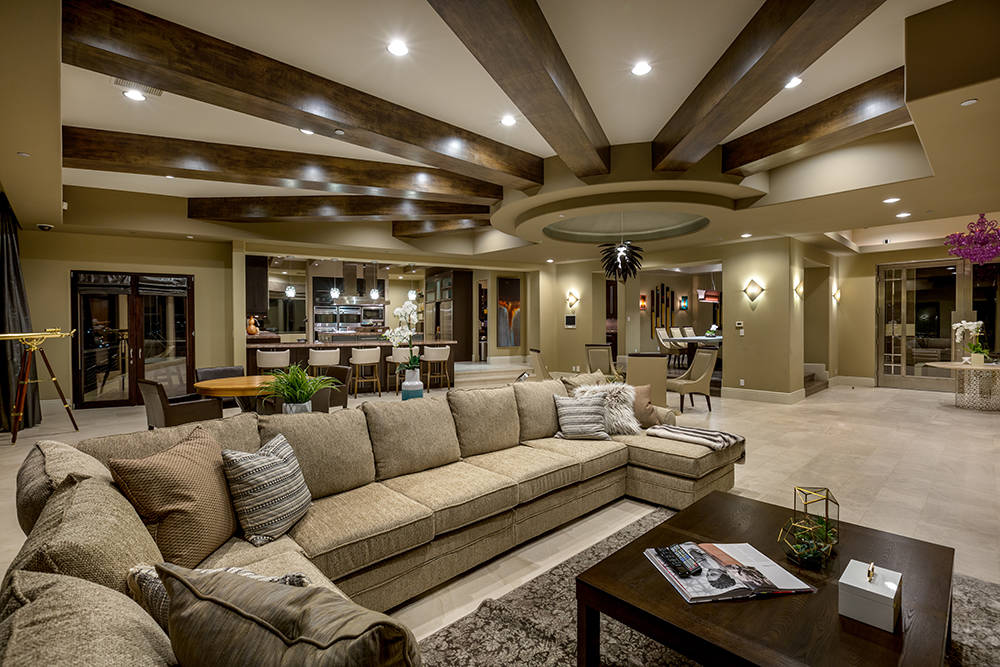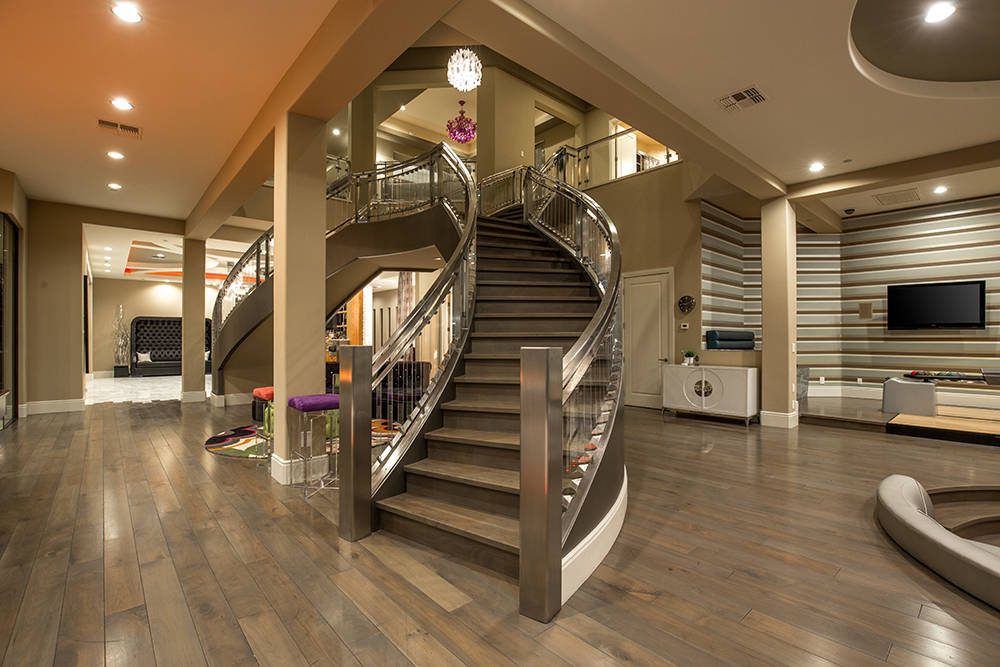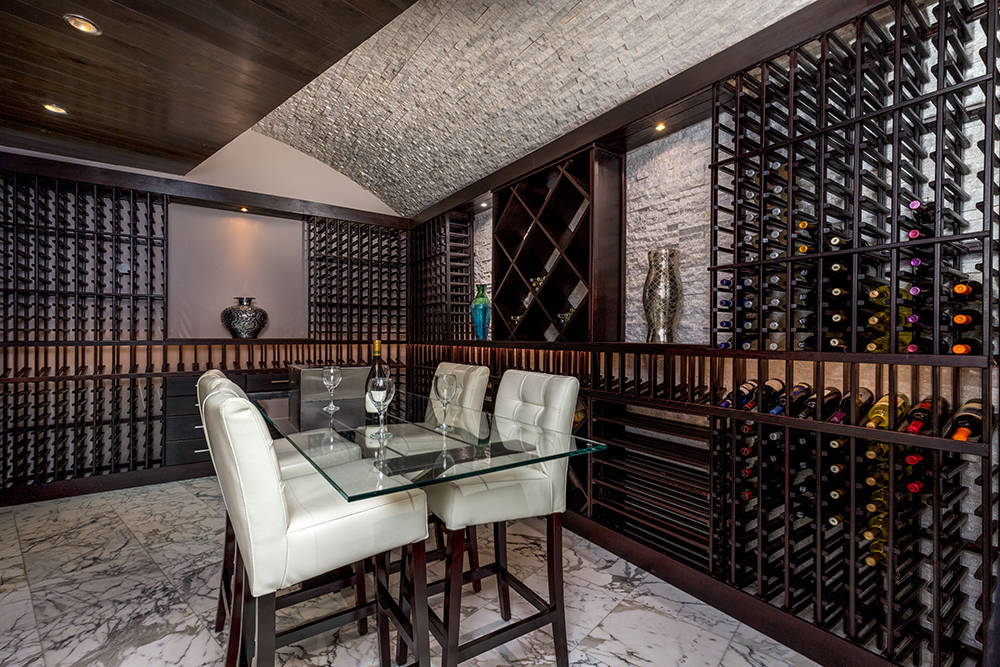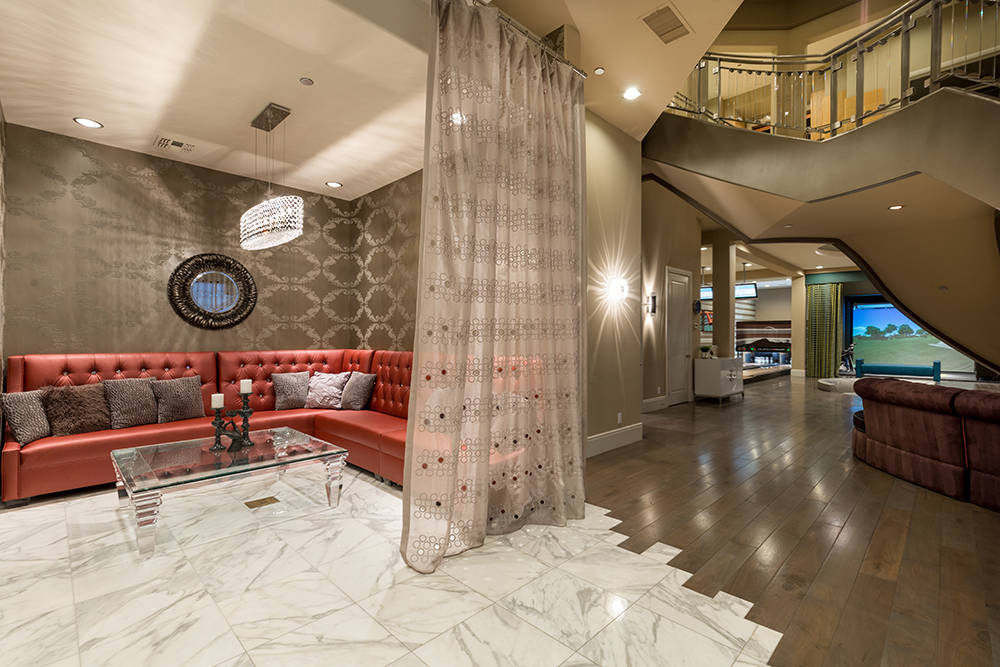 Named the "World's Best Party Room" by HGTV and featured on the network's "Million Dollar Rooms," Moon Crest Estate in MacDonald Highlands features a 6,300-square-foot, $4 million mega entertainment floor.
"This was a dream come true," homeowner Rick Muenyong said about building his custom home, which has breathtaking Las Vegas Strip views. "I wanted an entertainment space to host amazing parties."
Sited on just over half an acre at the edge of the 18-hole championship DragonRidge Golf Course, the home is at 1504 MacDonald Ranch Drive. The 14,031-square-foot contemporary modern, two-story home is listed for $6,250,000 through Luxury Estates International.
Designed for the ultimate indulgence, Moon Crest features four bedrooms and eight baths, along with a full-size gym, massage therapy room, state-of-the-art home theater with THX-certified quality sound system and motion control seating, and a multistation office.
It's lower tier takes entertaining to a new level with a $15,000, 900-square-foot Calcutta marble dance floor with lights, DJ sound system and lasers, two-lane miniature bowling alley, full-swing golf simulator and a dedicated arcade and poker room.
"If GameWorks had a hybrid child," Muenyong said in describing the home, "that is what the downstairs would be, with a luxury home on top of it."
Among its other unique features is a full bar with a large photo booth, wine tasting room, photography darkroom and lounge seating.
"I have two sets of guest lockers," Muenyong said. It was a practical solution to party guests who wanted to store their belongings. "Stuff like that has evolved through necessity. Women would ask where they should put their purses."
Flowing outside through expansive pocket doors are sprawling entertainment spaces, a lavish 16-person infinity-edged spa and 25,000-gallon, black-onyx tile, infinity-edged pool, overlooking the Las Vegas Strip.
"I'm going to miss the view combined with the pool," Muenyong said. "It's going to be very hard to replicate it in the future."
Connecting the home's upper and lower levels is a luxurious, one-of-a-kind stainless-steel staircase with more than 300 individual cut glass inserts. Requiring over six months to build, the staircase features two distinct access points to the entertainment space. According to luxury Realtor Michael Zelina with Luxury Estates International, the staircase cost more than $300,000 to custom build. Zelina has the listing for the home.
The upper level is a luxurious living space that is functional and comfortable while maintaining a sense of beauty and craftsmanship.
"Everything is where you need it to be to make it easy for the homeowner to live upstairs," Zelina said. "You don't have to walk down a 300-foot hallway to get somewhere."
The "chef's master" kitchen features granite countertops, Wolf and Sub-Zero appliances and custom built-in features, including a pivoting television that can be raised and lowered out of a countertop.
"I'm a media addict so there are televisions in almost every room," Muenyong said. "I think there are 25 televisions in the house."
A 1,200-square-foot great room, wet bar and dining room flow out of the kitchen. The home's soaring ceilings and wall-to-wall windows show off its 220-degree views of the golf course, Strip and surrounding mountains. The name Moon Crest was inspired by its view.
"There's nothing like it in Vegas that we've ever seen," Zelina said. "It has the lowest, closest unobstructed views. There's not another lot like this."
A grand master suite with a luxurious master bath offers a peaceful retreat. The walk-in closet has built-in features and a tanning booth. Muenyong made sure his baths included urinals.
"I can't believe that's not standard in every home," Muenyong said.
Also, on the first floor is a large home theater.
The estate is a masterpiece of design and craftsmanship through the use of limestone, Brazilian Hardwood and Calcutta marble flooring, unique light fixtures, custom ceilings and a special sitting area with an acoustic ceiling.
"Every room is its own piece of artwork," Zelina said.
The home also features a built-in, state-of-the-art security system, home automation, integrated video and sound system, six-car garage and retractable window coverings.
Muenyong, who worked in the tech industries, has hosted hundreds of parties during what he calls his "peak party season" five years ago.
"That is when we were throwing the most parties and making the most noise up here," Muenyong said about his party days. "We averaged a party a week. We had such a good time."
The generous space granted Muenyong opportunity to throw parties for more than 250 guests with ease. New Year's Eve and Fourth of July were two of the most memorable. For those events, Muenyong hired valets to park guest's cars along the street.
"That's when the house felt full," Muenyong recalls about hosting extravagant gatherings. "I'd say ideally, you want 50 to 100 people when you entertain. That's the perfect amount."
Besides the elaborate parties, music videos for Chamillionaire and French Montana were shot in the home. Muenyong's other special memories include having a wedding and hosting a number of his friend's birthday parties in the home.
"I've been able to meet thousands of people," Muenyong said. "It's great to meet so many people. I've gained a few hundred really good friends as a result of having parties here."
Muenyong originally purchased a different lot down the street. After he discovered the lot wasn't big enough to support the home he wanted, he purchased a second lot in 2005.
"I knew I wanted MacDonald Highlands," Muenyong said. "It's the best location for high-end homes because of the view and location."
Briana Tiberti, who was a Sun West Custom Homes designer at the time, designed the home. Its construction was overseen by the Sun West team. The design took six months to complete. According to Muenyong, the bowling alley and golf simulator were non-negotiable so the design was created around them.
"This was ahead of its time," Zelina said. "If you compare this house to other 9-year-old homes there is no comparison. This keeps up with the modern style that's coming back."
Construction began late 2006 with the home being completed summer 2008.
"I like to be involved in anything I create, so being involved in this project was almost a full-time job," Muenyong said. "I'm super happy and satisfied with everything we did and what we chose. Sun West was a good decision. I think they did a fabulous job."
About the home
Price: $6.25 million
Location: Macdonald Highlands, Henderson
Size: 14,031 square feet, four bedrooms including a separate master retreat, eight baths
Features: 6,300 square feet of dedicated entertainment space including a $15,000, 900-square-foot Calcutta marble dance floor with lights, DJ sound system and lasers, two-lane miniature bowling alley, golf simulator, arcade and poker room, full bar, wine tasting room, dark room, lounge seating, full sized gym, massage therapy room, state-of-the-art theater with THX-certified sound system and motion control seating, a multistation office, 16-person infinity-edged spa and 25,000-gallon, black-onyx tile infinity-edged pool, a misting system, $300,000 stainless-steel staircase, state-of-the-art security system, Crestron full home automation, integrated video and sound system, six car garage and retractable window coverings, on DragonRidge Championship golf course