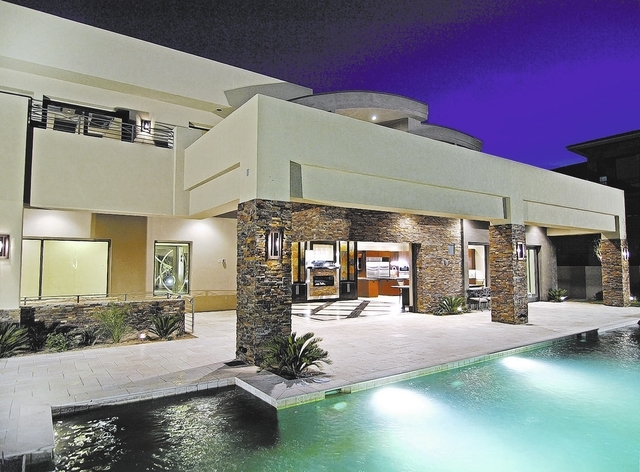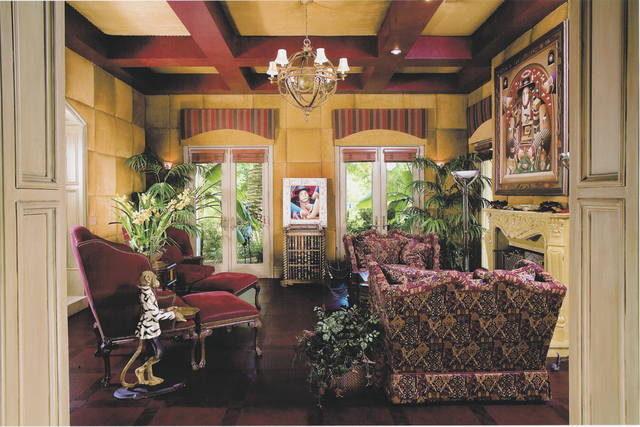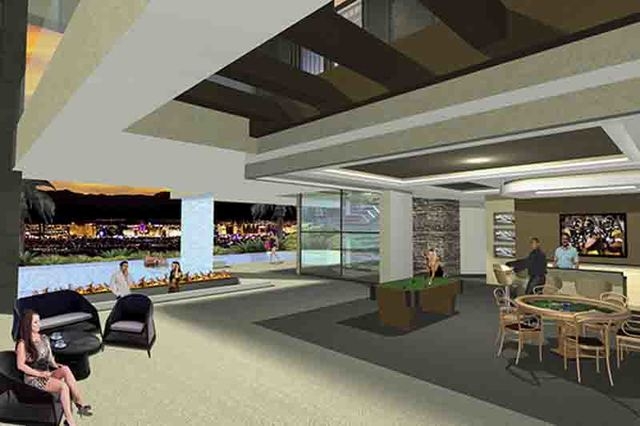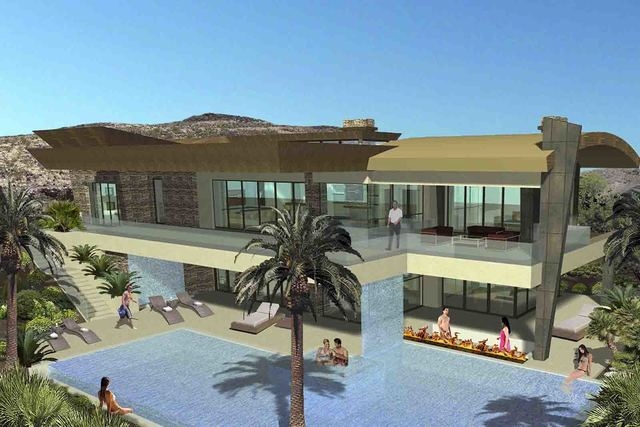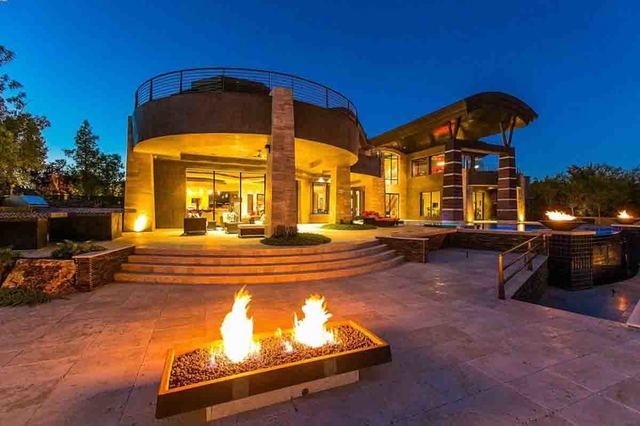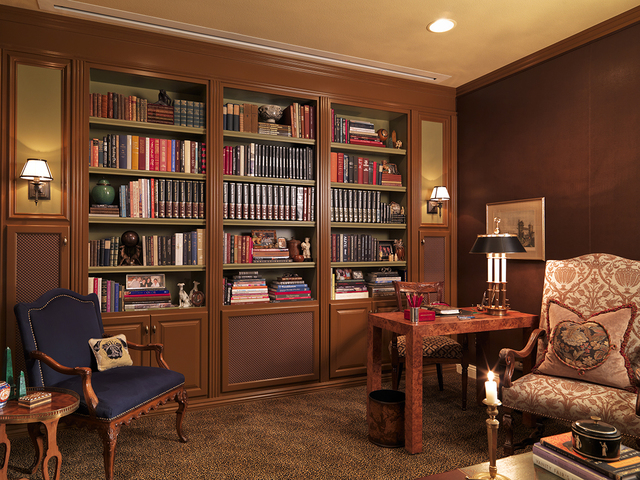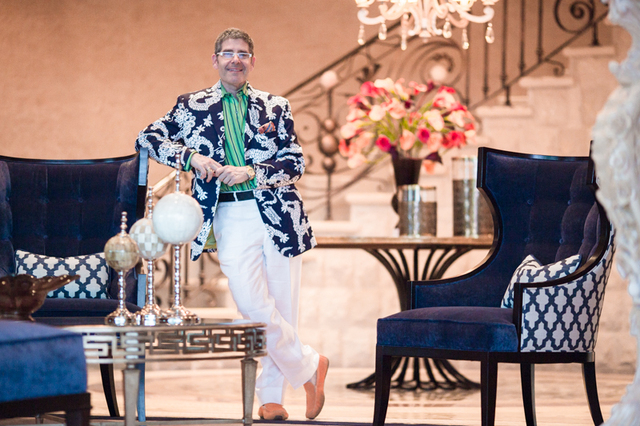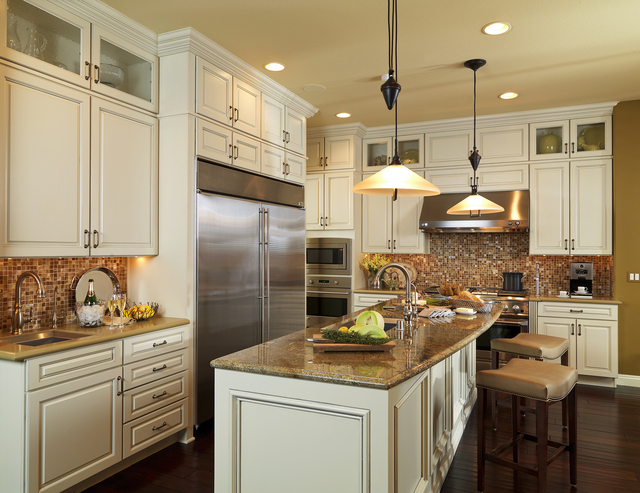 They're aspirational. They're astounding. They're all-encompassing. They're luxury custom dream homes, where the "entry-level price" starts well above $1 million.
As a city familiar with luxury, Las Vegas has been dotted with mansions for decades, and as the economy moves further into recovery territory, more uberhouses are in the works.
If you have the considerable means to plan, purchase and appoint your own "palace," where might you consider building?
"Right now, primarily, you're building either in The Ridges, MacDonald Highlands, Southern Highlands, or you're looking to the future at Ascaya," said Robert Bero, founder of Chateau Development and a 24-year veteran of the Southern Nevada luxury-home industry.
Also, on the near horizon, in southern Summerlin, is an enormous luxe planned community with resort amenities and homes on a 555-acre parcel next to Red Rock Canyon under development by Discovery Land Co.
"We're going to break ground on the golf course this April to May, and you'll start seeing houses come up toward this time next year," said Steve Adelson, a partner in Discovery Land Co.
Where to start?
Planning a luxury dream home is far more complicated than many potential homeowners might expect, so it's necessary to have a plan.
Ivan Sher, a partner at Shapiro & Sher Group with Berkshire Hathaway HomeServices Nevada Properties is overseeing sales for Ascaya, the gargantuan high-end development terraced along the McCullough Hills above Henderson. He outlines four stages of planning.
"The first component, I believe, is that you need to pick a phenomenal architect," Sher said. "Someone with an interesting sense, a vision and someone who can represent your unique style."
Picking the right builder and choosing the right interior designer follow.
"A truly custom home interior designer needs to have the vision of knowing style beyond five years from now," Sher said.
Finally, the homeowner needs to pick the right lot.
Before starting
Mark Stark, CEO of Berkshire Hathaway HomeServices Nevada Properties, is not only a professional in the luxury custom home industry, he planned his own upscale Seven Hills domicile.
Stark emphasizes beginning with a meticulous budget, even for individuals with plenty of money in the bank and generous financing.
"You've got to start with a budget. You've got to have what you want to spend, because, when you're building your own home, you pick everything," Stark said. "You can go from $2 million expenses to $3 million in the blink of an eye; you can go from $4 million to $7 million in the blink of an eye."
"You're picking everything from every doorknob to every faucet. Everything. Each item in its own aspect can be important. The problem is it all adds or subtracts to the cost of the project," Stark said.
"You start going down this list of a thousand items, and it's daunting. You've got to go back and say 'what don't I need.' What helps you No. 1 is that budget," Stark said.
Interestingly, Stark says that scrimping on land costs is not thrifty, and can unexpectedly blow out a budget.
"You are not saving money buying a lesser-quality lot, Stark said, adding that saving money on land can result in diminished vistas and cramped spaces in a home.
"If you see a lot that's more money but clearly it's more money because it's a little bit larger, it's a nicer a building lot and it's got a great view, take the nicer lot," he said.
Interior designed from the beginning
With millions of dollars at stake, engaging the services of an interior designer from the earliest stage of planning can help make sure a custom home makes a decor statement to match any architectural tour de force.
"If the (clients are) savvy, they'll engage the designer at the same time as they engage the architect," said Cary Vogel, a noted interior designer who's been working in Las Vegas since the late 1980s.
"Then we can create a team between the architect, the interior designer, the general contractor, the landscape architect as well as the landscaper, so that everything will be seamless between the interior spaces and the exterior spaces, because here in Las Vegas we have a lot of indoor-outdoor living," he said.
What are luxury dream home trends?
Although individual custom homes are highly personal edifices and reflect their diverse owners' visions and likes, definite trends can be found across the swath of recent Las Vegas luxury developments.
Vogel points out that nods to "desert contemporary" style are extremely popular.
"We're building homes into the sides of the mountains and into the ridges," Vogel said. "It's almost almost a Frank Lloyd Wright feeling of incorporating nature into architecture."
He notes that home design elements such as burnished copper, stone and large glass walls are hallmarks of this Southwestern aesthetic.
Dan Coletti of Sun West Custom Homes notes a trend in media rooms.
"Three years ago, people were asking for theater rooms that were designated, you just want to go in there, close the door and watch movies," Coletti said.
Now he's finding people asking to incorporate their top-line audio-visual equipment into multiuse, everyday rooms.
Acclaimed Las Vegas architect Richard Luke also notes the trendline moving to the modern design.
"Vegas has seen a lot of Mediterranean and Tuscan style, and I think that's going out now. The more contemporary style is coming in," Luke said.
Luke also cited the increased use of barrel roofs, metal roofing and LED (light-emitting diodes) lighting in new luxury custom homes in the region.
As for amenities, impressive outdoor kitchens are found in many of today's dream homes.
Bero of Chateau Development singles out a perhaps unexpected micro-trend in the custom marketplace: remodels.
"We're doing two terrific remodels that are complete strip-downs. One is in Sun City, and the other is in Tournament Hills," Bero said
"When I say remodel, and it's a $1.2 million budget, don't have the picture that we're adding on a patio cover. We strip them basically down to the studs and start over," he said.
Dream Green
A significantly growing trend in the luxury home market is "green" or environmentally conscious, energy-saving building methods.
John Curtis of Tyler Construction specializes in erecting green custom homes in the area.
"We built about a 9,500-square-foot house. We did it through Environments For Living," Curtis said. "It's Diamond certified, which is the highest rating they have."
Environments For Living is an initiative supporting green homebuilders and is akin to the widely known Leadership in Energy and Environmental Design program for commercial buildings. It meets the standards of the U.S. Environmental Protection Agency's Energy Star program.
"It all starts with insulation and how you seal a home," Curtis said.
He says that Diamond-level homes are so tightly sealed — from every nail hole in frames to roof insulation — that they are separate from the ambient outside environment.
"We have to do a fresh-air intake off the return air, or else you'd just be breathing the same air. That's how tight these houses are," he said.
Curtis notes that it's wise for potential homeowners to verify that their builders are fully certified in environmental-friendly construction methodology, as some companies might use "green" terminology loosely when describing their services and offerings.
How big a dream?
With prices from the low millions to well into the upper-teens in the local market, many might assume that dream homes come in grandiose proportions. However, there's a diversity of sizes in dreams.
Coletti's company is constructing homes in MacDonald Ranch that cover a wide range of square footage.
"One interesting thing is looking at the diversity within that subdivision, where we're building homes from 4,000 square feet — that are still really nicely appointed — all the way up to 19,000 square feet," Coletti said.
But of course, there are megahouses going up in Las Vegas, too.
"We're building a very large house in The Ridges, within The Promontory. It's a 26,000-square-foot home, so we've been been busy on that for years and have another year to go. That's the uberhigh end," Coletti said.
Bero points out a "midsize" project.
"I'm building a terrific contemporary custom in MacDonald Highlands. It's a 6,800-square-foot magnificent view lot that's hanging over the hillside, overlooking the entire valley. A complete panorama. We're quite excited about it," Bero said.
Final considerations
Building your dream home from scratch is not merely a matter of signing checks. It's nearly a full-time job, or a lifestyle — and a stressful one at that.
Stark cautions married couples to be aware of the tension that can arise in building a home, and plan ahead to avoid pitfalls.
"If you are doing this as a married couple, it can be really stressful," Stark said.
He returns to the importance of sticking to a very clear and specific budget. He also remarked that happy, successful dream home residents are ready for the long haul.
"This is a daunting project, and it takes a lot of time, Stark said. "You can't just be excited at the beginning, you've got to be enthused throughout the process."