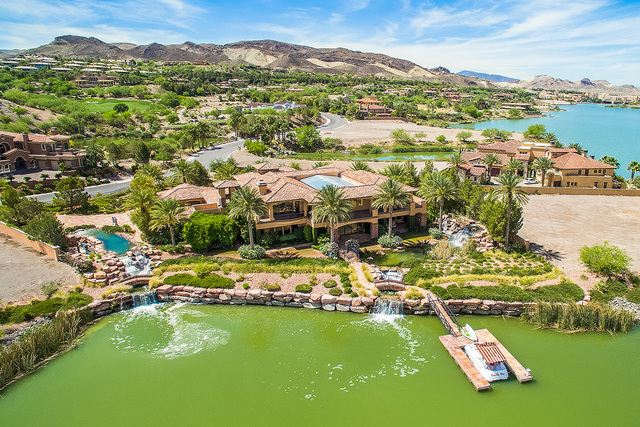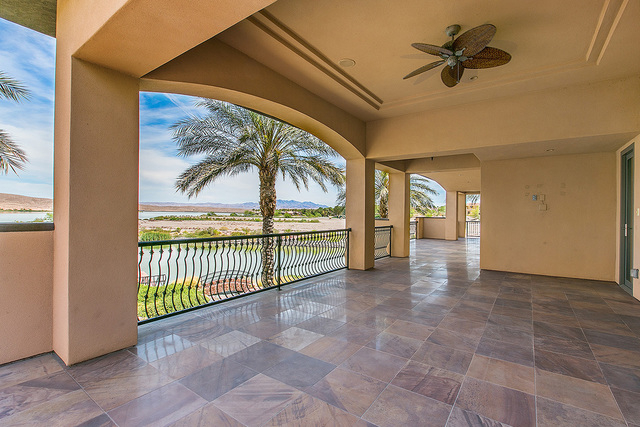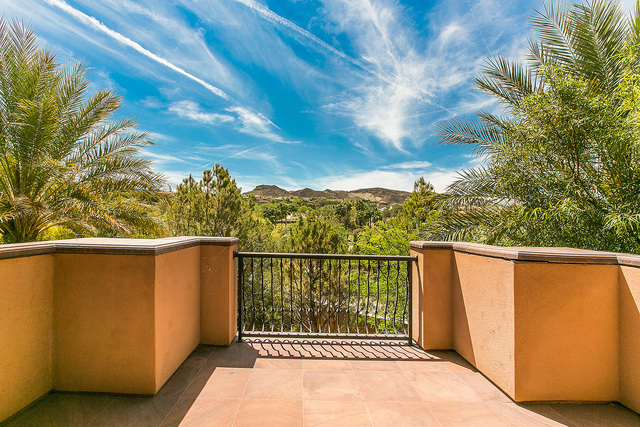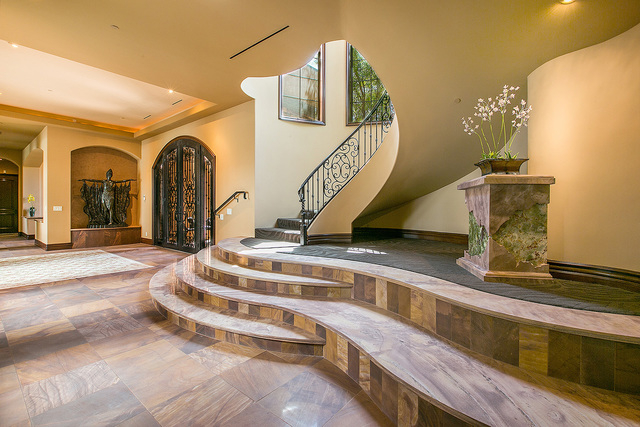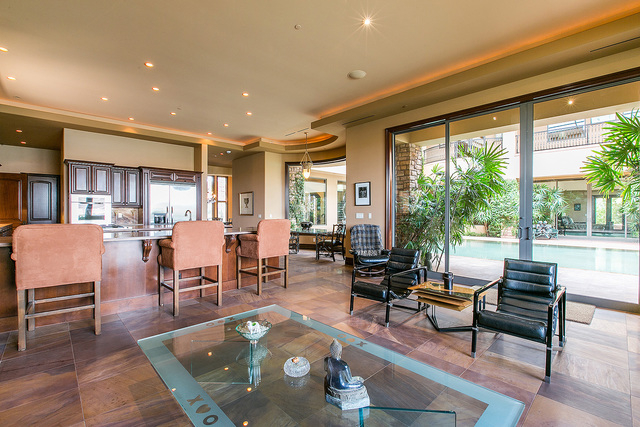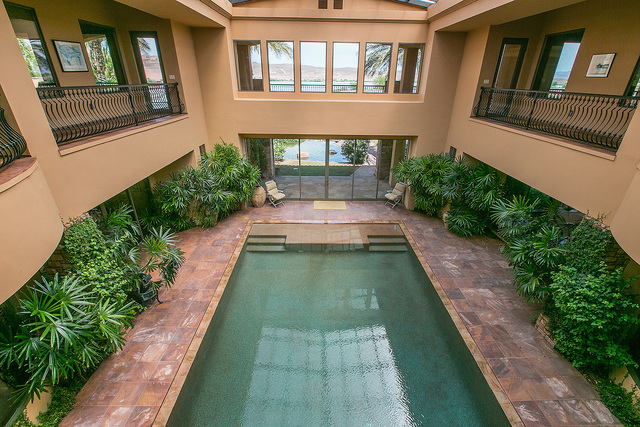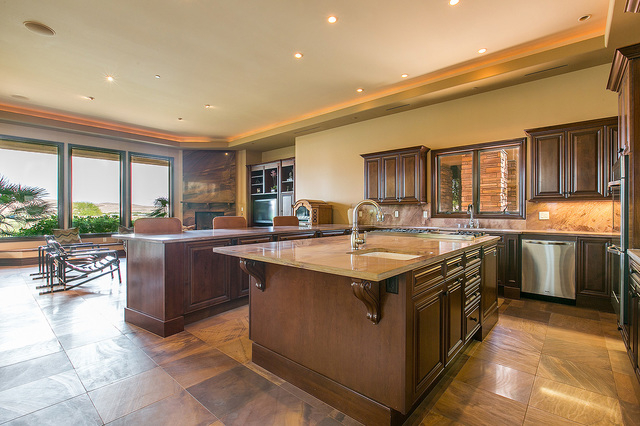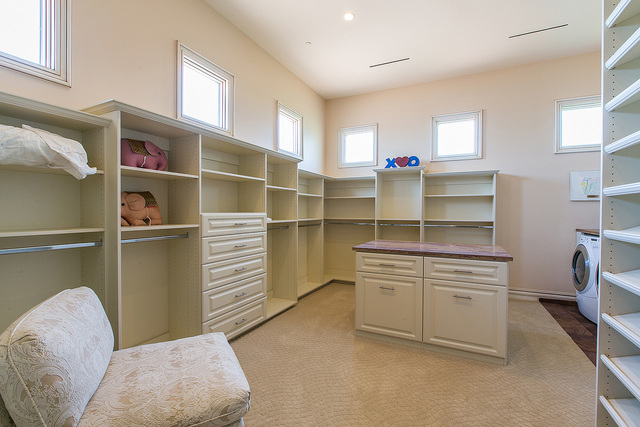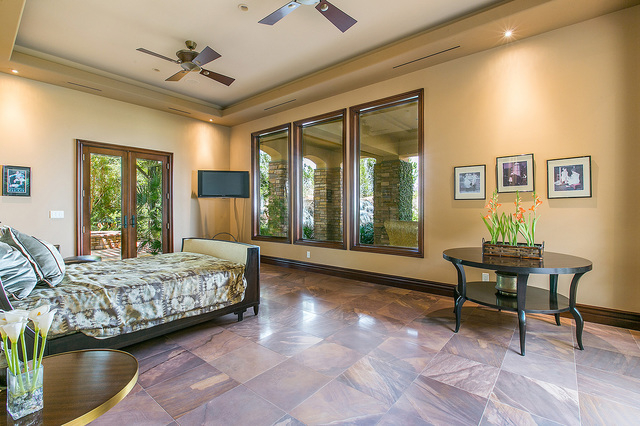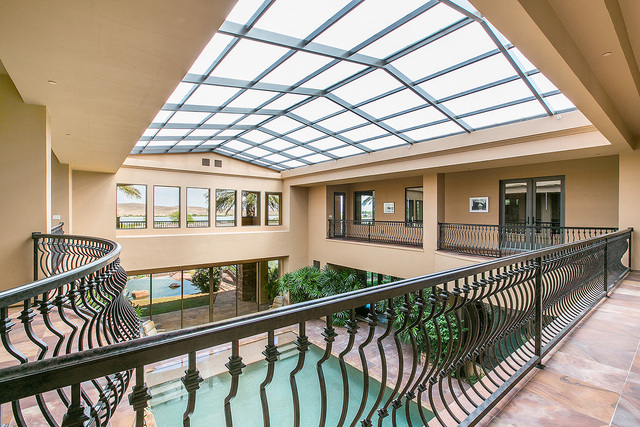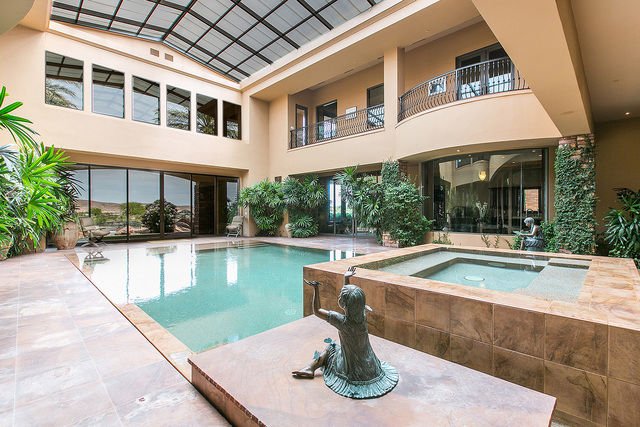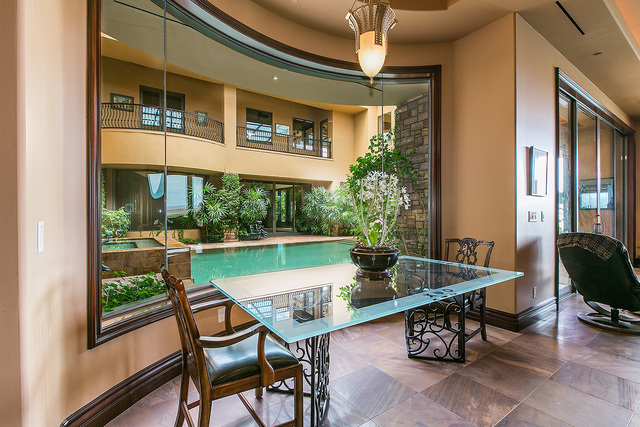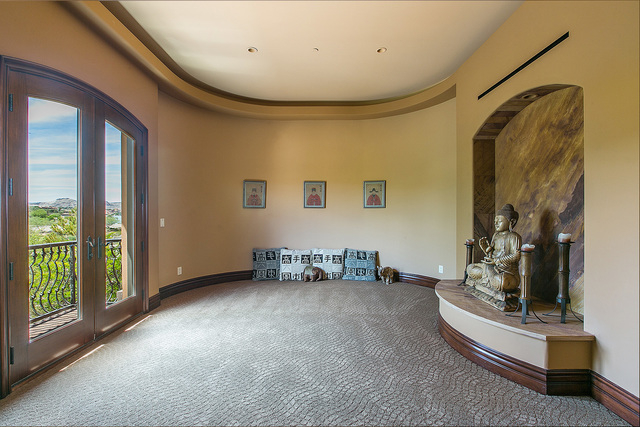 Beyond the main gate of the ultraexclusive SouthShore section of Lake Las Vegas, an oasis perhaps unlike any other in metropolitan Las Vegas commands the shoreline at Rue Mediterra Drive.
The Tuscan-inspired, 9,328-square-foot custom mansion is set in a forest of palms, evergreen trees, flowering bushes and wetland grasses. The parcel, at just under an acre, is crisscrossed by streams fed by lake water and dotted by whimsical statuary. Waterfalls make for gurgling ecosystems that support a wildlife preserve's worth of lizards, cottontail rabbits, quail and jewel-like dragonflies. It is a magical, Zen-like setting.
It is on the market for $9.9 million.
Visitors pass through the home's immense, ornately wrought front door and come upon a stunning scene. The front alcove looks onto a vast, glass-walled indoor water feature.
Realtor Bill Hargraves of Shapiro &Sher Group, a Berkshire Hathaway HomeServices Nevada affiliate, said 4,000 square feet of the house is taken by a humidity- and temperature-controlled indoor pool area.
"It's LifeSource water," he said. "It's a natural purification system."
The filtration process is salt- and chemical-free, and its conditioned liquid fills a 20- by 40-foot heated, rectangular pool with attached spa.
The pool room is filled with foliage and ringed with a second floor overlook. It's the residence's the dramatic core.
Throughout much of the home, milled stonework makes for elegant flooring that complements the sturdy yet graceful architecture. A frequent arched theme carries from the exterior to windows, interior alcoves and passageways. Striking wrought iron railing graces a curving, central stairway.
The airy, formal dining room is notable for its ornate chandelier and its window view of the verdant, sheltering property outside.
A large, open central kitchen with industrial-quality appliances serves for day-to-day needs. For times when residents entertain, there is a second, out-of-sight staff kitchen. It's large and outfitted with even more appliances and is perfect for large-scale food and beverage preparation.
Open to the kitchen area — which also features a marble-topped island, a wide counter for seating and a breakfast nook looking into the pool area — is the multimedia room. This family gathering area has a built-in entertainment center, built-in bookshelves and stone fireplace.
On the second story, the north side of the home is lined by a long and broad patio. It provides a breathtaking vantage point onto the great outdoors, including an uninterrupted view of Lava Butte, the striking black peak that rises beautifully over Lake Las Vegas. The patio has a built-in barbecue grill for al fresco cooking and dining.
For bedrooms, the home has four, suite-style private quarters.
The master upstairs bedroom is filled with windows and has patio access and a fireplace.
The master bathroom has luxury amenities like a stone-lined tub, steam shower and his-and-hers separate toilet facilities including a bidet. It has access to a cavernous, shelf-filled walk-in closet.
The three other bedrooms are also grand in scale and are nearly self-contained, as well.
"They're finished to the nines," Hargraves said.
The home also has a casita — perfect for guests — with appliances including a sink, dishwasher, convection-microwave oven and refrigerator.
"It's like a resort," Hargraves said of the casita.
A remarkable aspect of this home is a third-floor meditation room with curved walls. It is an even more private spot within already private place.
The four-car garage, which opens onto a flagstone-paved driveway, is climate-controlled.
Then there's the lake itself. The home not only comes with its own private dock, but an electric boat is included for peaceful cruising on the water.
Hargraves said the substantial construction is well-suited to the needs of a highly successful and socially active mature couple or a single resident, perhaps whose children have grown and visit periodically.
The home is a place to get away from it all, while still being close to the amenities of nearby Henderson and Las Vegas.
"It was built as a retreat," he said.
The most extreme houses in Las Vegas