Lake Las Vegas starts comeback from Great Recession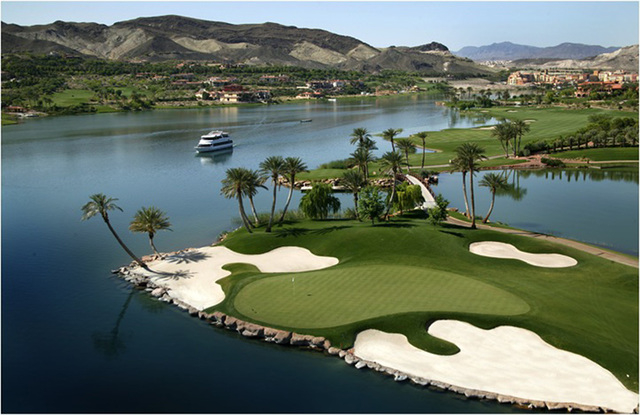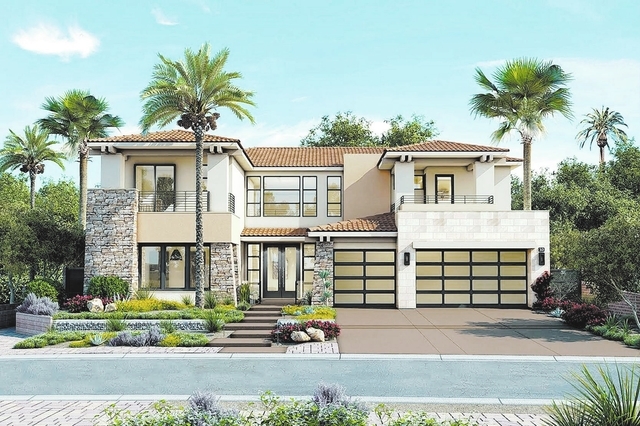 Just a year or two ago, one could have morbidly called it "Crater Lake."
Lake Las Vegas, the water-filled, 3,592-acre development in northeastern Henderson, hit the bottom of the Great Recession hard, perhaps more spectacularly than any other Southern Nevada development.
Its swift, downward cascade was especially rough because of its tony beginnings — it holds some of the ritziest homes in the region stretching back in the 1990s. Marquee residents such as Celine Dion have lived there. However, once its keystone casino, MonteLago, shuttered and an outlandishly watered golf course failed, it became proverbially "out of sight, out of mind" for many homebuyers in Las Vegas and beyond.
The economic winds over Lake Las Vegas, a man-made reservoir, have been shifting recently, though … even favorably.
Rising Economic Waves
"We are certainly on the upper side of the curve," said Sharla Scharpnick of Windermere Prestige Properties at Lake Las Vegas.
Scharpnick credits much of Lake Las Vegas' resurgence as a viable real estate development to New York hedge fund manager John Paulson and his management arm, Raintree Investment Corp., which purchased a large portion of the resortlike development in 2012.
"They have done just outstanding work in the past several years," she said.
Scharpnick points out a central development in the resurrection of Lake Las Vegas: golf.
"Key to that was bringing back Reflection Bay golf course," she said.
Scharpnick applauds the club for also embracing activities beyond the links, too.
"They've now expanded far outside of just golf," she said. "They have a beach, they gave all kind of waters ports and rentals for boats. They've started up happy hours. They're really working toward making it more of a community center."
There are two operating courses astride the lake. SouthShore is private; the regenerated Reflection Bay is open to the public. Jack Nicklaus designed both.
"This allows people to play when they want to," she said of Reflection Bay. "Including people that don't live there."
The defunct Falls golf course, which once made for an improbable emerald entrance to Lake Las Vegas, is now mostly a greenbelt.
The Main Developer
Although existing housing stock circles Lake Las Vegas, especially custom homes, there is also significant new growth in the works, notably by William Lyon Homes.
"We have 52, two-story homes being built at Lago Vista," marketing director Kim Chitwood said. "We have three plans. The models will be done at the beginning of August."
The models range from 4,292 to 5,032 square feet.
"We're absolutely thrilled to be a part of the rebirth of Lake Las Vegas," she said. "It's getting very exciting, every day that I'm out there, there's something new."
Beyond home construction, Chitwood said that the vacation segment of Lake Las Vegas is resurgent, too.
"The Westin and the Hilton are doing very well," she added.
Reflecting on Numbers
Reba St. Clair of Windermere Prestige Properties at Lake Las Vegas said sales figures have been climbing. Single home closings have risen from 20 to 24 in the first two quarters of 2015. Modest, perhaps, yet rising nonetheless.
St. Clair accounts for low levels of transactions in 2014 and before to consumer perception and reluctance.
"A lot of people were hesitant to purchase out here because of the golf course situation — and the casino situation," she said.
St. Clair mentions a new amenity that's enticing buyers to Lake Las Vegas: a direct road to the Galleria at Sunset mall area, one that skirts East Lake Mead Parkway. It follows along the Las Vegas Wash's verdant wetlands.
Lake Movements
Windemere's Robyn Yates has an office directly in the Village at Lake Las Vegas. She has her thumb on the area's pulse daily and can tell the market is evolving.
"There's a transformation occurring," said Yates, and that change is age. "People who are looking to purchase real estate — because that's my frame of reference — are younger."
"Now we have people in their thirties and forties who are looking for that the lake lifestyle," she said.
She said waterside improvements by Raintree have made the reservoir more of a tangible benefit than merely a scenic attraction.
"They've made the lake so much more accessible for so many more people," she said.
Proof of concept
Declaring that people are flocking to Lake Las Vegas real estate is one thing, Reflection Bay sales and marketing director Matt Boland said.
But it's quite another to see the hard proof of spiked soles on greens.
"Anyone can say that until they are blue on the face," Boland said. "But all eyes were on Reflection Bay."
Boland said Reflection Bay's return proves that Lake Las Vegas is on the mend.
"Golf courses don't just come back," Boland said. "It's a considerable investment into a destination."
Boland added that paddleboarding, kayaking and electric-only boating is a huge draw for newcomers to Lake Las Vegas. Further, he said, it's an increasingly family-friendly destination.
Boland should know. He was married there four years ago, before he began working at Reflection Bay. Now he brings his three children there frequently.
"They love it," he said.
The long view
Gene Northup of Synergy Sotheby's International Realty may have the most interesting vantage point on the new Lake Las Vegas. He's a resident of the most exclusive enclave, SouthShores, yet welcomes the more inclusive face the recession has given to the overall area.
"In 2004, it was all second, third and fourth homes. It was very, very ultra-networked people. They moved around, enjoying life. When the crash came, the lake completely changed," Northrup said.
He anecdotally estimates that many of these residences have since changed hands; those once rarely present owners are now most likely gone.
"What came back to the lake was a broader audience, a wider mix," he said. "It's a much broader scope of humanity. It's a better lake. It's a better feeling."
Northrup believes the new outdoors-embracing aspect of Lake Las Vegas, from cycling to kayaking, is what makes the area special and valuable now.
"The whole nature of the community has changed for the better, in my opinion," he said.
The lay of the land
A few years ago, some smaller-house prices at Lake Las Vegas dipped near $150,000 in the shadow of distressed mansions. But the base price is back well above $300,000. Most homes have much higher valuations.
The Village, the development's retail and entertainment zone, still sports many empty storefronts. The voids can throw first-time visitors for a desolate loop.
And the keystone Casino MonteLago stands hulky and moribund, with its owners looking for an operator. It's a breach that needs to be filled eventually.
Yet there are a handful of restaurants open to serve "Lakers" and other Las Vegans alike, from Mexican and Italian to an Irish pub and wine bar. New retail shops are expected to open. The Hilton holds the windowed and refined Medici Café for brunches and more. The Westin, with its Moroccan décor, is a hidden gem in this hotel-filled metropolis. It has a steak-sushi house, café and lounges with patios for travelers and locals.
And, down on a beach, you can get strapped in to a water-powered jet pack and soar a bit above the Las Vegas "Riviera."
It appears that things are at last looking up for Lake Las Vegas.
The most extreme houses in Las Vegas