Las Vegas high-rises offer pet amenities
August 28, 2016 - 3:20 pm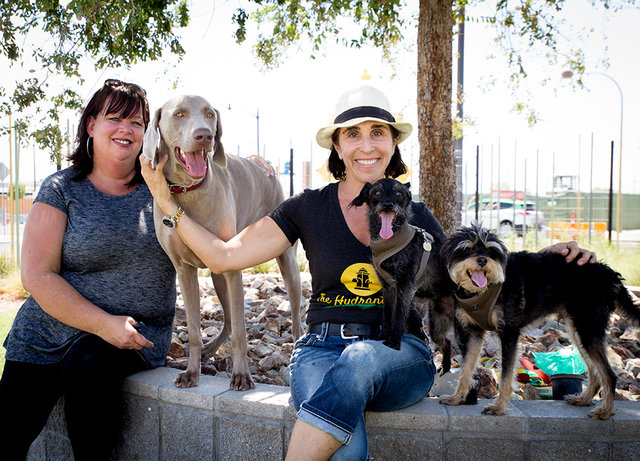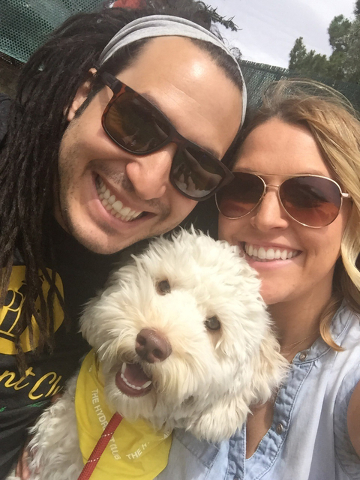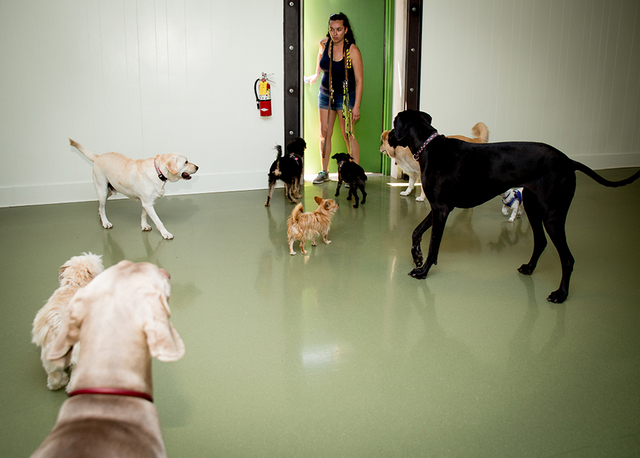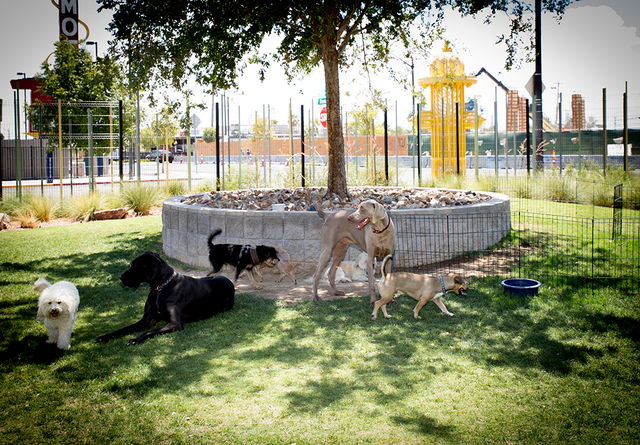 Tired of suburbia, Christine Carlson made the leap to high-rise condo living earlier this year.
"I was thinking of high rise-living for the last couple of years," said Carlson, who moved into the Ogden in February. "Just seemed like a more streamlined way of life."
One challenge to the move came in the form of Lord Fitzgerald — commonly known as Fitz — her 15-month-old Weimaraner. Ninety pounds of "pure love," Fitz wasn't accustomed to their new urban lifestyle.
"They are hunting dogs," Carlson said. "They need to be busy."
Carlson had to find urban outlets for Fitz beyond the small dog run located on the lower level of the building.
"I had to set up things in my life to make it work for him," Carlson said, who developed a tight schedule to better meet Fitz's needs, including working from home part time and daily exercise. "I really think it's being consistent with them so they know they have a routine. I feel that is what saved me."
Carlson and Fritz are part of a growing trend of urban residents with dogs changing the way people live in cities across the country.
According to a 2015 American Pet Products Association survey, 79.7 million (out of a total 124.6 million) American households have pets, with just over 54 million of those accounting for 77.8 million canine companions. Considering that the 2010 U.S. Census reported that the nation's urban population increased by 12.1 percent between 2000 and 2010, suggests that more of our nation's canines are becoming urbanized.
Ed McMahon, Senior Fellow at the Urban Land Institute in Washington DC, said due to the increase in renters (38 million according to the National Multifamily Housing Council) developers have become more pet-friendly over the past decade.
"Twenty years ago, most apartments prohibited pets, but allowed smoking," McMahon said. "Today, it is just the opposite. Many apartment buildings today allow pets and virtually all prohibit smoking."
As part of this new pet-friendly environment, developers are incorporating amenities such as dog parks and washing stations.
"A few even have dog-walking services, pet groomers and agility stations in the building," McMahon said of pet amenities offered nationally. "Other building managers sponsor pet-friendly events like pet-friendly cookouts."
One Las Vegas, south of the Strip on Las Vegas Boulevard, held a Halloween doggie parade through the lobby of the complex last year.
"He was a referee," resident Sharon Gillespie said, laughing about Tattinger, her 12- year old lab. "It was fun."
Sharon and her husband moved Tattinger from their East Coast home with a large fenced yard to One Las Vegas a little over a year ago.
"Tattinger loves being a condo dog," Gillespie said. "I think for me living here boils down to respect and responsibility. This is like a little city, you have to respect your neighbors and you have to be responsible for their (dogs') well-being. They count on us."
Though Carlson and Gillespie have successfully transitioned their canines to urban living, there is a question as to whether urban environments are good for dogs.
"The urban dog experience is antithetical to the natural environment of a canine as it exists," said Cathy Brooks, owner of The Hydrant Club and a canine behaviorist. "Having an urban dog is hard. They were wild pack animals living in forests, jungles and deserts. They are not by nature leashed in asphalt jungles."
Brooks moved to Las Vegas in February 2013, and opened phase one of the Hydrant Club in December 2013 as part of the Downtown Project. The full operation of the Club opened in April 2015. She has more than 100 active dogs on the roster.
Brooks' Hydrant Club is a member-based facility offering urban dog owners daycare, boarding, obedience lessons, spa and concierge services, and an approximately 8,000 square foot off-leash dog park.
A small store in front of the building stocks healthy food, treats and toys for her clientele. Brooks requires all dogs to be properly vaccinated and strictly evaluated prior to joining.
The Club is one reason Carlson was able to make the transition to urban living.
"Cathy has a great program there," Carlson said.
"He (Fitz) goes there three days a week, eight hours a day and he comes home exhausted."
From her business in the Freemont District, Brooks teaches pooches and their owner's urban etiquette. These lessons enable owners and their dogs to successfully get on and off an elevator, navigate a busy sidewalk, sit at an outdoor café and pass other dogs quietly.
"Urban etiquette for dogs is so important, because the consequences could be catastrophic," Brooks said. "When you take a creature out of its indigenous environment and put it into a foreign one, its most primal instincts will come forward. Get to know your dog and understand what its limitations are. If something does go sideways, the one that suffers is the dog."
Brooks witnessed the worst kind of consequences testifying in a San Francisco murder trial where a woman was killed by two dogs blocks from her home.
"Lots of us had run-ins with the owner and the dogs," Brooks said. "It flipped a different switch for me especially about the urban environment. There is a fundamental challenge that exists. When you live in a densely populated urban environment, there are certain expectations of your dogs' behavior and social behaviors for canines are learned behaviors."
Businesses like Brooks and pet-friendly properties and parks are part of the reason Las Vegas ranked as the ninth most pet-friendly city in the country, according to WalletHub's 2016's Most Pet-Friendly Cities.
"The Hydrant Club has been a dream for us," Rachel Meyer said, who owns Rex, a 3-month-old, mini Goldendoodle. "It's one of the main reasons we continue to love downtown living with a dog. This is by far Rex's favorite place."
Living in the Newport Lofts, Meyer and her husband, Eric, find having an urban canine a rewarding but sometimes challenging experience.
"Eric and I both travel for work, so we had to figure how to balance life with a dog and our hectic work schedules," Meyer said. "Thankfully, Eric travels by car so Rex is often accompanying him. Honestly, we thought it would be a lot more challenging to raise a puppy in a high-rise," Meyer said. "But Rex adapted very quickly."
According to Heidi Williams, director of sales and Realtor for the Brooks Team, Las Vegas residential high-rise properties are all pet-friendly.
"I have not found any that do not allow pets," Williams, who has specialized in selling high-rise property for 15 years, said.
Some properties, such as One Queensridge Place, restrict the area dogs can occupy. Dogs there have to take a separate elevator and are restricted from common areas. Other properties, such as The Veer Towers, limit the number of animals and restrict certain breeds like the American Pit Bull Terrier.
"Veer Towers has always been pet-friendly," Chaut'ez Ducharm, assistant community manger for Veer, said. "We have a small dog park outside of the East Tower and we keep doggie biscuits at both concierge desks."
One Las Vegas offers pet owners two enclosed areas with no weight or breed restrictions. One of the areas had new agility equipment installed this year.
Although residential units and hotels near the Strip are pet-friendly, most Strip businesses and shops have yet to follow the trend.
In contrast, Meyer noted many dog-friendly downtown Las Vegas businesses, such as Makers and Finders Urban Coffee Bar, Downtown Crown Pub, Tenaya Creek Brewery and Glutton Restaurant.
"The biggest challenge we face from a dog perspective is to be patient," Brooks said. "As the infrastructure that we need is growing around us. Urban living we have is being reverse engineered. They are dropping buildings in where there isn't the infrastructure around it to support it. It is starting to evolve and grow."
For a list of high-rise pet requirements and tips for urban dog owners, visit lvrj.com/rem.
Las Vegas high-rise pet requirements
• One Las Vegas, 8255 S Las Vegas Blvd: Two pets are allowed. No restriction on weight or breed. There are two enclosed areas; one about 930 square feet, offers agility equipment; the other has 1,100 square feet. A third area, not enclosed is 2,545 square feet.
• One Queensridge Place, 9103 Alta Drive: Pets are allowed. There are no restrictions on number of pets and no weight restrictions. Pit bull and pit bull mixes are restricted. There is a dog park on-site. All pets have to use the service elevator. No on-site grooming and no pet accommodations
• Park Towers, 1 Hughes Center Drive: No pet restrictions on number or weight. If you cannot carry your pet, must walk the pet through certain areas and only
use the service elevator. No dog park on-site. A grass patch across from the valet is designated for pets.
• Sky Las Vegas, 2700 Las Vegas Blvd South: Two dogs are allowed with the combined weight of 80 pounds. Pit bulls and pit bull mixes are restricted. There is one dog park on-site.
• Mandarin Oriental, 3752 S Las Vegas Blvd.: Two dogs are allowed with the combined 60 pounds max. Pit bulls and pit bull mixes are restricted. There is one dog park on-site.
The Ogden, 150 N Las Vegas Blvd.: There are no weight restrictions or max pets per unit. There is an enclosed dog run on-site. It is located two blocks away from the Hydrant Club, in downtown Las Vegas.
• Veer Towers, 3722 S Las Vegas Blvd.: Two pets up to 80 pounds are allowed. Breed restrictions include American bulldogs, Mastiffs, wolfdogs, Boerboels, Dogo Argentino, Presa Canario, Fila Brasileiro, Japanese Tosa Inu, American Pit Bull Terrier, pit bulls, Dobermans, Rottweiler's and mixes of the above listed breeds. There is a dog park on-site.
• Platinum Hotel, 211 E Flamingo Road: Dogs up to 40 pounds combined weight for two dogs allowed, no breed restrictions. Owners are given dog bowls and complimentary wet dog food, there is a restroom area but not a dog park.
• Allure Las Vegas, 200 W. Sahara Ave.: No weight limit, max two dogs per unit allowed. Pit bull and pit bull mixes are restricted. There are two dog parks on site.
• Turnberry Towers, 222 Karen Ave.: No breed restrictions. Two dogs allowed up to 80 pound maximum. There isone dog park on site.
• Turnberry Place, 2747 Paradise Road: Two pets max, arrange weight of 80 pounds. One dog park on-site.
• Panorama Towers, 4525 Dean Martin Drive: Two pets per unit up to 50 pounds allowed. Two dog parks on-site — one for each tower.
• The Martin, 4471 Dean Martin Drive: Pet must be registered and have a copy of a photo. One dog park on-site.
• Newport Lofts, 200 Hoover Ave.: Pets are allowed but there are no pet amenities.
• Soho Lofts, 900 S. Las Vegas Blvd: Pets are allowed with no pet amenities offered.
SOURCE: Heidi Williams, director of sales/Realtor for the Brooks Team.